Roasted Chickpeas with Paprika, Curry and Herbs
Today I have Hima from All Four Burners (great name for a blog) here with an awesome and healthy treat for you. Some thing you can serve for the holidays again and again. I have got to try these!! YUM!!
I would be excited if you followed Hima and her culinary adventures on Facebook, Twitter and Pinterest. I now give you Hima and this great recipe. ENJOY!!
Quick hors d'oeuvres are a must during the holiday season.
My friends know better than to stop by unexpectedly during the rush leading up to Christmas, but I still like to have some snacks on hand, either for my husband and me to snarf during the week (how this batch disappeared) or to make ahead as a simple appetizer for our annual holiday party.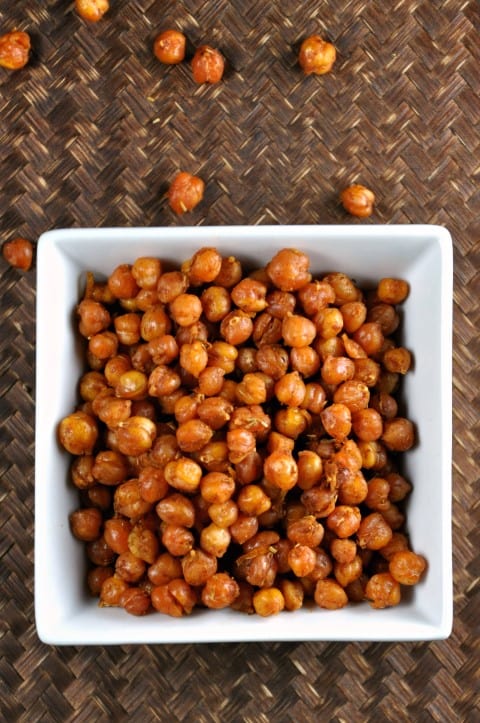 These chickpeas are quick and easy. The herbs and spices are staples in my kitchen pantry and I almost always have lemons on hand. The result is spicy and salty…and utterly addictive.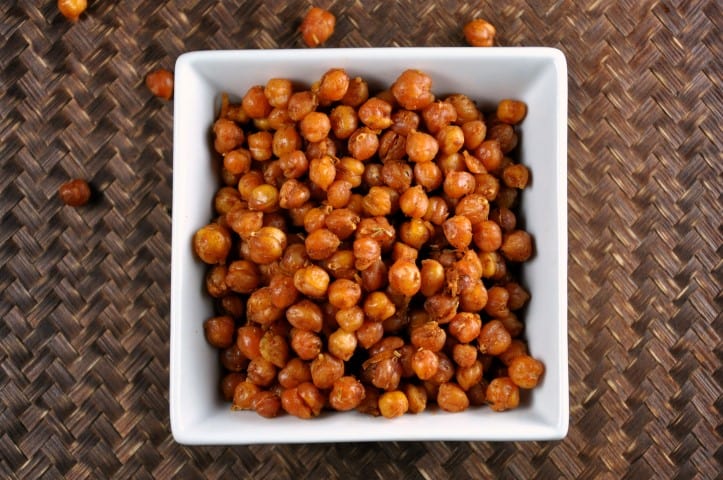 Roasted Chickpeas with Paprika, Curry, and Herbs
2 15-ounce cans chickpeas, drained, rinsed, and dried very well
3 tablespoons extra virgin olive oil
2 teaspoons paprika
½ teaspoon curry powder
¼ heaping teaspoon crushed rosemary
¼ heaping teaspoon thyme leaves
1 teaspoon kosher salt
1 tablespoon freshly grated lemon zest
Preheat oven to 425 degrees.
Roast chickpeas on a rimmed baking sheet in the center of the oven for 10 minutes. Shake pan to loosen chickpeas, rotate baking sheet, and roast for an additional 10 minutes. They should become slightly crisp on the outside, but remain soft on the inside.
Meanwhile, combine remaining ingredients in a medium bowl.
Mix the roasted chickpeas in the bowl and spread back out on the baking sheet. Roast another 5 minutes. Allow to cool a few minutes and serve immediately or allow to cool fully and transfer to an airtight container for up to 3 days.