Have you seen the flatbread in your grocery store and tried them? I just recently picked up a couple of packs to try at home. We love having Friday night pizza, but it is expensive to order in and not the healthiest of options all the time with all that bread, cheese and meat. I am a thin crust kind of gal and I love a little bit of meat or vegetarian on my pizza. Playing around in the kitchen on a Friday night landed me with this outstanding and unique pizza, Roasted Squash Grape Smoked Turkey Flatbread.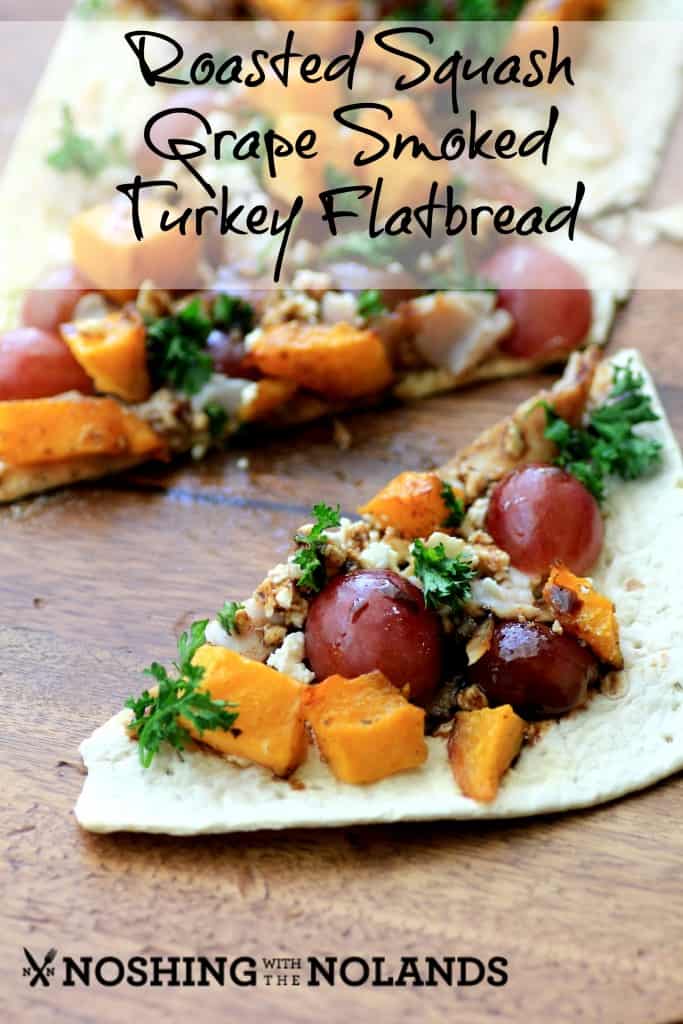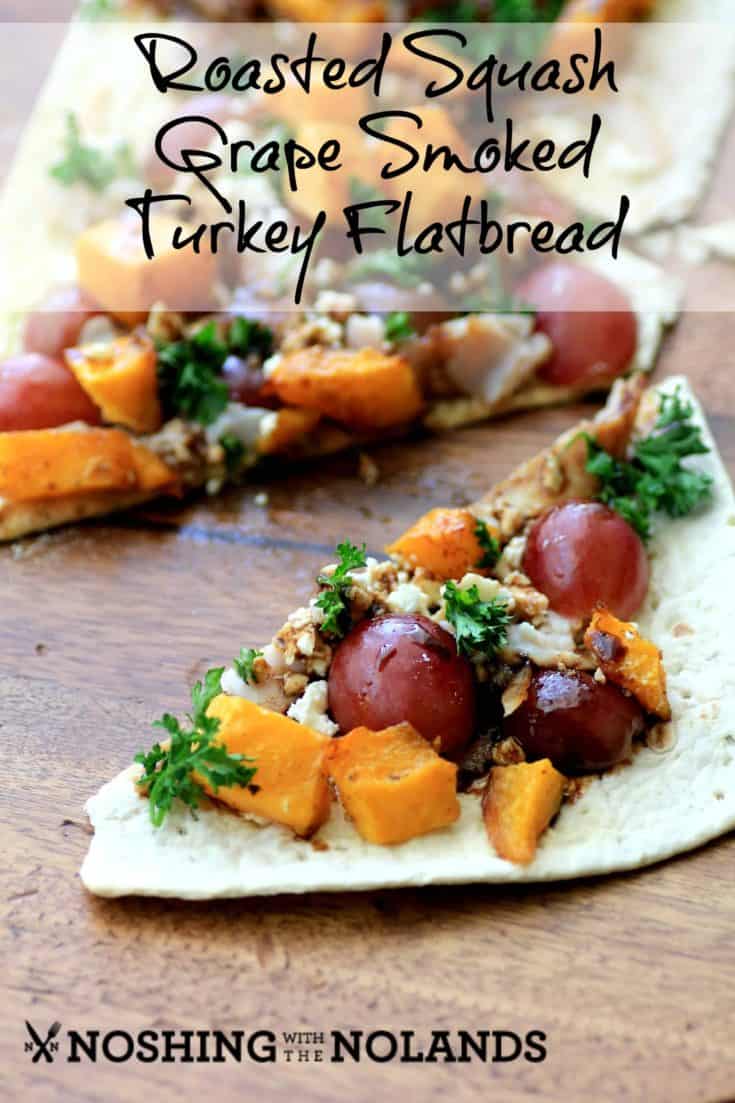 I had some squash that was already cut up in the fridge and just waiting for something to be done with it. I quickly spread it out on a pan, drizzled it with olive oil, and sprinkled it with salt and pepper. Gave is a lovely roast in the oven and that had me well on my way to creating this flatbread.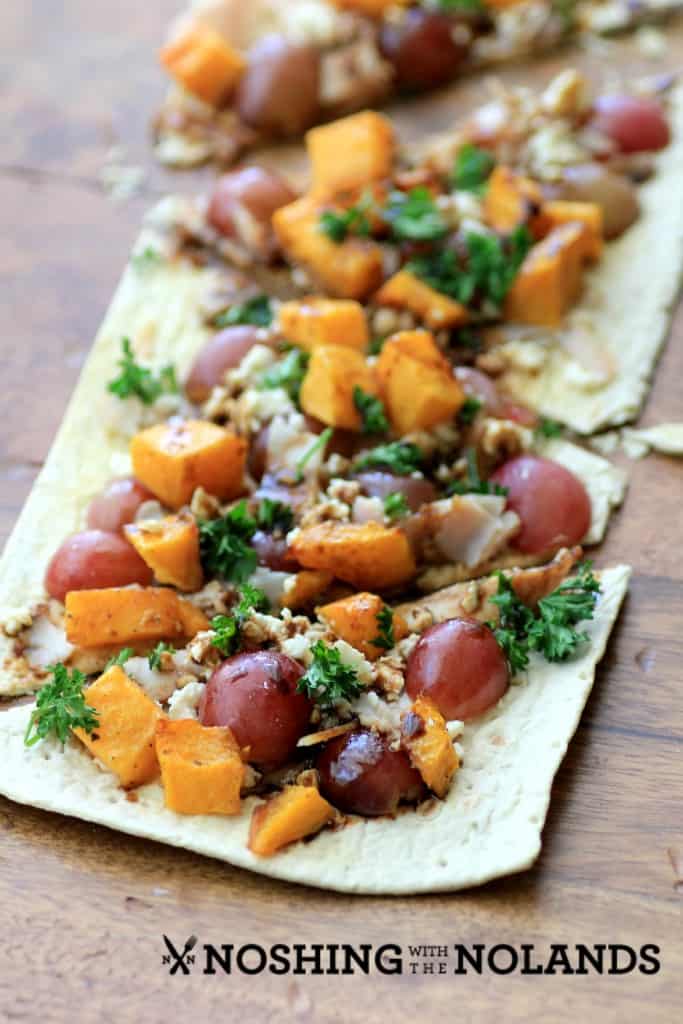 The sweet grapes paired amazing with the smokiness of the turkey, the salty feta and squash balanced it out while the balsamic reduction added the right punch. A unique flatbread experience that I would love to do again and again. Get creative in your kitchen with flatbreads, the sky is the limit!!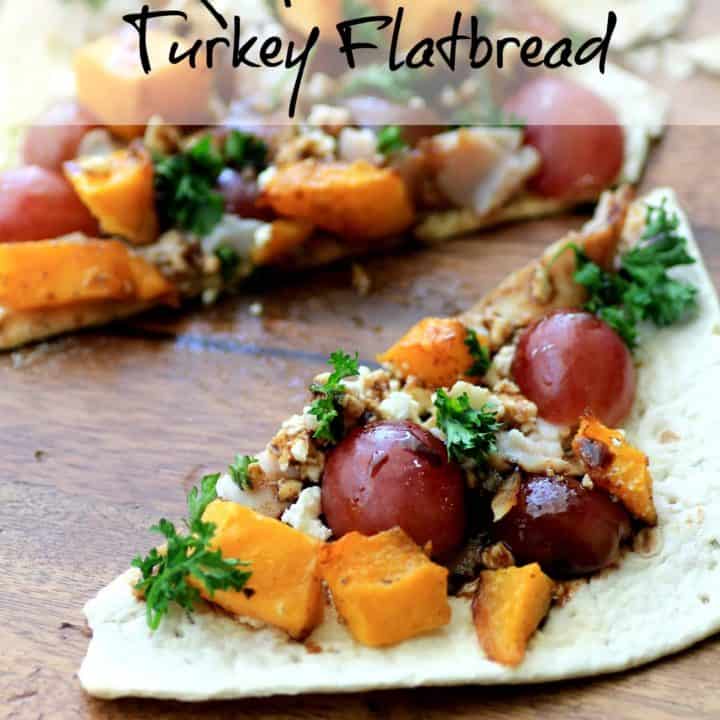 Roasted Squash Grape Smoked Turkey Flatbread
A unique and delicious pizza made with roasted squash, grapes, feta, turkey and drizzled with a balsamic reduction.
Ingredients
Flatbread, pick your favorite flavor or plain
Olive oil
Salt and pepper to taste
Spaghetti squash, diced
Red grapes, halved
feta cheese, crumbled
Sliced smoked turkey, torn into small pieces
Balsamic reduciton
Parsley
Instructions
Preheat oven to 350F. Place squash on a rimmed cookie sheet and drizzle with olive oil and salt and pepper. Raost for 30 min. or until tender and lightly browned.
On another cookie sheet heat the flatbread according to the package. Drizzle with olive oil, top with the roasted squash, grapes, turkey, and feta. Place in the oven for 5 min. or according to package. Drizzle with balsamic reduction and garnish with the parsley. Slice with a pizza cutter and serve immediately.