S. Pellegrino Almost Famous Chefs-Interview with Kevan Hafichuk
I have been given the pleasure from S. Pellegrino Almost Famous Chefs-Interview with Kevan Hafichuk of interviewing Kevan Hafichuk who is one of the competitors for the S. Pellegrino® Almost Famous Chef® Competition and our local Calgary contestant. The competition is taking place in Toronto on Feb. 25th, 2013.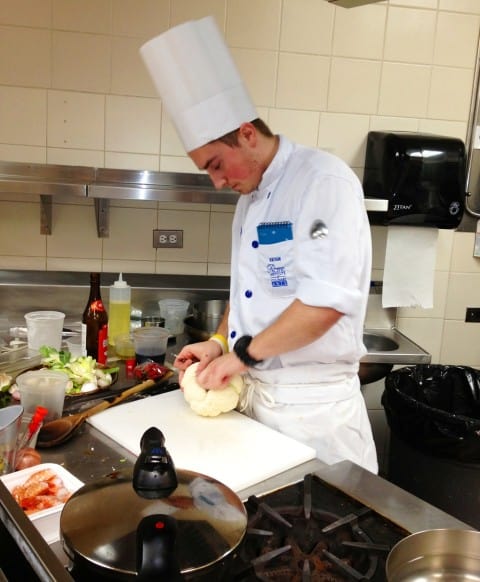 Kevan and a fellow Albertan Matt Cusano.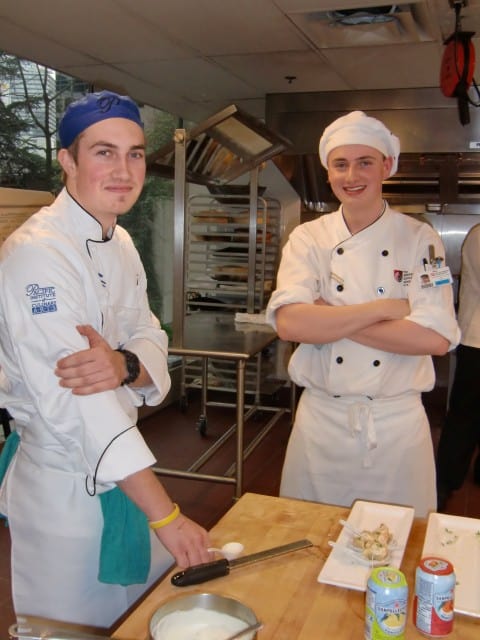 Here are the tough questions I presented Kevan with and his answers.
1. Life takes us on many paths, how did yours change so dramatically from being a football player to becoming a chef?
Having played football for as long as I can remember my off-season snowboarding accident changed my future goals overnight. It was only last year that I was playing Defensive Back for the University of Calgary Dinos and now I am a culinary student in the final weeks of my Culinary Arts Diploma program at Pacific Institute of Culinary Arts with new hopes to travel abroad and experience international cuisines.
2. Having played football and being a professional athlete do you feel this has given you a competitive edge for this competition?
Yes, because what I lack in experience I have made up with the mentorship and coaching provided by my Chef Instructors which I have been able to match with my own personal drive and passion learned as an athlete.
3. Also having been a professional athlete and having to maintain a certain diet, do you think this has influenced how or what you like to now cook?
Knowing how important diet is to an athlete I have now been able take that to the next level in my own kitchen. I create my meals from scratch using quality ingredients bypassing over processed prepackaged foods with ingredients I can't even pronounce.
4. What part about this upcoming competition do you think you will find the most challenging?
The dish I am cooking is a very technical and timing is of great importance. We are given 2 hours and everything must be completed and on the plate for presentation.
5. What chef inspires you?
Modern gastronomie has recently become of interest to me.
6. Who is your favorite celebrity chef?
I would say Gordon Ramsey because his shows are hilarious.
7. Most chefs specialize in a certain cuisine, what would yours be?
There is so much to learn out there and I am only just beginning my culinary journey so I really can't say I have a specialty yet.
8. Is there a dish you have tried many times but have yet to master?
Being born and raised in Calgary I would definitely boast many of my favourite meals, up until this point, have been focused on beef especially steaks.
9. What would be your signature dish or something you really have mastered?
Cooking the perfect steak.
10. Who would you like to cook for dead or alive?
I never had the chance to cook for my grandma. She made the most amazing Ukrainian dishes.
11. What are some of your dishes on your bucket list?
I really want to do a tour of the Southern states via motorcycle stopping for tons of Southern BBQ.
12. If you were given the ability to travel and cook which country would you like to explore their native cuisine?
Thailand and then China.
13. Thinking of the show "Chopped" what dessert would you make from a basket containing lollipops, kidney beans, peanut butter and mascarpone cheese?
I would make a Marscapone and Peanut Butter Chocolate Mousse, with Lollipop and Kidney Bean Dust.
14. What do you think of the whole food revolution that encompasses our daily lives now with TV, magazines, apps, blogs and websites?
Overwhelming but some can be very informative.
15. Does fame influence you? Do you aspire to write a cookbook or have your own TV show?
I am just beginning my career in the kitchen so I have no idea where this will lead me .
16. What are your future goals? Where do you see yourself in 5 years?
Hopefully under the mentorship of a professional kitchen either locally or internationally.