Salmon Burgers for #WeekdaySupper
#SundaySupper has added #WeekdaySupper!! This month I have Salmon Burgers for #WeekdaySupper as we are all doing Easy Meals. If you follow my blog you have seen #SundaySupper and the mission is to bring families together around the supper table again. We almost always eat together unless something has pulled one of us away but I would say it is 5-7 nights a week we come together for a meal.
It is an important time of day for us all. To discuss what we are up to and how our day went. What the evening still has in store for us and tasks or the enjoyment of some relaxation together watching some TV (okay mommy kind of rules the big TV upstairs with all that I have PVR'd but that is beside the point).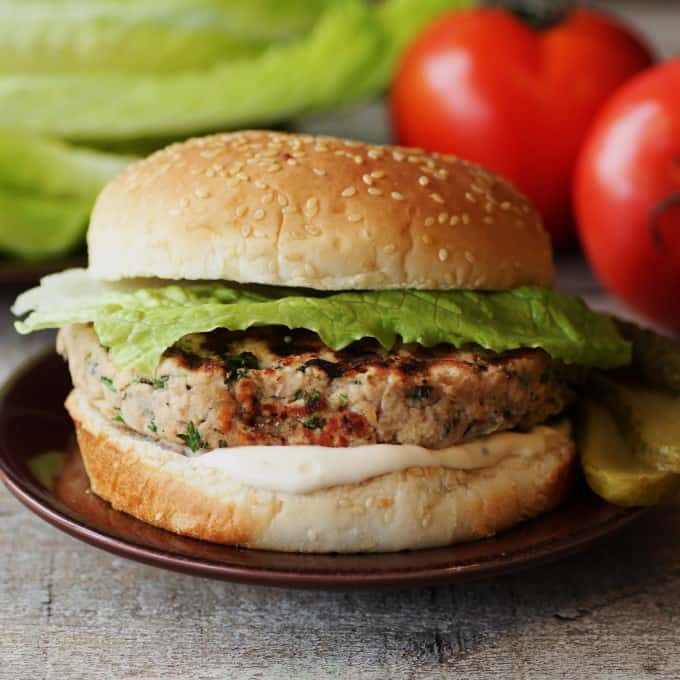 Family Time
We like to share our meals together. Amber is a stellar eater and always has been. She is willing to try anything and almost always enjoys it. She is a healthy eater too and loves her fruits and veggies. These things will happen if you come together to share a meal and you start to do it from day one! If you haven't come together for a while start with Sunday Supper and before you know it it has come a way of life.
Easy meals don't have to be boring. You just need some ideas to help you and this is what we are here for. Today's #WeekdaySupper meal is easy and something different than a regular hamburger. These easy burgers can be put together and on the table in 20 min. They go great with sweet potato fries or a nice big salad.
Your family will be loving you for it. These big juicy burgers will easily feed a family of six or have some leftovers for lunch the next day. They are great. We have made them a few times now and are in our recipes to try again folder!! Thanks, Tasha and Mike for our wonderful hamburger press, we love it. ENJOY!!!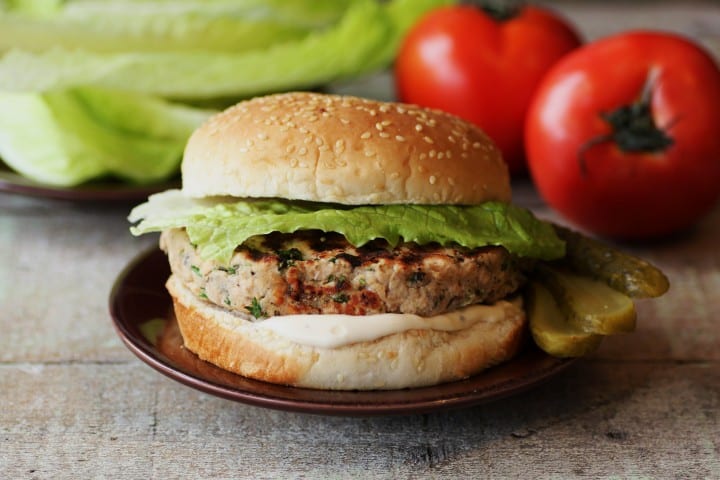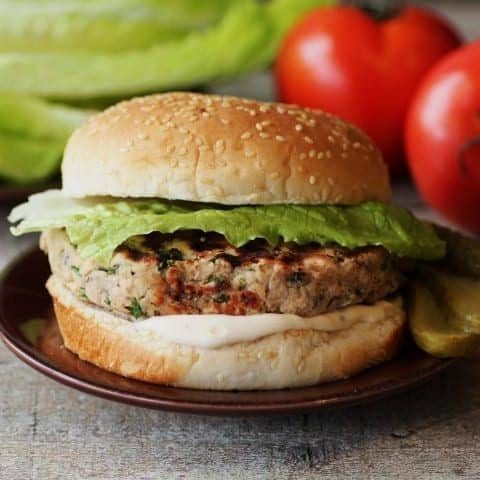 Salmon Burgers for #WeekdaySupper
Yield: 6 servings
Prep Time: 12 minutes
Cook Time: 8 minutes
Total Time: 20 minutes
These juicy and flavorful Salmon Burgers for #WeekdaySupper will be just the right recipe to mix things up.
Ingredients
Burgers
2-16 oz. cans of salmon drained and mashed gently
3 eggs, beaten
1/4 cup fresh parsley
4 Tbsp. finely chopped onion
1/2 cup fine bread crumbs
1/2 tsp. oregano
1/2 tsp. thyme
1/2 tsp. basil
1 pinch red pepper flakes
Salt and pepper to taste
2 Tbsp. vegetable oil
Topping
4 Tbsp. light mayonnaise
1 Tbsp. lemon juice
Pinch of dried basil
Lettuce leaves
Tomatoes, optional
6 sesame hamburger buns
Instructions
In a small bowl mix the mayo, lemon juice, and basil together and set aside.
In a large bowl combine all the burger ingredients excluding the vegetable oil which is used for frying and form into 6 thick firm burgers.
In a large skillet or grill pan over medium heat add the oil and when hot add the patties and cook for 4 min. a side or until nicely browned. Cook in batches if necessary so as not to overcrowd, using 1 Tbsp. of oil at a time.
Spread some of the mayo on each bun and top with a patty followed by lettuce and tomato if using.
Nutrition Information:
Yield: 6
Serving Size: 1
Amount Per Serving:
Calories: 585
Total Fat: 30g
Saturated Fat: 6g
Trans Fat: 0g
Unsaturated Fat: 22g
Cholesterol: 190mg
Sodium: 556mg
Carbohydrates: 33g
Fiber: 2g
Sugar: 5g
Protein: 43g
Recipe calculation was provided by Nutritionix and is an estimation only. If you need nutritional calculations for medical reasons, please use a source that you trust.
Recipe adapted from AllRecipes.com