Sarasota Florida
Sarasota Florida is our final leg of our Florida trip that we just recently enjoyed. Our first stop was Fort Myers and then we moved onto Siesta Key. We were thrilled with our vacation in this wonderful state and would love to show you more of what this area has to offer. Sarasota is a short 1 1/2 hour drive from Fort Myers, which was our flight destination. It is an easy and pretty drive and was enjoyable to see more of the state.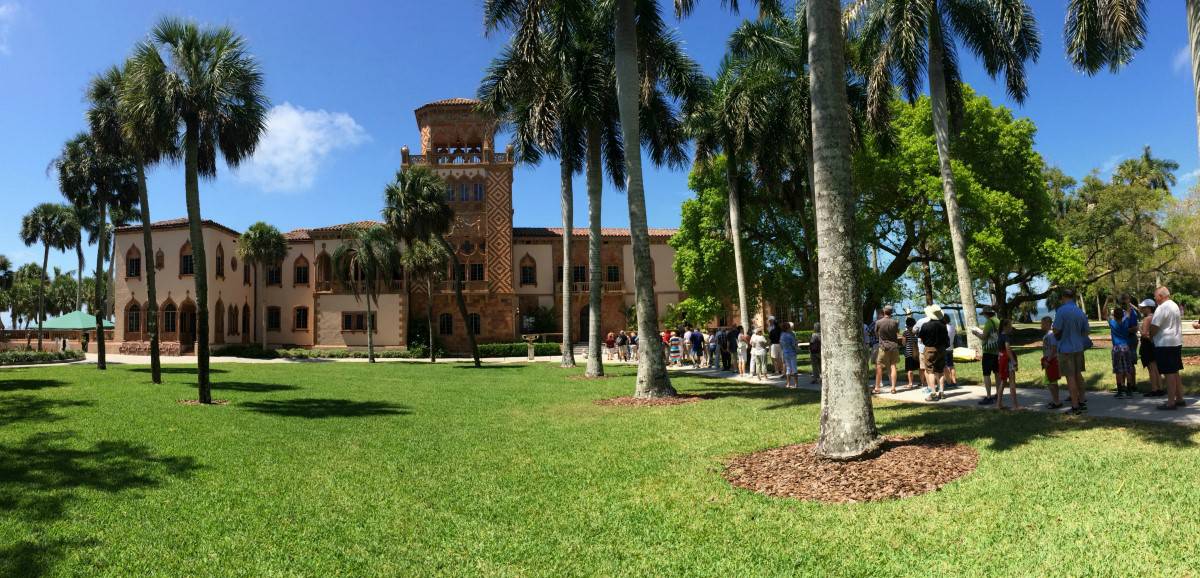 There is lots to see in Sarasota Florida under blue skies and warm temperatures. For most of the time in the spring and summer Florida is hot and humid with thunderstorms rolling through to cut through the humidity. We had very pleasant weather for the end of March beginning of April. This picture is taken at the gorgeous Ringling Mansion named Ca' d'Zan (meaning house of John), which is situated on the Sarasota Bay. Later I will show you a boat tour we took of this stunning area.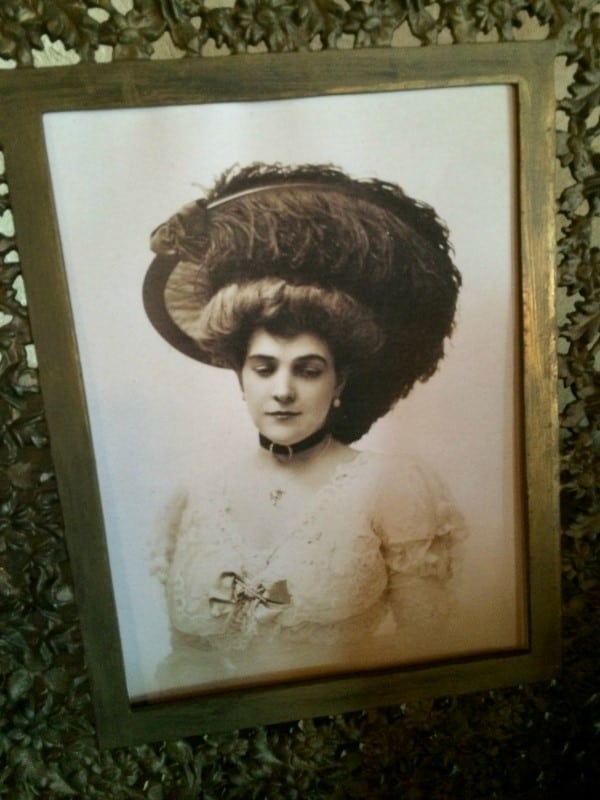 The Venetian Gothic Palace was owned by John and Mabel (pictured here) Ringling of the famous Ringling Brothers Circus. The home was completed in the mid 1920's and was their winter home. The home with its' 20 acres, lovely gardens and gorgeous Italian statuary was bequeathed to the state of Florida by John Ringling. It serves as a wonderful day of exploring in gorgeous Florida weather as there are also museums to poke around in showcasing many of the artifacts from the circus including a portion of the train they travelled on.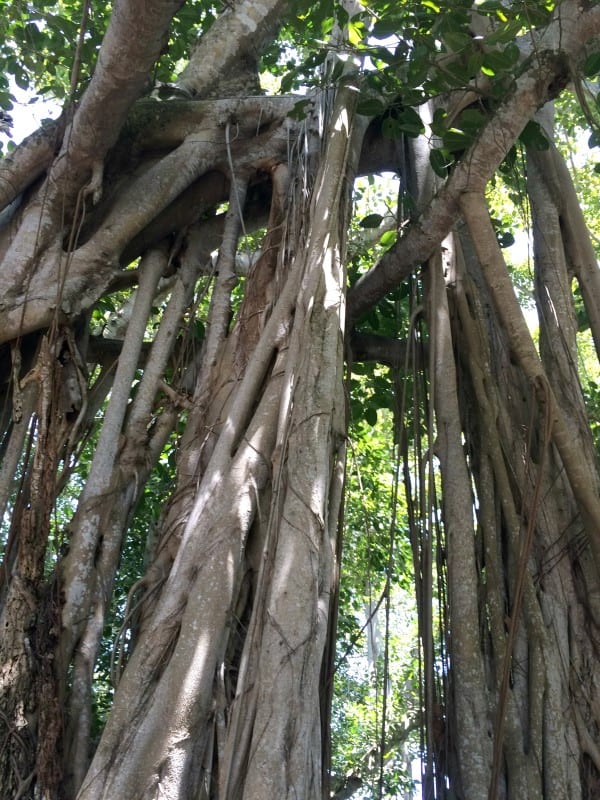 The gardens were stunning with huge Banyan trees and so much more to see. These gorgeous trees give you some shelter from the heat of the day.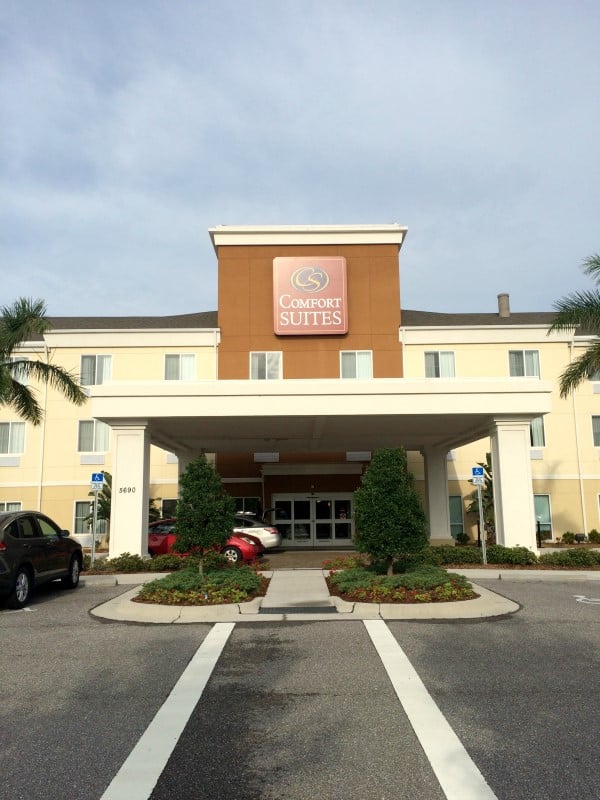 Our lodging for our time in Sarasota was the very accommodating Comfort Suites. It is located just a short 6 miles from Siesta Key. After a long day of lounging on the beach or seeing local attractions the Comfort Suites are perfect place to unwind and regroup. A full self-serve breakfast is included with your stay making mornings easy and relaxing. The hotel also includes a pool, hot tub, fire pits, free wifi and a fitness room.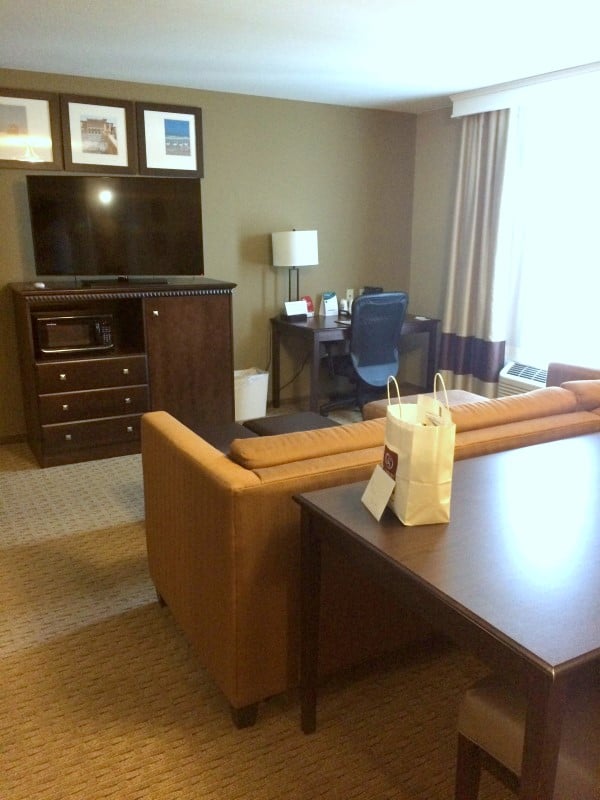 Our room was palatial and the perfectly relaxing destination after searching out the area.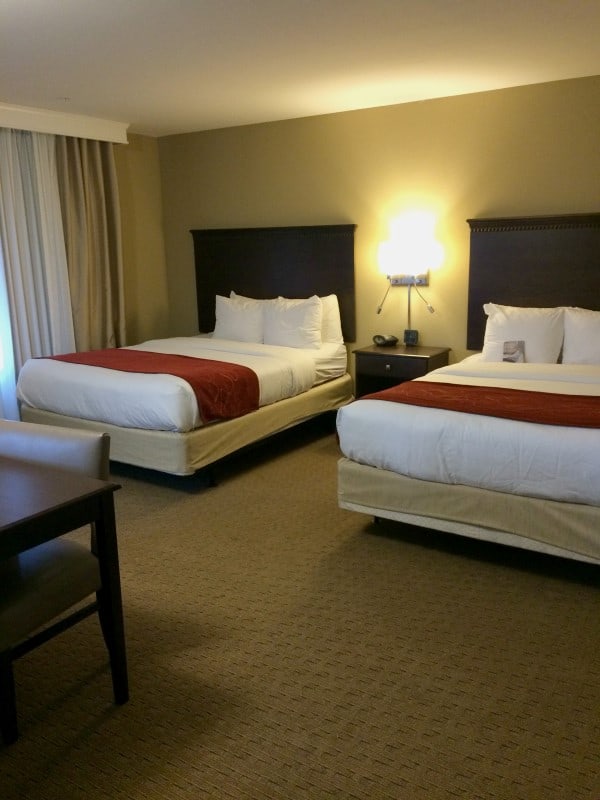 The room was spit spot clean, the staff nothing but helpful, the food was good, the facilities perfect. The hotel is rated 4.7 out of 5 and I see why, it is a great accommodation and the perfect affordable place to stay. You can visit all the hectic crazy fun of Siesta Beach and then come to a nice quiet area. For me a great spot and I highly recommend it.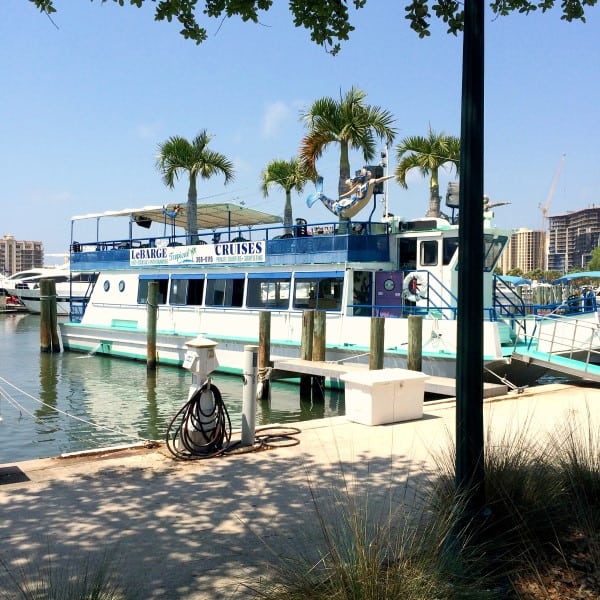 We discovered this great little cruise line down at the marina in Sarasota Florida called LeBarge Cruises. They offer many different cruises but we chose the afternoon cruise called Sightseeing and Nature cruise. The cruise featured not only wildlife information but also heritage and celebrity homes. Call ahead to book and arrive early to line up to get the best seats.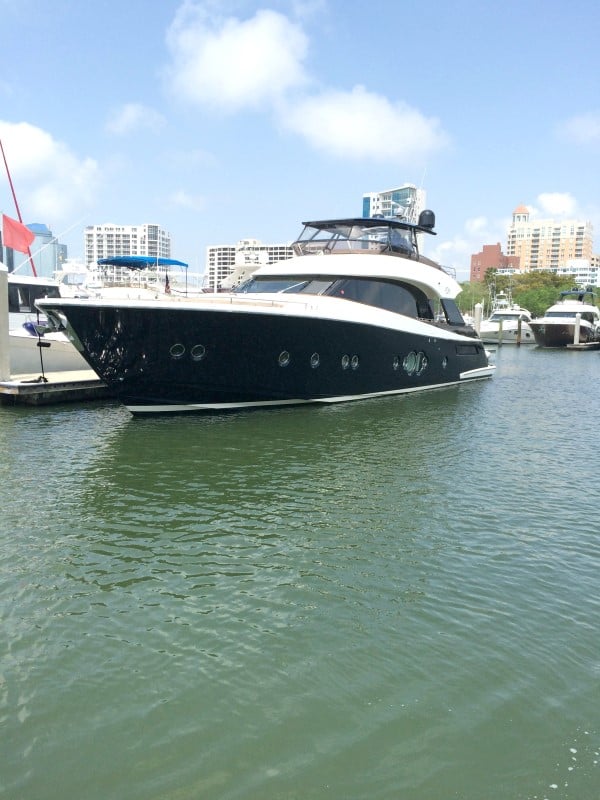 Pulling out of the harbour was much fun, seeing yacht after yacht. Very hard to choose my favorite. This area is a very wealthy area as lots of Florida is.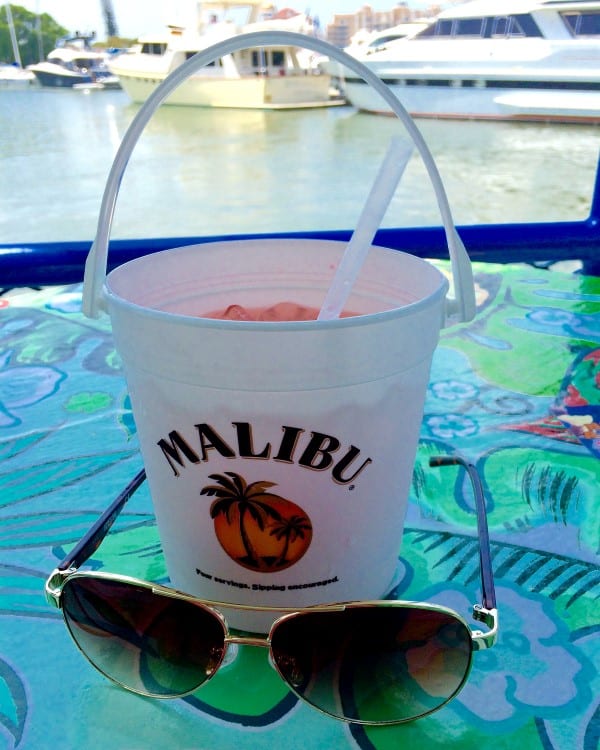 On board the ship, we settled in nicely. Ken got me this big bucket of a cocktail so I was more than happy for the 2 1/2 hours cruise. They also served some food on board and we shared some Tropical Nachos and a very good Shrimp, Crab and Parmesan Cheese Dip.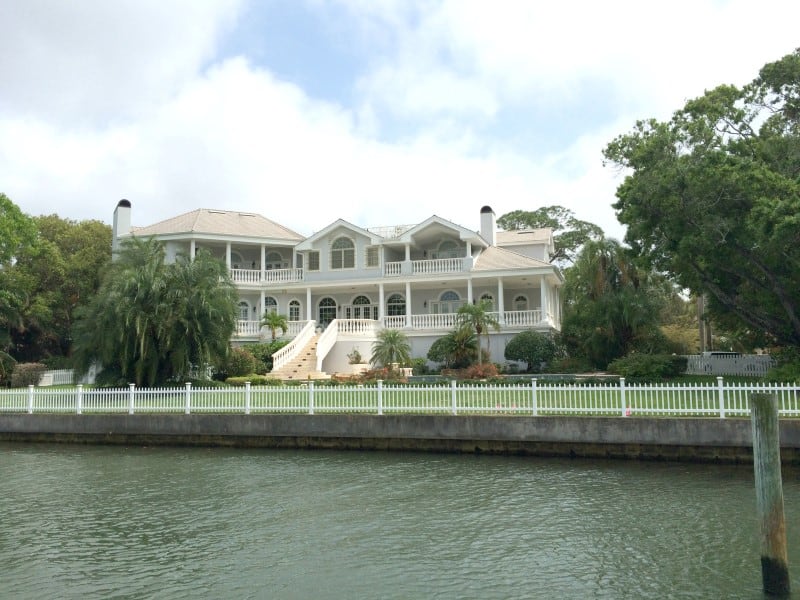 The homes along the waterway were stunning, one after the other of jaw dropping gorgeousness!!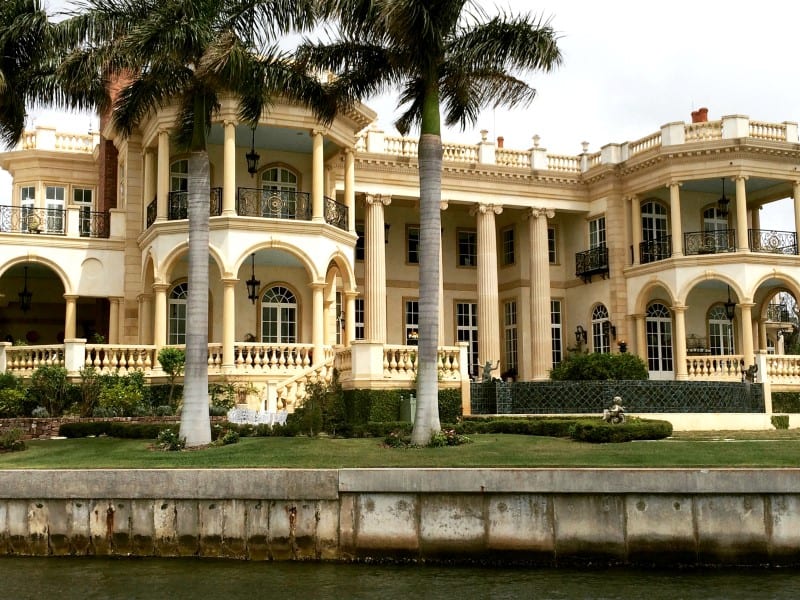 This one had us completely gobsmacked as we drove past and then away from it, as it stuck out in its own little peninsula. The drive down the road on the opposite side doesn't do these homes justice as they are all showcasing their glory on the water side.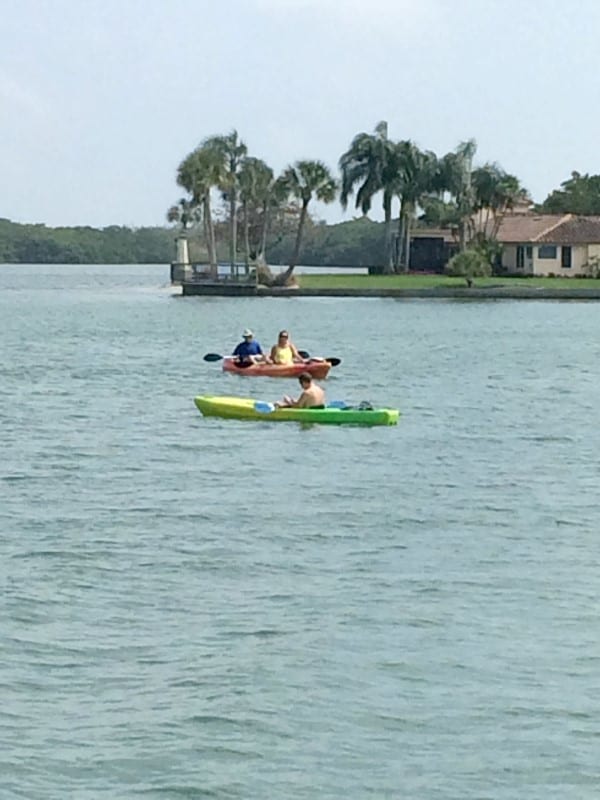 Many people were out on the water in canoes and kayaks. There are lots of sandbars in the bay and the entire area is very shallow. You must maintain a very slow speed going through these waters as it is home to lots of manatees, dolphins, birds and other aquatic life. I did see a couple of dolphins pop out of the water on our journey.
We heard that Yodder's was a must stop. It is a funny to see in all of this opulence that there is an Amish community right in downtown Sarasota.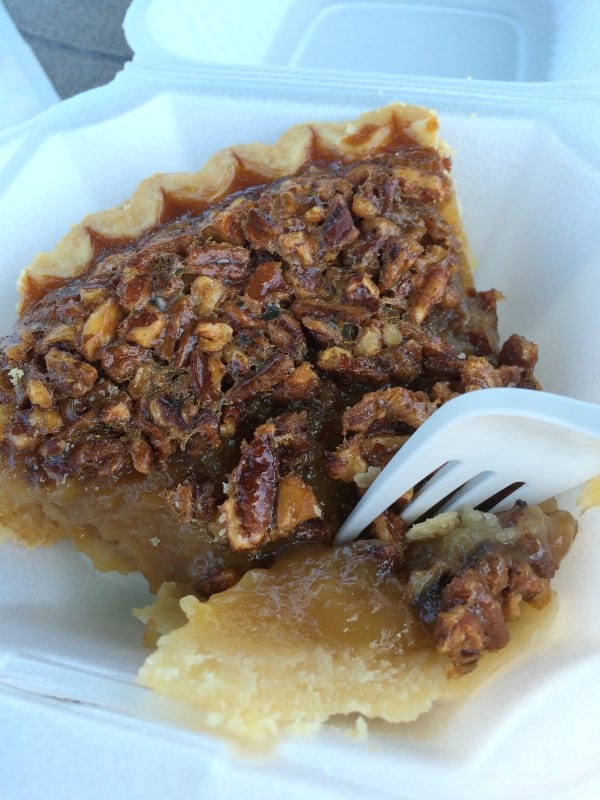 There is a restaurant and market at Yodder's, the restaurant was packed so we opted for their little takeout window for a gorgeous piece of pie. Amber got apple, Ken shoefly and myself this scrumptious pecan pie. We also took with us some banana bread, it was the best I had ever had.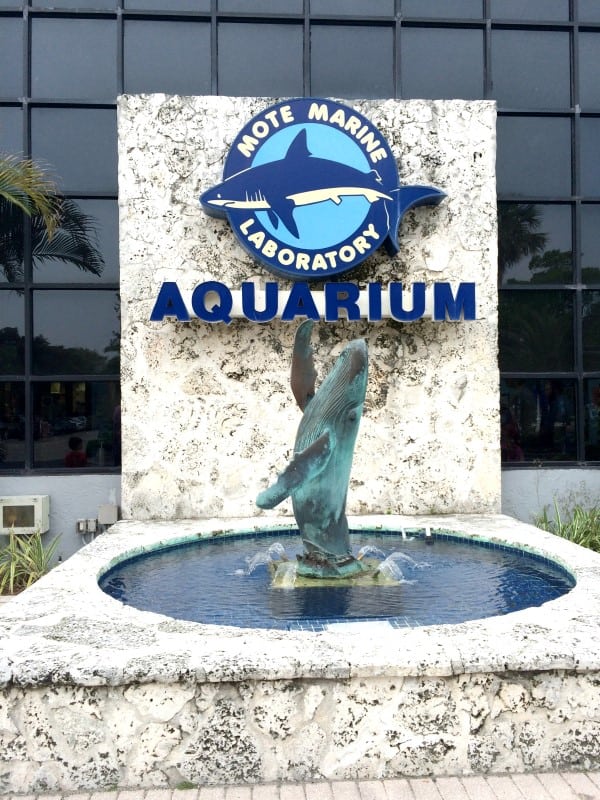 After enjoying and hearing about the wildlife of the area, we decided on another day in Sarasota to take in the Mote Aquarium to learn even more.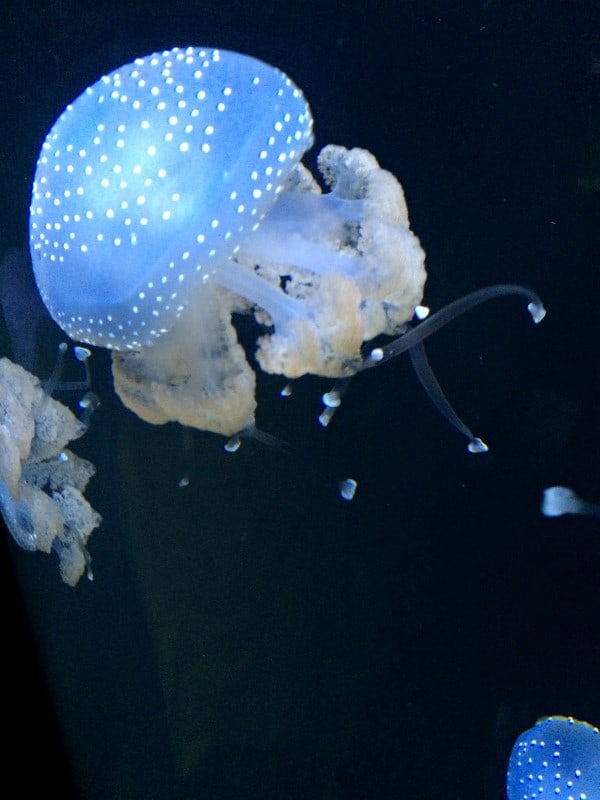 Life under the sea is fascinating for us and we all enjoyed our adventure at this marine laboratory and aquarium.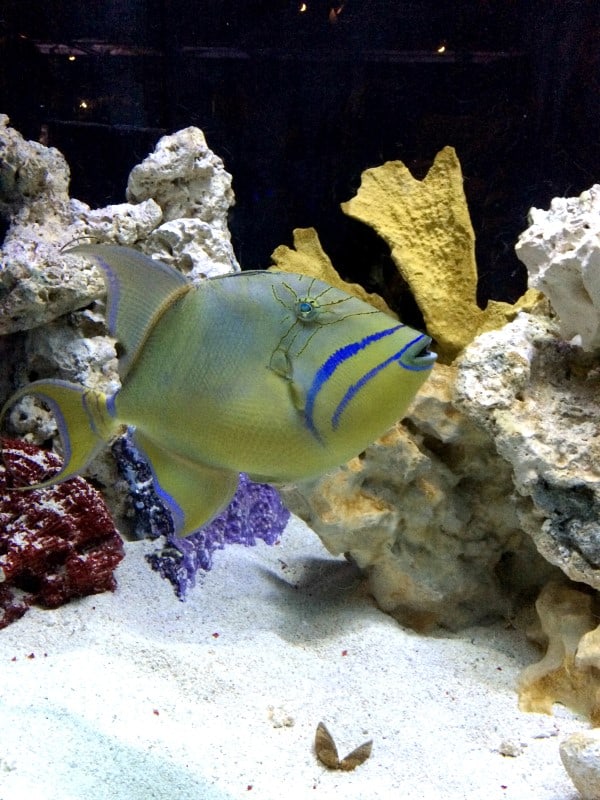 The wonders of the ocean are astoundingly showcased in tank after tank of gorgeous aquatic life.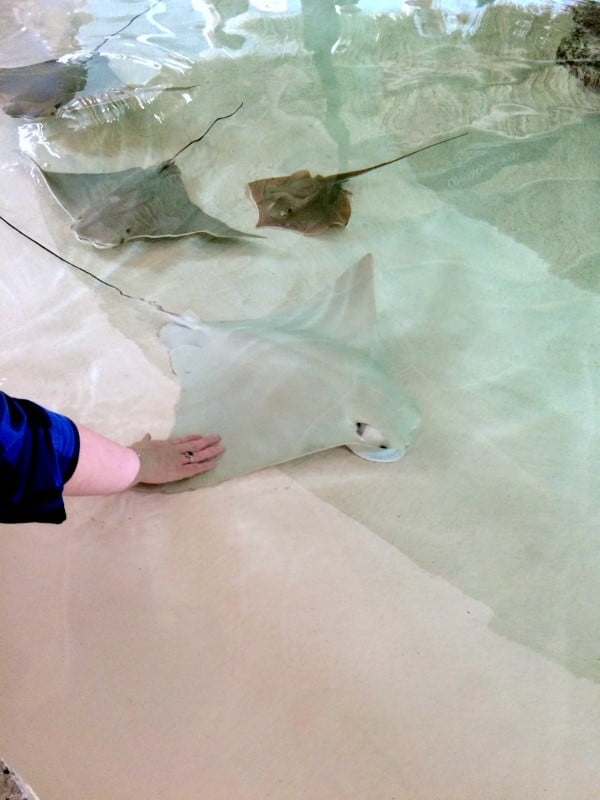 Kids love hands on and there were many opportunities for touching and exploring like in this sting ray tank.
The otters could have been an hour long amusement on their own. The pair of them were extremely active, playing, jumping, swimming and more. There are also giant sea turtles to see and loads more. A great day for kids and adults.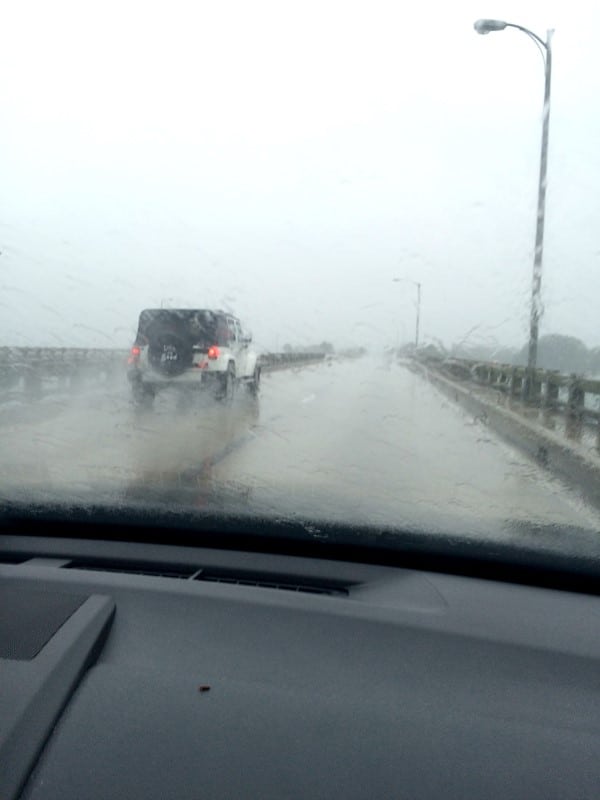 When the clouds open up in Florida it is usually short lived and give a reprieve from the humidity but is sure does come down. I love the rain, always have!!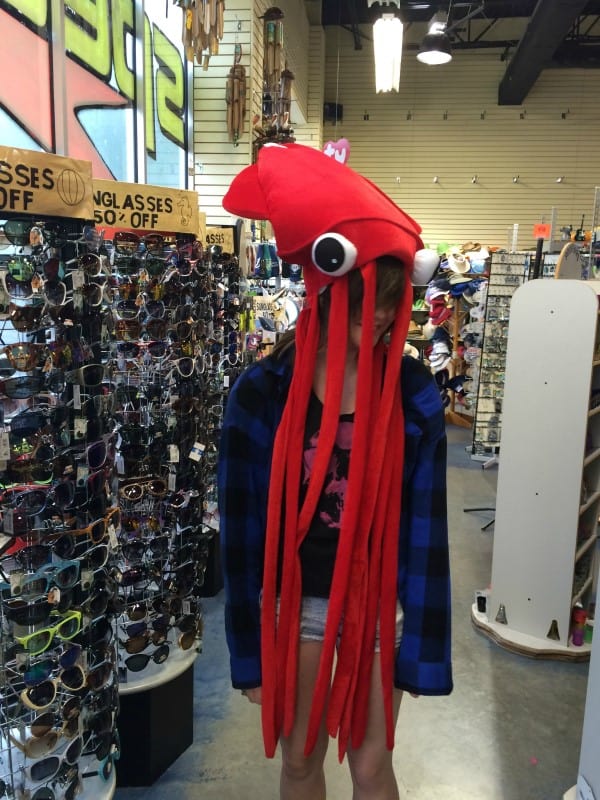 With it raining outside it gives you the opportunity to go inside and do some shopping. Amber was goofing around with a squid hat. This souvenir shop was fun to poke around in with great t-shirts, Ken liked the Salt Life line of clothing. Amber liked the alligator heads.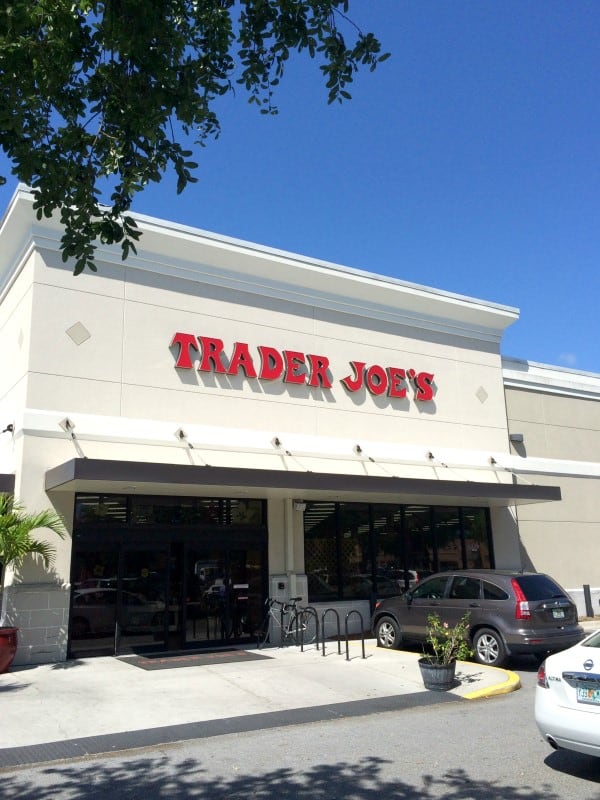 If you know me you know my love of Trader Joe's runs deep. This chain of grocery stores in mainly out in the west of the US. We don't have them up here in Canada. They have the best products and I had to sneak into the store for a bottle of their "two buck chuck" wine otherwise called Charles Shaw. This is the only store location they have in Sarasota.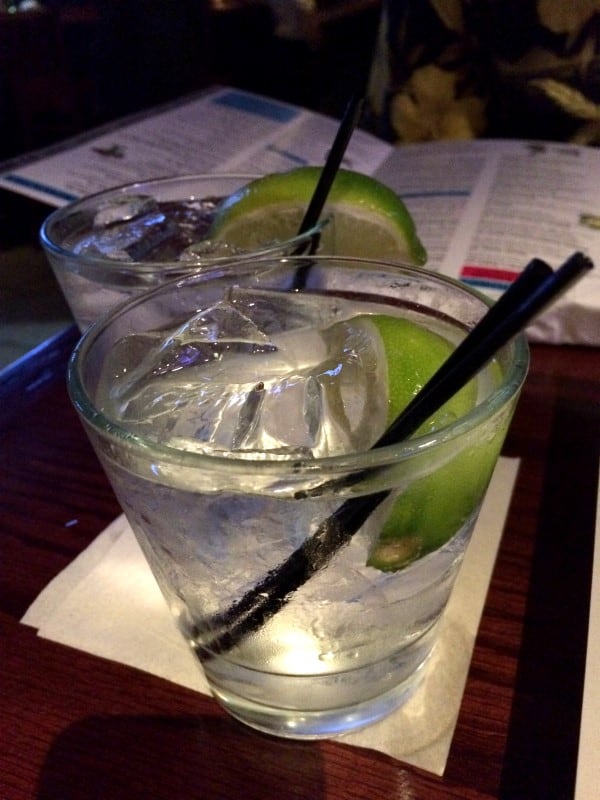 On our last night in Florida we decided to check out the local Sarasota chain restaurant called Gecko's, there are six location in the area to choose from. The one we chose was conveniently located very close to the Comfort Suites. Gecko's features all day long happy hour, so when you order one drink you get two. I ordered a gin and tonic. Okay, they are small right?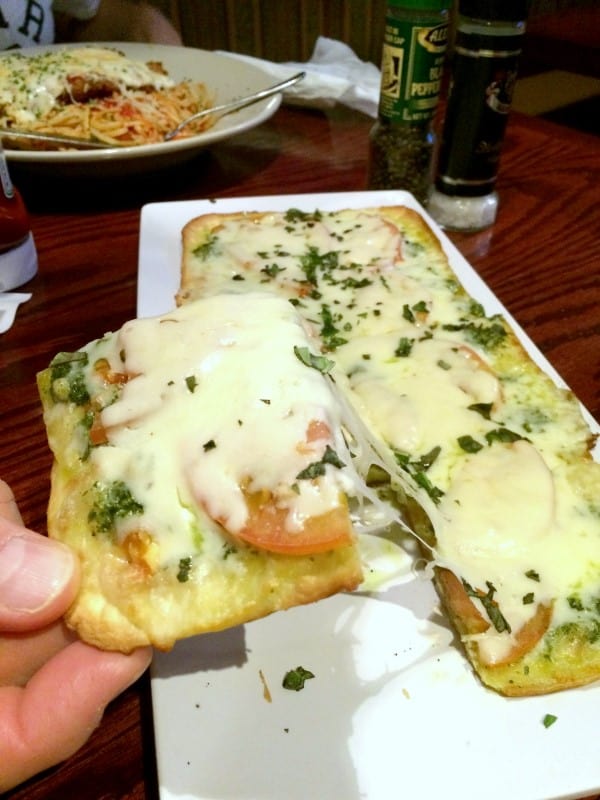 I ordered the delicious Margherita flatbread and a half salad that was larger than any full sized salad I have ever ordered. Their portions are very generous. The service was excellent and we really enjoyed our banter with our waitress Brie.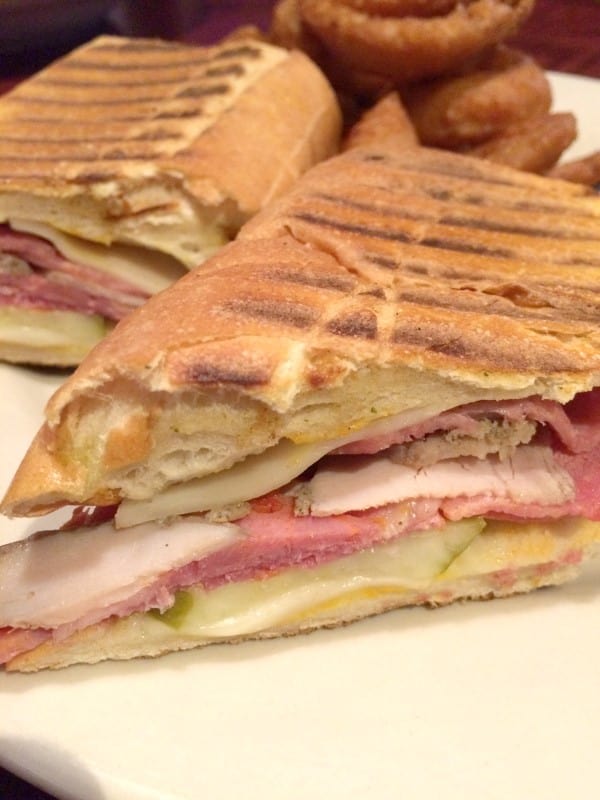 Ken's Panini Sandwich was stacked high with turkey, ham and salami and he loved it. Amber dove into her Chicken Parmesan which was a fried chicken breast smothered in marinara & mozzarella cheese on a bed of pasta.
Come and enjoy some Sarasota Florida your way. Relax, explore, dine and play! You can follow along with Visit Florida on Twitter, Facebook, Youtube, Pinterest and G+. Use the hashtag #LoveFL to follow along too!