Sausage and Curly Kale Chowder
Rarely nowadays does a book come up for review that is as gorgeous as this one. A hardcover cookbook with countless mouthwatering photos, one after another. A true love of Great Homemade Soups was poured into this cookbook. The Sausage and Curly Kale Chowder was what really caught my eye!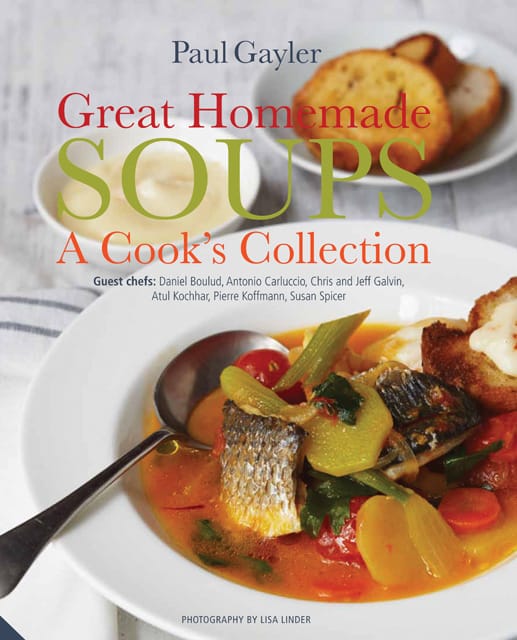 With cooler weather we devour soup. I love big hearty soups, thick and creamy or light and brothy. There is nothing that fills your kitchen with such wonderful aromas as soup or fills your soul with such goodness.
This hearty soup that we chose is definitely a meal in a bowl and in the winter months that is what I love the most. Something nutritious and delicious to feed my family.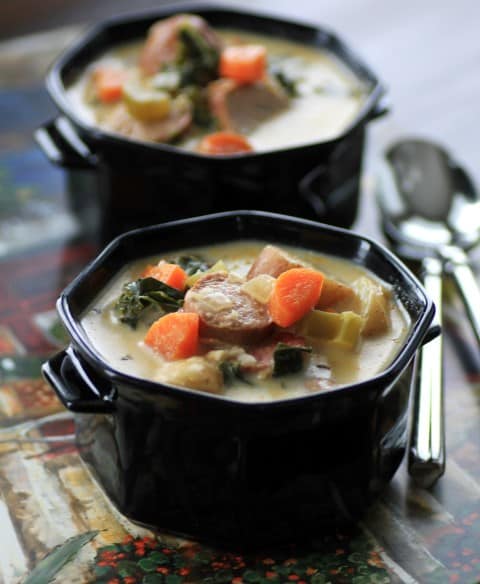 The beautiful hardcover edition includes 100 recipes from classics and beyond. Soups like Vietnamese Vegetable Pho, Columbian Ajiaco, Japanese Shiitake-Enoki Miso Noodle Soup, Sardinian Chick Pea and Fennel Soup, Ethiopian Yam, Peanut and Ginger Soup.
The cookbook also includes broths and consommes, smooth and creamy, hearty and wholesome soup, traditional favorites, wild and exotic soup, and chilled soups.
There are masterful lessons with key techniques done with step-by-step photographs. Plus Paul, the author has invited contributions from some of his favorite world-class chefs, making this book a must-have for anyone!!
The soup has a selection of fresh and smoked sausage giving you a different taste in each mouthful. Plus the addition of carrots, celery, potatoes, and the newly fashionable but ultra nutritious curly kale. We love all those ingredients!!!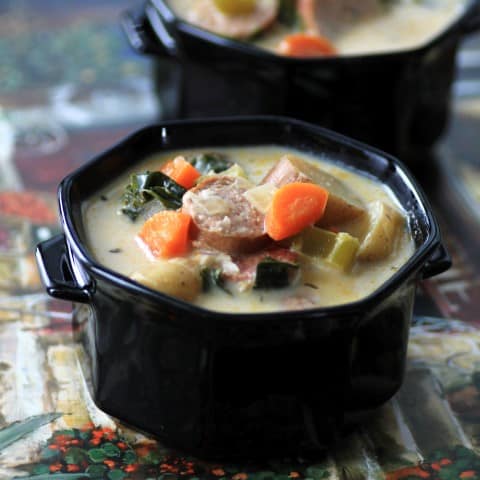 Award-winning Paul Gayler, the author, is a well-known executive chef from London, England. He has over 20 cookbooks to his name and has sold over 500,000 copies worldwide in 10 languages.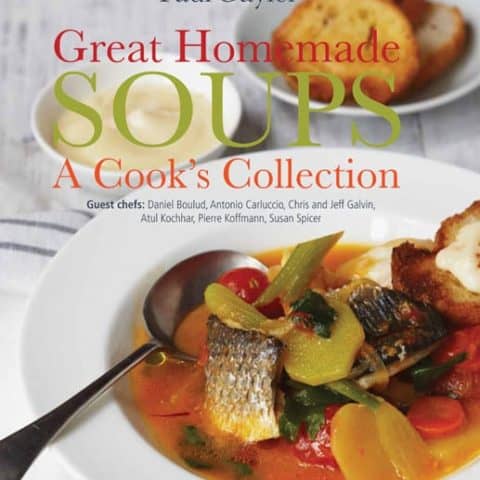 Sausage and Curly Kale Chowder
Yield: 4 Servings
Prep Time: 15 minutes
Cook Time: 1 hour
Total Time: 1 hour 15 minutes
A hearty soup that will fill you up and warm your soul!!
Ingredients
1 Tbsp. extra virgin olive oil
300 gm. chicken sausage (10 oz.)
100 gm. cooking chorizo sausage, skinned and cut into 1-inch slices (3 1/2 oz.)
150 gm. Kielbasa sausages, cut into 1/2 inch slices (5 1/2 oz.)
1 onion, coarsely chopped
2 garlic cloves, crushed
2 carrots, cut into 1/2 inch cubes
2 celery, cut into 1/2 inch cubes
750 ml. chicken stock (1 1/2 cups)
2 sprigs of thyme
250 gm. new potatoes, peeled and cut into chunks (9 oz.)
300 gm. curly kale, torn into small pieces (10 oz.)
100 ml. single cream (1/2 cup)
sea salt and fresh ground black pepper
pinch of chili powder
Instructions
Heat the oil in a large pan over medium heat, then add the chicken sausages. Reduce the heat and cook for 10-15 min., turning occasionally, until the sausages are cooked through.
Remove from the pan with a slotted spoon and set aside. When cool enough to handle cut into 3/4 inch slices.
Meanwhile, add the chorizo and Kielbasa sausage slices to the pan and fry for 2 min., turning occasionally, until lightly colored. Remove from the pan with a slotted spoon and set aside.
Add the onion, garlic, carrots, and celery to the juices in the pan, cover with a lid, and cook for 5 min., or until the vegetables begin to soften.
Pour the stock over and add the thyme and potatoes. Stir, then cover the pan and simmer for about 15 min., or until the vegetables are just tender.
Add the kale and simmer for 10-15 min., or until the kale is cooked.
Add the cream, return all the sausages to the pan, and season with salt, pepper, and chili powder to taste. Discard the thyme.
Divide the soup between 4 individual soup bowls and serve immediately.
Variation: Sausage and Mixed Bean Soup. Proceed as for the basic soup but replace the chard with a can of drained and rinsed mixed beans. Omit the cream.
Nutrition Information:
Yield: 4
Serving Size: 1
Amount Per Serving:
Calories: 729
Total Fat: 49g
Saturated Fat: 18g
Trans Fat: 1g
Unsaturated Fat: 26g
Cholesterol: 163mg
Sodium: 1826mg
Carbohydrates: 33g
Fiber: 4g
Sugar: 9g
Protein: 40g
Recipe calculation was provided by Nutritionix and is estimation only. If you need nutritional calculations for medical reasons, please use a source that you trust.