Share by Curtis Stone Aboard Princess Cruises
We have taken to cruising as of late. It is a fantastic way to see the world!! So today I wanted to show you Share by Curtis Stone Aboard Princess Cruises. The entire phenomenon of cruising fascinates me. From the moment you are aboard a Princess Cruise you are swept away to another magical world of pampering, catering and complete indulgence. Anything you want is at your finger tips, movies, entertainment, spa, gym, drinks and ……………FOOD! You can dine continuously morning to night! At no moment on a Princess Cruise can you say you are hungry.
On our past cruises we have not gone into the specialty dining rooms. Why? I have no idea because the charges are quite reasonable for an intimate and astonishing meal. Let me take you aboard and show you the wonderful meal we had.
Share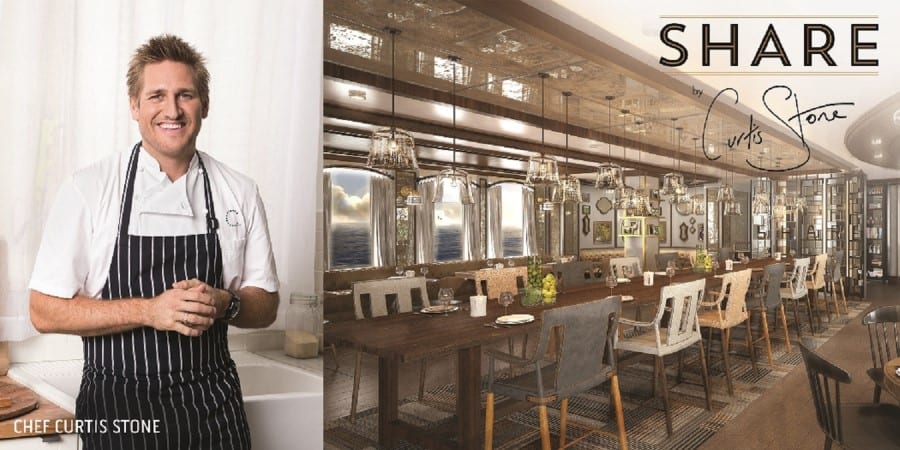 Share is a 6-Course Fine Dining Experience. I have been a big fan of Chef Curtis Stone's cuisine for a long time now so I was very excited to dine in this wonderfully comfortable and welcoming restaurant. The staff are extremely well rehearsed in the menu and wine pairings which adds a lot to your dining pleasure.
The Menu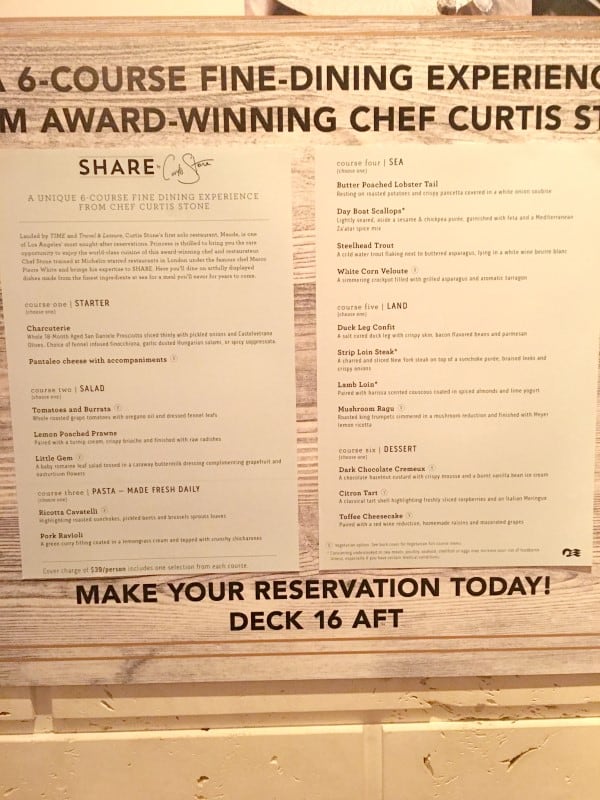 The menu allows you to experience many different courses as you get to choose what your dining experience will be. At times we chose the same dish and other courses differently. I know you are waiting with baited breath to see what we indulged in, so let's read on.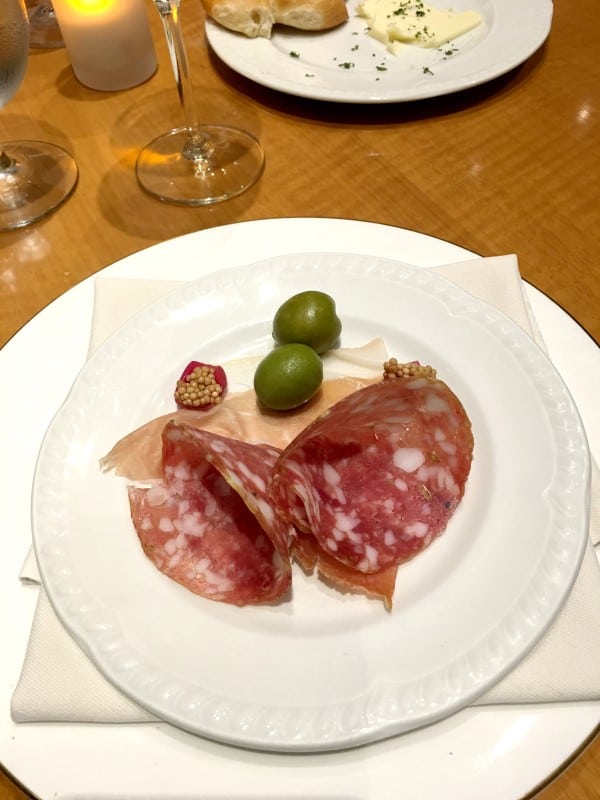 We both started off with a little sampling of Charcuterie, which again you choose what you would like on your plate. I got the fennel infused finocchiona along with the amazing prosciutto, olives and mustard seeds.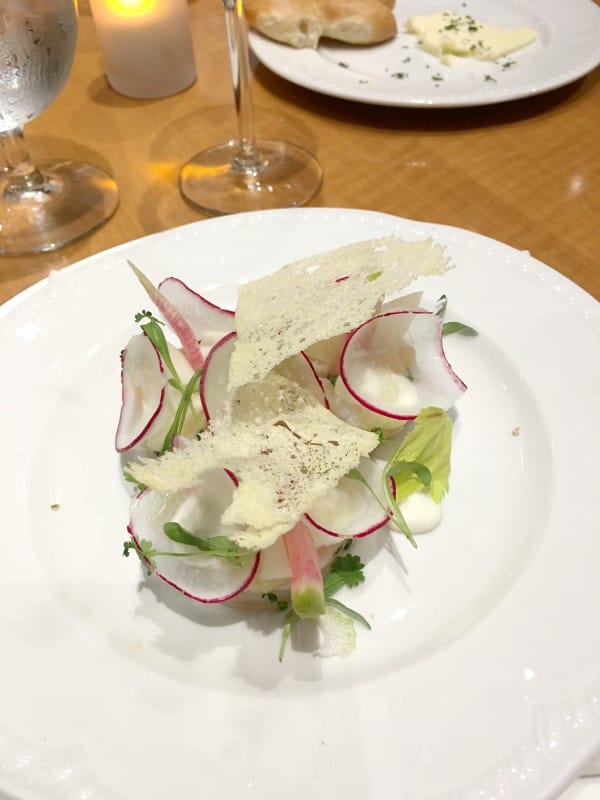 For the next course Lemon Poached Prawns were my choosing. Yes, they are under there paired with turnip cream and lovely adornment of radishes and brioche.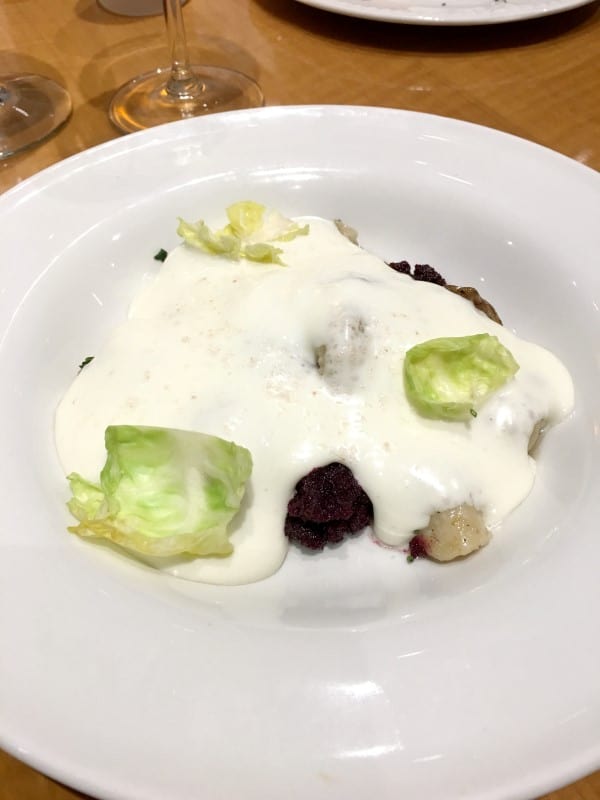 Ricotta Cavatelli was the next course for me and was absolutely drool-worthy with the pickled beets. One bite and the beautiful color of the beets bleeds into the dish infusing it with a stunning purplish red radiance. There were also sunchokes and as you can see Brussels sprout leaves too.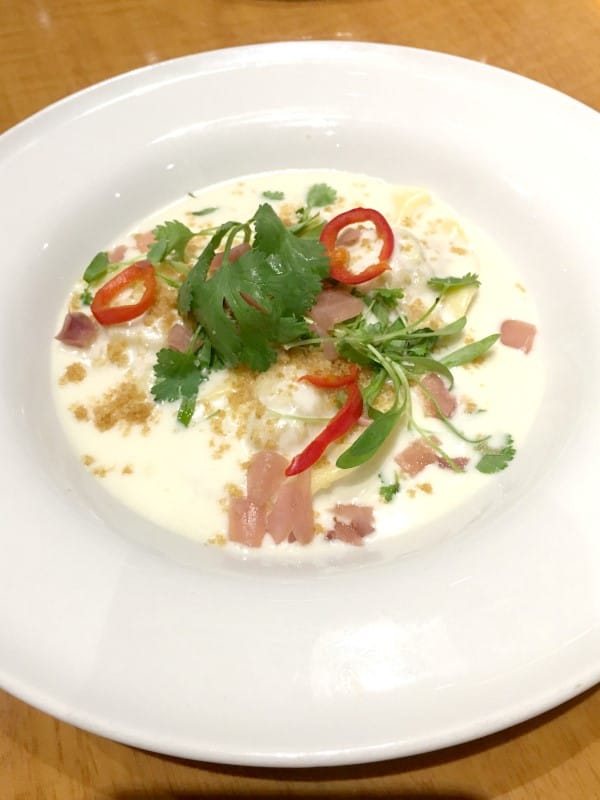 Ken's next dish varied from mine as he choose the Pork Ravioli with a green curry filling and topped with a lemongrass cream and crunchy chicarones (fried pork belly).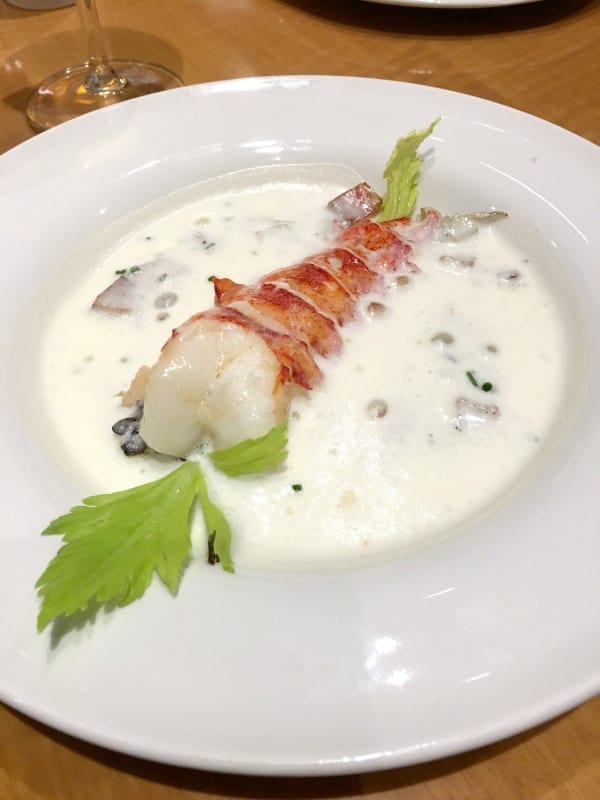 Butter Poached Lobster Tail was the Sea course for me. Perfectly cooked and floating in a white onion soubise (bechamel sauce with onion puree) and accompanied by roasted potatoes and crispy pancetta. An absolutely incredible dish!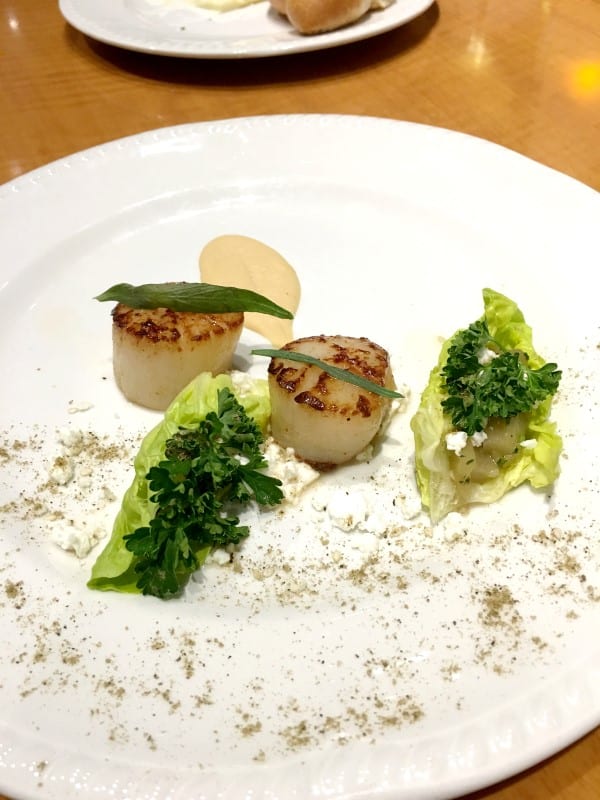 Ken enjoyed lightly seared Day Boat Scallops with a sesame chickpea puree and feta and garnished with a Mediterranean Za'atar spice.
The sound of the Duck Leg Confit attracted us both, so this was our land course. The duck was perfectly cooked, the skin incredibly crisp and served up with bacon flavored beans. I am remembering back how truly amazing this was and wanting desperately another bite.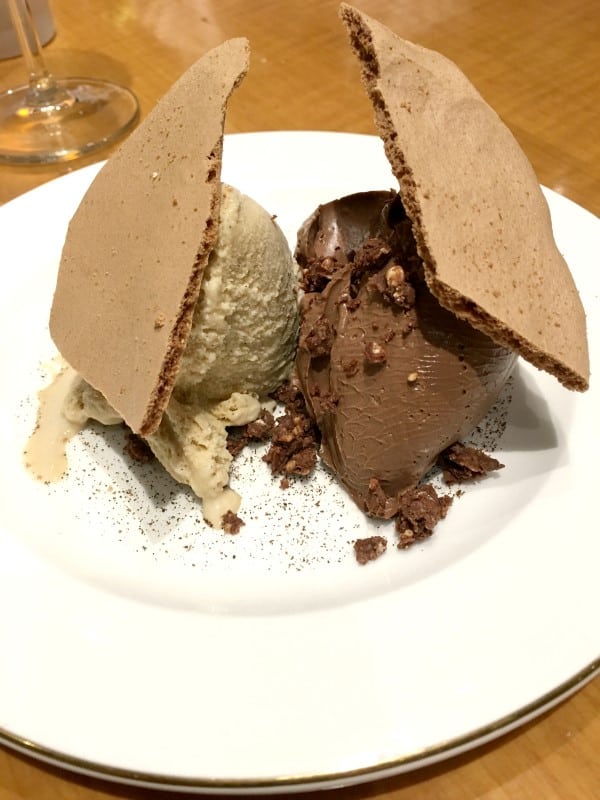 And for dessert was Dark Chocolate Cremeux. This was heavenly with a chocolate hazelnut custard and crispy mousse with burnt vanilla bean ice cream.
An extremely memorable meal aboard the magnificent Ruby Princess. We are off cruising again in the fall with Princess and I can barely wait as on the ship we are on has more Curtis Stone inspired dining.