It is cookbook review time again with The Southern Po' Boy Cookbook by Todd-Michael St. Pierre. This one was sent to me when I had my last giveaway and a lucky reader got one too. I don't think I have ever had a Po' Boy before. Not something you see in our restaurants here in the north. So this gorgeous recipe book enticed me to try one of their mouthwatering sandwiches.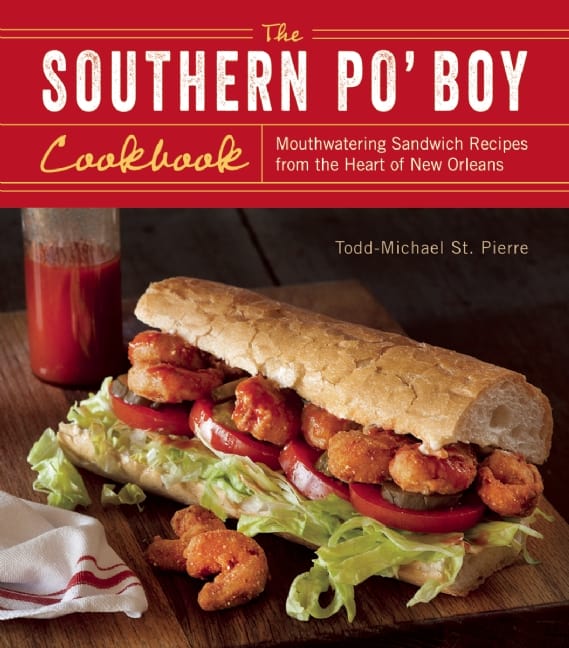 As we flipped through this beautifully laid out cookbook we came across this recipe. Fried artichoke hearts grabbed my attention and paired with shrimp and slaw, okay that sealed the deal!!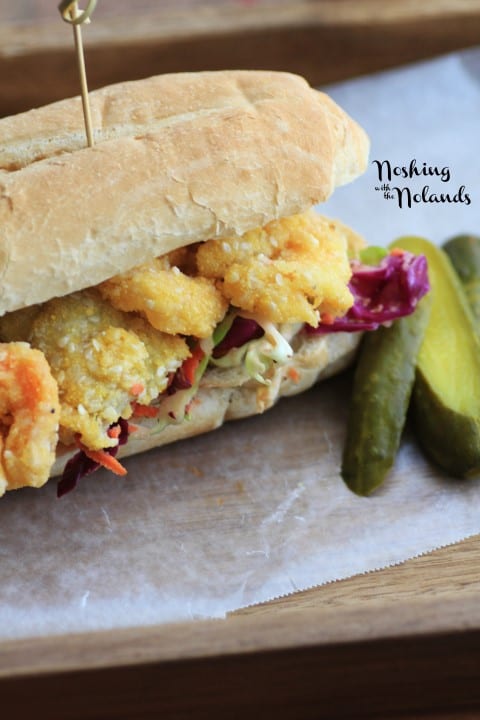 The cookbook has many stunning photographs and gorgeous New Orleans inspired illustrations to make this cookbook come alive with the feeling of being part of the celebration of these magnificent sandwiches. Po' Boys like Roast Beef Po' Boy with Good and Messy Debris Gravy or a Vietnamese Mushroom Banh Mi Po' Boy. Sandwiches taken to another level like Eggs Benedict Po' Boy and Fried Alligator Tail Po' Boy!!!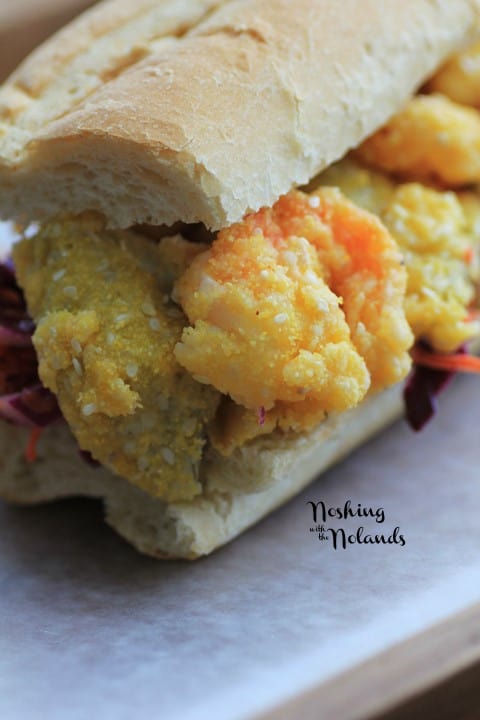 These aren't for the faint of heart, it is a commitment to diving in and getting messy. I was so up for the challenge!!
"Hail to the chief of all sandwiches!" the author says. Todd-Michael St. Pierre is a Cajun/Creole foodie and New Orleans native. I have previously reviewed another one of his cookbooks Taste of Treme and he has also written Jambalaya, Crawfish Pie, File Gumbo.
Todd-Michael is also the author of many children's picture books, has served as a judge for the Reading Rainbow Young Writers and Illustrators Contest and has developed recipe for Cooking Light Magazine.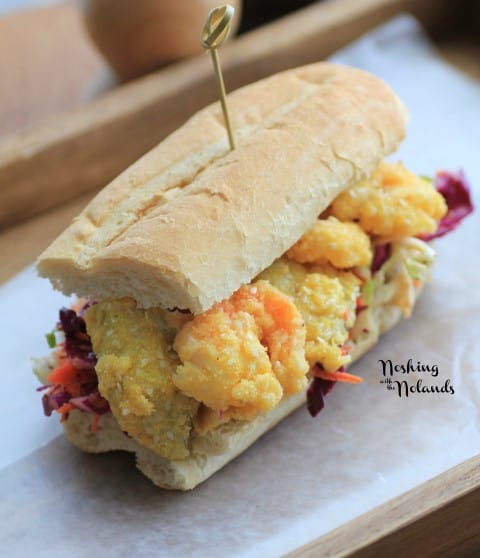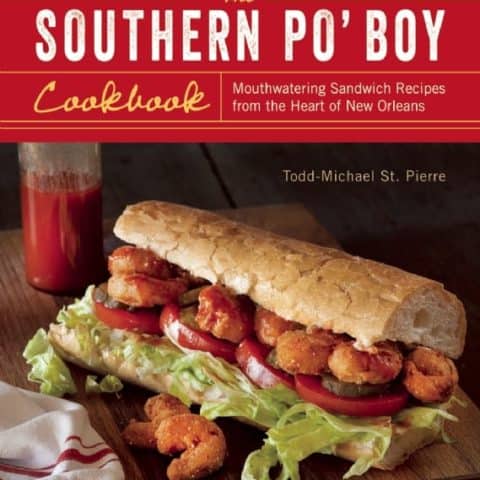 Shrimp and Artichoke Hearts Po' Boy
An amazing Po' boy that will have you falling in love with these sandwiches.
Ingredients
Shrimp and Artichokes
1/2 cup cornmeal
1/2 cup rice flour
1/4 cup sesame seeds
pinch of cayenne pepper
salt, to taste
1 cup milk
canola oil for frying
4 large quartered artichoke hearts
1 pound jumbo (16-20 count) shrimp, optional
Coleslaw
1 cup shredded carrots
1/4 head red cabbage, shredded
1/4 head green cabbage, shredded and chopped
2 Tbsp. mayonnaise
1/4 cup red wine vinegar
1 tsp. celery seed
1 tsp. garlic powder
2 tsp. freshly ground black pepper
2 Tbsp. agave syrup
Assembly
2 (6 inch) loaves French bread or 2 (5 inch) kaiser rolls, split
Instructions
To make the coleslaw, toss together the carrot and both cabbages in a large container. In a small bowl, whisk together the mayonnaise, vinegar, celery seed, garlic powder, black pepper, and agave syrup. Add to the vegetables, toss well, cover, and chill in the refrigerator for at least an hour.
In a clean small bowl, thoroughly mix together the cornmeal, rice flour, sesame seeds, cayenne and salt. Pour the milk into another small bowl.
Attach a deep-fry thermometer to the side of a 6-8 quart cast-iron Dutch oven, add enough oil to measure 2 inches deep. Dunk the artichoke hearts in the milk, shake off the excess and coat in the flour mixture. Fry in batches. Each side should cook for about 1 1/2-2 minutes. Using a slotted spoon, transfer to paper towels to drain. Repeat with the shrimp, if using.
Pile coleslaw into the bread, and top with the artichokes and shrimp, if using.