Siesta Key Florida
Have you been to Florida lately? There is just endless things to see and do. If you are considering Florida for a vacation a wonderful spot we discovered is Siesta Key Florida. It is a short drive, 1 1/2 hours from Fort Myers. It has great access over two bridges, north and south, so making a beach visit from Sarasota is very easy.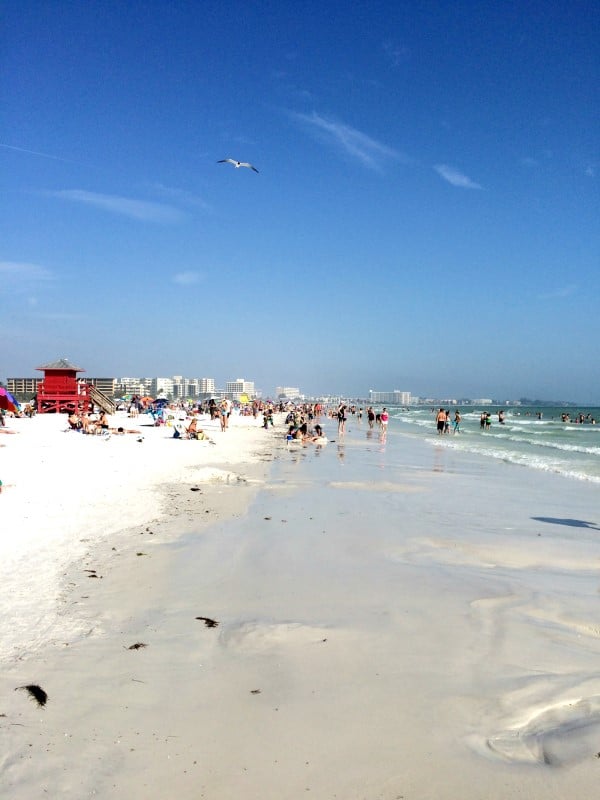 Siesta Key Beach has been voted the number one beach in all of the US. With over a $20 million dollar overhaul, this beach is amazing. Wonderful facilities for changing, washrooms and then the most glorious of sea and sand, I can see why it easily out votes the other beaches.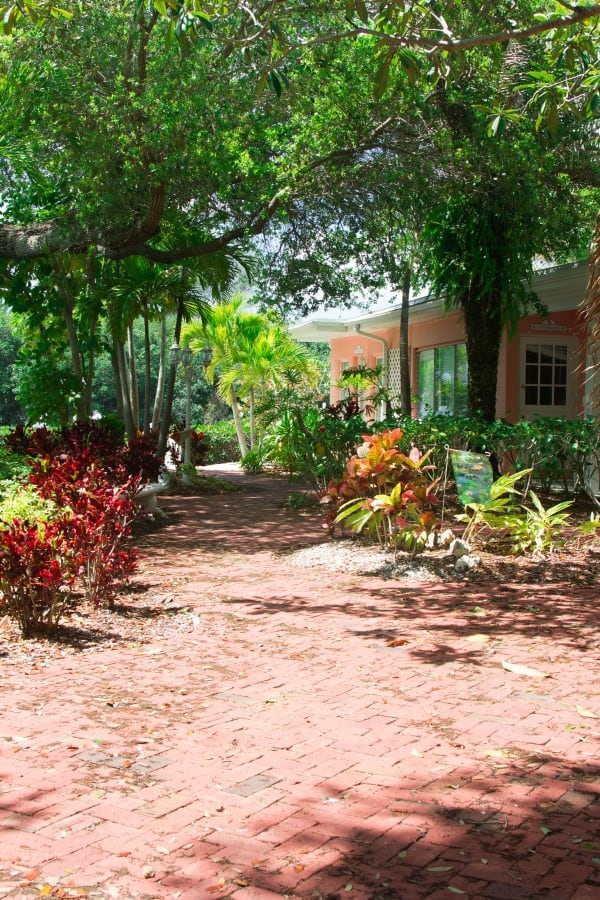 Our stay on Siesta Key was at the Siesta Key Bungalows, gorgeous little bungalows nestled in lavish flora and tucked right by a beautiful lagoon. These bungalows are situated on the southern tip of Siesta Key very near the much quieter Turtle Beach. Check out what Siesta Beach Bungalows says about the beaches of Siesta Key HERE!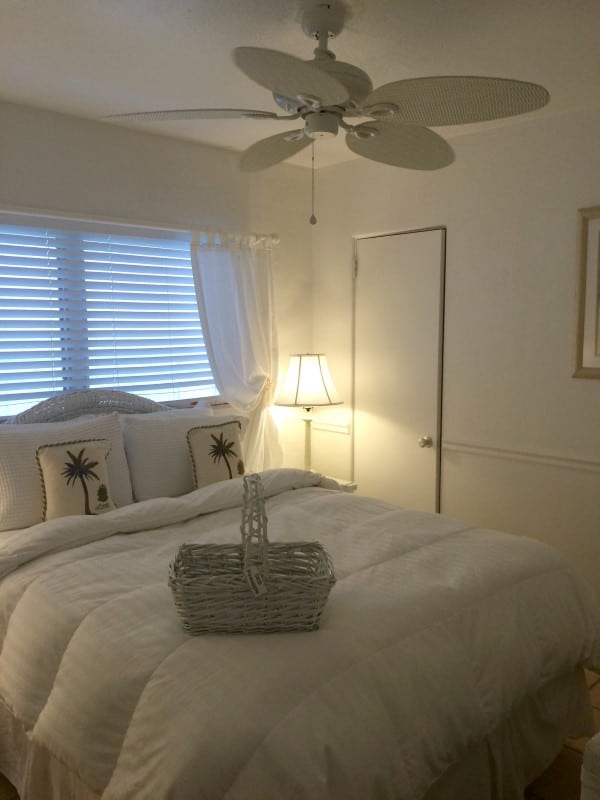 The bungalows are quaint and fully furnished. A little basket is provided for easy laundry exchange. You just leave your towels out and new ones will be replaced, lovely idea. Jackie who ran the place was very imformative, helpful and extremely pleasant. Loved having a little chat with her to learn more about the area.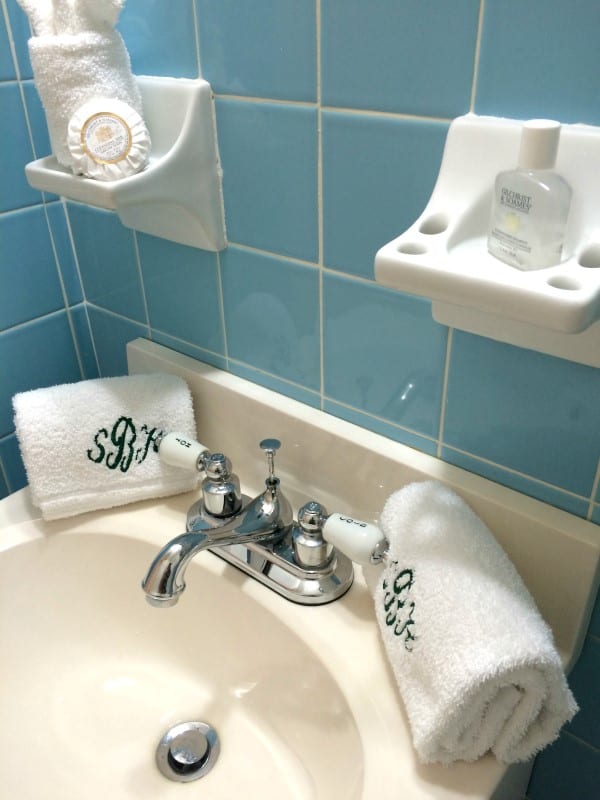 The accommodation was spit spot clean, I was very impressed.
The little kitchen was perfect for our needs. It sure makes life easier with a few amenities like this!! We stowed away our finds quickly in the fridge.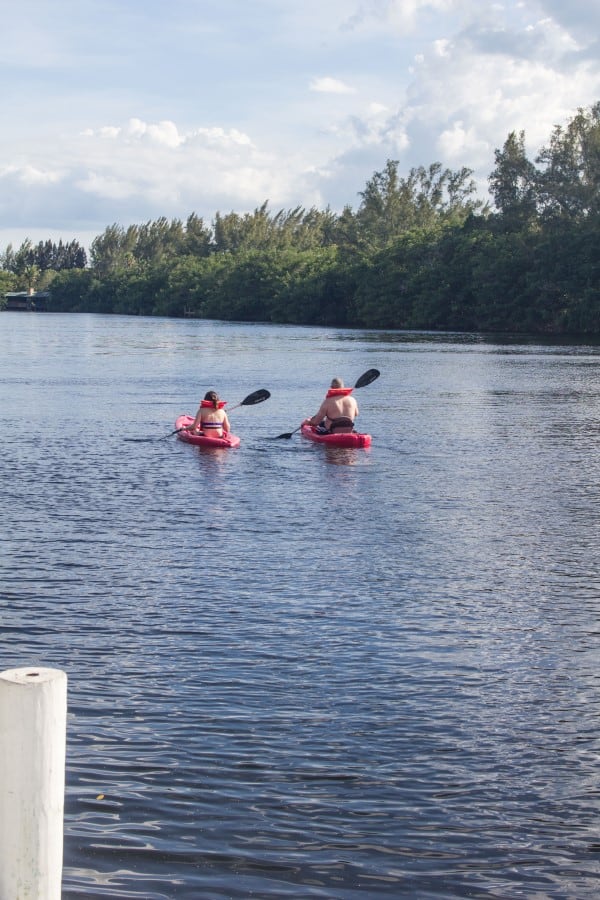 The lagoon was only a few steps away from out bungalow and offered free kayaks. Ken and Amber jumped in for tootle around the lagoon.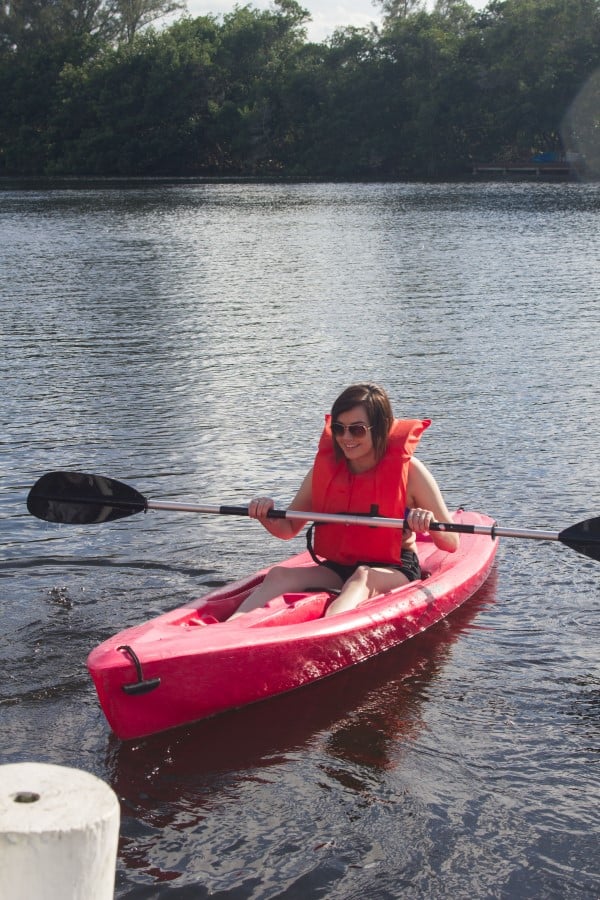 Amber was happy having a paddle around on this sunny hot day. A great free little family activity that required zero planning but just to walk down to the dock, love that.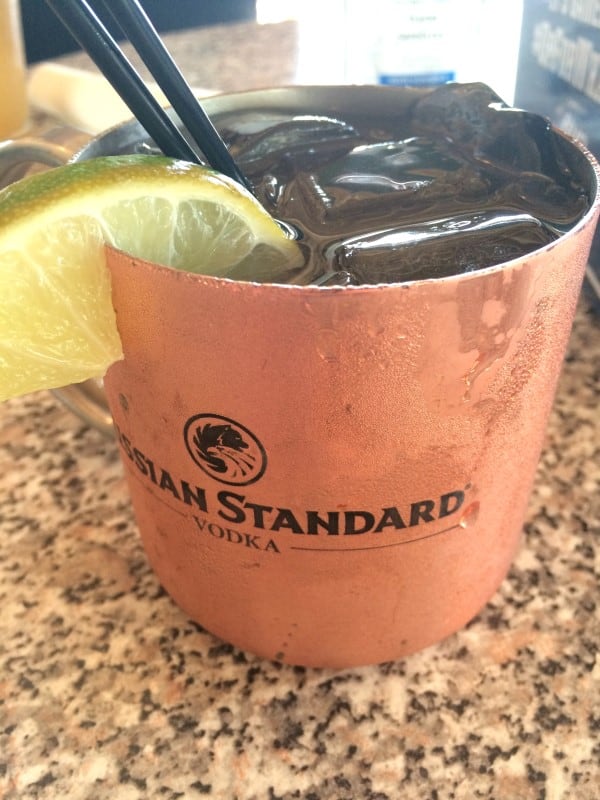 The first afternoon upon arriving as we drove down from Fort Myers, we dined at the local Turtle Beach Grill for lunch. I found a refreshing Moscow Mule on the menu to start off my afternoon! I don't see it on there now so just ask for it, I am sure they will accomodate you!!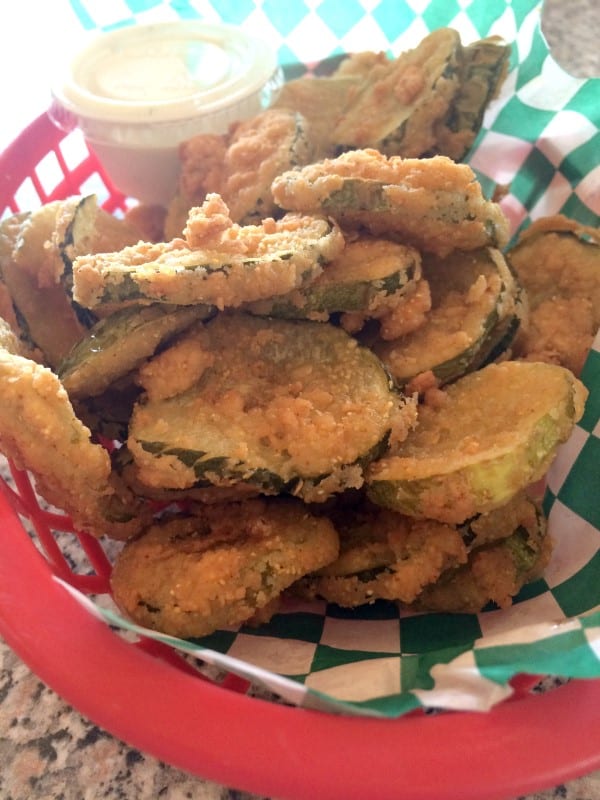 Amber and Ken shared a basket full of Fried Pickles with ranch dip. Have you ever tried fried pickles? What are you waiting for, I nipped one or two of these also!!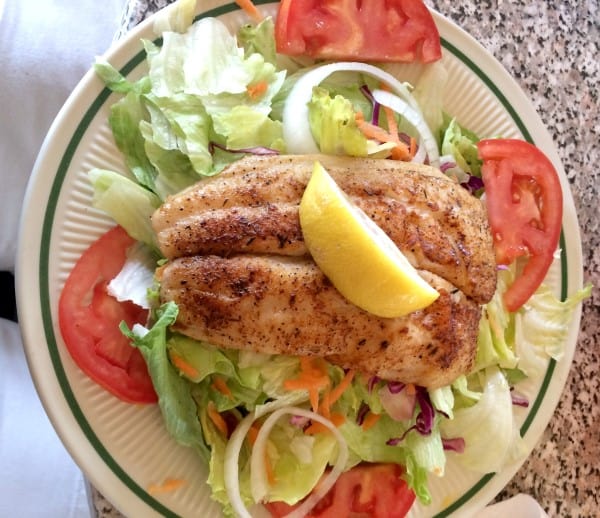 Amber enjoyed a sandwich and soup, grilled cheese with tomato and bacon with tomato soup, while Ken and I went for the seafood. I had some glorious peel and eat shrimp and a fresh side salad and Ken enjoyed the fresh fish catch of the day!! All was scrumptious and enjoyed!!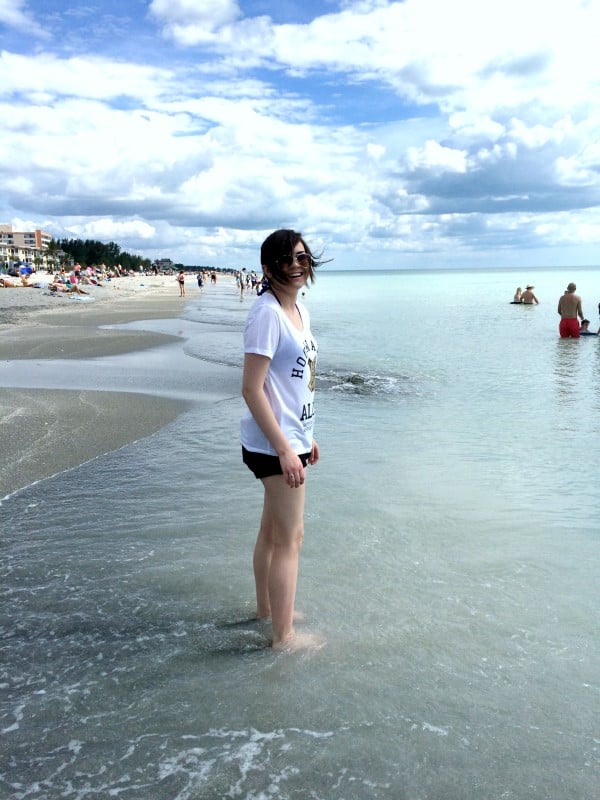 After lunch we went to Turtle Beach to have a dip in the ocean and a walk up the beach. This is a great walking beach, the sand is lovely and firm. It is much darker and has more shells than at Siesta Beach but it is so much quieter at this end, giving you a great alternative.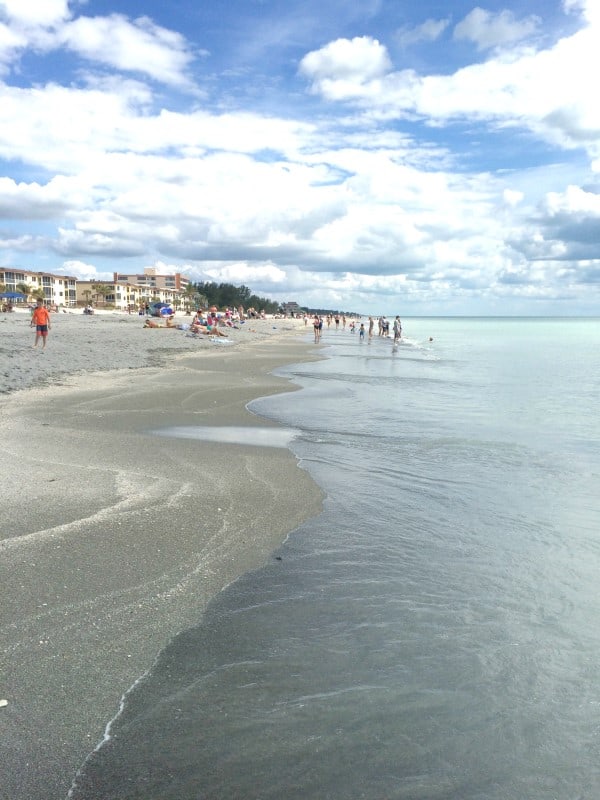 While on Siesta Key there are lots of things to do like fishing, boating, parasailing, kayaking, snorkeling, swimming, or you can just dip your toes in the sand and enjoy the view. It has been a long time for me to enjoy a beach while I was not at a resort. We bought our own towels and could come down at anytime and declare a little spot our own.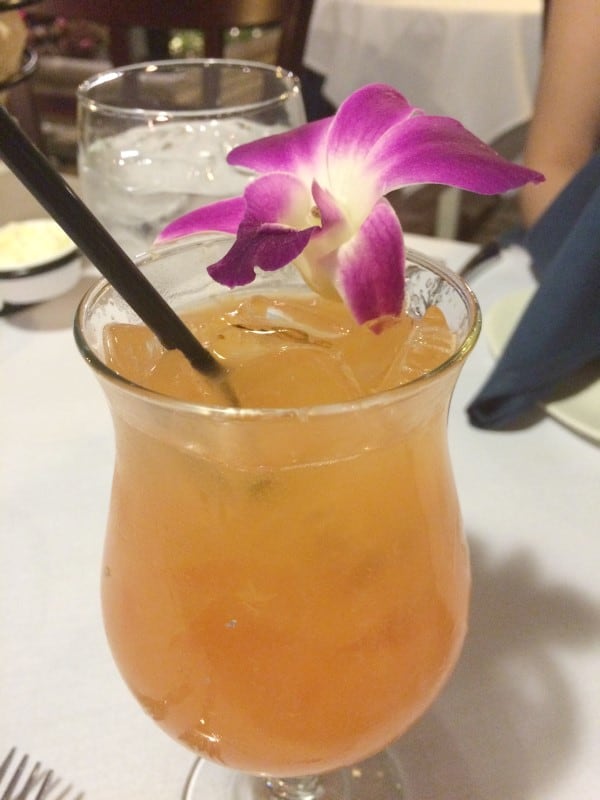 At the same end of the key is a lovely upscale restaurant called Ophelia's on the Bay. The night was warm, the restaurant inviting as we sat outside on the water. I know I am back at it with the cocktails but who can resist a Mai Tai when you are on vacation!!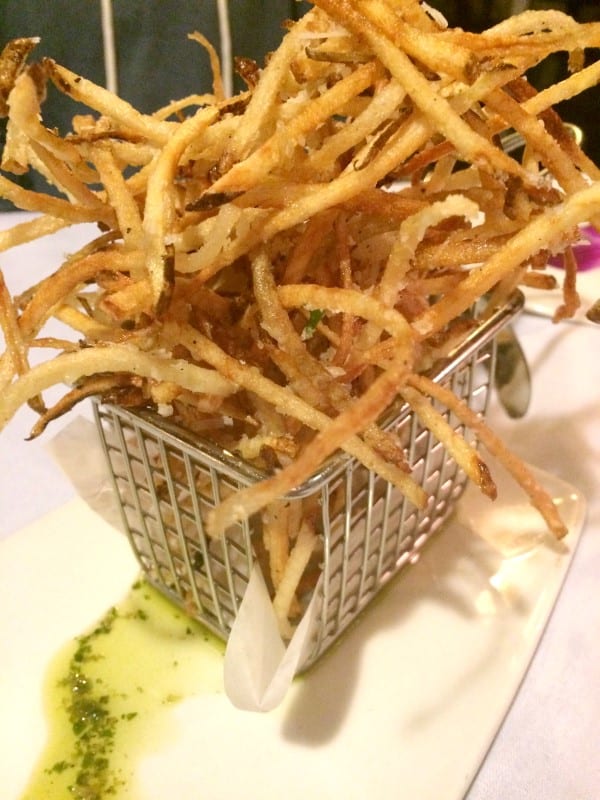 To start, I had this tangled mess of deliciousness along with beef tartare. On the menu it is called, Le Petite "Steak Frites" and is Filet Mignon Tartare, Grilled Sweet Onions, Worcestershire and Black Truffle Dijonnaise with Truffle Perfumed Reggiano Shoestring Pomme Frites. Quite a few of these fries were pinched from me and I was happy to share because they were amazing.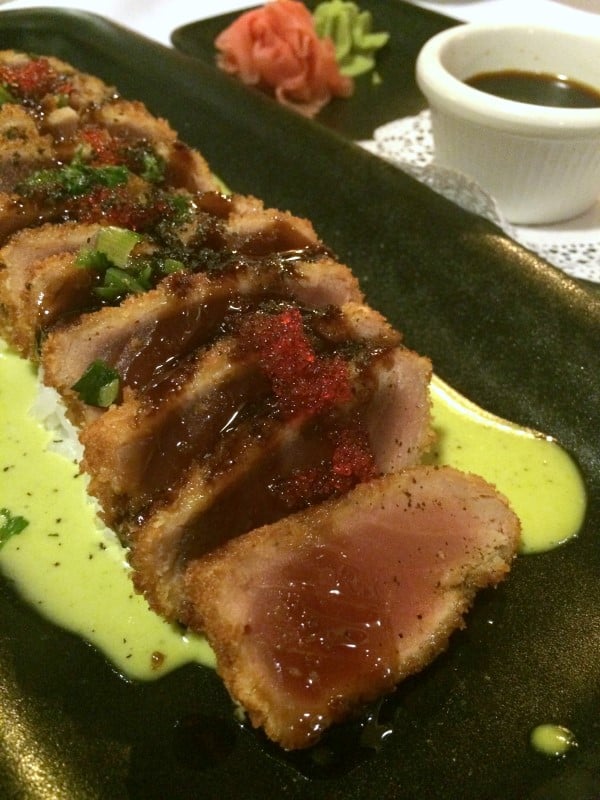 We all enjoyed seafood that night, Ken started with the Bon Secour Oysters, applewood bacon, caramelized onions, worcestershire, tobasco, sambuca, baby spinach, reggiano and maine lobster mousseline, they were stunning. He then had the Mahi Mahi, with coconut and macadamia crumb crust. Amber thoroughly enjoyed her selection, Steel Head Trout with Mashed Potatoes, Zucchini and Carrots. Plus her favorite of Creme Brulee for dessert. I had this amazing Seared Tuna over sushi rice with a wasabi cream, each bite even more delicious than the last.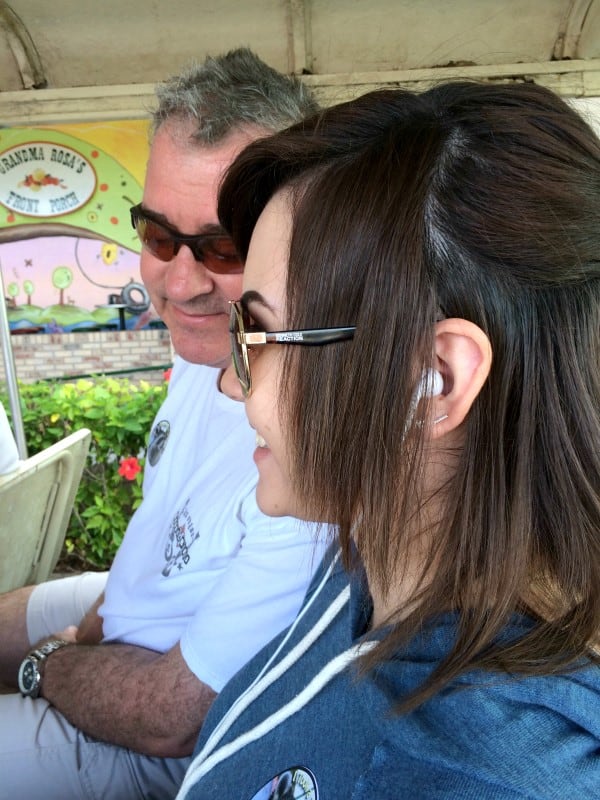 Discovering some fun things to do beside dining and seaside we decided to venture out to Mixon Fruit Farms for a visit. They have a Wildlife Refuge Tour on a tram bus a few times a day and we planned it perfectly as we hopped on the ride right away!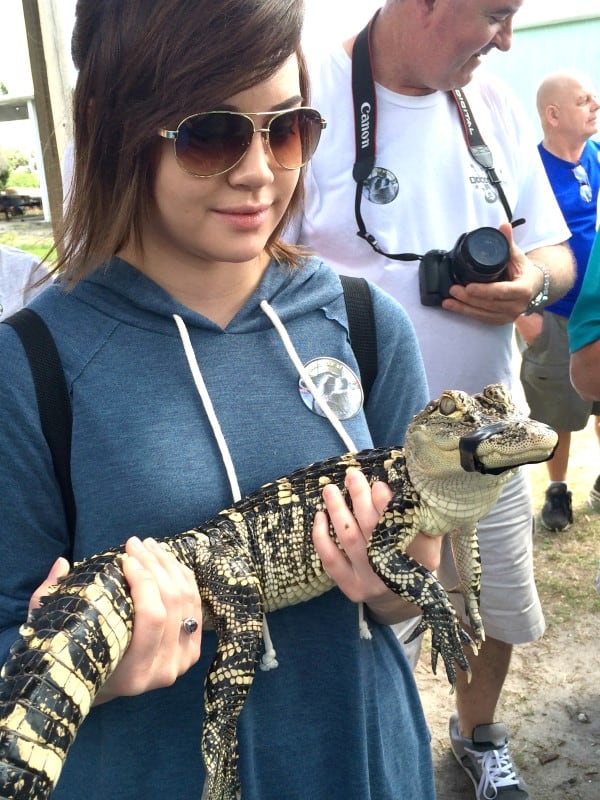 There are loads of animals to see and some great hands on experience for the kids, like holding this baby alligator to petting large turtles, an albino skunk, feeding a large boar and more!! All the animals have been rescued and Dean and Janet Mixon are happy to share their citrus grove with Wildlife Inc.
It is great for kids and adults to see Florida citrus in action. Here they are checked over for bruises and rot and woodpecker holes!! I saw a few of those, they like the sweet juice too!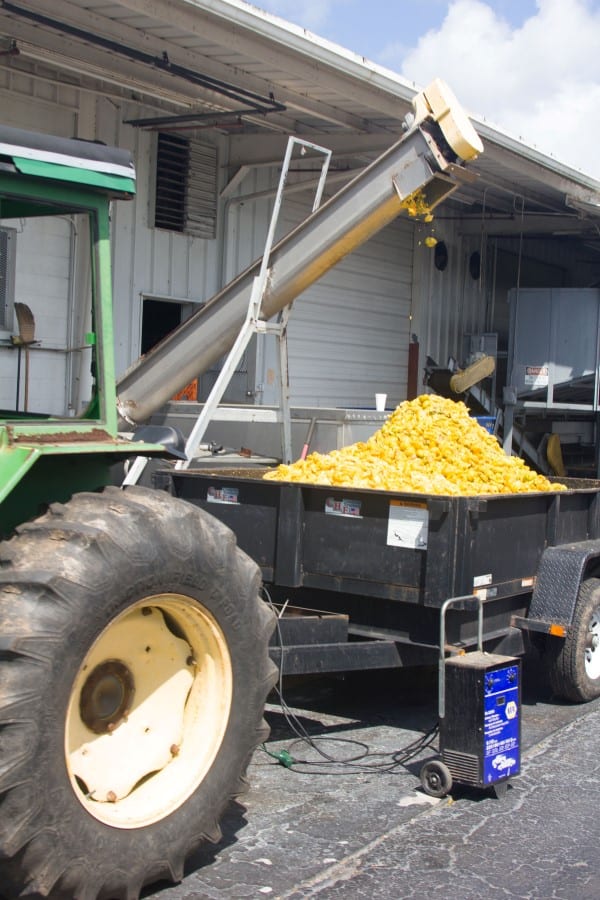 Here is where the peels go after juicing. Their orange juice was fantastic on a hot day!!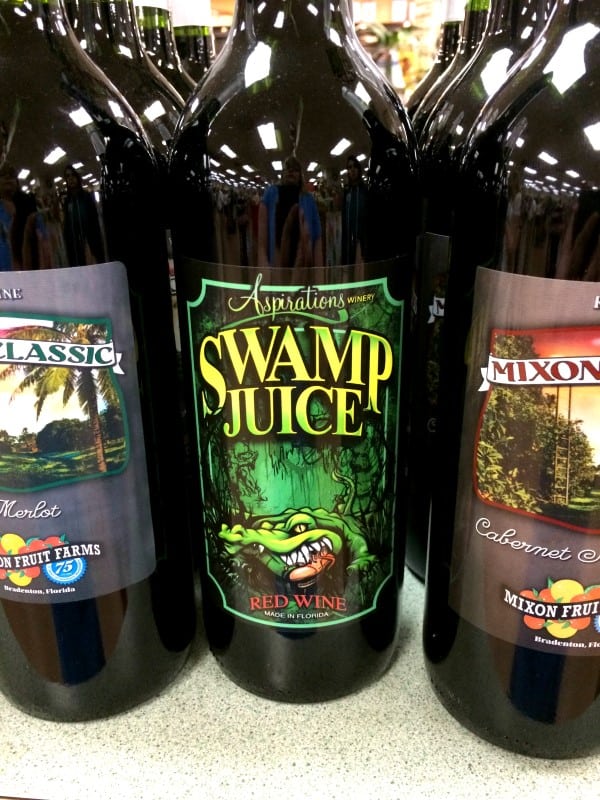 Here is another kind of juice!! Loved the bottle and the name, Swamp Juice!! I didn't try it but now wish I had!!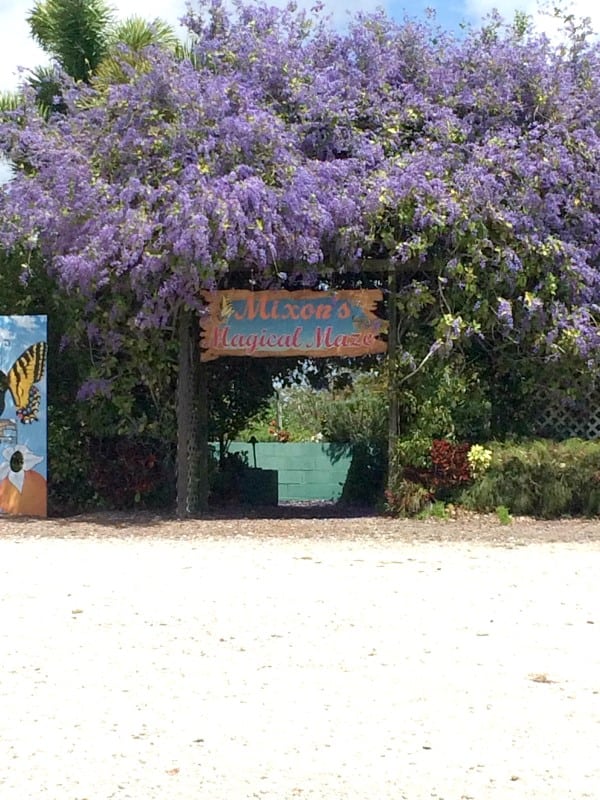 Here is another fun adventure for the kids plus this wisteria was breathtaking!!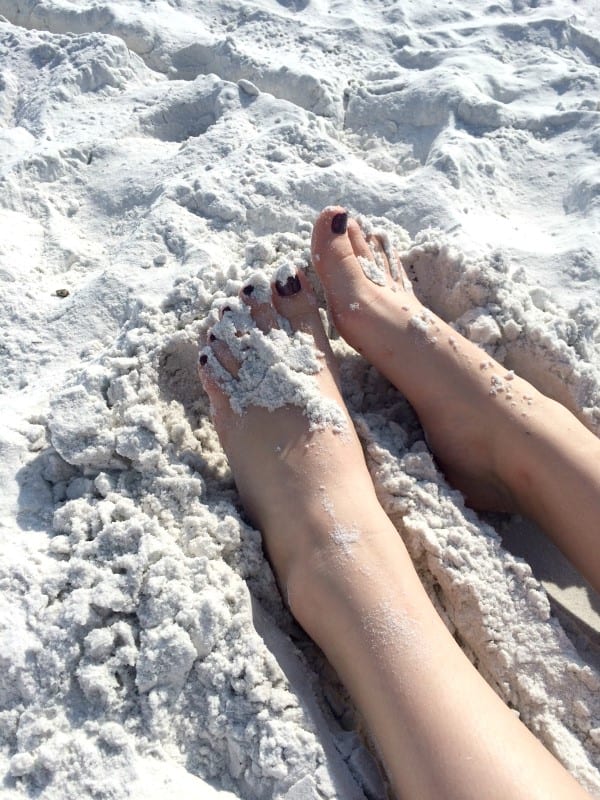 After fun and adventure there is always time to get back to the beach. The sand at Siesta Key Beach is amazing. It is as fine as double zero flour and Amber loved burying herself in it. She would go back just for the beach experience!!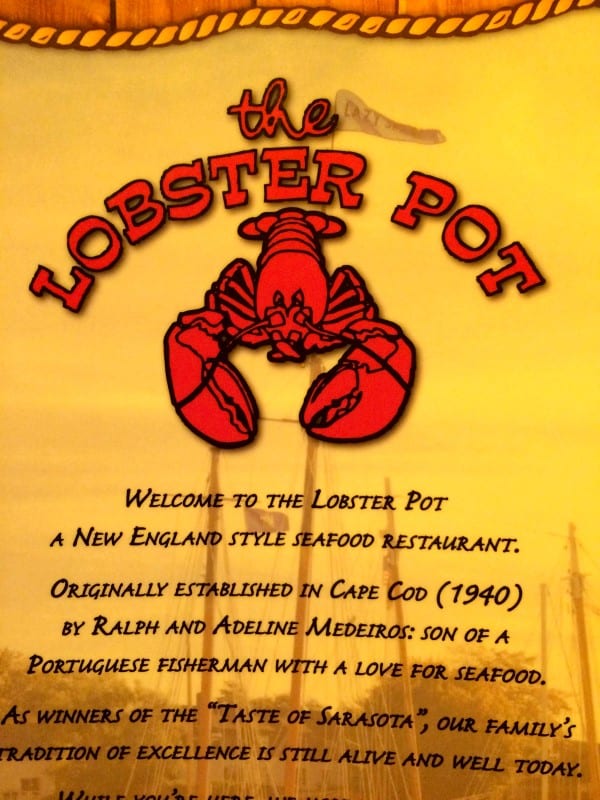 Dining on the north end of Siesta Key is a bit more challenging. It is crowded with a lot more people. The first restaurant the wait was 2 hours, well not about to do that, so we ventured onward. Another recommendation from Jackie at Seista Key Bungalows was The Lobster Pot. Not only did we luck out with parking on this end of the key but we nabbed three seats at their little bar while we waited for our table. Perfect for a little libation before dinner.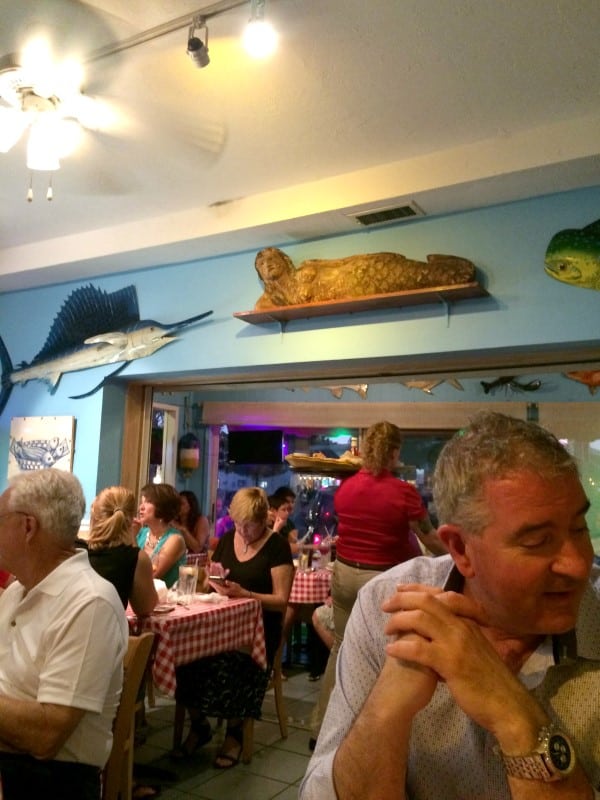 This place was hopping with people and food and a great beachy (is that a word?) atmosphere.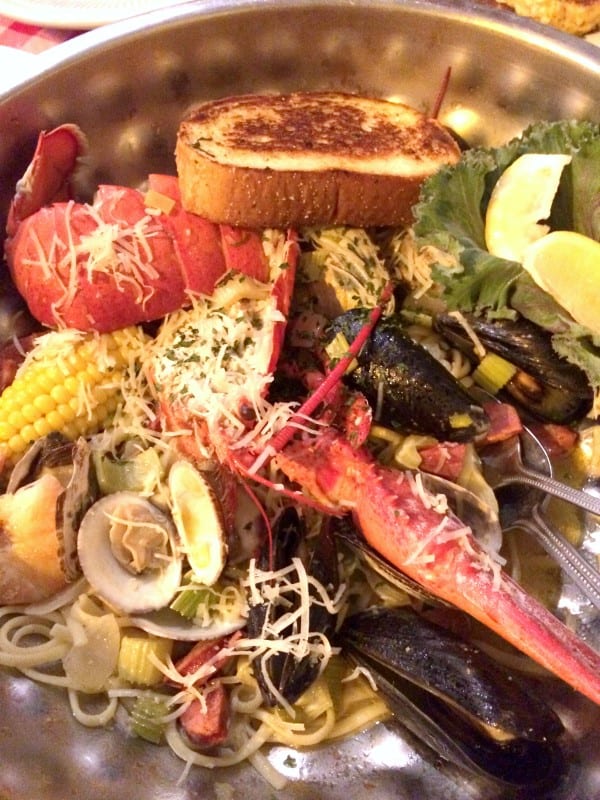 I wanted a big ol' mess of seafood. This is actually a portion for one and is called Seafood Portugal!! But was completely enough for Ken and myself to share. Man, was that good!! Amber had the Lazy Duchess after seeing a gentleman devour this at the bar. It is New England lobster meat prepared with their famous seafood stuffing and baked to perfection.
Well that ends our couple night stay on Siesta Key but there is still more to show you of Sarasota, stay tuned for our next post and also return to Fort Myers to see what we have done there too.
Come and enjoy some Fort Myers Florida your way. Relax, explore, dine and play! Y0u can follow along with Visit Florida on Twitter, Facebook, Youtube, Pinterest and G+. Use the hashtag #LoveFL!