Simple BBQ Potato Sausage Appetizer
Do you love entertaining in the summer months but don't want the hassle of complicated recipes? I think this recipe for, Simple BBQ Potato Sausage Appetizer, takes the cake for falling into these easy categories. It fits under the category of 5 ingredients or less and has a quick preparation, a quick cooking time, it is mistake proof and above all EASY!! Little Potato Company does more than half the work for you with their convenient BBQ packages.
The potatoes are pre-washed and no peeling are needed. The packs come with a spice blend package and all you do is add olive oil to get the most divine roasted potatoes on the BBQ. Then there is no clean up either with their handy tray that is included. Nothing can be simpler.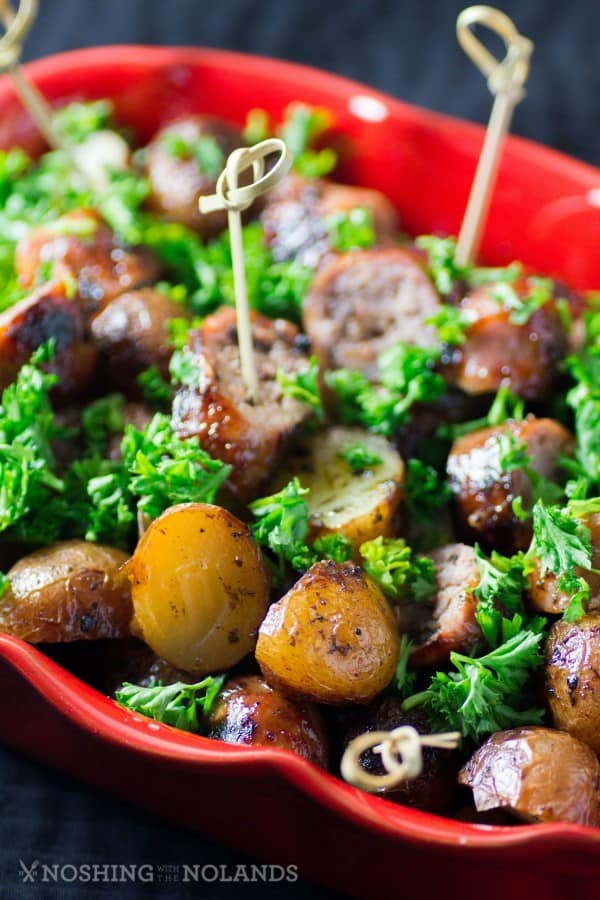 This appetizer was gobbled down in our house and will be made again and again because it was so easy and delicious!! Grab a package of Little Potato Co. oven/grill ready packages, there are three to choose from Barbeque Blend, Garlic Herb and Onion Medley. Then grab your favorite sausage, we used bratwurst. Also toss in some BBQ sauce into your cart, which I am sure you will need all summer long anyway and some fresh parsley. You are on your way to a gorgeous, simple yet divine appetizer.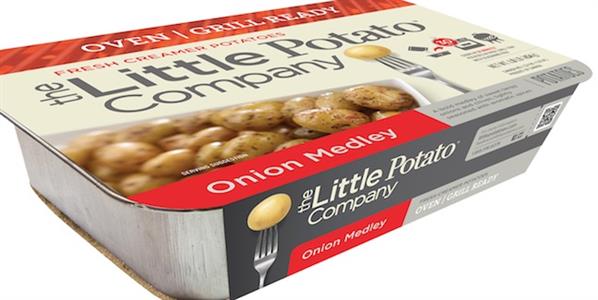 Little Potato Co. Oven/Grill Potato packages are found in your produce section in your grocery store, they usually have a little display area of their own and may of may not be with the other potatoes. They should also be with the convenient microwave trays that Little Potato Co. offer. Have a look around for the them. Like their regular packaged potatoes they are:
– gluten-free
– allergen-free
– fat-free
– cholesterol-free
– Vegan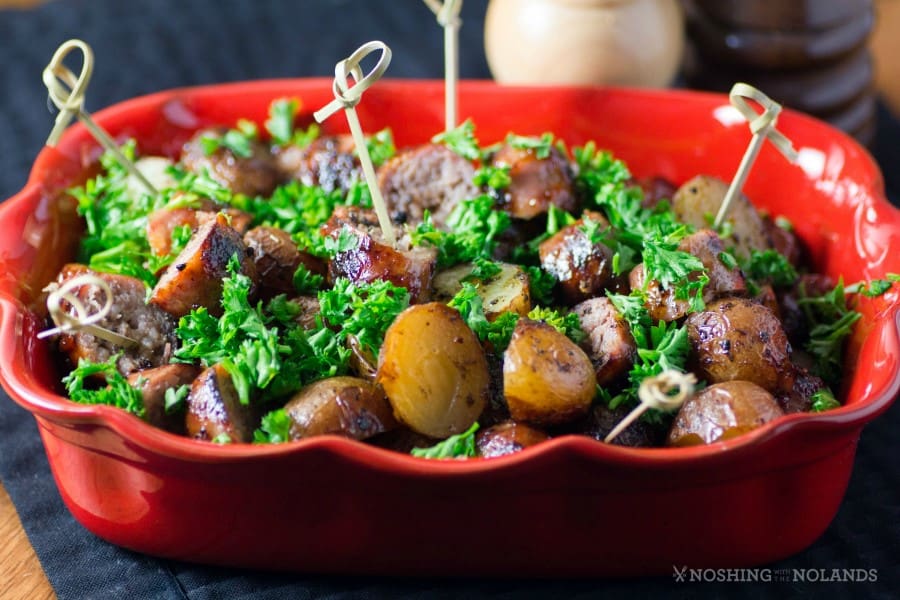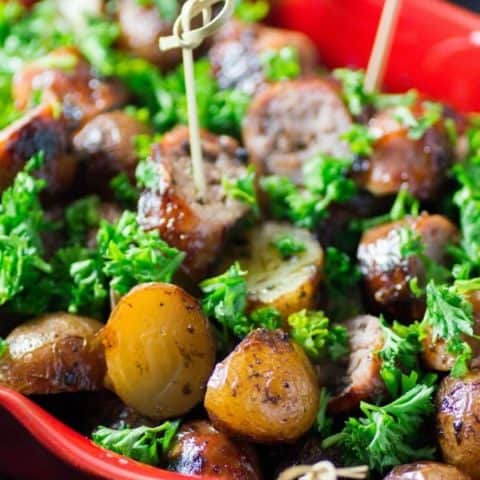 Simple BBQ Potato Sausage Appetizer
Yield: 4 servings
Prep Time: 5 minutes
Cook Time: 30 minutes
Total Time: 35 minutes
A simple, easy, 5 ingredient or less recipe, Simple BBQ Potatoes Sausage Appetizer. You will be making this all summer long for all your entertaining needs.
Ingredients
I pkg. (454 gm.) Barbeque Blend (or your favorite) Little Potato Oven/Grill package
Olive oil
I pkg. of 5 sausage brats or your favorite
BBQ sauce
Parsley, chopped
Instructions
Prepare the potatoes per package instructions and place on the BBQ to cook. After about 10 min. place the sausage on the BBQ and start to cook them. At the very end of cooking, slather on the BBQ sauce on the sausage and turn over to evenly coat. Remove both the potatoes and sausage. Slice up the sausage and halve any of the large potaoes. Careful they will be hot of course, use a knife and fork to make it easier. Place in a serving dish and garnish with any of the oil that is left in the potato tray and top with the parsley. Serve with toothpicks.