I have Heidy here today from The MacCallum's Shamrock Patch. Heidy and I know each other from a group called Enjoying Yummy Recipes where we enjoy sharing each others recipes. I love sharing Heidy's work! Always delicious looking, so I am thrilled she is here today doing a guest post with Simple Lemon Basil Pasta with Chicken. It really looks divine, my kind of dinner for spring!! I would love for you to follow along with Heidy on Facebook, Pinterest, Twitter, and Google +. I now leave you in Heidy's very capable hands!
Springtime calls for a fresh clean taste, nothing says fresh and clean like my recipe for Simple Lemon Basil Pasta with Chicken, utilizing fresh lemons off our tree , garden grown basil, extra virgin olive oil, freshly grated Romano cheese and grilled chicken over linguine noodles. It's so simple and delicious your going to love it.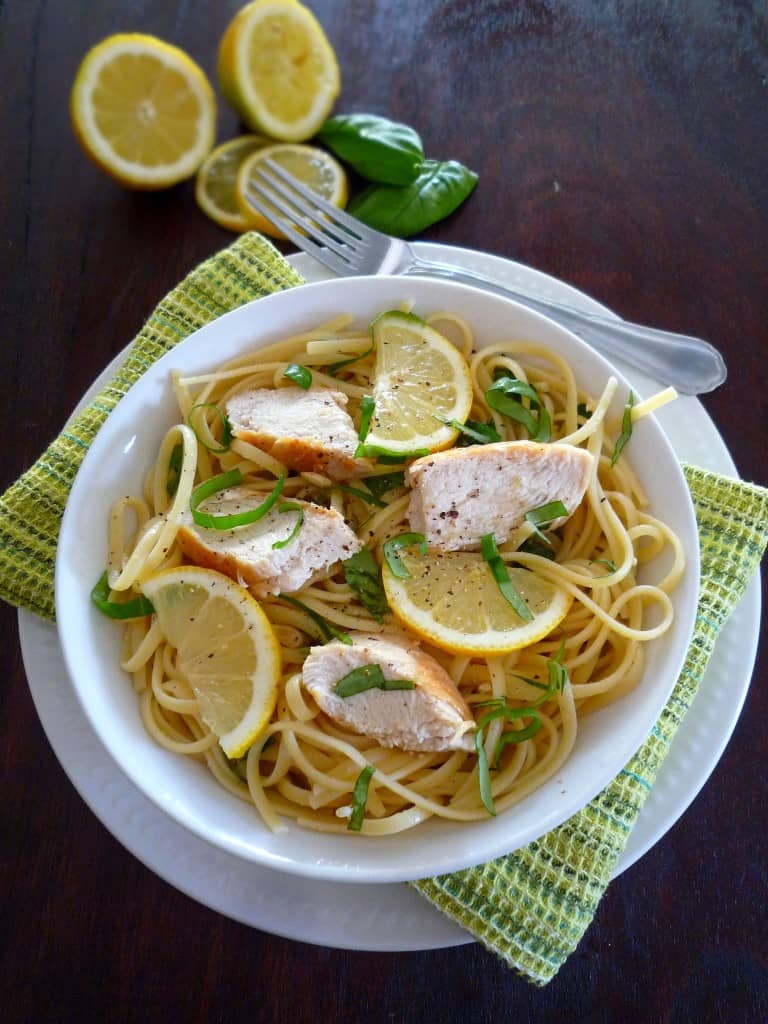 I'm Heidy L. McCallum the author of The McCallum's Shamrock Patch Blog. I'm just a small town girl from Ohio that decided to transplant to Florida 15 years ago . I enjoy having fun in the kitchen making family orientated recipes with a hint of my family culture and background.
My cooking techniques range from European Cuisine, Latino to Cajun and Creole traditional Cuisine. I have dabbled in Fusion Cuisine the last 3 years and you will see it in many of my family recipes shared on my blog.
What is Fusion Cuisine?
Fusion cuisine is cuisine that combines elements of different culinary traditions. Cuisines of this type are not categorized according to any one particular cuisine style and have played a part in innovations of many contemporary restaurant cuisines since the 1970's.
Here in Florida, springtime is a whole new ball game…It's already hitting close to 86 degrees on an average day. Being able to eat light meals are almost a necessity at my humble home with the heat already starting to rise….Can you believe my central air is already running?
It's a beautiful warm sunny day and perfect for being in the garden to tend to a few weeds before I pluck my gorgeous basil plant of its lovely green leaves and hit up my lemon tree for fresh lemons for my recipe for Simple Lemon Basil Pasta with Chicken that I am sharing here today with you; the lovely fans of Noshing with The Noland's Blog.
I love this recipe for a few reasons it's fast, simple, and all the ingredients are fairly simple to find in any local market if you do not already have them on hand. Cooking shouldn't always be an all day affair….as I always say "Less is sometimes more".
Simple Lemon Basil Pasta with Chicken
• 2 -6 ounce grilled chicken breasts, sliced into strips
• 1 pound of Linguine
• 2/3 cup pf extra virgin olive oil
• 2/3 cup of grated Romano Cheese
• 2 Fresh Lemons, zested and juiced
• 2 sliced lemons
• Kosher salt to taste
• freshly ground black pepper, to taste
• 1/2 of a cup of chopped fresh basil
Directions
Season the 6 ounce chicken breasts with kosher salt and freshly ground pepper, place on a lightly oiled grill pan that has been pre heating on medium-high heat. Grill 6-7 minutes on each side or till chicken is no longer pink or running juices. Place on plate to cool, once cool slice into strips.
Zest and juice both the fresh lemons place in separate small bowls and reserve.
Whisk the extra virgin olive oil, Romano cheese, lemon juice from above, kosher salt, and freshly ground black pepper in a large glass bowl to blend- reserve till needed
Meanwhile, bring to a boil a large pasta pot of salted water. Add the linguine noodles and cook, stirring occasionally, until al dente- firm to the bite, about 8 minutes
Using a metal colander drain linguine noodles, reserving about 1 cup of the cooking liquid
Add the linguine noodles to the lemon sauce, and toss with the 1/2 of a cup of chopped basil and the reserved lemon zest from above.
Gently toss the pasta with enough reserved cooking liquid, 1/4 of a cup at a time, to moisten pasta.
Season the linguine with more salt and pepper to taste
Place in pasta bowls, arrange grilled chicken strips on top of pasta .Garnish with sliced lemons and serve with extra Romano cheese and basil, if desired.