Slow Cooker Spaghetti Bolognese
I almost always make a meatless sauce for spaghetti or a clam linguini, never do I make a bolognese sauce, so this was a real treat for myself and my family. We all loved this Slow Cooker Spaghetti Bolognese! I had a hankering for it so decided to make a really good one. I found a recipe from Williams-Sonoma and it looked really good. I tweaked it only slightly and let it cook for hours to develop the flavors in our slow cooker.
What a fantastic sauce, Ken was so excited!!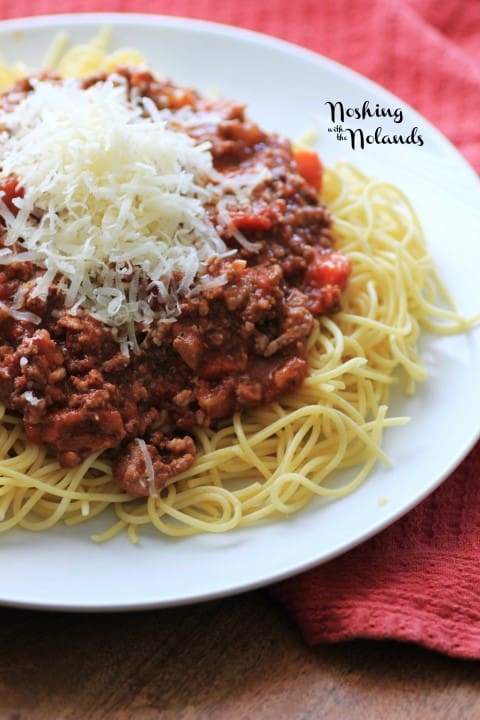 I have recently started using whole San Marzano tomatoes, they were actually on sale at my local grocery store and were one third less than the usual ones I use. The ones I used also were in a puree. I loved the flavor that they give a recipe and I now have a new favorite tomato!!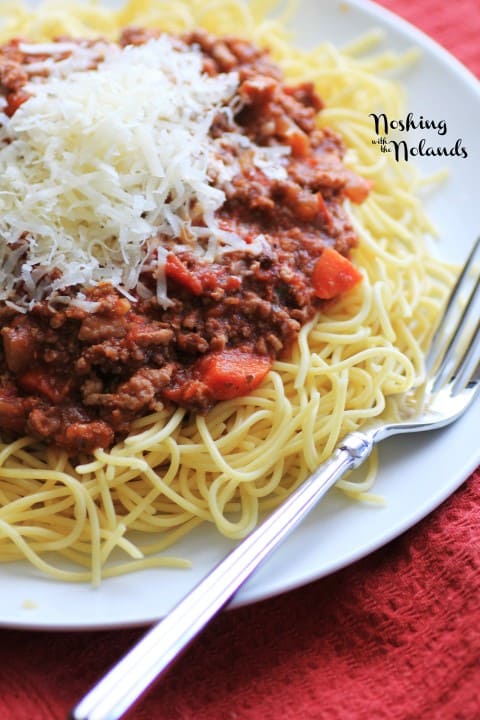 This recipe takes a little bit of prep time in the beginning but the browning of all the meats and vegetables adds to the deep of flavor!! ENJOY!!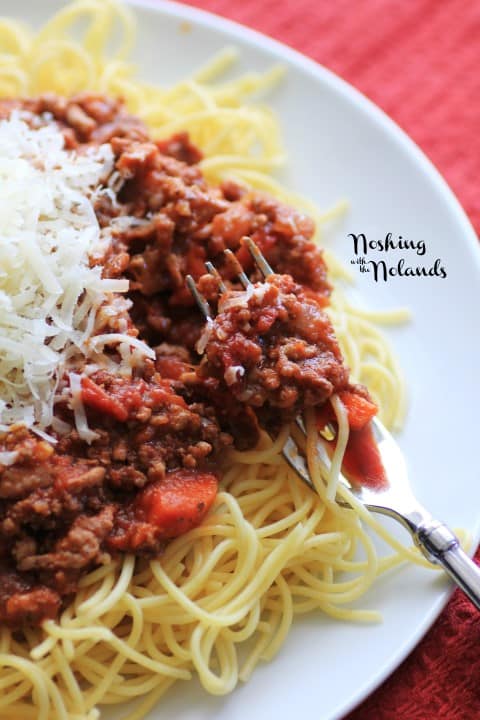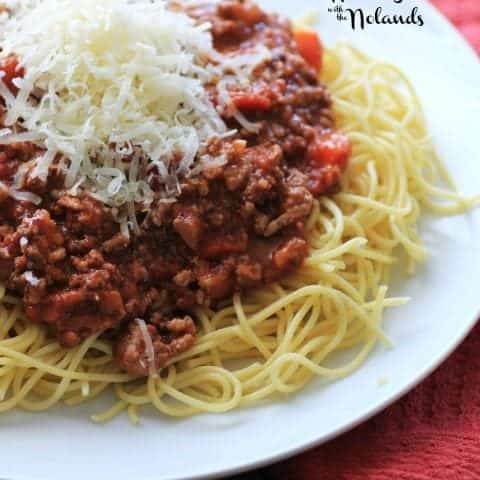 Slow Cooker Spaghetti Bolognese
Yield: 4-6
Prep Time: 30 minutes
Cook Time: 4 hours
Total Time: 4 hours 30 minutes
A rich and delicious bolognese made in your crock pot!!
Ingredients
1 Tbsp. olive oil
1 1/4 lb. ground beef
1 1/4 lb. ground pork
Salt and pepper to taste
4 oz. pancetta, cut into 1/4" dice
1 yellow onion, finely diced
2 carrots, peeled and finely diced
1 celery stalk, finely diced
5 garlic cloves, minced or equivalent in garlic paste
1/3 cup tomato paste
1 cup dry red wine
1 cup milk
2-28 oz. cans whole San Marzano tomatoes in puree
2 Tbsp. Italian herb paste
2 bay leaves
1 Parmigiano Reggiano rind
1 lb. spaghetti
Grated Parmigiano Reggiano for serving
Instructions
In a large saute pan brown the pork and beef and then add it to a large crock pot bowl, drain off the fat in the pan. Brown the pancetta and add to the beef/pork mixture. Drain off the fat. Add 1 Tbsp. of olive oil. Saute the onion, carrots and celery until softened. Season with salt and pepper. Add the garlic and cook for 1 min. Make an open area in the middle of the pan and add the tomato paste, cook for 2 min. Add the wine and reduce to make a thick gravy. Add this mixture now to the crock pot.
Add the milk, tomatoes, herb paste, bay leaf, and Parmesan rind. Stir well into the beef mixture and break up some of the tomatoes. Season with salt and pepper.
Cook on high for about 3 1/2 hours. Stirring once or twice, make sure it doesn't burn to the sides. Discard the bay leaves and Parmesan rind. Adjust seasonings.
Cook spaghetti according to package directions and serve with the bolognese sauce and grated Parmesan. Serve immediately.
Recipe adapted from Williams-Sonoma