Spicy Fudgy Mott's Chocolate Cake
Entertaining Tip with Mott's Clamato
Day four of cooking with Clamato and I came up with a Spicy Fudgy Mott's Chocolate Cake that will grab with the moist chocolate and then give you a small punch in the throat and move forward to warm your mouth. It is a unique sensation when you are not expecting it out of a chocolate cake.
Something I wanted to experiment with to see how it tasted. I have seen and eaten the dark chocolate bars with red cayenne peppers in them and wanted to create something similar.
Homemade is Better
One complaint I have with scratch cakes as they are usually very dry or they dry out quickly. I searched the internet looking for a recipe that incorporated a pudding mix but they were all using a box cake mix also.
Maybe you can't consider it a scratch cake with a pudding mix in it. Anyway, I created this recipe using Extra Spicy Mott's Clamato and boosted up the spice with some cayenne.
I was thinking that the Clamato would act like buttermilk in a cake recipe. If you want a really moist and delicious cake that doesn't dry out in a day, this is it.
If you don't want the spice to omit the cayenne in both the batter and icing and use regular Mott's Clamato. You will love this cake, moist, rich, and full of flavor and not that much more difficult than a box mix. Enjoy!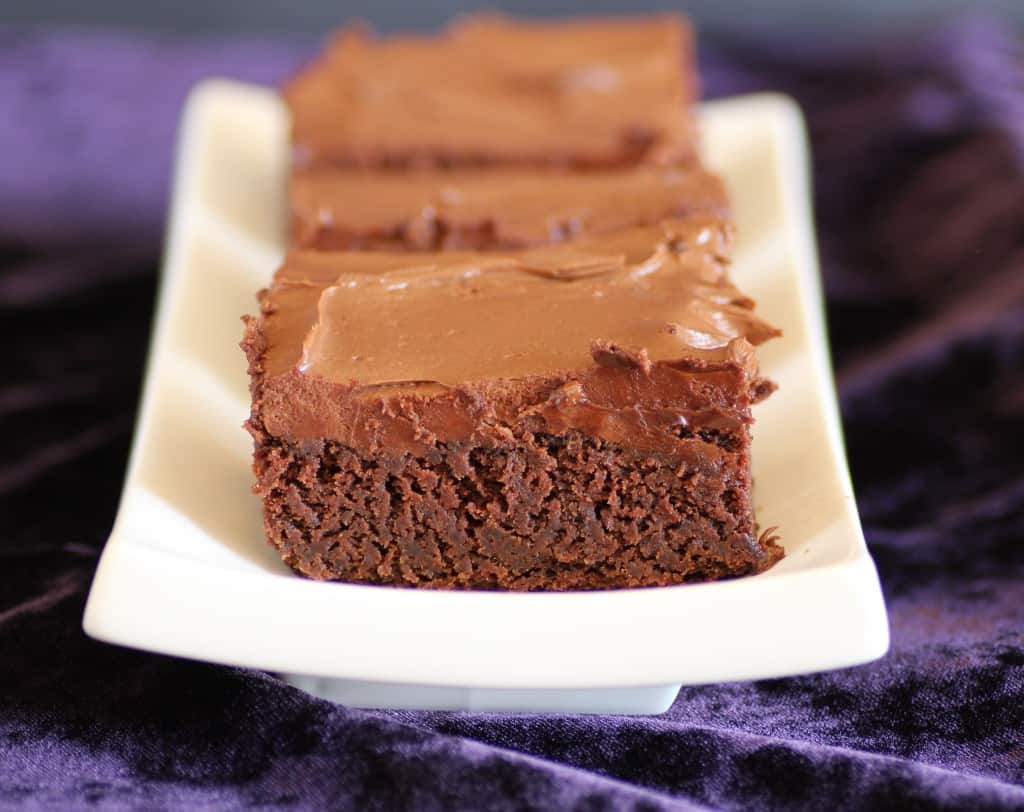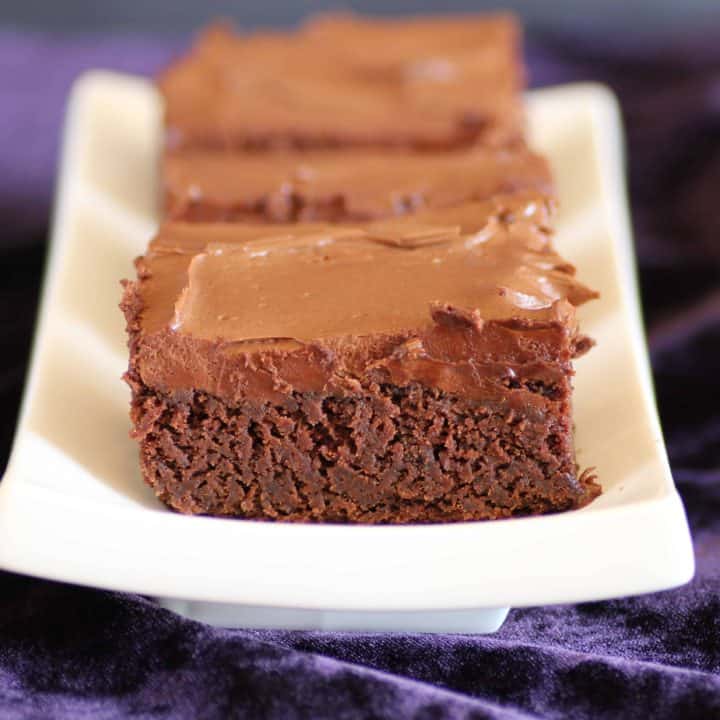 Spicy Fudgy Mott's Chocolate Cake
Yield: 12 Servings
Prep Time: 25 minutes
Cook Time: 50 minutes
Inactive Time: 1 hour
Total Time: 2 hours 15 minutes
A very unique chocolate cake!
Ingredients
Cake
2 cups flour
1 tsp. salt
1 tsp. baking soda
113 gm. instant chocolate pudding
1/2 tsp. cayenne, optional
2 cups of sugar
1 cup butter, at room temperature
2 large eggs
1 cup Extra Spicy Mott's Clamato or regular Mott's
2 heaping Tablespoons cocoa powder
1/2 cup boiling water
1/2 tsp. cayenne, optional
Cooking spray
Icing
1 cup butter
1 cup icing sugar
1 Tbsp. milk
1/4 cup cocoa
1/4 cup boiling water
3 squares bittersweet chocolate, melted and cooled
3/4 tsp. cayenne, optional
Instructions
Preheat oven to 350F. Spray a 9x13" pan with the cooking spray and set aside. In a large bowl combine flour, salt, baking soda, cayenne if using and pudding mix with a whisk, set aside. Mix the cocoa and boiling water together and stir to dissolve the cocoa. Cream the butter and sugar together in a standup mixer. Add the eggs one at a time. Alternate adding the Clamato and the flour mixture (the Clamato will make the mixture look curdled but it will smooth our with the addition of the flour). Add the cocoa mixture. Pour the batter into the prepared pan. Bake for 40-45 min. until a cake tester comes out clean. Let the cake cool completely.
For the icing. Mix the cocoa with the boiling water and stir until dissolved, let cool. Melt the chocolate squares in the microwave on half power, stirring frequently so it doesn't burn, 1 1/2-2 min., let cool. Cream butter in a large bowl with a handheld mixer and add icing sugar and the milk. When the cocoa and chocolate have cooled add to the butter mixture and continue to blend for 3-5 min. Add cayenne if using and blend well.
Ice over cooled cake and refrigerate to set icing. Warm cake at room temperature before serving.
Nutrition Information:
Yield: 12
Serving Size: 1
Amount Per Serving:
Calories: 602
Total Fat: 36g
Saturated Fat: 22g
Trans Fat: 1g
Unsaturated Fat: 11g
Cholesterol: 113mg
Sodium: 657mg
Carbohydrates: 66g
Fiber: 2g
Sugar: 43g
Protein: 6g
Recipe calculation was provided by Nutritionix and is estimation only. If you need nutritional calculations for medical reasons, please use a source that you trust.
Entertaining Tip with Mott's Clamato
Now here is my entertaining tip that I have been working up to for the last four days. If you have been to our house for a more formal meal you will have seen my menu cards that also work as a place card.
We usually have our cocktails (I make a new one for each dinner party) in and around the kitchen but when we move into the dining room I have the menus set out so you can see what you will be enjoying over the evening.
A lot of them are more intricate than this but that depends on what we are serving. Plus it is an easy reference to where you are seated. The kids love to see their name on the menu and usually want to take them home as a keepsake. Collect fun and fancy papers when you see them, to you have on hand to create your menus.
Well, I have sure enjoyed my last four days cooking with Mott's Clamato, something I have in the fridge at all times. Grab some today and try some of these recipes or create your own or just enjoy a big icy cold Caesar, nothing is better!!