Steak Salad
Day 3 of our 5 Days of Dinner Salads and it is this divine steak salad!!! This one is a keeper!!! I love steak salads, you don't need much steak to make this so special and the crunchy onions make it feel like a restaurant steak. Add a little gorgonzola and you are over the top!!
Portions don't have to be crazy huge, this is definitely more than enough for me to be completely satisfied. As long as it is super tasty you don't need mounds of food on your plate. I loved how I marinated this one and we pan fried the steak to perfection!! You honestly don't need a BBQ to get a good tasting steak just the right marinade and cooking method.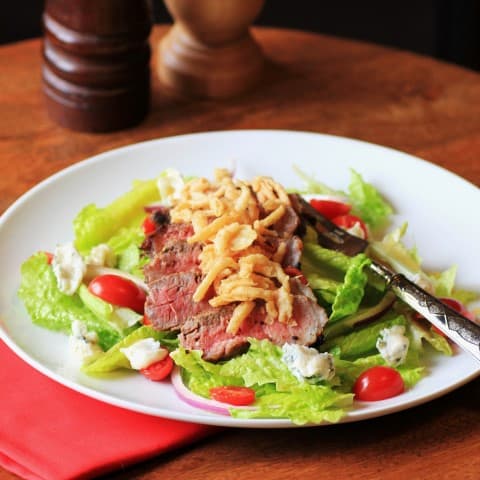 Steak Salad
A steak salad that you will like to make again and again!!
Ingredients
Marinade
1 Tbsp. Montreal steak spice
¼ cup olive oil
⅛ cup lemon juice
2 cloves garlic, minced
2 tsp. worcestershire sauce
2 dashes Tobasco
½ tsp. smoked paprika
Salad
Mixture of Romaine lettuce, cherry tomatoes and red onion
Balsamic vinaigrette
I Tbsp. olive oil
2 Strip loin steaks
79 gm. container of French Fried Onions
Gorgonzola, optional
Instructions
Whisk marinade ingredients together and place in a Ziploc bag. Add the two steaks and marinade for 2-3 hours. Drain and discard marinade.
Preheat oven to 325F. Toss salad ingredients together. Set aside.
In a cast iron pan with one Tbsp. olive oil on high heat cook steak until medium rare, 3-5 min. per side depending on the thickness of your steak. Let steak rest 5 min. Warm French fried onions in oven, careful not to burn. Slice steak against the grain.
Arrange four plates with salad drizzled with balsamic dressing topped with steak, french fried onions and Gorgonzola if using. Serve immediately.