Sticky Mustard and Ginger Cocktail Sausages by Girlichef
This is my third installment in this series with Sticky Mustard and Ginger Cocktail Sausages by Girlichef in sharing with you a recipe that I found on #SundaySupper. These little sausages grabbed my eye and slammed me to the floor!! Oh, how my hubby loves little breakfast sausages.
Honestly, they are not my favorite, as I so prefer bacon, as it has so much more flavor but seeing these sticky, yummy sausages, I had to try them. I knew they would be a huge hit with Ken. Making them over the holidays was great, and I love that you can make them ahead of time, marinating them and then cooking them in the oven with little mess.
Convenience!
I also love that you can pop them in the freezer. If you know me I am the queen of the freezer and always have stuff at the ready in there. It really makes life so much easier. I love that you can eat these for breakfast or serve them at a cocktail party. So this recipe was a win, win, win for me!! And they are oh so good, so win again!! Perfect for New Year's Eve!!
I got this recipe from Heather Schmitt-Gonzalez of Girlichef. Thank you so much Heather for letting me share it here. It is a fabulous versatile recipe that you will all love. Heather is a busy gal being a mother of three, food writer, and food blogger and has also attended culinary school.
She has loads of amazing recipes on her gorgeous site like these little gems, Sugar and Spice Roasted Shrimp or Orange White Chocolate Cheesecakes with Cranberry Sauce served in a little jar. Both perfect for New Year's Eve. So head on over to her site and say hi from me. Enjoy!!!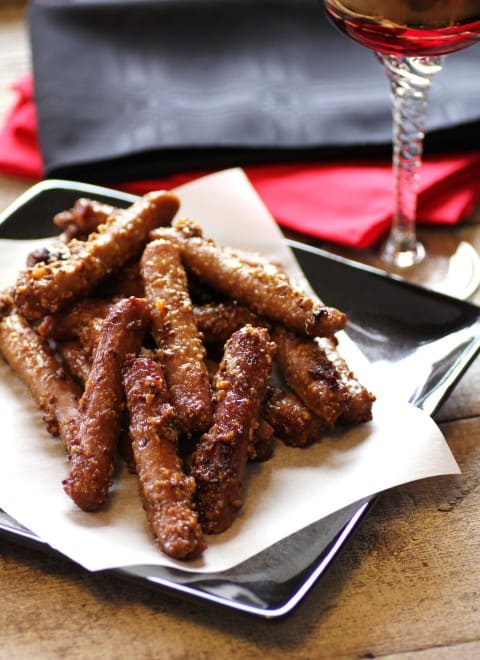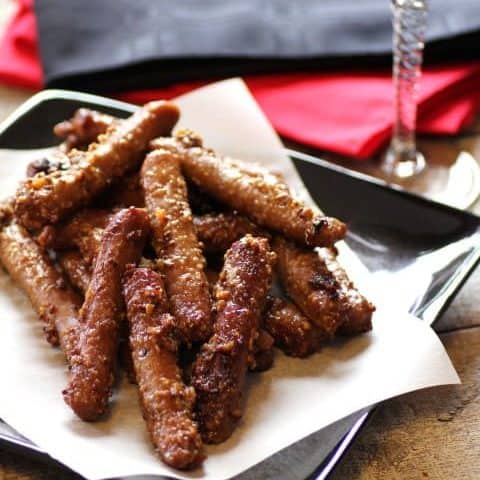 Sticky Mustard and Ginger Cocktail Sausages by Girlichef
Yield: 50 sausages
Prep Time: 20 minutes
Cook Time: 1 hour 15 minutes
Inactive Time: 12 hours
Total Time: 13 hours 35 minutes
A versatile sausage that is great for breakfast or a cocktail party!!
Ingredients
Scant 1/2 cup orange marmalade
Scant 1/2 cup whole grain mustard
1 Tbsp. canola oil
1 clove garlic, minced
1 Tbsp. soy sauce
2 tsp. freshly grated ginger root
1 tsp. ground ginger
50 uncooked breakfast sausage, approx. 2 1/2 lbs.
Instructions
Combine all the ingredients except the sausages and whisk together. In a large plastic bag combine the sausages and the marinade together.
Remove the air and massage to coat all the sausages. Leave in the refrigerator overnight or up to 2 days. Every once in awhile flipping the bag to make sure the sausages remain well coated.
You can freeze them up to 3 months at this stage too.
Preheat oven to 350F. We used two foil pans 10x12" or you can use one large rimmed baking sheet covered with foil.
Dump the entire contents of the bag into the prepared pan or pans. Stir the sausages to evenly coat. Place in the oven and bake for 30 min. Stir the sausages and then turn the oven up to 400F.
Continue baking for 15-30 min. stirring in halfway. We cooked ours a bit longer as they were frozen and there was more moisture in the marinade. We cooked them for a total time of 1 hour and 15 min. or until nicely browned and sticky.
I divided the recipe in half and a half went into the freezer and the other half into the fridge for Christmas morn. How fabulous are these little sausages? YUM!
Nutrition Information:
Yield: 50
Serving Size: 1
Amount Per Serving:
Calories: 86
Total Fat: 7g
Saturated Fat: 2g
Trans Fat: 0g
Unsaturated Fat: 4g
Cholesterol: 20mg
Sodium: 232mg
Carbohydrates: 3g
Fiber: 0g
Sugar: 2g
Protein: 4g
Recipe calculation was provided by Nutritionix and is estimation only. If you need nutritional calculations for medical reasons, please use a source that you trust.
Recipe adapted from Girlichef and Nigella's Kitchen