Sugar Cookie Hearts
These Sugar Cookie Hearts are my favorite Valentine's Day cookies. After all who doesn't love to get a heart from your valentine! There are so many ways to say I love you but when you give that special someone a homemade gift that comes from the heart it is even special.
The original sugar cookie recipe is in the January archives. They freeze great and can be decorated closer to the holiday or event. For the chocolate ones, I melted good quality shaved chocolate from a block on half heat in the microwave stirring every 30 seconds until melted. Then spread on the whole heart leaving a border so as the chocolate doesn't ooze out and placing the cutout heart on top.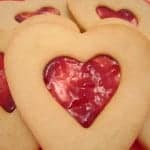 For the jam and icing cookies I made a butter icing as follows:
4 Tbsp. softened butter
1 cup icing sugar
few drops of vanilla extract
1 tsp. water
Seedless raspberry jam
Start by beating the butter until smooth, then gradually add the icing sugar until incorporated. Add water and vanilla. Spread frosting on the whole heart cookie again leaving a border and then top with seedless raspberry jam and place the cutout heart cookie on top.
Happy Valentine's Day everyone!!!