Here is another very versatile recipe but I especially love doing these for Valentines' Day.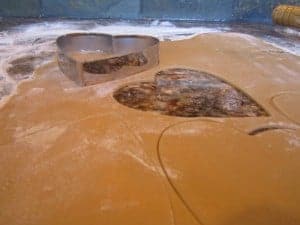 The cookies can be made well in advance and frozen for up to a month in the freezer, to then later be decorated. The dough can be easily doubled but does make a lot, so beware.
1/2 cup brown sugar
1/2 cup white sugar
1 cup butter, softened
2 eggs
1 tsp. vanilla
1/2 cup white corn syrup
pinch of salt
2 tsp. baking powder
3 1/4 cups flour
In a stand-up mixer cream butter and sugars together and then beat in eggs until well mixed. Add vanilla and syrup. Whisk together dry ingredients and add slowly, mixing well until all is incorporated. Chill the dough well, best if done overnight. Roll out dough onto a well-floured surface and cut into your favorite shape. Bake at 325F for 8-10 min.