Tandoori Chicken and Tomato Onion Salad
Now we go to India with all their fabulous spices. I wanted to make Butter Chicken but the recipe that I was using asked to make Tandoori Chicken and Tomato Onion Salad first. Well, it looked so good I never did get to make the Butter Chicken. Ken marinated this chicken one night for me and then I broiled it the second night and we ate it on the third night.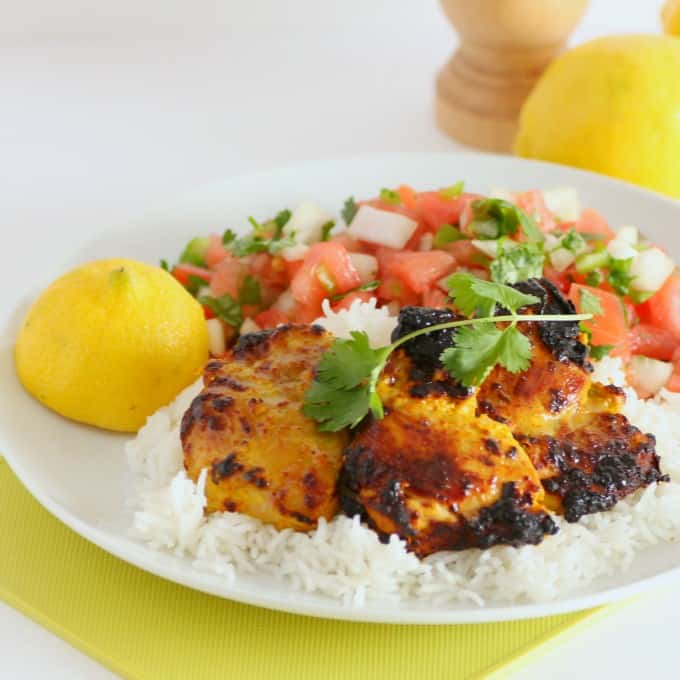 Wow, was it good! I accompanied it with basmati rice and a simple tomato and onion salad and it was perfect!
Step by Step
Cooking like this in stages is easy. It just takes a little planning but in the end, you don't feel like you are stuck in the kitchen for huge lengths of time. I cooked the chicken the second night while I was making another meal. By the third night, I hardly had anything to do, it makes for a relaxing evening. Love that!! So that was my path to the Tandoori Chicken and it was excellent. I hope you enjoy it too!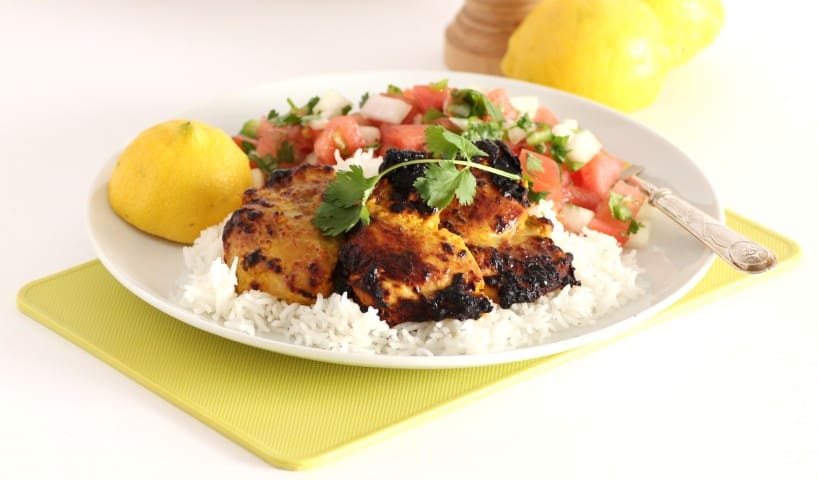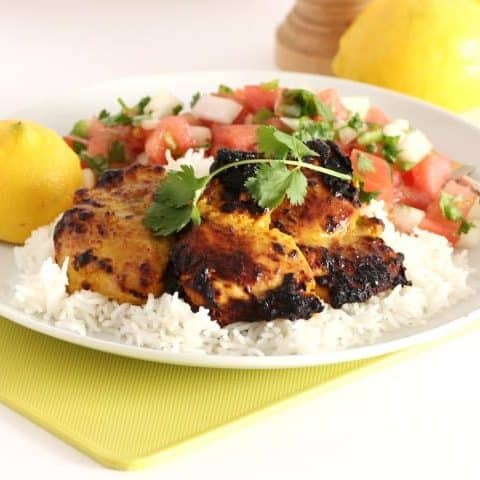 Tandoori Chicken and Tomato Onion Salad
Yield: 4 servings
Prep Time: 30 minutes
Cook Time: 22 minutes
Total Time: 52 minutes
A fabulously flavored Tandoori Chicken with a just right salad!
Ingredients
Tandoori Chicken
8 boneless, skinless chicken thighs
Juice of 1/2 lemon
1/2 tsp. salt
1/3 cup Greek-style yogurt
3 Tbsp. heavy cream
1 Tbsp. flour
1 Tbsp. garlic, minced
1 Tbsp. ginger paste jarred or fresh
1 tsp. chili powder
1 tsp. ground coriander
1/2 tsp. ground cumin
1/2 tsp. garam masala
1 Tbsp. canola oil for brushing
2 Tbsp. melted butter, warm
1/2 tsp. ground turmeric
Lemon for serving
Tomato Onion Salad
3 tomatoes, chopped
1 medium sweet onion, chopped
3 Tbsp. fresh cilantro, chopped plus more for garnish
1-2 fresh green chilies, seeded and finely chopped
2 Tbsp. lemon juice or to taste
Salt and pepper to taste
Pinch of sugar
Instructions
Poke each piece of chicken several times with a sharp knife. Rub the chicken in the lemon juice and salt, place in a nonmetallic bowl, cover and marinate in the refrigerator for 20 min.
Meanwhile, put the yogurt in another medium bowl with the flour and the cream. Whisk well and add the garlic, ginger, chili powder, coriander, cumin, garam masala, and turmeric. Pour over the chicken and marinate for 4-6 hours or overnight.
Preheat the broiler to high and line a broiler pan with foil brushed with 1Tbsp. canola oil. Place the chicken on the broiler pan. Reserve the marinade. Broil the chicken for 4 min. turn and broil again for 4 min. Baste with the reserved marinade. Broil now for 2 min. a side. Brush with the marinade and broil again for 5 min. a side or until chicken is done. Brush with warm butter and serve with basmati rice, lemon, and tomato onion salad.
For the salad, put the tomatoes, onion, cilantro, and chiles in a bowl. Add the lemon juice, salt, pepper, and sugar. Toss gently and refrigerate for 1-2 hours. Before serving adjust seasoning with salt, pepper, and lemon juice and gently toss. Garnish with cilantro and serve with the chicken.
Nutrition Information:
Yield: 4
Serving Size: 1
Amount Per Serving:
Calories: 619
Total Fat: 32g
Saturated Fat: 12g
Trans Fat: 0g
Unsaturated Fat: 19g
Cholesterol: 302mg
Sodium: 896mg
Carbohydrates: 28g
Fiber: 4g
Sugar: 18g
Protein: 59g
Recipe calculation was provided by Nutritionix and is an estimation only. If you need nutritional calculations for medical reasons, please use a source that you trust.
Recipe adapted from Indian cookbook by Parragon Publishing