Thai Peanut Noodle Salad
I haven't done a cookbook review in sometime so I am excited to show you Nourish by Nettie Cronish & Cara Rosenbloom. It is a whole food recipe cookbook featuring seeds, nuts and beans. The cookbook is full of healthy, gorgeous looking recipes just like this Thai Peanut Noodle Salad. I love the crunch of a nut in salad, it makes it so much better. It is also a great way to add protein into a vegetarian or vegan dish.
Bottom line, eating healthy has to taste great or we are not going to want to make the recipe again. Using underutilized seeds, nuts and beans are extremely flexible. They also provide a great source of protein and gives you so much more flavour too. You don't need to be a vegetarian to reap the rewards of these whole foods. In this cookbook whole foods are also added meat to dishes.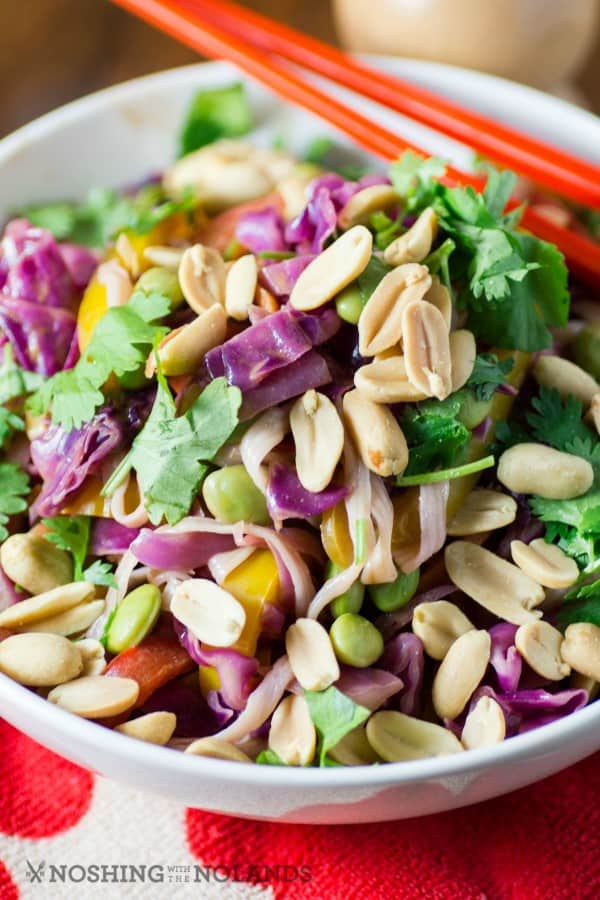 This salad gives you all the wonderful flavors of Thailand. We love making Thai food and creating gorgeous recipes constantly in our kitchen. Once you establish the ingredients in your pantry and refrigerator for Thai cooking you will be making dishes again and again. For this salad we didn't use the linguini it asked for but a konjac pasta. We enjoy using this pasta in many dishes especially Asian recipes.
Nourish, Whole Food Recipes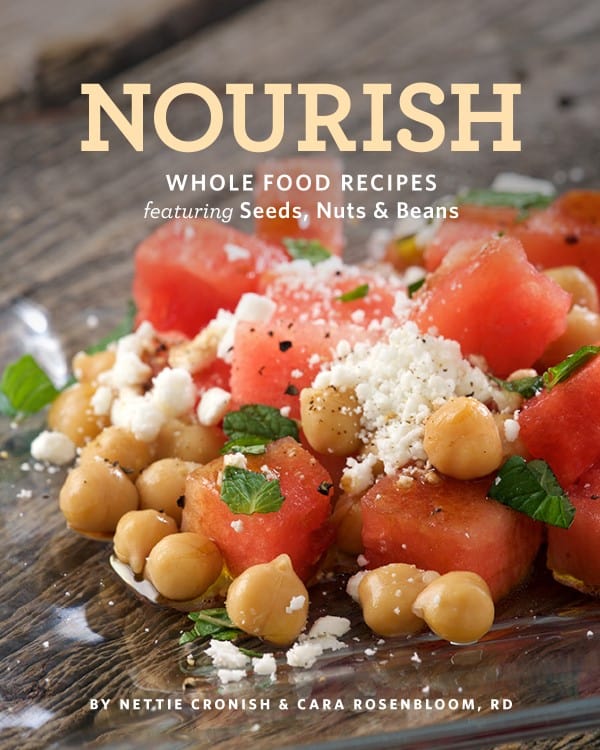 Try some other wonderful recipes from the cookbook like Moroccan Chicken and Pistachio-Studded Quinoa, or Black Bean Breakfast Burritos. Beets with Spicy Goat Cheese and Pumpkin Seed Pralines also sound amazing. There are over 100 recipes and 75 colour photographs in this fabulous softcover cookbook.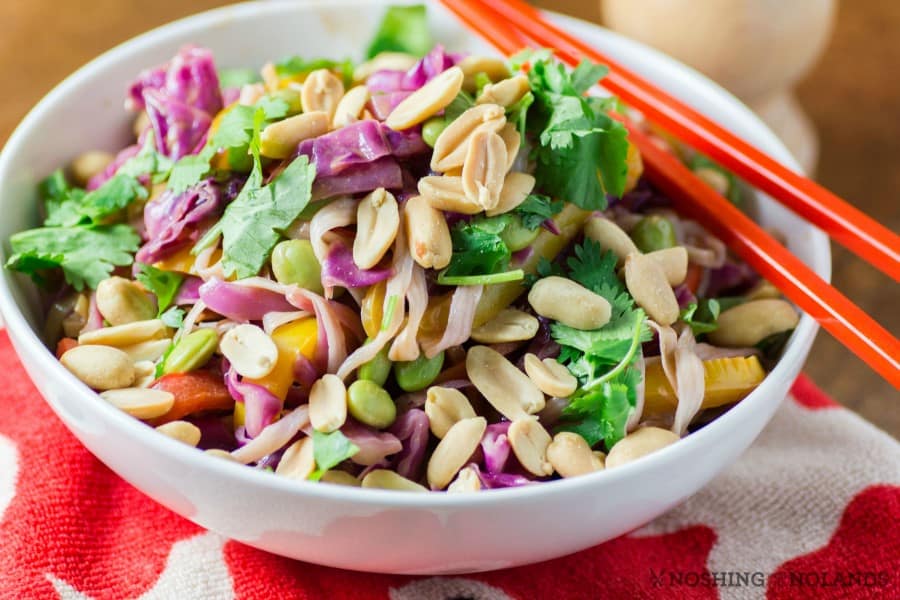 Nettie Cronish has been teaching cooking courses for 25 years and is the author of five cookbooks. She resides in Toronto with her husband and three children.
Cara Rosenbloom is a registered dietician who educates about food on TV, and through magazing articles and social media. She has a blog at Words to Eat By. Cara also lives in Toronto with her husband and two children.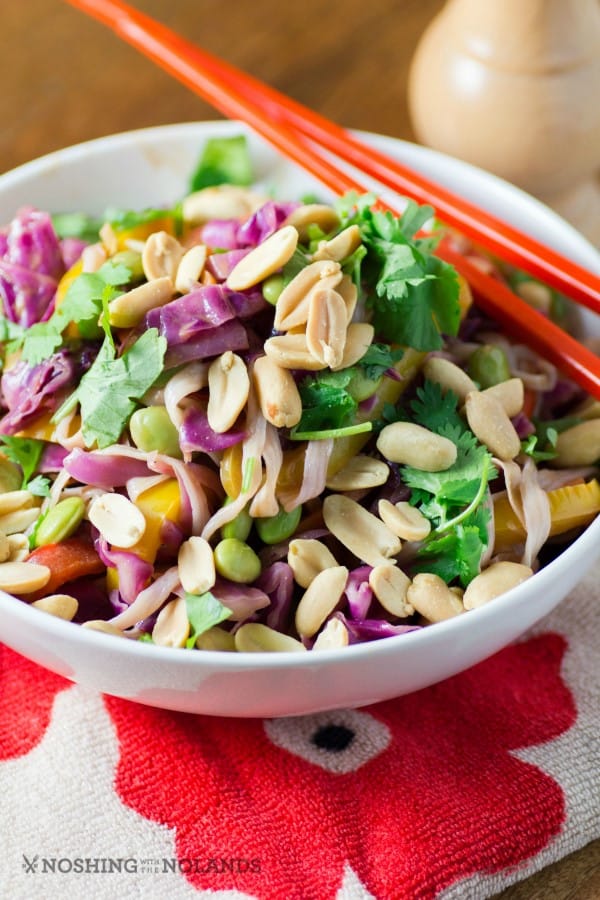 Loving this healthy recipe? Come and check out more at Fave Healthy Recipes!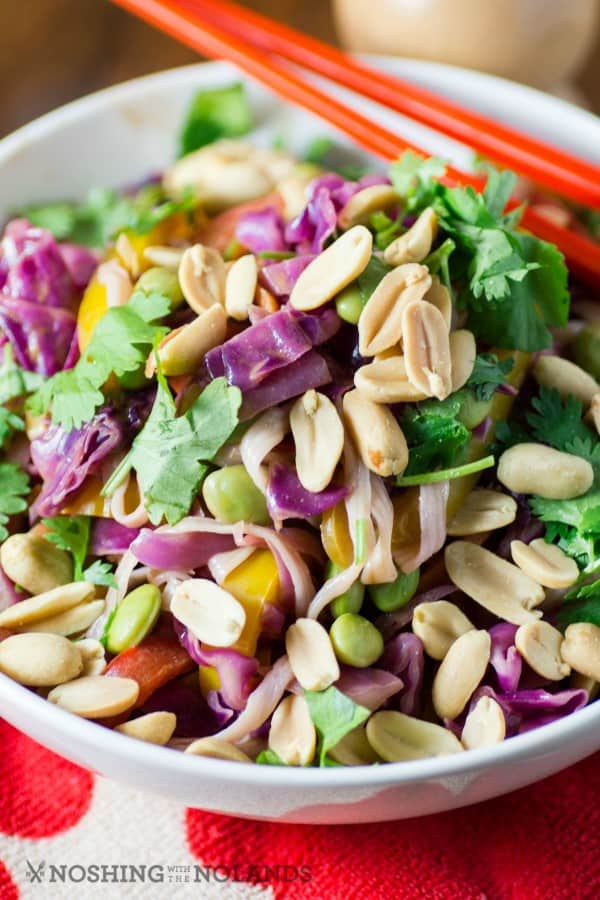 Thai Peanut Noodle Salad
If you've ever wondered how to get the authentic taste of take-out in your own kitchen, start with this recipe. It's got the wow factor; it's bursting with flavour that's so vibrant and tasty that this is sure to become a staple recipe. My kids love the peanut dressing, but I leave out the hot sauce for their "no spicy food please!" palates. —Cara
Ingredients
13 oz (375 g) whole grain linguini pasta
2 Tbsp (30 mL) extra virgin olive oil
1 leek, thinly sliced (white and pale green parts only)
1 red pepper, thinly sliced
1 yellow pepper, thinly sliced
1 carrot, grated
1 ½ cups (500 mL) frozen shelled edamame
¾ medium purple cabbage, thinly sliced
½ cup (125 mL) chopped fresh cilantro
Dressing
¼ cup (60 mL) smooth natural peanut butter
½ tsp (2 mL) lime zest
¼ cup (60 mL) fresh lime juice
2 Tbsp (30 mL) toasted sesame oil
1 Tbsp (15 mL) maple syrup
3 Tbsp (45 mL) sodium-reduced tamari
2 Tbsp (30 mL) balsamic vinegar
1 tsp (5 mL) hot sauce (optional)
½ cup (125 mL) roasted salted peanuts, for garnish
¼ cup (60 mL) thinly sliced fresh chives, for garnish
Instructions
In a large pot of boiling water, cook linguini for 12 minutes or according to package directions. Drain and rinse with cool water. Toss noodles to keep them from sticking and set aside to drain. Transfer to a large bowl.
Heat oil in a large frying pan over medium-high heat. Add leeks and sauté for 3–5 minutes or until softened. Add bell peppers and sauté for another 3–5 minutes or until soft. Add carrot, edamame and cabbage. Sauté for another 3 minutes until all the vegetables are tender-crisp.
Remove from heat and add to drained noodles. Add cilantro and toss to combine.
To make the dressing, in a medium-sized bowl, whisk together peanut butter, lime zest, lime juice, oil, maple syrup, soy sauce, vinegar and hot sauce.
Pour over noodle mixture and stir well.
Add peanuts and chives and toss again.
NUTRIENTS PER SERVING
SERVING SIZE: 1L CUPS (320 ML) SALAD
calories, 24 g fat, 4 g saturated fat, 433 mg sodium, 67 g
carbohydrates, 11 g fibre, 13 g sugars, 20 g protein. Very high in fibre.
Excellent source of vitamin A, vitamin C, vitamin K, thiamin, niacin,
folate, manganese and iron. Good source of vitamin E, vitamin B6 and magnesium.