Thai Pepper Shrimp Curry
We adore Thai food here and make it regularly. A Thai curry like this Thai Pepper Shrimp Curry is fast to make and a very easy weeknight meal. The prep with Thai food is the most difficult as it usually has quite a few ingredients but once those are set it pulls together very quickly. For weekday meals like this I use a jarred garlic and ginger, so much faster to use.
Red curry paste is much milder than green curry paste so that is what I prefer using in my Thai cooking for the most part. You can usually just purchase a small envelope of curry paste that is good for about 2 meals. If it is any larger is tends to be wasted until we come around to making Thai food again.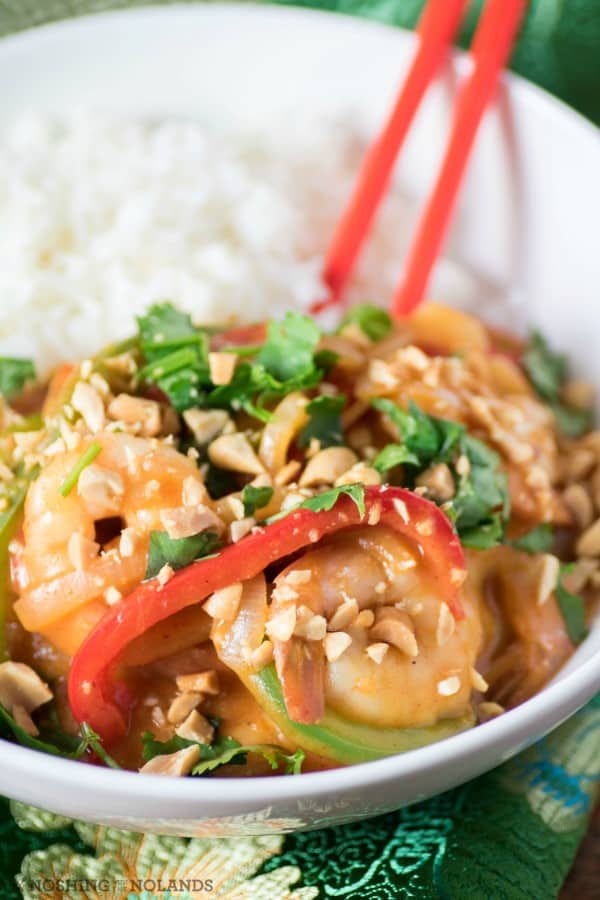 Frozen shrimp are almost always in our freezer as they thaw quickly and make a great meal quickly. Pairing them up with lots of red and green peppers make this meal delicious and nutritous.
The flavors of the curry with ginger, garlic and coconut is a favorite in this household. Adding in some umami flavors from fish sauce and soy sauce adds an extra depth to this also. A little crunch from a few peanuts and the freshness from the cilantro round out the dish perfectly.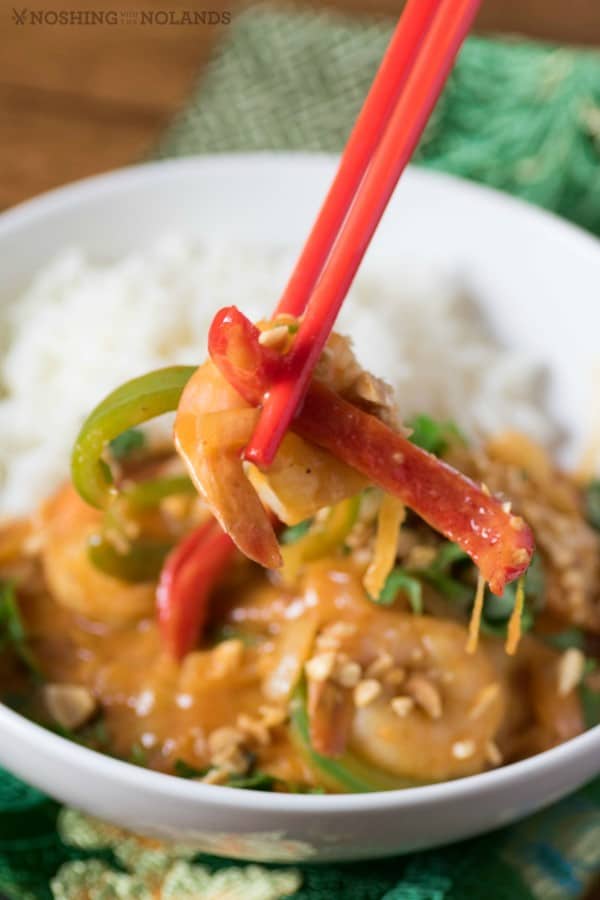 Here you go, you can have the first bite!! Working hard all day and coming home to still make a satisfying meal for the family in a hurry can be a big challenge. Going to a delicious quick fix curry can solve all your problems. It is healthy but most of all delectable and satisfying. A real winner of a dish!! I crave Asian cuisine a lot here and this dish sends it home for me!!
The Recipe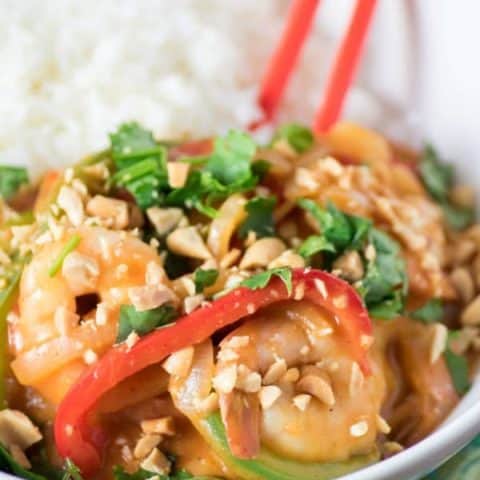 Thai Pepper Shrimp Curry
Yield: 4 servings
Prep Time: 10 minutes
Cook Time: 12 minutes
Total Time: 22 minutes
A quick fix curry like this Thai Pepper Shrimp Curry will have your family fed in a nutritious and delicious way. Once you start to cook with Asian ingredients most of this will be on hand!
Ingredients
1 lb. medium sized shrimp, 71-90 count, defrosted
1 Tbsp. canola oil
2 cups onion, sliced
1 1/2 Tbsp. red curry paste
1 Tbsp. jarred minced ginger
2 tsp. jarred minced garlic
1 cup sliced red peppers
1 cup sliced green peppers
Salt to taste
1 can (8.5 oz.) light coconut milk
2 Tbsp. flour
1/2 Tbsp. fish sauce
1/2 Tbsp. soy sauce
1 tsp. brown sugar
4 cups cooked rice
1/3 cup salted chopped peanuts
Fresh cilantro, chopped
Instructions
Heat a large wok or skillet over medium high heat. Add half the oil and saute the shrimp for about 3 minutes until pink and cooked through. Transfer shrimp to a bowl and set aside.
Add the remaining oil to the wok and stir fry the onions with the curry paste, ginger and garlic for about 3 min. Add the red and green peppers and cook for an additional 2 min. or until starting to soften. Season with salt.
While the veggies are cooking whisk the coconut milk with the flour, fish sauce, soy sauce and sugar until smooth.
Add in the coconut milk mixture with the shrimp and stir and cook for about 3 min. more or until thickened and bubbling. Serve over cooked rice with a garnish of peanuts and cilantro.
Recipe adapted from Rush Hour Meals by Rose Reisman