The Curry Leaf
The Curry Leaf is a family owned and operated South Indian restaurant here in Calgary, Alberta. It opened just recently in October, 2016. Ken and I were very excited to try this cuisine that we had never had before. I have had lots of curries but Southern Indian is different. They use a variety of flavorful spices and fresh ingredients to give you a meal that is nothing like you have had before. Innovative dishes one after the other were served to us from a very pleasant waitress. The experience was fantastic and one that I would love to showcase to Amber as well.
There is your standard Butter Chicken, just so people don't get upset but that is not what this restaurant is all about. The cuisine of South India is different from what you are used to seeing in other curry houses. Try popular dishes like the stuffed paneer, gobi Manchurian dosa, or the Hyderabad! You are enticed now aren't you?
Tamarind Margarita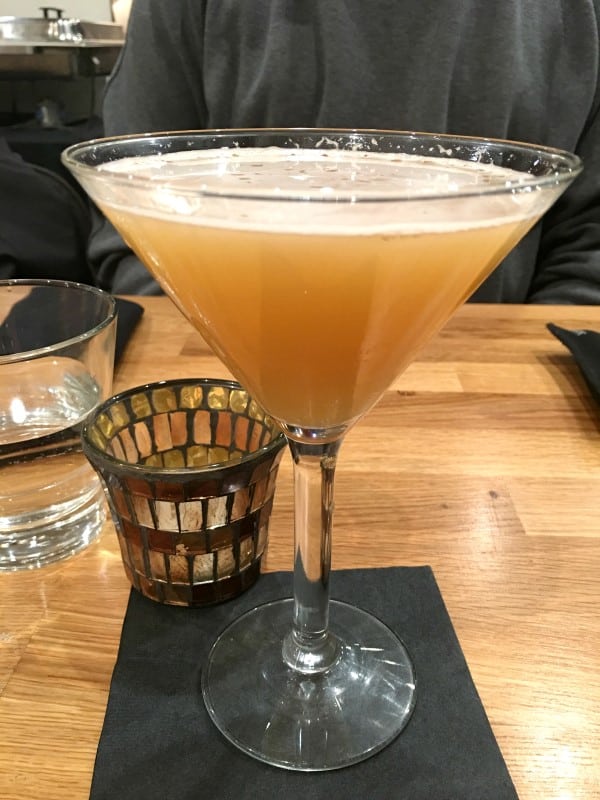 But before the food came out I ordered a Tamarind Margarita. Tamarind has a sweet and sour flavor and marries perfectly in a margarita where those tastes are ones that you would expect. This was hands down one of the best margaritas I have ever had, and it was thoroughly enjoyed!
The flavors of The Curry Leaf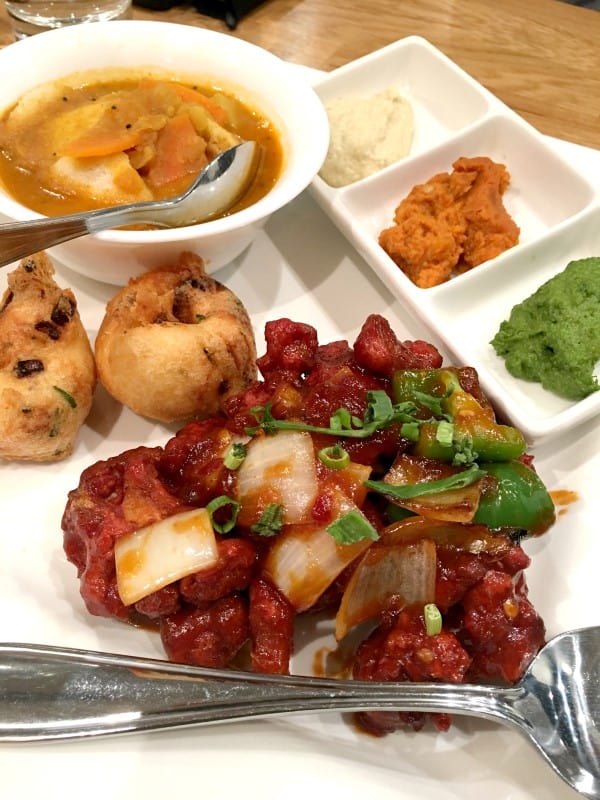 Then the food started to come out. In the rear is Idly which is a small steamed bread and it has been added to a mild dish of spices and vegetables. In the middle is Methu Vada which is a deep fried lentil donut. In the forefront is Gobi 65 which is cauliflower that is deep fried and then blended with Indian spices. Served with all of these are three chutneys, coconut, tomato and my favorite, cilantro. All imbibing some amazing flavors of their own.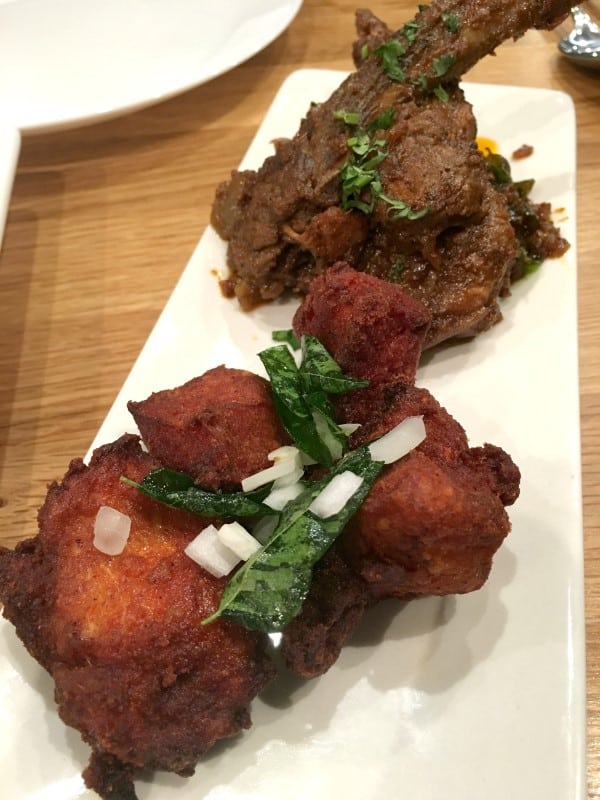 Served along with the above was also The Curry Leaf Chicken 65 which is crispy deep-fried boneless chicken cubes marinated with South Indian spices. Accompanied with this was mutton chops that melted in your mouth.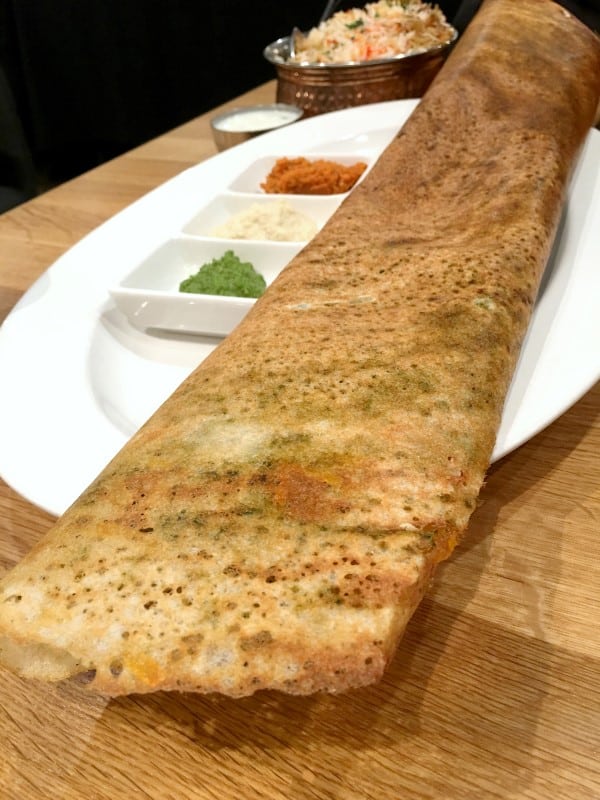 Next was something I have never had before, never seen before, Dosa. The Curry Leaf's Speciality Dosas are a crispy crepe made of fermented rice and lentil batter, then stuffed with a variety of tasty fillings. Ours was the Curry Leaf Spicy Cheese Masala Dosa which has a potato masala stuffing. It is wonderfully crisp and delightful with the three chutneys again. I can't wait to have another one again!! Wow, blew me away!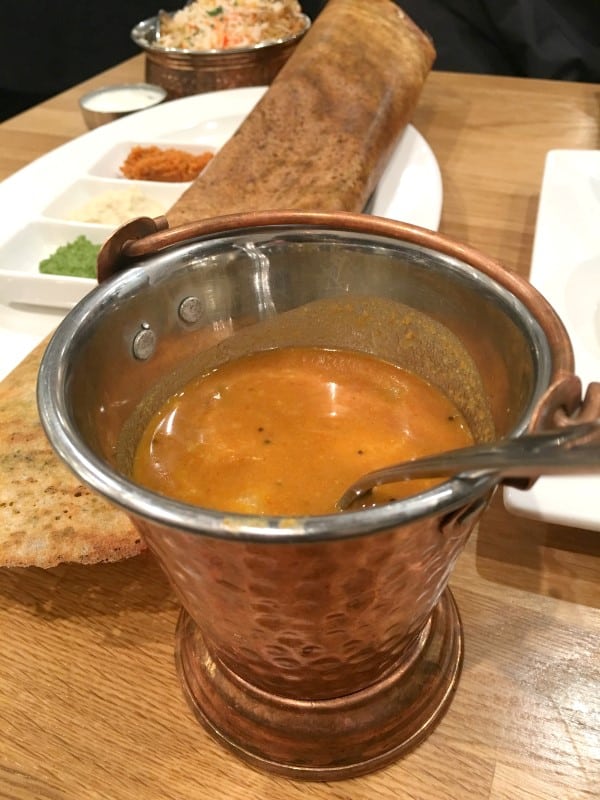 The Dosa is served with a lentil soup for dipping. So many wonderful flavors together. I could have eaten this all day long!!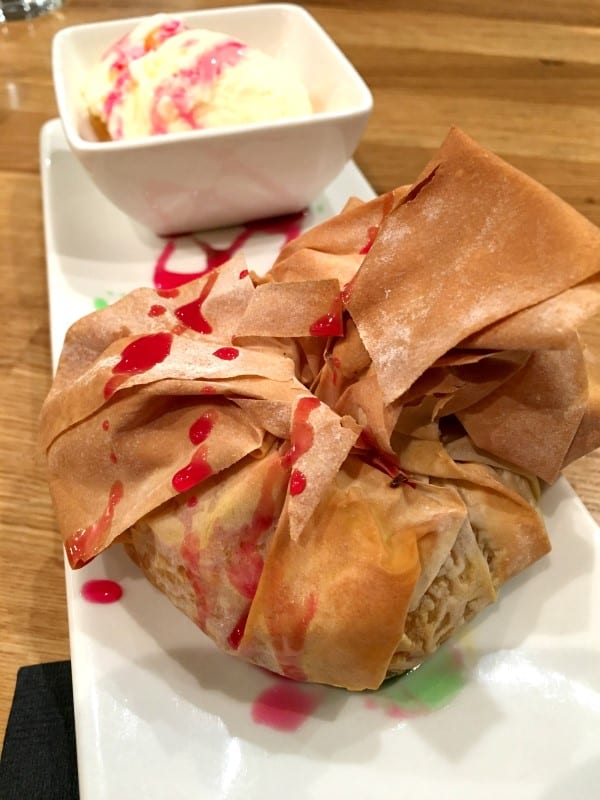 Not that I really had an ounce of room left but I had to indulge in the Gajar Ka Halwa Twist made with farm fresh carrots that are cooked with condensed milk, clarified butter and wrapped up in phyllo and served with ice cream. The perfect finishing touch.
Come and see this restaurant and enjoy the flavors of Southern India, it will be a memorable meal that you will want again and again!
The Curry Leaf is located at 55 Castleridge Blvd NE, Calgary, AB.
Their hours are:
Sunday: 11:30 AM — 9:00 PM
Monday: Closed
Tuesday — Thursday: 11:30 AM — 10:00 PM
Friday & Saturday: 11:30 AM — 10:30 PM
Plus you can order for pickup or delivery, through SkipTheDishes.com. Follow along on Facebook and Twitter.