Tips From Our Kitchen Renovation
This is a post that is a long time coming. Have you ever done a kitchen renovation? I have built two kitchens and renovated two. The later of course being way more difficult. Let me walk you through Tips From Our Kitchen Renovation!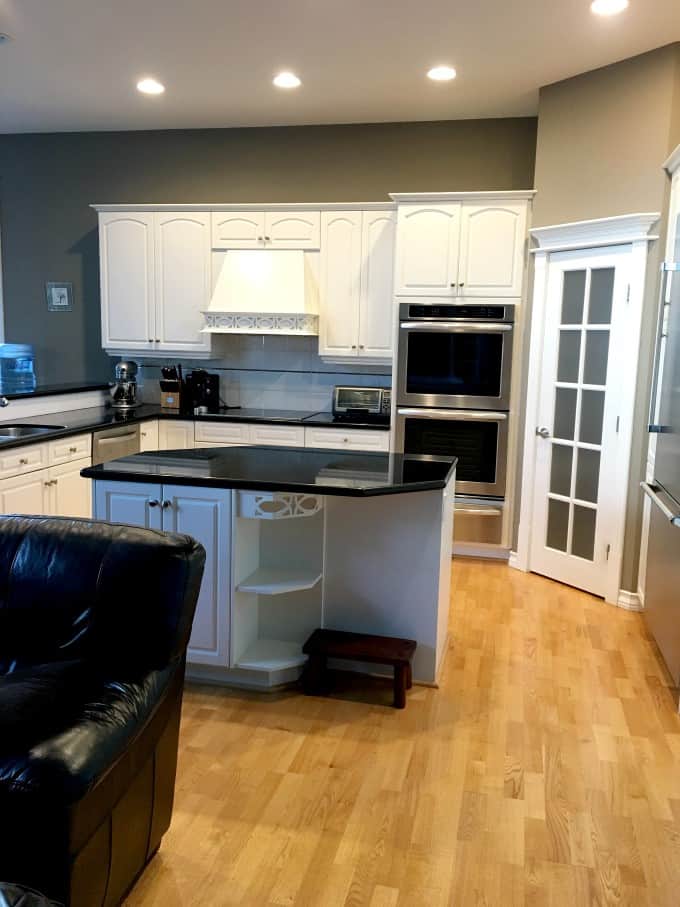 This is our kitchen before hand, now it wasn't horrible but there was room for improvement for sure.
Black granite is lovely when it is spotlessly clean but come on who has the time for meticulously cleaning. Just one touch and it has a smudge on it, drove me nuts.
I also really didn't like that useless cubby hole space. Never did put anything on there as the cat would have knocked it over anyway!
Dated Kitchen
Our kitchen wasn't in dire need of a reno like some that I have seen. We did have granite, nice appliances that we had already installed but there were a bunch of things that just were not designed properly and areas that could have so much better usable space.
Cupboards were akward to get into, cubby holes at floor level that didn't make sense, and angled cupboards that really didn't hold anything well.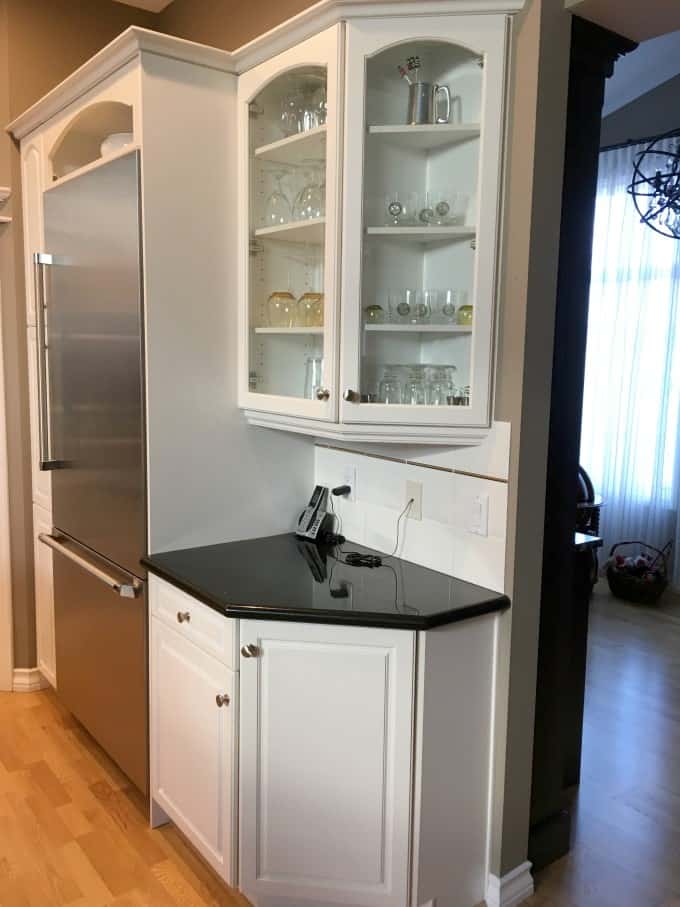 Again here with the weird angle cupboards. Nothing fits in them properly and stuff falls out all the time.
If you have done a kitchen renovation you know that it will never go smoothly, NEVER!! As much as you plan and coordinate there will always be mishaps that come out of nowhere that are completely out of your control. Be aware of that and then that this half the battle.
Kniss Custom Woodwork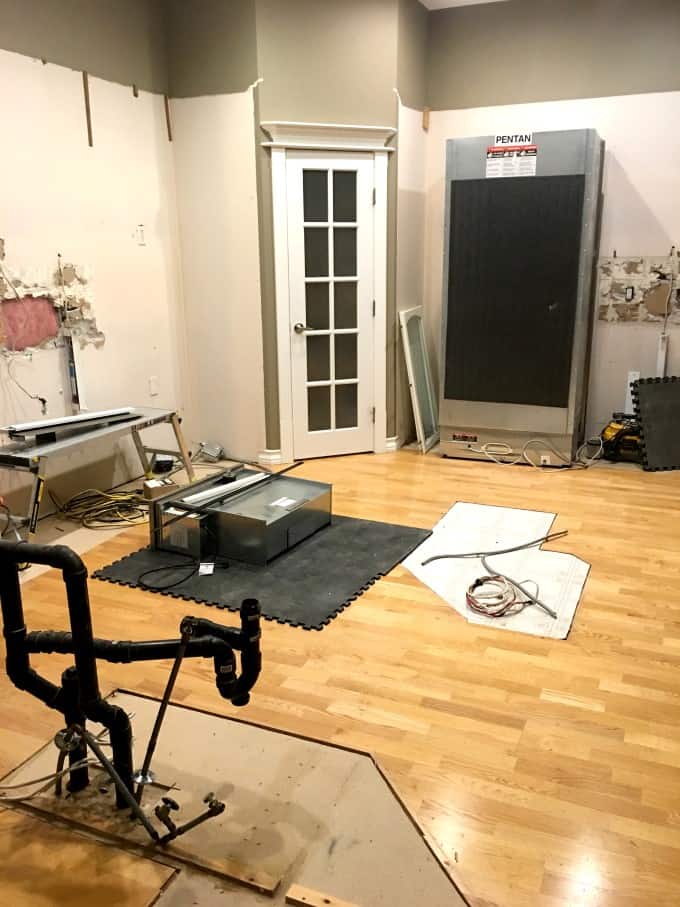 Okay so out it all came!! The floor is a reno for another day!!
There will be days that you want to rip your hair out, smack something or someone! But take a breath and move forward.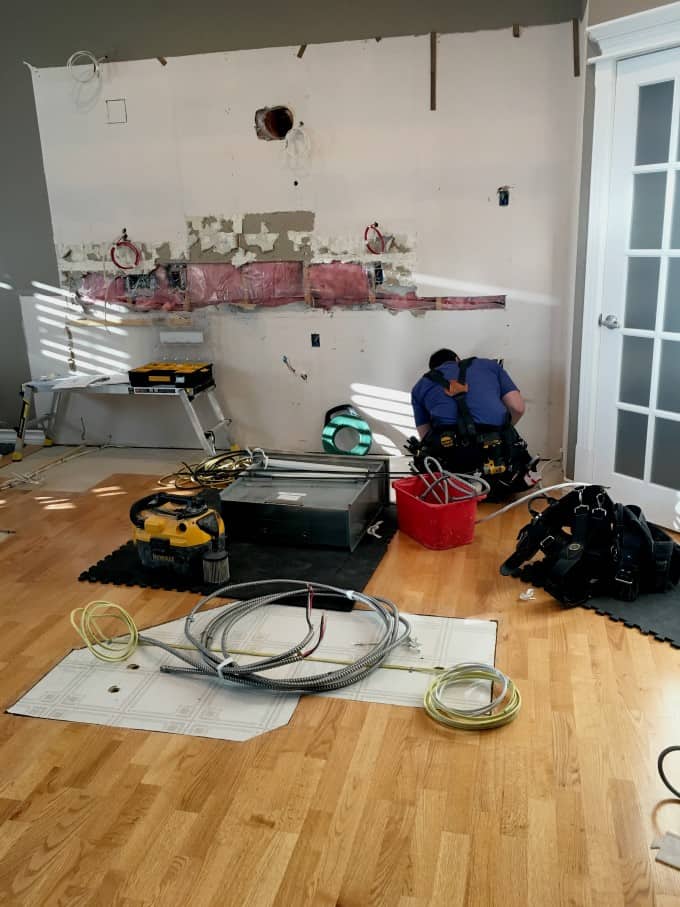 The two key things I can tell you are to hire the best trades you can find, keep them on schedule and to be organized yourself.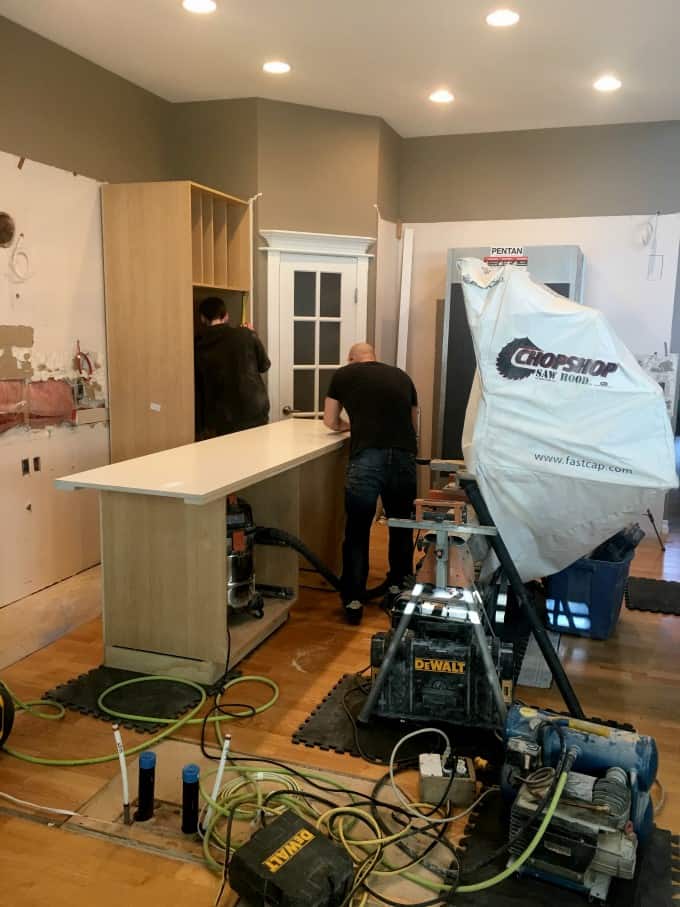 You can of course have a contractor that will deal with the trades but that is not always affordable nor convenient as then you lose some control over when people are coming and going in your home.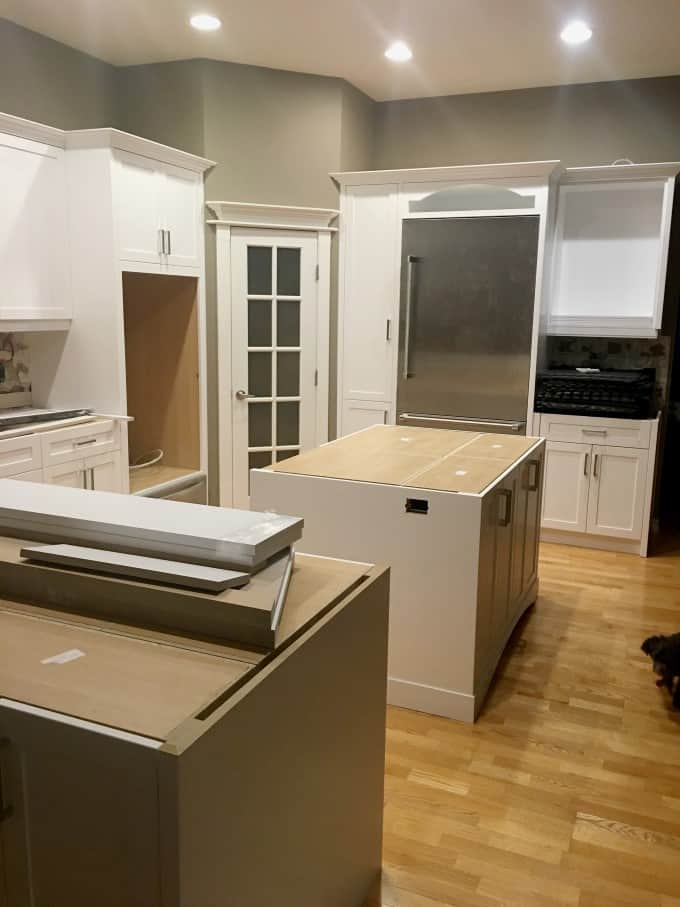 The kitchen initially came together very quickly. Amazing progress right from the start but then delays always happen and that trickles back to each of the trades.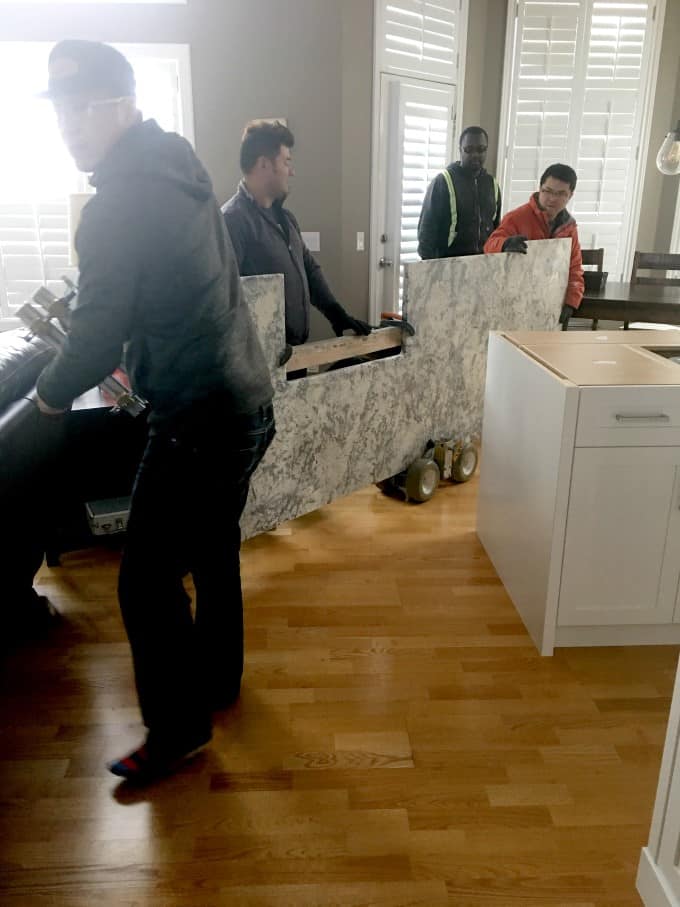 The very crucial stage of the granite being installed happened next. Then so much can happen after that. Sinks can be functional, cooktops put in, cabinets finished, tile work done and you then have a surface for meal prep again.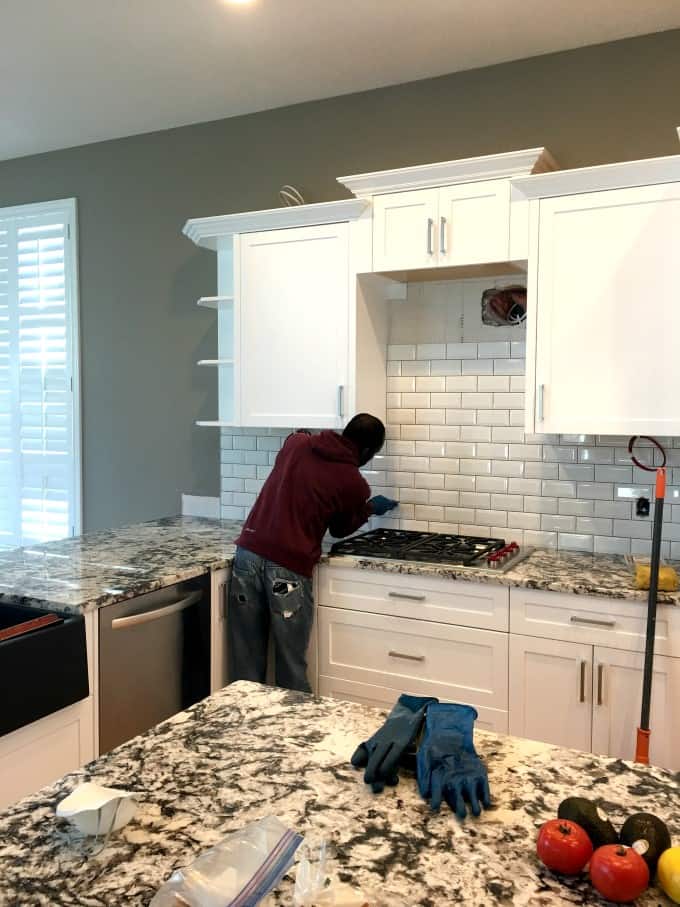 I have always wanted subway tile and finally have it now in our kitchen. It is so clean lined and simple, I love it.
The one appliance we had difficulty with was the hood fan. Beware of this when renovating as they rarely are an easy install.
Make sure you don't purchase a hood fan that is above the recommended 300 cfms. By doing so you will then need to put in make up air and that is extremely expensive.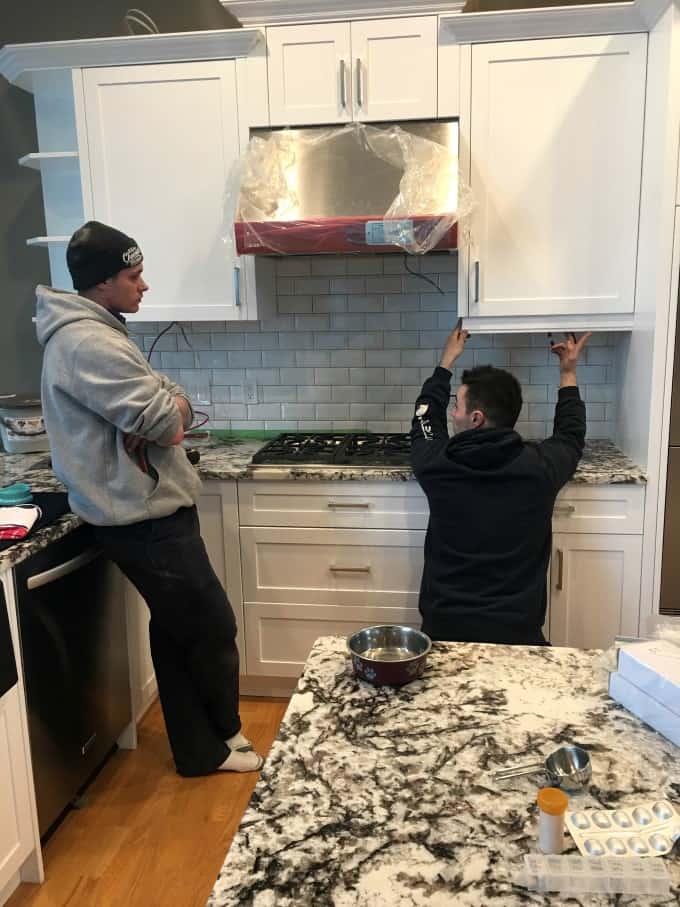 There are lots of design ideas I have for you and tips for making your kitchen as useful as can be. I will continue on with another post tomorrow on our finished kitchen.
Trades and Appliances We Used
Jerome's Appliance Gallery
For the appliances we went with Jerome's Appliance Gallery this time around and were thrilled with their showroom of appliances to choose from. They were easy to work with and had the gorgeous Wolf Appliances that we were after.
This was a big leap from what we had installed earlier but we do love our high end appliances and have had them in our last two kitchens so not sure why we didn't initially do this. I would like to personally thank Randy for all his hard work in coordinating our delivery and installation.
Kniss Custom Woodwork
We have worked with Kniss Custom Woodwork in the past and Derrick did an excellent job in giving us exactly what we were wanting before and now again! We didn't change the cabinets up much. Went with white again but with a more sleek look, I love the transitional design, not modern, and not traditional. Just nicely in between and it suits the home well.
Lone Star Plumbing
As for plumbing I used our very good friends from Lone Star Plumbing. Peter actually helped in the installation of the hood fan and in the end it ran smoothly with using Eric from Springfield Contractors. This company is always on time with very helpful staff that are conscious of your money and your home.
4 Star Electric
The electrical was taken care of by 4 Star Electric who provided great service. I have to say that all the trades were very neat and cleaned up nicely at the end of the day. Peter from this company and all of his employees gave great service. And I have to thank Nathan Munroe again for the great East Coast Donair recipe.
Granite and Stone Factory Outlet
We shopped around for granite and that can save you literally in the thousands of dollars range. The granite that we chose from Granite and Stone Factory Outlet was fantastic and we love it so much better than the black. If you are considering black be careful it shows everything!!
Tips for running a smooth renovation
Start with a wish list and a budget. Browse magazines, kitchen reno sites, Pinterest, Houzz etc. for inspirations and designs. Know your style and the style of your home. Do some research into appliance costs, get estimates from trades, and know how long things will take to be ordered or constructed. Think of details and how to make a kitchen run more smoothly. The little things are the ones that sometimes make the biggest difference.
Set up a make shift kitchen some where in your house. Maybe in a laundry room, bathroom, basement, some place where you can temporarily set up house and do dishes. Hopefully you have a second refrigerator and put that to good use. Move your microwave there along with any other appliances that you may want to use, like a portable induction cooktop, toaster oven, crockpot, coffee maker etc. In the summer months utilize the BBQ and make foil pack dinners that have little or no cleanup. Buy paper plates and cups. Have lots of water on hand or rent a water cooler while in the renovation process with hot and cold water, this was a life saver for us.
Pack up everything and label boxes in case you need things. You will think you don't but then you are rummaging through boxes being frustrated that you can't find the can opener.
Store items away that may get damaged from construction or dust. Put the boxes in spaces that you don't use all the time, so you aren't tripping over boxes. Your home is going to be dusty, you just have to deal with it. To keep things under control hire some cleaners to come in sporatically if it is getting out of hand.
Don't plan on a completion date as you will be disappointed. You need to be flexible to some extent with trades as things happen that are out of everyone's control.
Get your take out menus organized and make a list of restaurants you would like to try. Skip the Dishes is also a great idea and worked for us.
Take into consideration your pets and make arrangements for them to be safe and well cared for either at your home or a kennel. The cat we made sure was locked up in a comfort bedroom with food each day so she wouldn't escape or get injured as she loves to investigate.
Consider the weekends for a little escape for yourself from the craziness and book a hotel if needed for a respite.
Look carefully into trades, get references, ask questions. Stop and think before deciding.
Be a good boss, be communicating with everyone, be kind to the trades, understanding and voice concerns in a timely fashion so that things aren't taken further.