Well up here in cold Canada (at least where I live) we are not celebrating Thanksgiving. It has long past us by. This is nothing but another Thursday. We have lots of snow and have had it for sometime now. This is when I start to dream of tropical locations. Since our vacation holiday is far off, I wanted to over the next three days, before we pull out all the stops for Christmas, delve into some tropical flavors.
We will start off today with a tropical smoothie. If you follow us you will know Amber is a big smoothie fan and is usually the one creating these. She was off at school and I was poking around the grocery store when I came across coconut water, not milk but water and thought that would make a great smoothie by first freezing it into ice cubes. It is healthy for you, high in potassium and low in calories. We usually use just plain ice cubes in our smoothies but here it is bumped up. It doesn't give a huge coconut flavor so you can add a little extract if you like.
Enjoy, close your eyes and think of sitting under a palm tree while sipping on your smoothie.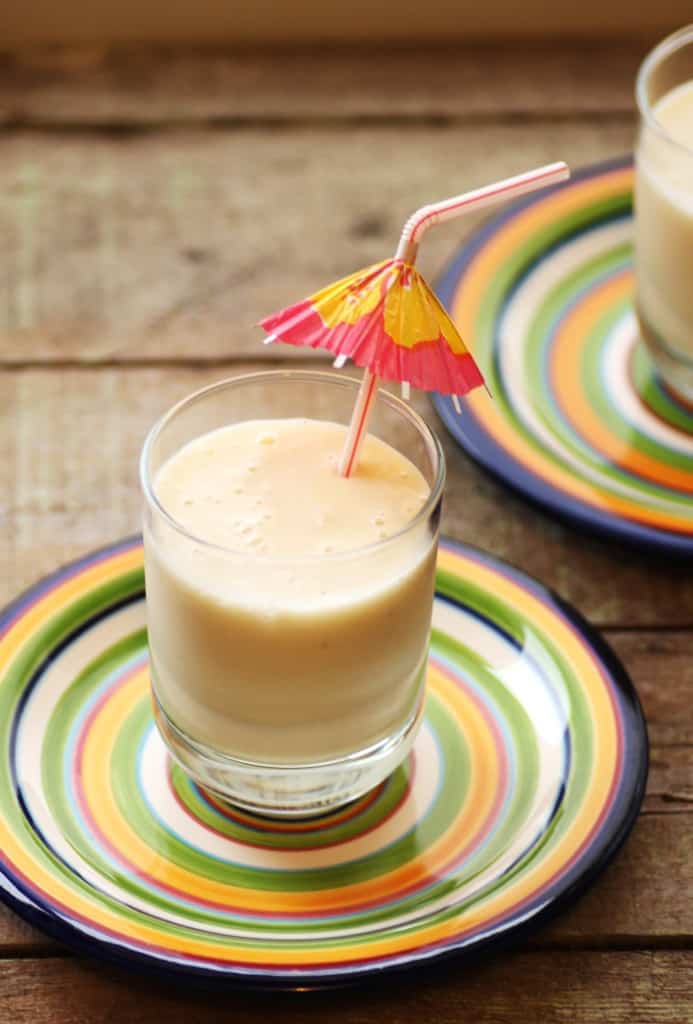 A tropical smoothie that will take you away!!
Ingredients
1 banana, sliced
4 pineapple rings
2 Tbsp. pineapple juice
⅓ cup plain 0% fat Greek style yogurt
310 ml. coconut water
drizzle of honey-optional
few drops of coconut extract-optional
Instructions
Pour the coconut water into an ice cube tray and freeze.
Place the banana, pineapple, pineapple juice, yogurt, 6 coconut water ice cubes and a drizzle of honey and a few drops of coconut extract if using, in a blender. Blend until smooth.
Pour into two glasses or one large glass.