Tuna Noodle Casserole
Here is day 2 of 5 days of casseroles. This idea and recipe for Tuna Noodle Casserole has been around for the longest time ever. I added a little crunch to the top with some rippled potato chips, not only does it add crunch but salt too and it is yummy. Changed up the topping with a little added cheese. Sometimes we just need to go way back and enjoy some good all comfort food.
This recipe was from a friend of a friend. Way back in 1993 someone had done one of those recipe exchanges on the internet and I received this recipe from my friend Jan's friend Sue. It was entitled Mom's Tuna Casserole, you know it is good then!!
This casserole is the easiest thing ever to whip up and my family gobbled it down. Ken actually got this one in the works. He is such a help when it comes to the kitchen. Couldn't do this whole blog without him. That's why I called it Noshing With the Nolands, to include all of us. I hope you try this all time favorite. ENJOY!!!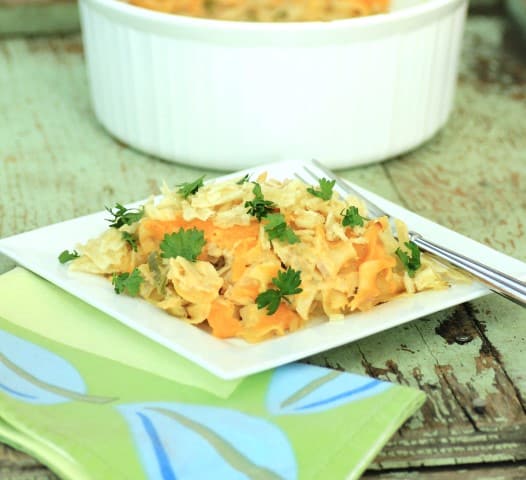 Tuna Noodle Casserole
A quick pull together casserole that will bring back the nostalgia.
Ingredients
6 oz. medium egg noodles
1 can tuna, drained
½ cup light mayonnaise
⅓ cup chopped onion
¼ cup green pepper, diced
1 tsp. salt
1 can cream of celery soup
½ cup milk
1½ cup shredded cheddar cheese, divided
Ripple potato chips
Parsley for garnish
Instructions
Preheat oven to 425F. Cook the noodles according to the manufacturers instructions. Drain and then toss with the tuna, mayonnaise, chopped veggies and salt. Set aside.
In a separate pot add the soup and milk and heat over medium heat whisking. Once hot add 1 cup of the cheese and stir to combine. Pour this into the noodle mixture.
Spray a casserole dish with cooking spray and add the noodle mixture. Top with ½ cup of the cheese. Bake for 20-25 min. Top individual plates with crumbled chips and parsley.