Udi's Gluten Free Tostadas
I take pictures of food almost everyday but today was different. I built one of these delicious tostadas, snapped two pictures, stopped and devoured it!!! I hadn't even checked to see if my pictures were any good, I couldn't control myself I had to eat it. We had these for dinner the night before and I knew how excellent they were!! Everyone raved about them!!
Many gluten free products are dry and tasteless, that has always been the complaint. Udi's has changed that and has delicious products that you would never think of as gluten free but just plain delicious. That is what we are finding time after time in trying their wonderful items. We started celebrating Udi's products with this wonderful Savory Bread Pudding, come on over to have a peek at that one.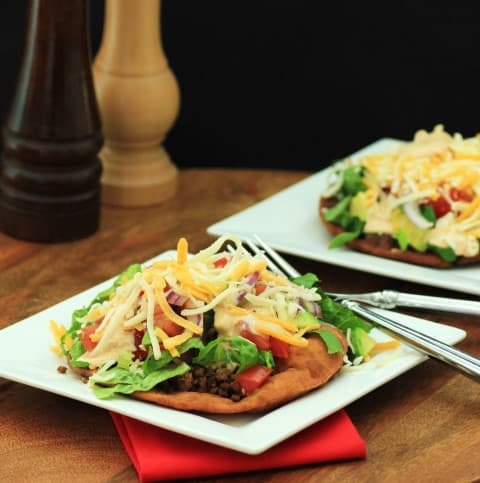 Okay, so back to the picture. I totally had to redo the whole tostado as I devoured the last one. When these are straight out of the hot oil they are so nice and crunchy and fantastic, I liked them a little over done as they were even crispier. Have everything ready for a quick assembly and you will love this tostado as much as we did.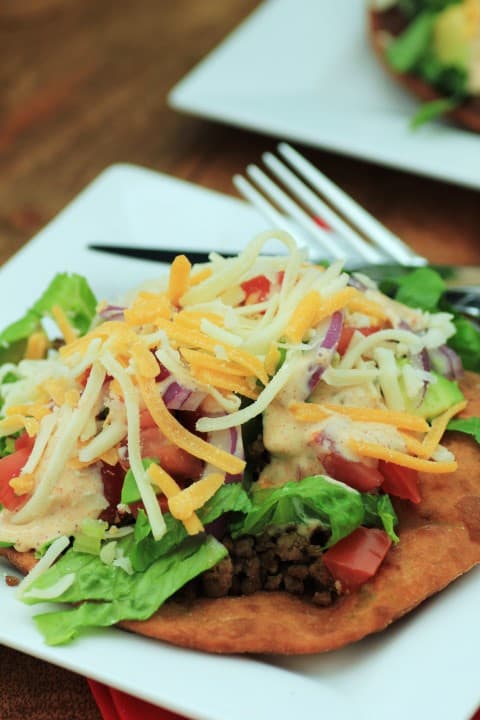 Yield: 6
Udi's Gluten Free Tostadas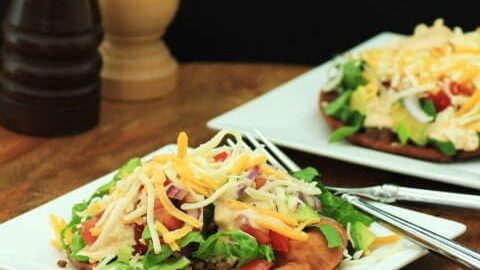 Ingredients
I lb. ground sirloin
1 pkg. taco seasoning
6 Udi's Gluten Free Tortillas
4 cups romaine lettuce, chopped
1/2 red onion, sliced
2 tomatoes diced
1-2 avocados, diced
2 cups Tex Mex Cheese
Dressing
3/4 cups Ranch dressing
1-2 tsp. taco seasoning, to taste
Canola oil for frying
Instructions
Brown the ground sirloin in a fry pan, add the taco seasoning and cook according to package directions. Set aside.
Mix Ranch dressing with the taco seasoning.
Have ready all the other ingredients, set up in a assembly line.
Heat oil in a wok or fry pan large enough to float a tortilla in flat. Fry tortillas one at a time until dark golden brown and crispy, flip to crisp the other side. If they puff up too much simply puncture a small hole with tongs and they will deflate again. Drain on a paper towel. Immediately assemble the tostado, starting with the ground beef, then lettuce, tomatoes, avocado, onion, cheese and dressing. Serve at once.
Now we would like to announce the winner of our giveaway for all these wonderful Udi's products!!!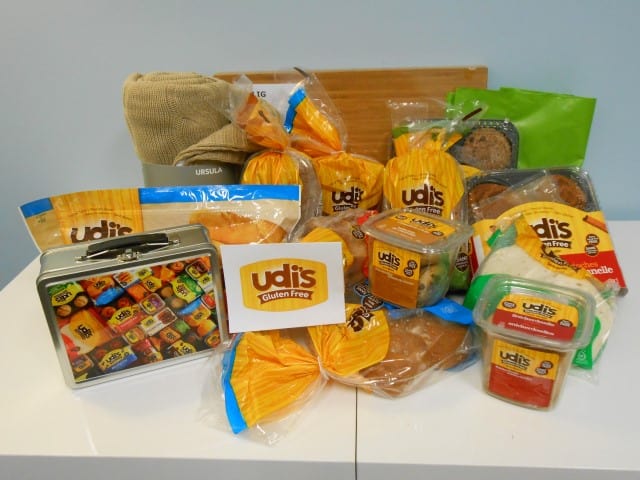 Drum roll please……………….and the winner is Kim B, congratulations, look in your email!!!!