Unique Gifts for the Hostess
We have a new shop to share here at Noshing with the Nolands filled with thousands of wonderful products. So over the next few months and beyond we will be showing you some of the wonderful merchandise that you can shop for. Today we have for you Unique Gifts for the Hostess, gifts all under $40!
We all know that we should never show up empty handed when we are guests at someone's home or event over the holidays.
The problem is, finding the right thing for your amazing holiday host can feel somewhat impossible. Especially if you have a lot on the go prior to the big event.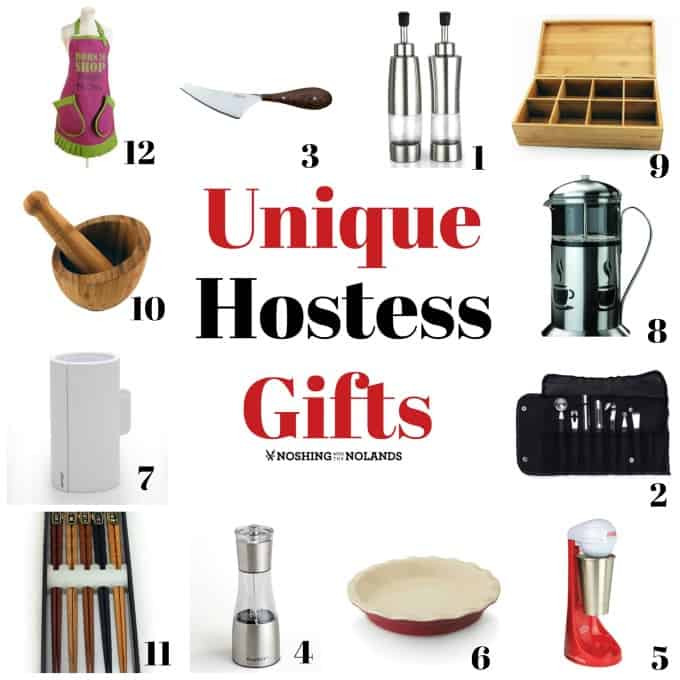 Although a simple bottle of wine is always a kind gesture, there are plenty of more creative options to give your holiday hostess.
No matter what kind of gift you choose, there are so many amazing items that can show your hostess your gratitude for their invitation to their holiday get together.
In fact, there may not be any wine on this list, but there are things for the wine lover.
Shopping for hostess gifts for the holidays doesn't have to be complicated, just open your mind and get creative.
Unique Hostess Gifts
This post contains affiliate links.
1. 2 Piece Oil & Vinegar Dispenser Set. Does your holiday hostess have a penchant for creating delicious dishes? This handy oil and vinegar set is the perfect hostess gift for the holidays. Not only do they have a built-in spout to help control the pour but they each hold 16oz and have acrylic toppers for the spouts.
2. Garnishing Tool Set. This set is a great addition to any bar or kitchen. Not only can these tools be used for many different purposes, but they are made of high-quality stainless steel and are easy to clean. This set comes with a lemon zester, two different kinds of melon ballers, a butter curler, channel knife, peeler and apple corer, all in a beautiful folding bag for storage.
3. Soft Cheese Knife. Is your hostess a cheese lover? If so, a cheese knife is an essential. Designed to effortlessly cut and serve soft cheeses like Camembert, Roquefort and Brie. Designed by Aaron Probyn, this knife fits any décor.
4. Duo Salt and Pepper Mill. Made with high quality stainless steel and styled with a modern look, these salt and pepper mills are beautiful addition to any kitchen.
5. Milkshake Maker. If your hostess is a Coca-Cola lover, why not give them the gift of this beautiful milkshake maker? This item will make any Coca-Cola collector swoon. Bringing back the nostalgia of an old time ice cream parlour right into the comfort of your hostess' kitchen is an amazing gift that inspires memories and milkshakes.
6. Round Baking Dish. This round baking dish isn't only gorgeous. In fact, it's durable enough to use every single day. If your hostess loves creating delicious dishes, this high-quality stoneware boasts a beautiful red colour and can go straight from the oven to your hostess' table.
7. Wine Cooling Clip. Skip the bottle of wine this time around and give your hostess this awesome wine cooling clip. It clips on to most wine bottles, water and even other refreshing drinks for cooling or temperature control. Simply store the clip on the cooler and keep wine refreshing and cool.
8. French Press. A French press makes an amazing, pure cup of coffee. A hostess with a love for a hot cup of coffee will greatly appreciate this gift. In fact, to take this gift next level, pair it with a bag of coarse ground coffee. Easy to use and made from stainless steel, this French press will satisfy your coffee loving hostess' craving for a good cup of java.
9. Bamboo Tea Box. If coffee isn't your hostess' hot drink of choice and she prefers tea, this bamboo tea box will help her store and organize her tea bags. This Bamboo tea box is not only eco-friendly but it's easy to clean and a fantastic way for your hostess to display her tea collection.
10. Bamboo Garlic Bowl. Made from bamboo, this beautiful kitchen tool is a great addition to your kitchen. Not only is it food safe, stain resistant and strong, it's also efficient, elegant and eco-friendly. Perfect for garlic and several other spices, herbs and more.
11. Wooden Chopsticks. Not only do these chopsticks come in a variety of colours but they are amazing utensils for sushi, dim sum and more. Share a delicious meal with family and friends with these creative wooden chopsticks. They make for a great conversation piece too.
12. Apron and Oven Mitts. These hand-crafted aprons come in several different designs. This apron with "Born to Shop, Forced to Cook" on it also has amazing removable oven pockets that remove quickly and easily to work as oven mitts and simply reattach when finished. These aprons are made for all cooks who love to create and look glamorous at the same time.
Finding Unique Gifts for the Hostess for the holidays doesn't have to be complicated. Just skip the bottle of wine and get creative. Who knows, maybe an amazing gift will secure you another invite to her next event.