Way Better Snacks
I was contacted to try these Way Better Snacks. We all love tortilla chips here and are looking for a healthier but yet delicious alternative all the time! We have tried loads of different snacks that are on the market. I love the variety that these Way Better Snacks offer.
These chips are not only full of flavor but they have increased vitamins and minerals; increased antioxidants; increased digestibility; and increased nutrition absorption.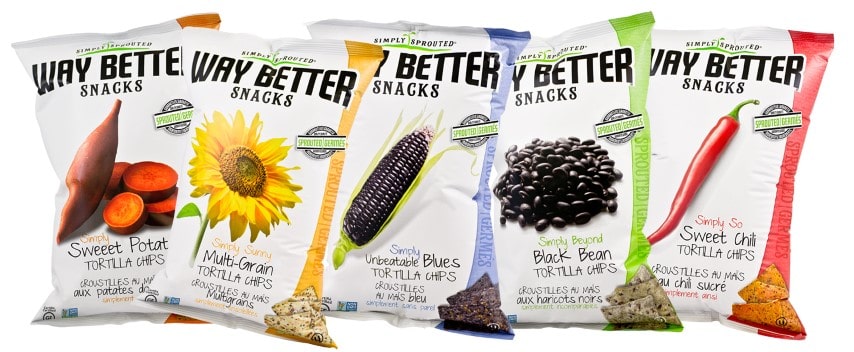 These chips have an advantage to others as they include sprouted seed, beans and grains. We all know you have to grind flax seed to get the benefit from them, well this is true for other seeds as well. Here is what Simply Sprouted wrote:
Benefits of Germination
Research has confirmed what has been known for centuries – seeds, grains and beans are outstanding nutritional food sources. What isn't well known is, without exception, they are all difficult to digest and their nutrients are poorly absorbed. Every seed, grain and bean has natural enzyme inhibitors and barriers like phytic acid, lectins, tannins and others which are designed specifically to interfere with digestion and absorption.
This means the seed can be eaten, pass through the body and still grow into a plant. This is nature's way of ensuring animals, birds and humans distribute seeds. For example, when a person consumes whole flaxseeds in a Snack product, or bakery product, there is actually little nutritional benefit. In addition, to these inhibitors, the seed is whole, and when it comes to the absorption and digestion of nutrients, the smaller the particle, the better the digestion.
The way to overcome the problems created by these inhibitors is to sprout the seed. Sprouting creates enzymes which start the seed on its way to becoming a plant. When seeds begin to grow, the natural enzyme inhibitors that protect them from being digested are no longer present. It also reduces or eliminates all of the other antinutrients found in raw seeds. Sprouting biologically activates the seed. The plant proteins, essential fatty acids, starches and vitamins are now BIOAVAILABLE for human digestion, resulting in better nutrient absorption.
We love sweet potato anything but put it into a tortilla chip and we all gobbled that one down first. These will be on my list to buy again for sure!! YUM!!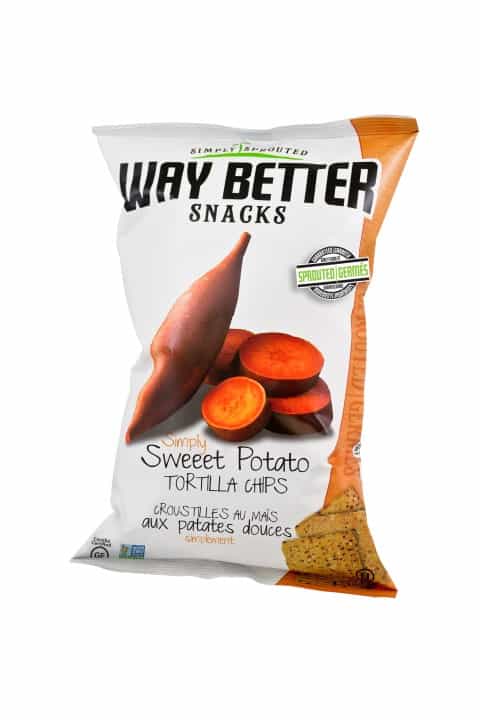 Second on our list of loves is spicy, so this was the next bag to be gobbled. They had just the right little bit of heat and were delicious!!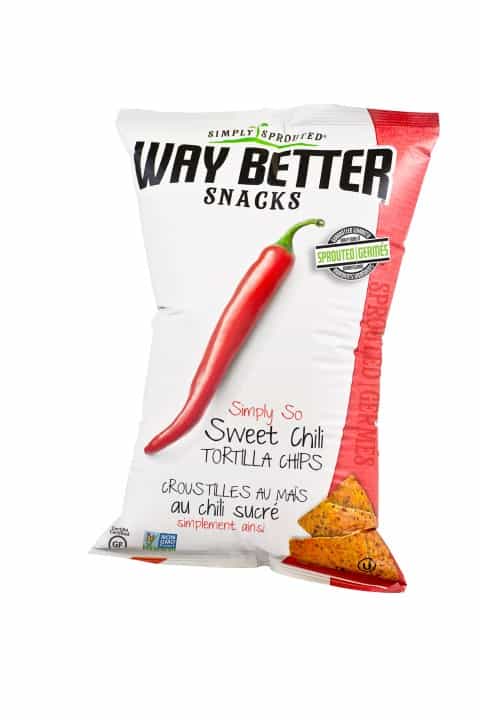 In addition to the sprouted ingredients, the tortilla chips are also Certified Gluten Free, Non-GMO, Certified 100% Whole Grain, Kosher, Vegan, an excellent Source of Whole Grains, Low Sodium, and a Good Source of Fiber. Also, they contain no trans fats, artificial colors, flavors or preservatives – and are amazingly great tasting.
I served the last three bags of chips to company when we had a relaxed BBQ. They loved them all and so will you. Way Better Snacks are available at numerous retailers throughout Canada, including Save on Foods, Safeway, London Drugs, Choices, Sobeys, Fortinos, Metro Quebec and Whole Foods. ENJOY!!