What is the Best Frying Pan?
Frying pans are one of the most important and versatile kitchen tools you'll own but What is the Best Frying Pan? Most of us started out with a hand me down set, or maybe a cheap and cheerful pan that was on sale somewhere.
There's nothing wrong with that to start, but there comes a point when you want to upgrade. And that's when you start to ask around trying to figure out what is the best frying pan.
If you've ever asked this question to friends or on social media, you'll already know that there are a lot of opinions on frying pans. From materials to size, everybody has a favourite.
This is the latest addition to our kitchen how-to section with other posts like How to Sharpen a Knife, Great Kitchen Hacks, How to Organize Your Kitchen and more!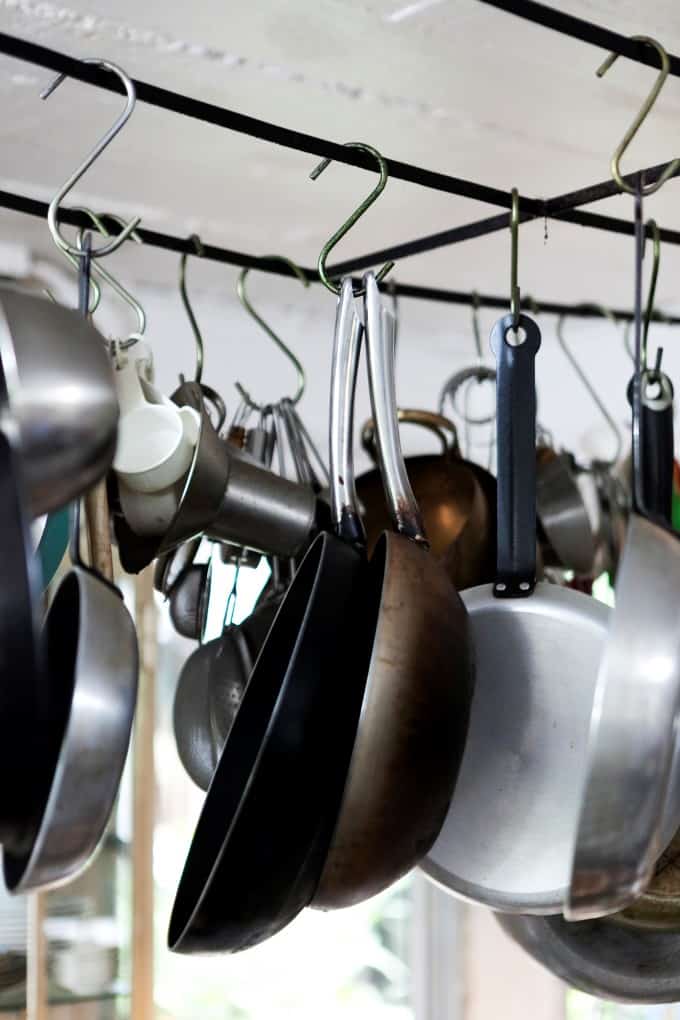 There are so many options these days that there isn't really one "best" frying pan for every situation but there are a lot of really great ones out there to choose from.
Frying pans, also called skillets, have sloped sides and a flat bottom. The terms skillet and frying pan are often used interchangeably, but I'll stick with a frying pan to lessen the confusion. Here's what you need to know to pick out the perfect frying pan for you.
Materials
There are a few different types of frying pans: nonstick, stainless steel, copper, and cast iron. Once you know the difference in the materials, you'll see that each has a purpose but the average home cook doesn't need all of them.
Nonstick
Nonstick pans are the ones you're probably most familiar with. There's a reason for that – because of the special nonstick coating, the pans are easy to clean and versatile. One drawback to nonstick pans is that they are not oven safe and many are not dishwasher safe either. Nonstick pans need to be cleaned with non-abrasive materials so that the nonstick coating doesn't come off.
Traditionally, nonstick pans were coated in Teflon and were found in just about every kitchen. There is some debate as to the safety of nonstick pans when the coating begins to peel off. Now, most experts advise that once the nonstick coating is flaking off to get rid of the pan.
A newcomer to the nonstick market is the ceramic nonstick pan. These aren't actually ceramic but are glossy and look like ceramic. They are generally oven safe but not dishwasher safe. Nonstick frying pans range from quite inexpensive to hundreds of dollars so there's one for every budget.
Stainless Steel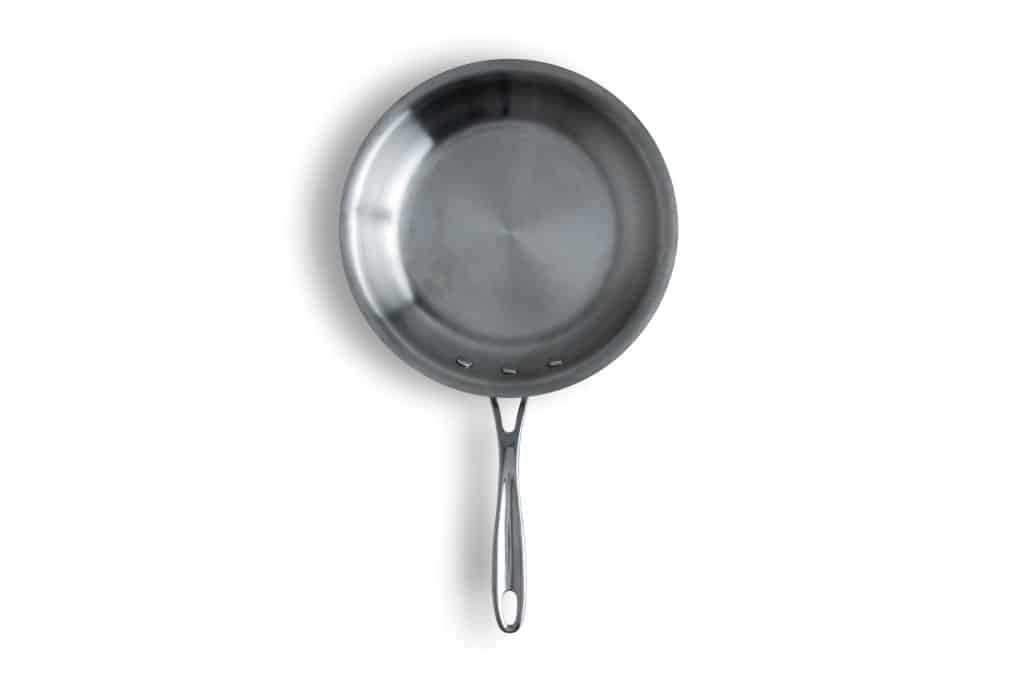 Stainless steel pans can be a bit tricky to cook with because they are pretty much the opposite of nonstick. Unless you use a generous amount of oil or butter in the pan, you're going to need to be prepared to do some heavy-duty scouring.
Stainless steel frying pans are also prone to discolouration (aka turning rainbow colours) when used with saltwater or on high heat. The advantages of stainless steel frying pans are that they are not food reactive – so you can cook highly acidic foods without getting a weird taste, they're durable, and they're dishwasher safe. They make a great saute pan.
Stainless steel frying pans are also very reasonably priced and for that reason, many people buy stainless steel sets to start out with.
Copper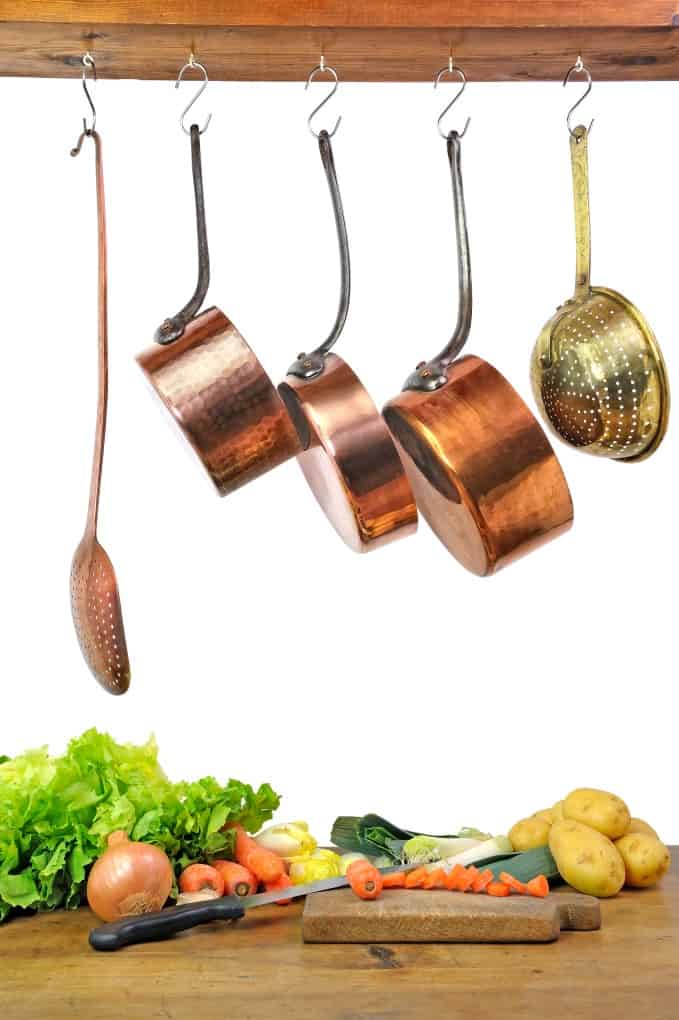 Copper frying pans are the preferred skillets of many professional chefs because of their excellent thermal conductivity. They get hot quickly and stay hot evenly – there are no cold spots on copper frying pans. They also look really nice.
Copper frying pans also have a really good weight to them – they're heavy enough that they sit on stove burners without tipping but light enough that they can be picked up with one hand. This type of pan needs to be cleaned regularly or they can corrode, and they're not as durable as stainless steel or nonstick.
Copper frying pans lined with stainless steel are more durable and more versatile but are also more expensive. But they cannot be put in the dishwasher or the oven. Copper frying pans are expensive but for many professional chefs, they're worth the price – especially in an open kitchen.
Cast Iron Skillet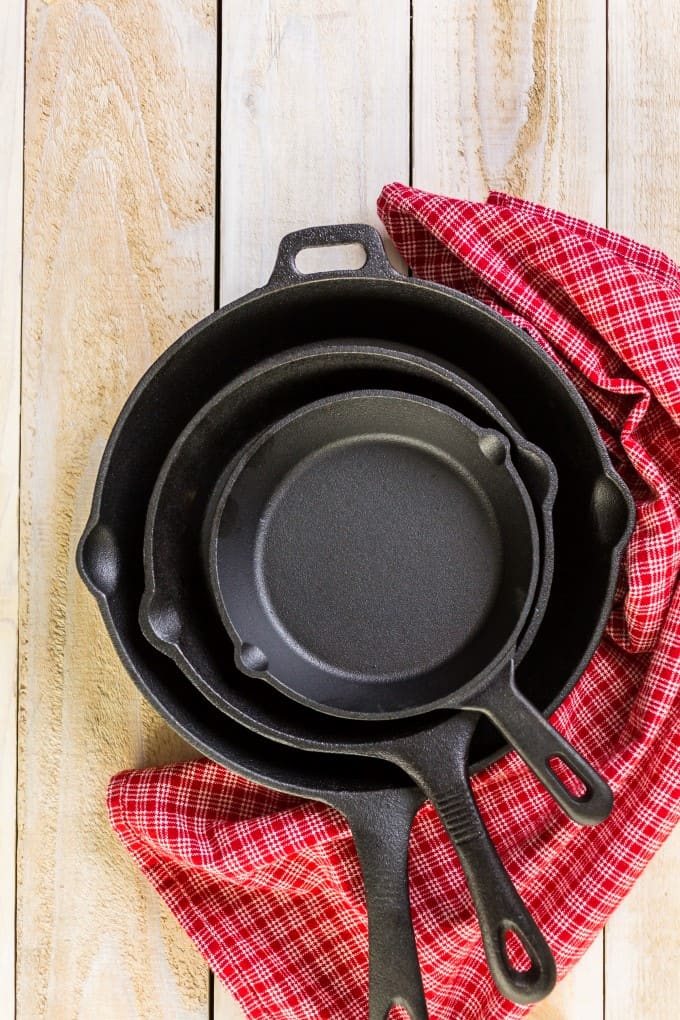 Cast iron frying pans are another very popular choice. They don't heat evenly so you need to make sure you centre it on the burner but they retain heat extremely well.
Cast iron frying pans are oven and fire safe (as long as you have something to protect your hands because the handles get very hot). They're pretty much indestructible too. Even heavily rusted cast iron pans can be brought back to life with a good scouring and re-seasoning.
Cast iron pans need to be seasoned – but once they are, as long as you take care of them properly they'll remain virtually nonstick for decades. One big downside of cast iron frying pans is their weight. They can be quite heavy and awkward to use.
Another potential downside is the cost – at twice the cost of a typical nonstick pan, cast iron is an investment.
Size
Most families can make do with two frying pans – a large and a small. The smaller frying pan will be great for side dishes or omelettes. The larger one can be used to cook everything from fish to steak and stir fry.
So what's the best frying pan to get? One that you're comfortable using and cleaning.