I was invited by The Dairy Farmers of Canada to participate in The Great Cream Challenge. This month was a seasonal fruits challenge.
Of course, there had to be whipped cream and in my mind lots of it!!! Layers of it!! Then I pictured a chocolate layer. I have never done anything with Nutella before and decided to try this!!
Oh, my amazing!!! That Nutella and whipped cream layer sealed it for a heavenly cake!!
I had the chocolate cake already in the freezer just waiting for a creative moment. I went to town on it, slicing it carefully and layering mountains of the fluffy delightful cloud-like cream and adding perfectly ripe berries.
The creation was this gorgeous cake. Looks hard to make, not at all. Looks hard to slice, nope again. You just have to have the courage of your convictions, as Julia Child said.
Many things that we are afraid of, just turn out great.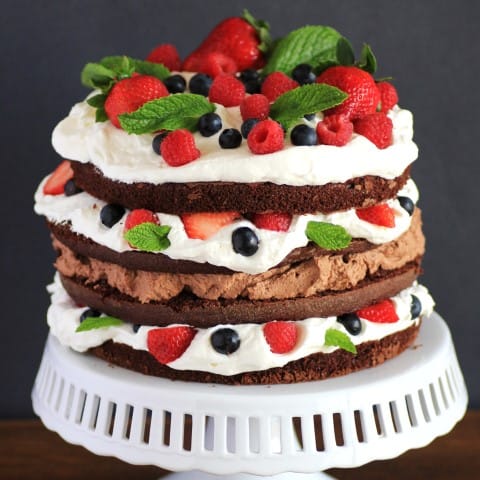 Look at all those layers of delicious whipped cream, Nutella, and berries!!! Your family or company will be in awe of this whipped cream berry layer cake dessert.
Don't tell them it is super easy to make, they will never believe you!!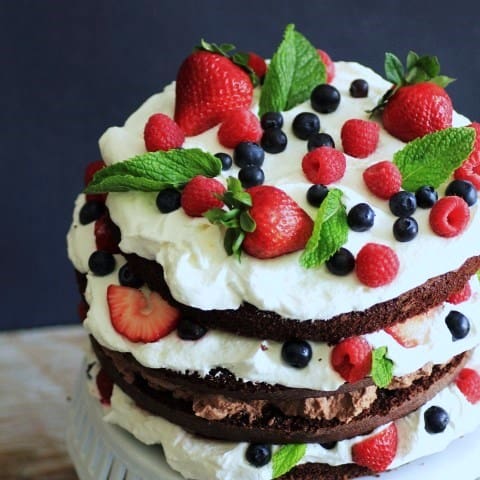 Bake up a cake the next time you think about it and have it at the ready in your freezer. It also slices better when it is still a bit frozen. You can have this dessert "whipped" up in no time.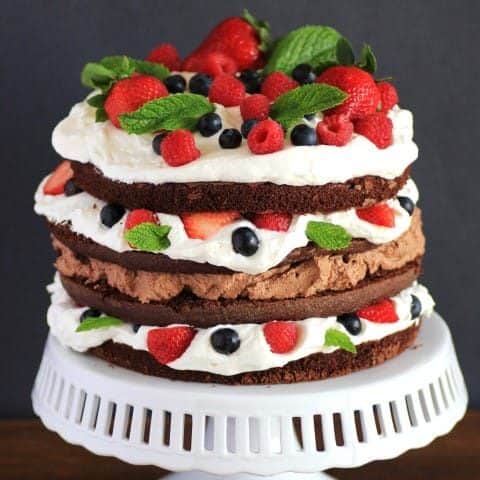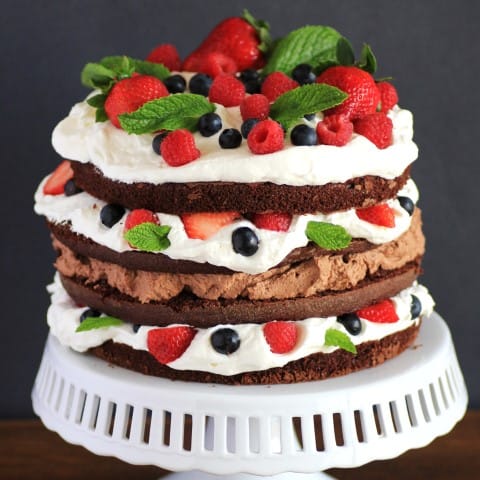 Whipped Cream Berry Layer Cake
Yield: 10 Servings
Prep Time: 1 hour
Cook Time: 35 minutes
Total Time: 1 hour 35 minutes
Celebrating seasonal fresh berries and whipped cream!!!!
Ingredients
2-8" round chocolate cake from scratch or package
3 cups whipping cream
4 tbsp icing sugar
1 cup blueberries
1 cup raspberries
2 cups strawberries, leave 3 whole and slice the rest
Fresh mint for decoration
Nutella Layer
2 cups whipped cream
1 cup Nutella
Instructions
To make the Nutella layer, bring the 2 cups of whipping cream to a boil.
Remove from heat and whisk Nutella in. Mix well. Let cool, then cover and refrigerate until very cold.
Place the bowl from a stand-up mixer in the freezer along with the whisk attachment to chill. Slice cakes in half with a cake slicer and set aside.
Whip the 3 cups of whipping cream in the chilled bowl until starting to thicken, slow down the mixer, and add the icing sugar.
Continue to whip until thickened. Transfer to another bowl and refrigerate.
Chill and whip the Nutella mixture until thickened.
Place one round slice of cake on a serving dish, and top with 1/3 of the whipped cream. Then place 1/3 of the berries on top of the whipped cream.
Place on another layer of cake, top with the Nutella whipped cream, and omit the berries on this layer. Top with another of the cake rounds and another 1/3 of the whipped cream followed by 1/3 of the berries again.
Top with the last cake round on and the last 1/3 of the whipped cream. Decorate with the 3 whole strawberries, berries, and fresh mint.
Serve immediately or chill for 2 hours.
Nutrition Information:
Yield: 10
Serving Size: 1
Amount Per Serving:
Calories: 774
Total Fat: 53g
Saturated Fat: 30g
Trans Fat: 2g
Unsaturated Fat: 19g
Cholesterol: 109mg
Sodium: 334mg
Carbohydrates: 73g
Fiber: 5g
Sugar: 57g
Protein: 7g
Recipe calculation was provided by Nutritionix and is estimation only. If you need nutritional calculations for medical reasons, please use a source that you trust.