I am sharing a gorgeous recipe with you today, one that I made in my brand new Le Creuset Saucier Pan. How thrilled am I? You have no idea!! Le Creuset Canada is fabulous to work with and I adore all their products. I couldn't wait to get something cooking up in my new pan. Hmmm, what to make? A saucier pan is perfect for sauces, risotto and poaching. Yes, poaching, my daughter has been after me for poached pears. She remembers me making these Red Wine Poached Pears and loved them. So this time I thought I would make White Wine Poached Pears with Cinnamon Mascarpone.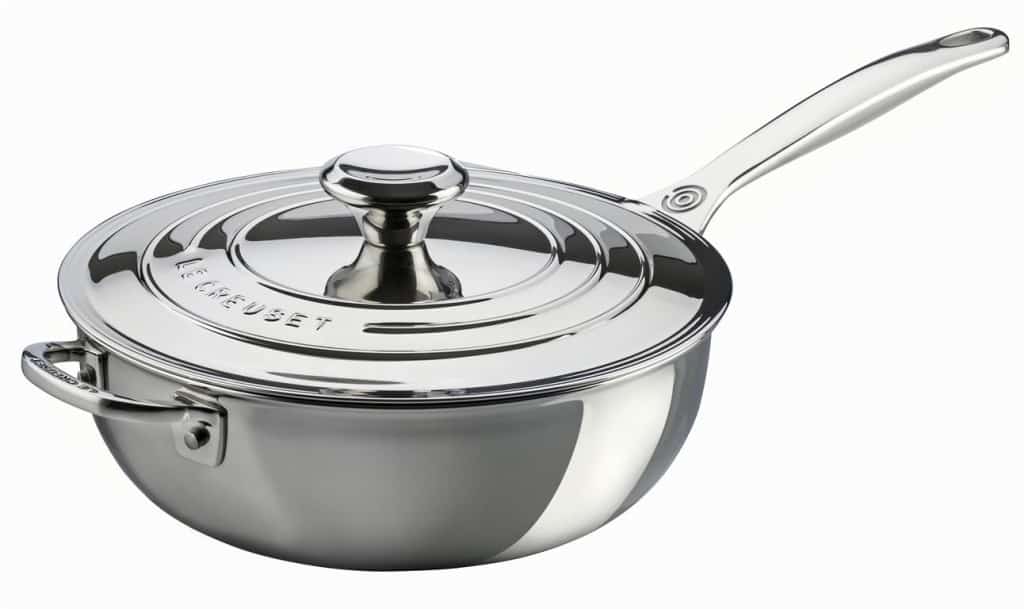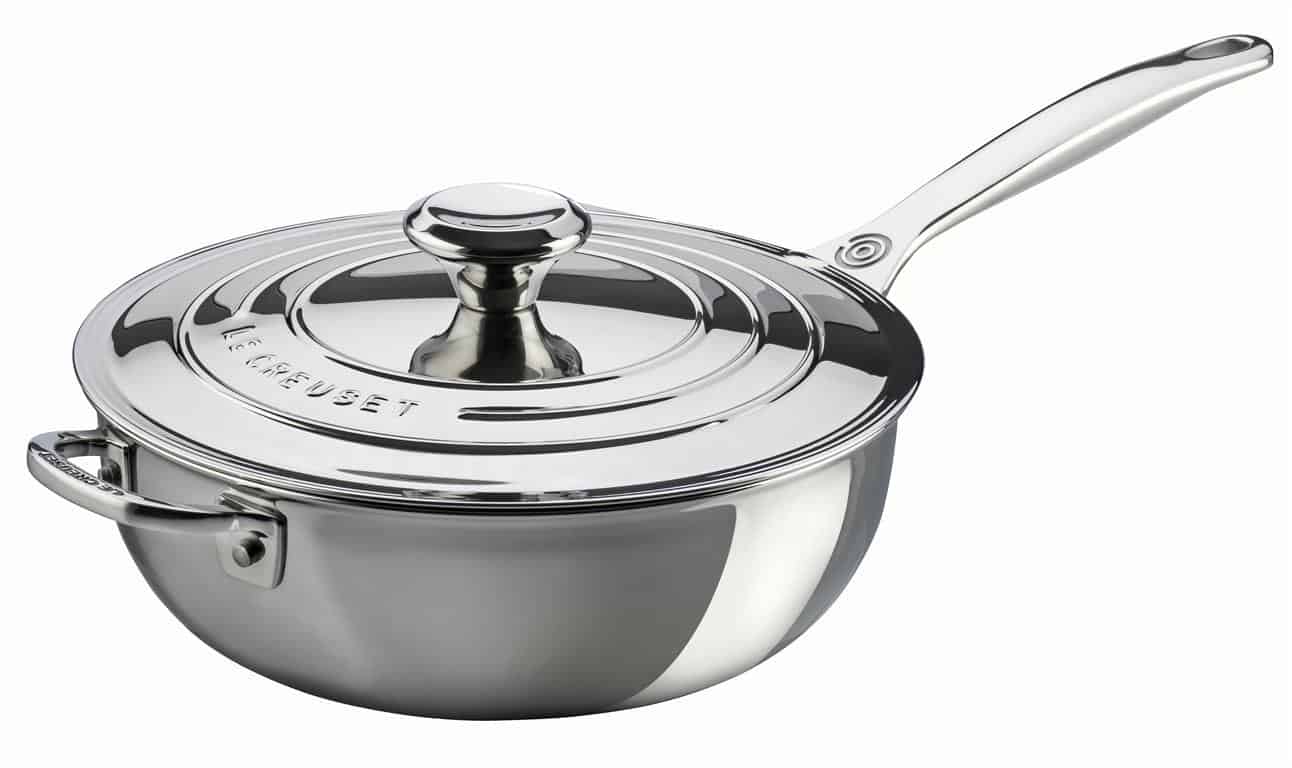 When using a saucier you have the advantage of the pan being rounder. There aren't the "corners" to deal with like a sauce pan, where ingredients can hide and make your sauces lumpy. The pan is also deeper so it is perfect for making a risotto or for today's recipe, poaching! Isn't she a beauty? I love the companion handle, it makes it so easy for pouring!! I have one to give away to a lucky winner also. It is a great prize!! One that you will love!!
I was so excited to recieve mine when it came!!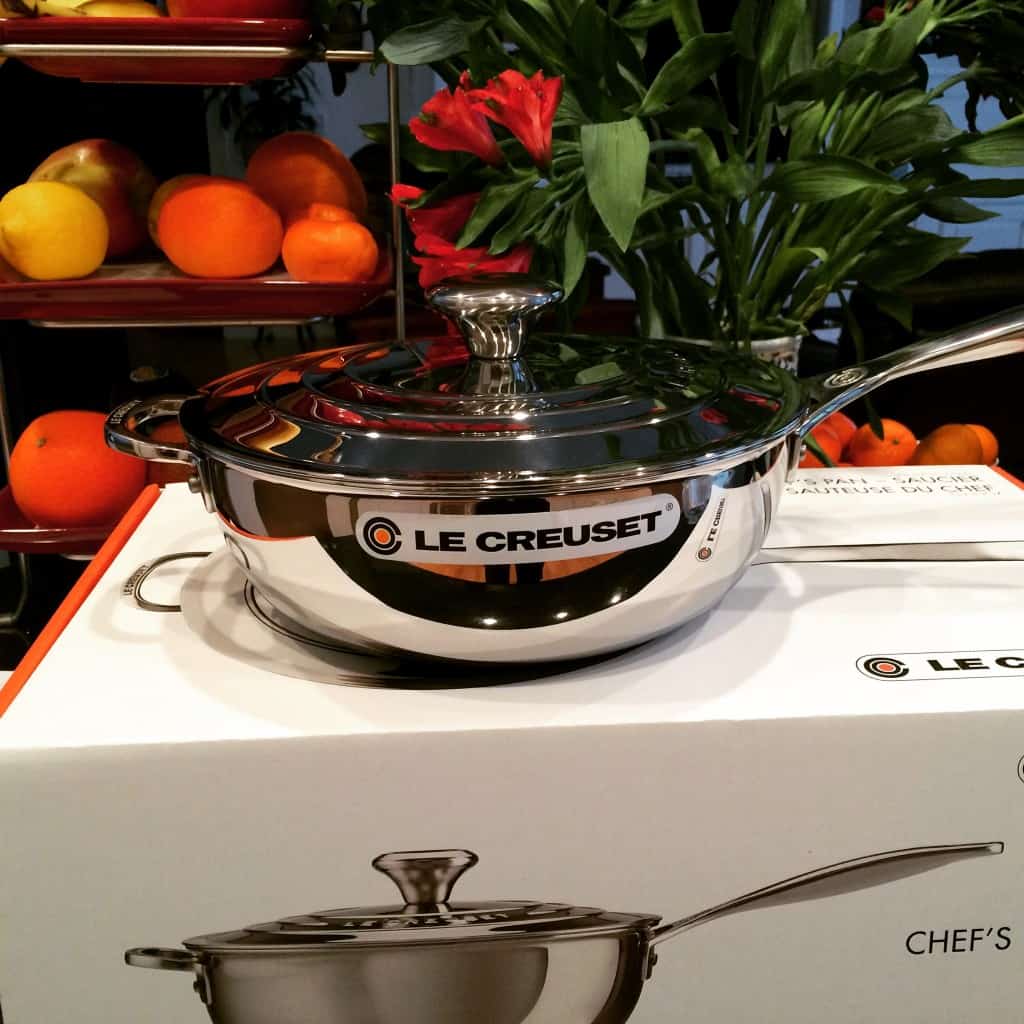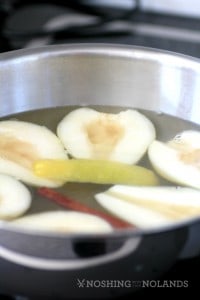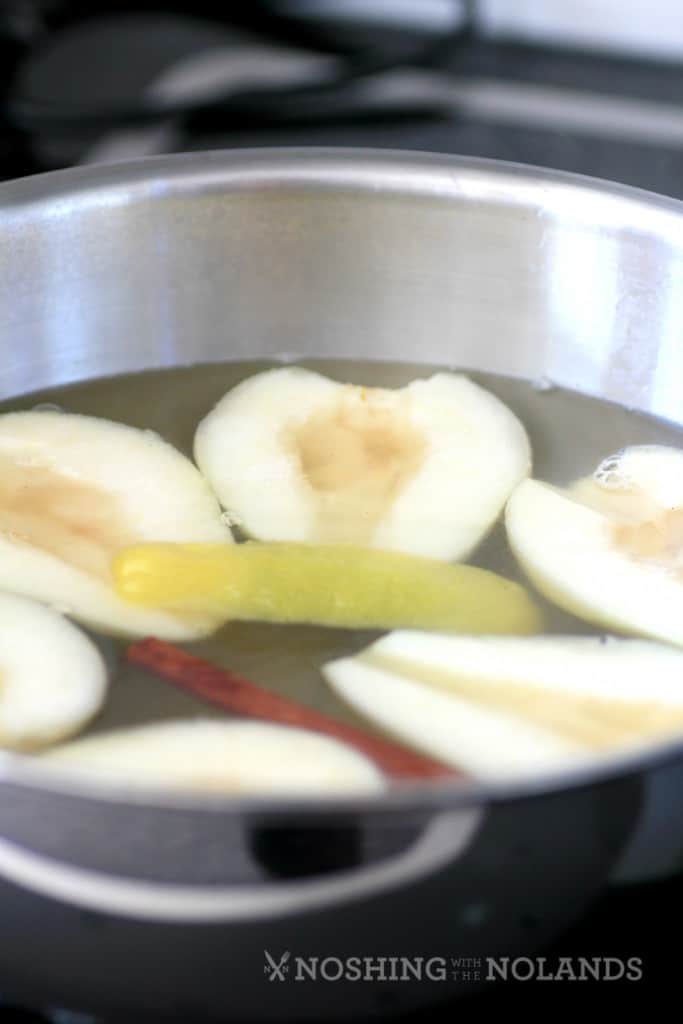 Here is a little peak inside the pan while the pears are poaching. You want to use ripe but firm pears so they don't fall apart while cooking. These were perfect! I have done them whole before too but decided to halve these so they held the cinnamon mascarpone nicely.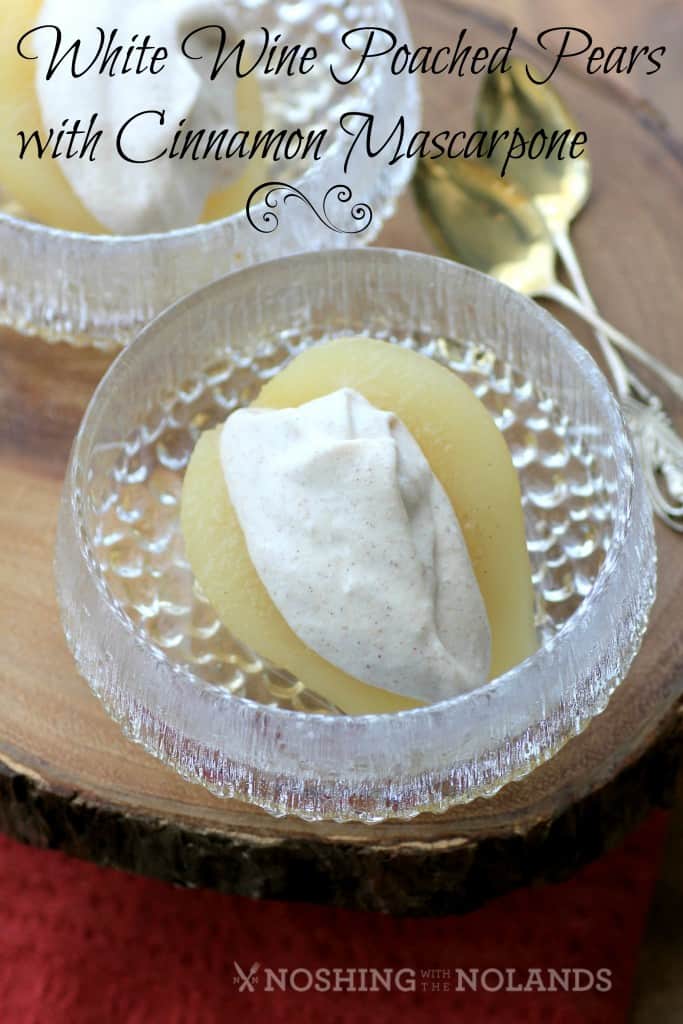 The pears sat overnight in their sweet poaching liquid so that they were even more infused with the delightful flavors. This would be a pretty dish to serve for Easter dessert too, nice and light and full of freshness.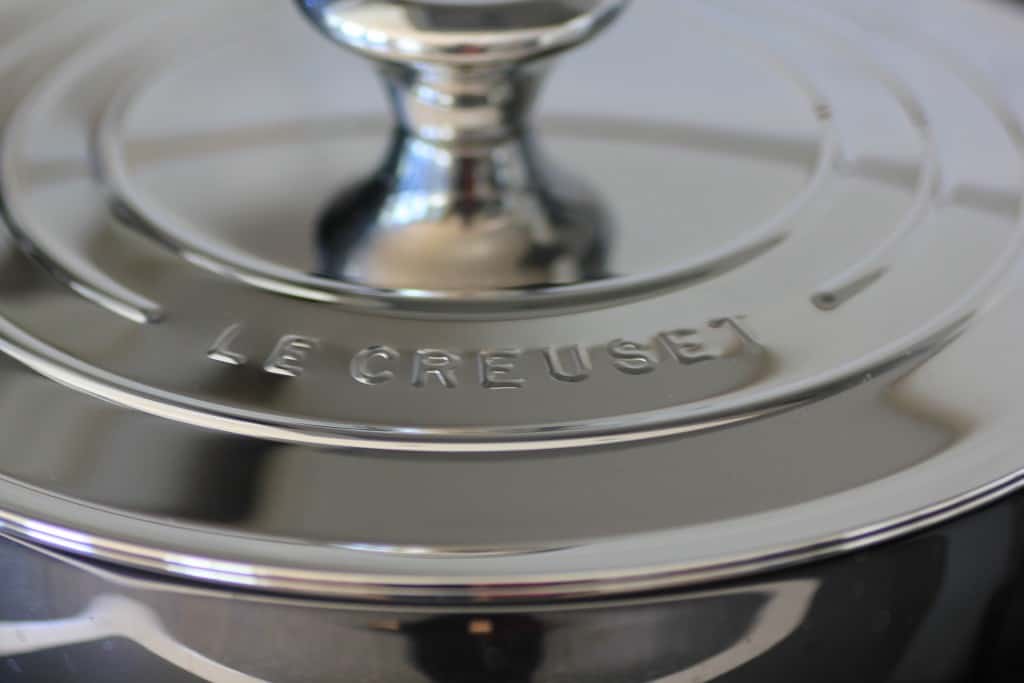 The pan was fantastic to work with, great even heating and the liquid on my induction stove seemed to boil almost immediately. This pan has great heat conduction. Doesn't the name Le Creuset say it all!!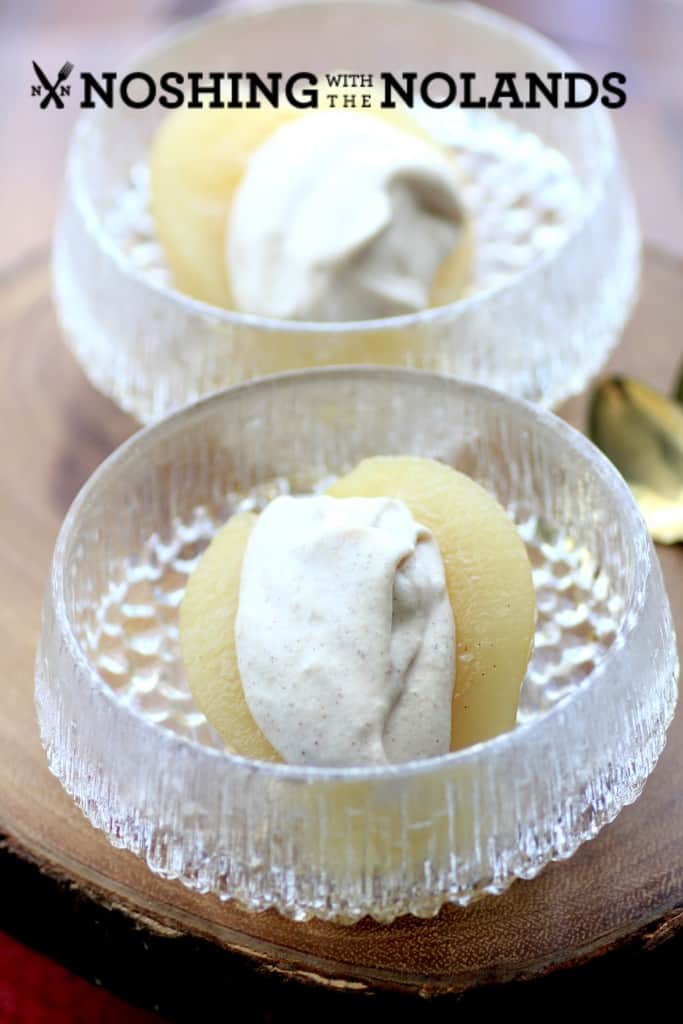 My daughter went crazy for these, she loves her pears and the creamy mascarpone, which is so easy.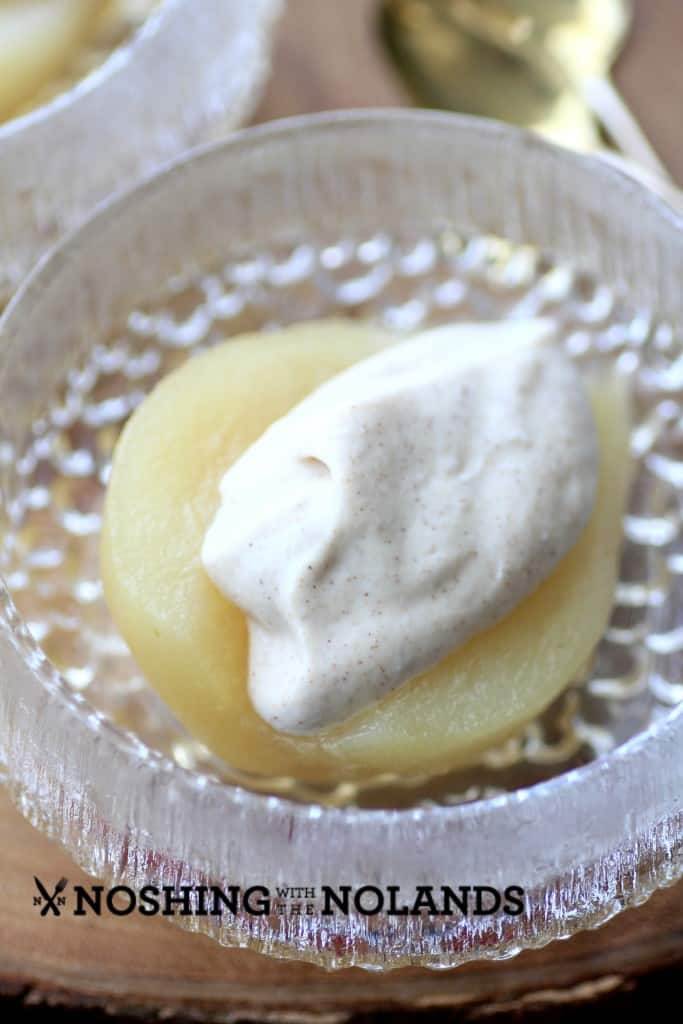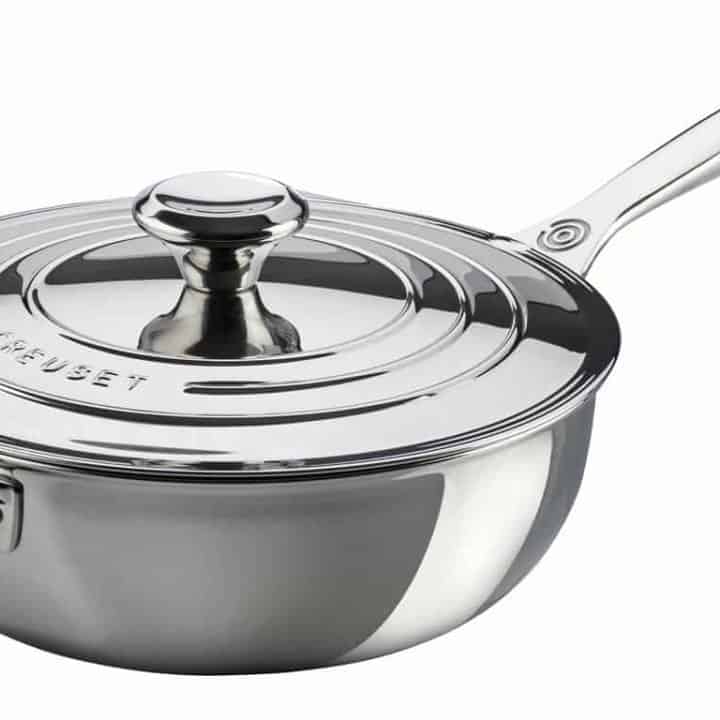 White Wine Poached Pears with Cinnamon Mascarpone #LeCreuset #Giveaway
Yield: 6 servings
Prep Time: 10 minutes
Cook Time: 45 minutes
Total Time: 55 minutes
Pears poached in lemon cinnamon infused white wine and served with sweet cinnamon mascarpone.
Ingredients
1 bottle (750ml.) dry white wine
1 cup sugar
Juice from 1/2 lemon
2-1" wide strips lemon peel, don't include the white pith
1 cinnamon stick
1/2 vanilla bean, split in half lengthwise
3 firm but ripe pears, peeled, cut in half and cored
Cinnamon Mascarpone
1 cup mascarpone
1/2 tsp. cinnamon
2 Tbsp. Berry or fine sugar
1-2 Tbsp. poaching liquid
Instructions
In a saucier pan or large saucepan add wine, 1 cup sugar, lemon juice, lemon peel, cinnamon stick and vanilla bean. Bring to a boil and let simmer for 5 minutes. Add the pears and simmer for 20-30 min. until pears are tender, don't overcook. Remove the pears to a bowl. Bring the poaching liquid up to a boil and continue cooking until reduced by half, about 10 min.
Pour the reduced poaching liquid over the pears and refrigerate for 6 hours or overnight, covered.
When ready to serve. Mix the mascarpone with the cinnamon and sugar, adding in enough poaching liquid to make the mascarpone light and fluffy. Serve a dollop over the pears.
Recipe adapted from Martha Stewart
White Wine – Poached Pears
.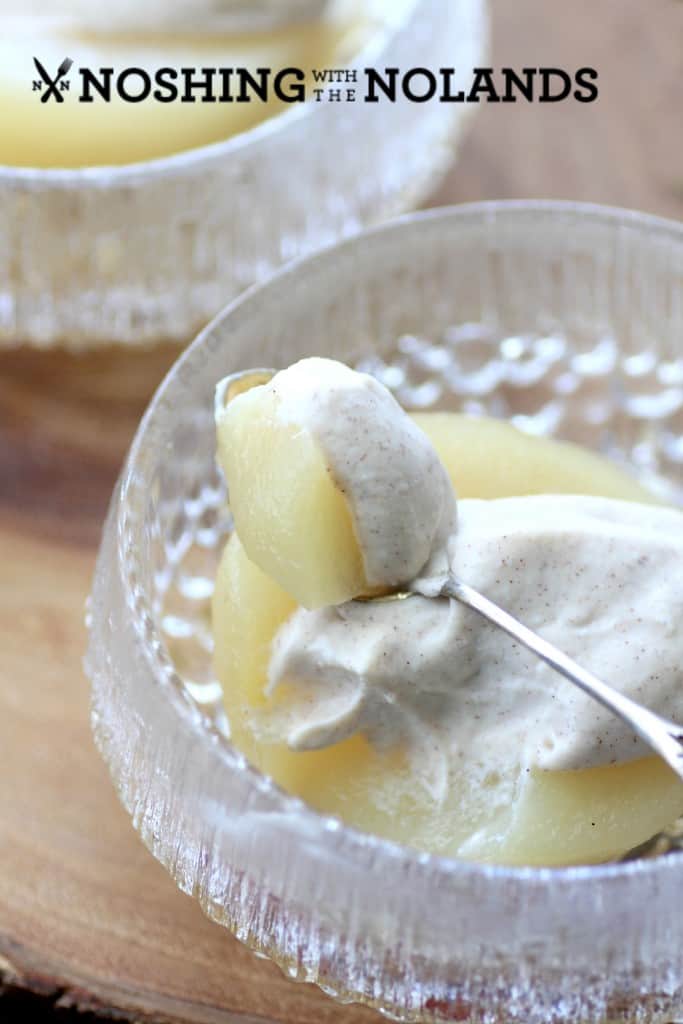 Come and dig right into this stunning dessert. Everyone will think you slaved but they are so easy to make.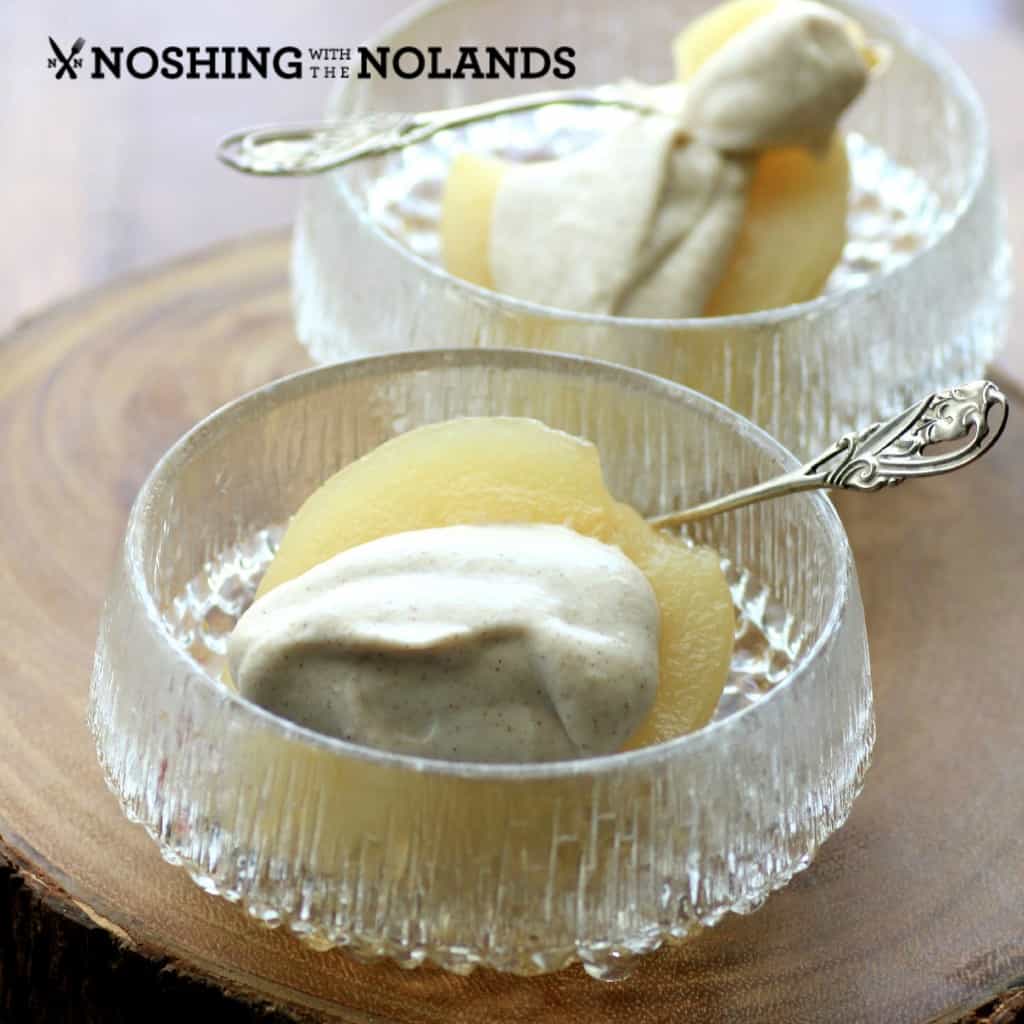 Now onto the fun part, the giveaway, READ CAREFULLY. It is easy to enter and you can come back daily to tweet if you like for extra entries!! The contest is only open to Canada. The giveaway runs from March 14 until March 24, 2015, where at that time a random winner will be chosen. You will have 24 hours to respond to an email or another winner will be selected.