Whole Wheat Apple Cranberry Stuffing
Disclosure: This post is sponsored by Life's Simple Ingredient and I was compensated for this post. All opinions and experiences are my own.
With any celebration over the holidays be it Christmas, Easter or Thanksgiving I love a great Whole Wheat Apple Cranberry Stuffing. For me, the goodness of a fantastic wheat bread can't be beaten.
It is wholesome and packed with wonderful nutrients. Adding in fruits, vegetables and nuts make it even more delicious. Keeping it simple without meat makes sure that more people can enjoy it. I love a big casserole of stuffing on its own but also like to stuff some in the turkey. Can't get enough of that scrumptious bread stuffing in my holidays!!
Choose a whole wheat bread that has some additions to it like sunflower seeds so that you just add in even more flavor! I love having stuffing even with a chicken. The kids devour it and are always happy to see a big casserole of stuffing on the table!!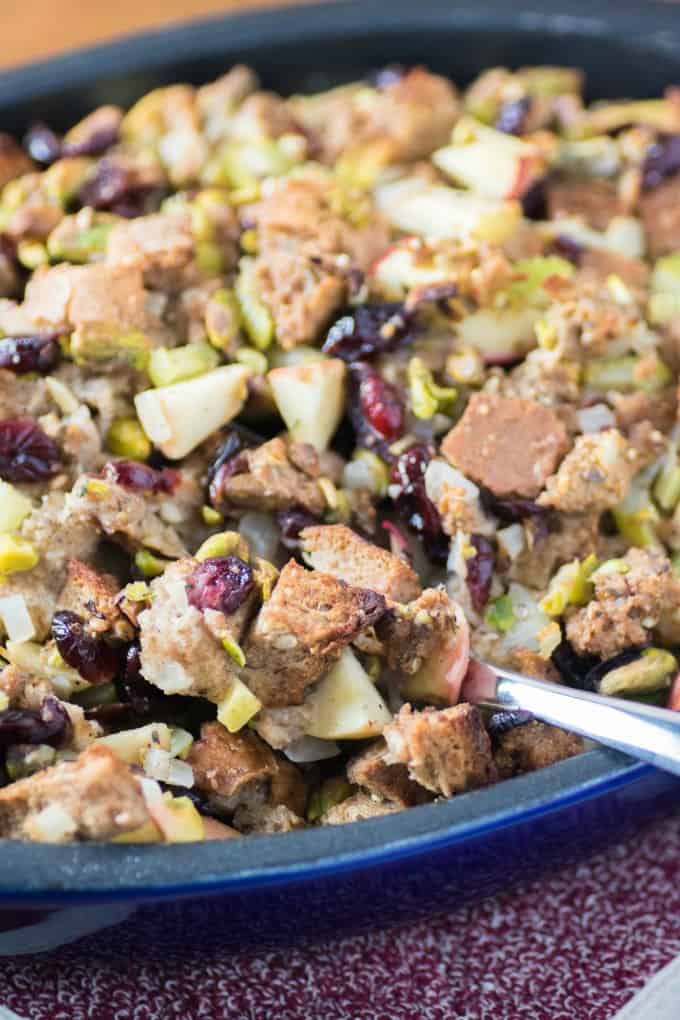 Stuffing is easy to make as all you have to do is grab a delicious whole wheat loaf of bread, chop up some veggies, add in a few nuts and cranberries and then moisten it with vegetable stock, chicken stock or a combination with wine!
Wheat, Can you Tell Me About it?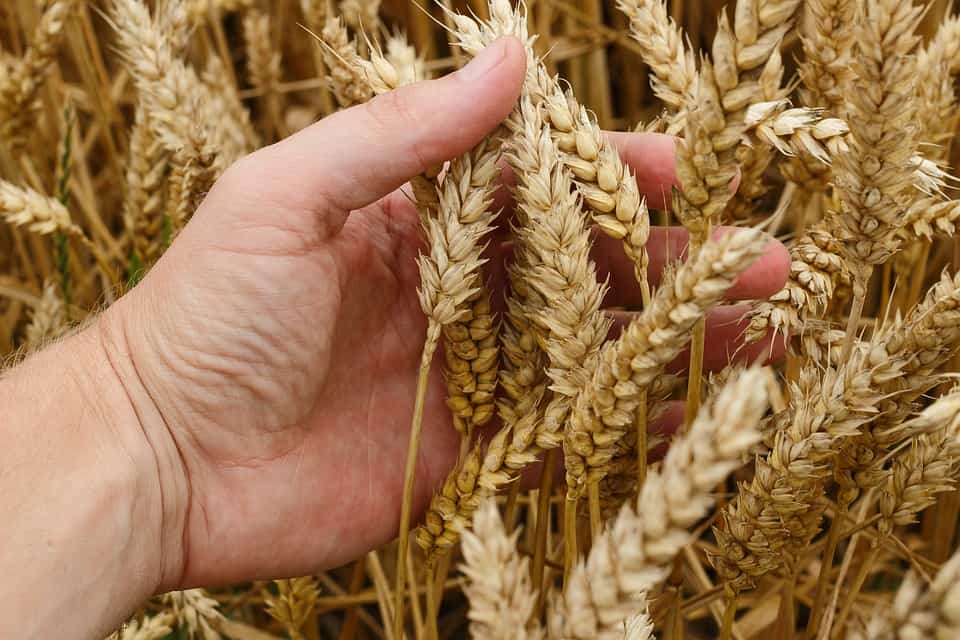 Wheat has been giving us nutrition since almost the dawn of time. The first harvested wheat was 23,000 years ago. Repeated harvesting and sowing of wheat led us to domestication. Wheat harvesting continued and became more widespread reaching the British Isles and Scandinavia by 3,000 BC and even China after another thousand years. At a later date, Egyptians were making bread and developing ovens.
Skip ahead to today and wheat is grown on more land than any other crop and its demand is growing constantly. Wheat is a very versatile ingredient that can be used from breakfast to dessert. Think of how many, many dishes contain life's simple ingredient, wheat.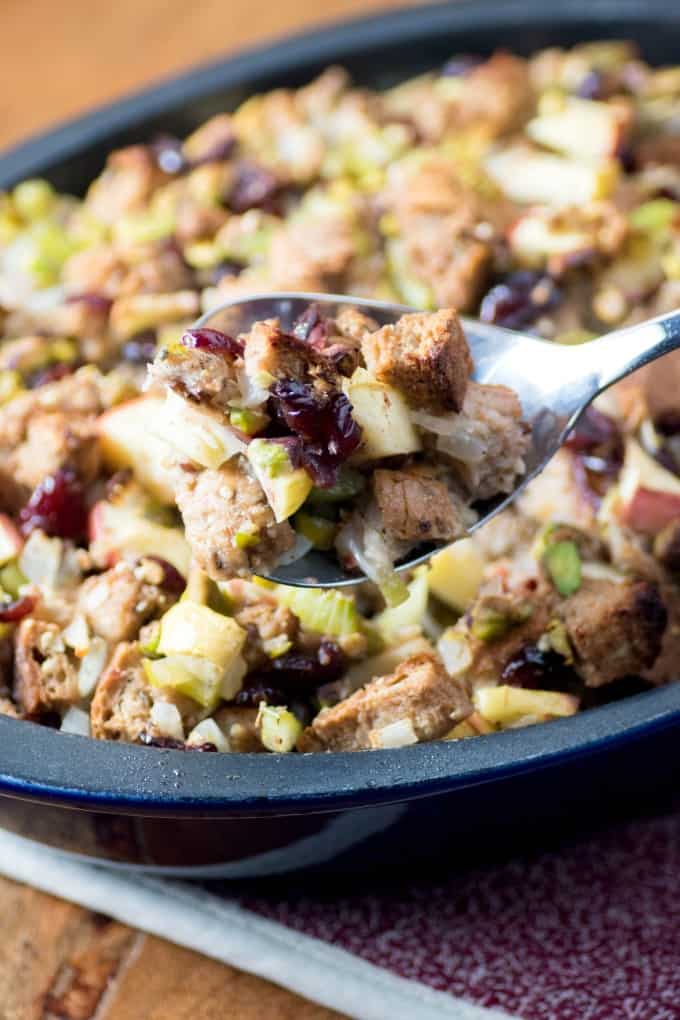 Crunchy, moist, flavorful and healthy is this wonderful stuffing. You will want a second helping of this stuffing. Pass it around, everyone will!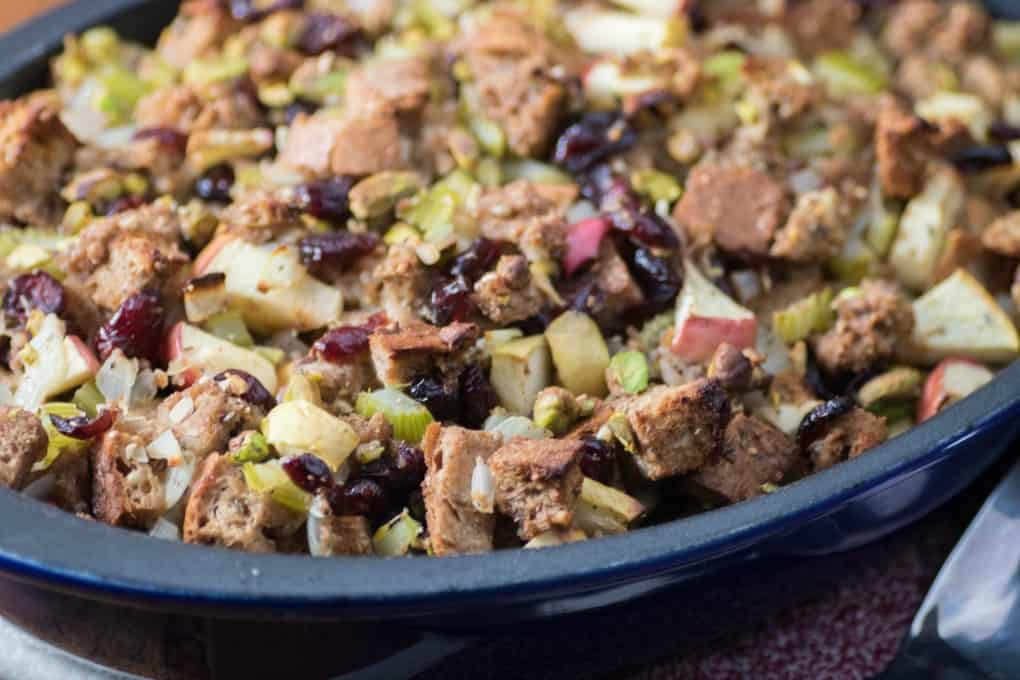 Whole Wheat Apple Cranberry Stuffing Recipe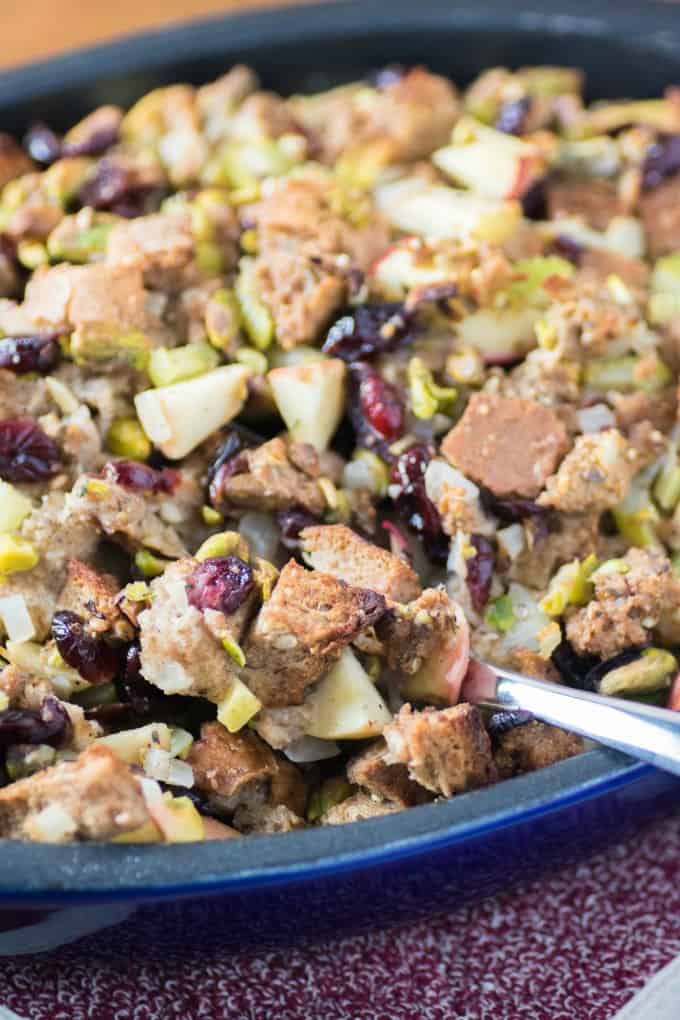 Whole Wheat Apple Cranberry Stuffing
Yield: 6-8 servings
Prep Time: 20 minutes
Cook Time: 40 minutes
Total Time: 1 hour
Nothing better than a great stuffing and this Whole Wheat Apple Cranberry Stuffing is so easy you can have it for supper tonight with chicken never mind waiting for the big turkey day!!
Ingredients
6 cups day old artisan whole wheat bread, cut up into 1" cubes
1 1/2 cups vegetable stock (chicken stock can be used too)
1/2 cup white wine (omit if necessary and just add more stock)
1 cup dried cranberries
1 cup pistachio nuts, chopped
1 cup celery (about 2 stalks), chopped
1 onion, chopped
2 Tbsp. butter
2 Honey Crisp apples, chopped
1 tsp. salt
1 1/2 tsp. poultry seasoning
Freshly ground pepper
Cooking spray for dish
Instructions
Preheat oven to 350F. Spray an oval 11" dish with cooking spray and set aside.
Heat broth in the microwave until just hot and soak cranberries for 30 min. (I love to do this with raisins also to plump them up before using just using water).
In a small saute pan melt the butter and cook the onions and celery until the onions are translucent. About 5 min.
Place the bread cubes in a large bowl and then add the onions, celery, cranberries, pistachio nuts, apples, salt, poultry seasoning, pepper, stock and wine if using.
Mix together well and place in prepared dish. Bake for 30-40 min. or until apples are tender and the bread is starting to toast slightly.