Wildwood Reunion – Bonterra Trattoria
Wildwood Reunion – Bonterra Trattoria was an amazing evening of wine, food and lovely company. This evening was put together to celebrate the Wildwood Restaurant that we had in Calgary years ago. Their menu was Rocky Mountain cuisine which was made up of high quality local ingredients. Some loyal, dedicated fans wanted to see an evening again of fine food and wine from the original owner Joseph Wiewer who now owns Italian Farmhouse in Bragg Creek. He brought along some other chefs to help make the evening fantastic.
Rogelio Herrera, chef/owner from Alloy Dining
Erin Vrba, Creative Restaurants Executive Pasty Chef
Glen Manzer, Creative Restaurants Executive Chef
Ben Mills – Bonterra Trattoria & Posto Pizzeria and Bar, Chef
Just from that list you knew it was going to be a smashing success! So let's dive in to what we enjoyed!! The wine pairings were perfection too. Loved them all!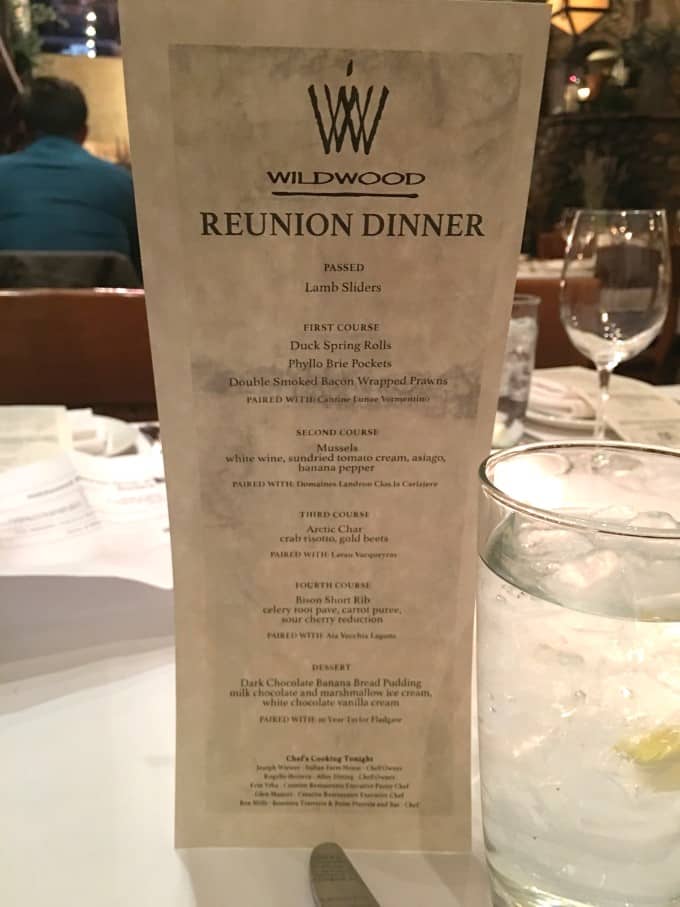 Check out the menu, I knew I was going to be feasting!!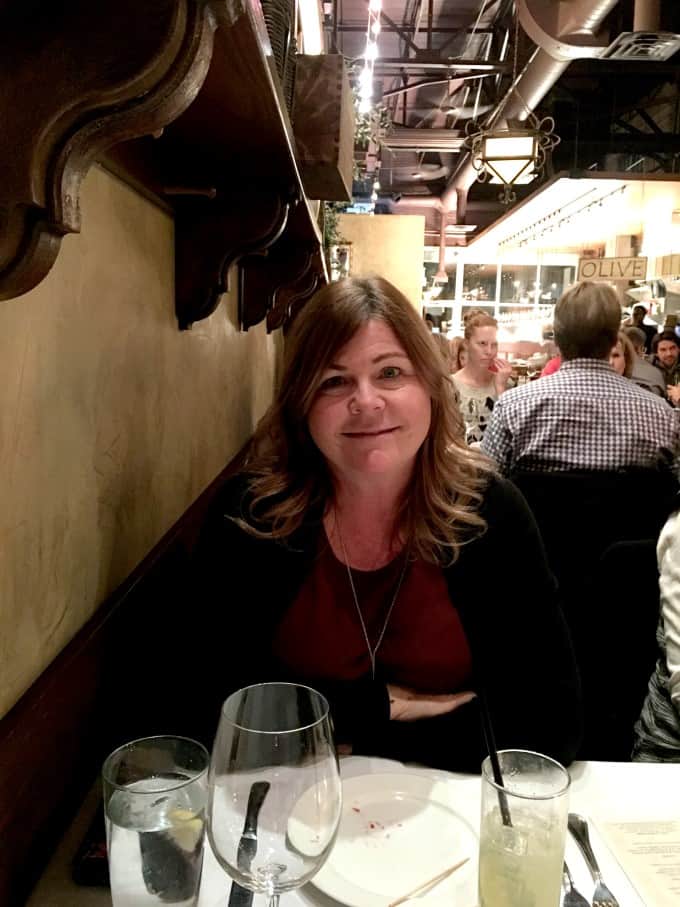 My lovely girlfriend Cheryl joined me for the evening!!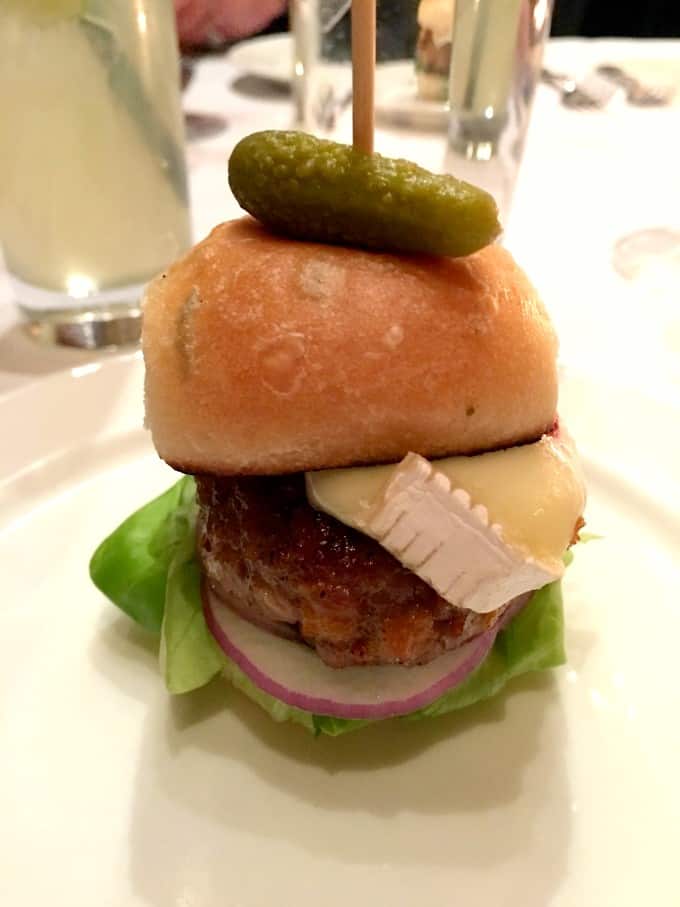 First up was this sublime Lamb Slider. Could be ranked up there with one of the best sliders I have ever had!!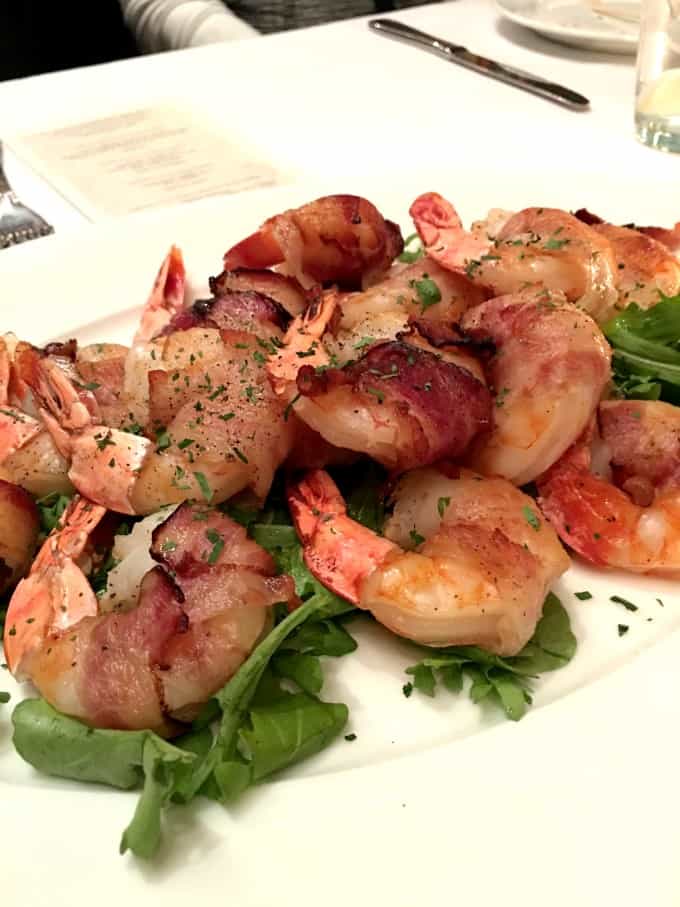 Then came out not one but three platters of appetizers. I dove into these Double Smoked Bacon Wrapped Prawns with enthusiasm.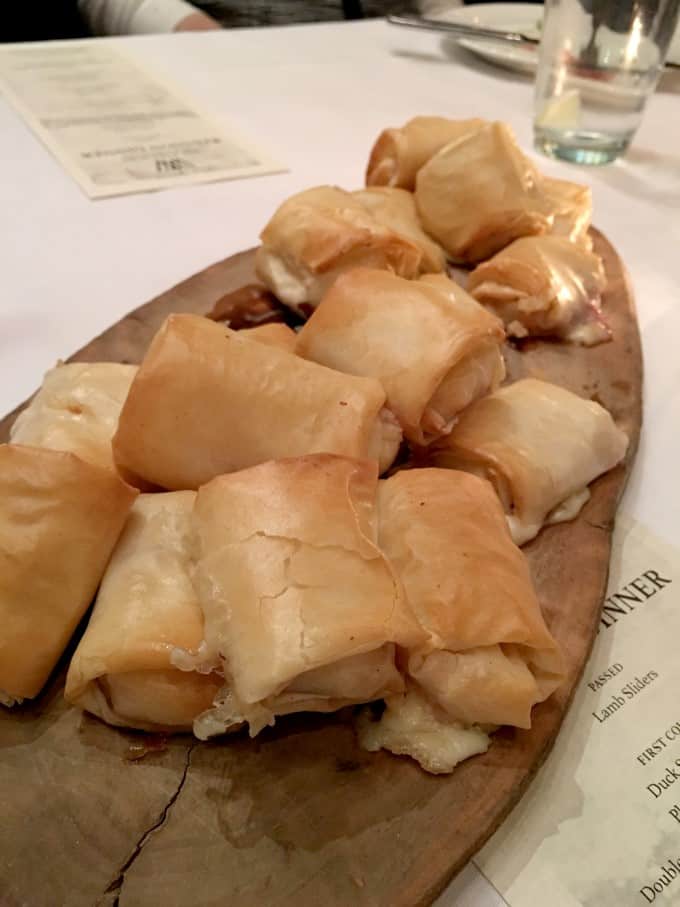 This was a festive choosing I thought, Phyllo Brie Pockets with lingonberries inside. I have to make these for the holidays!!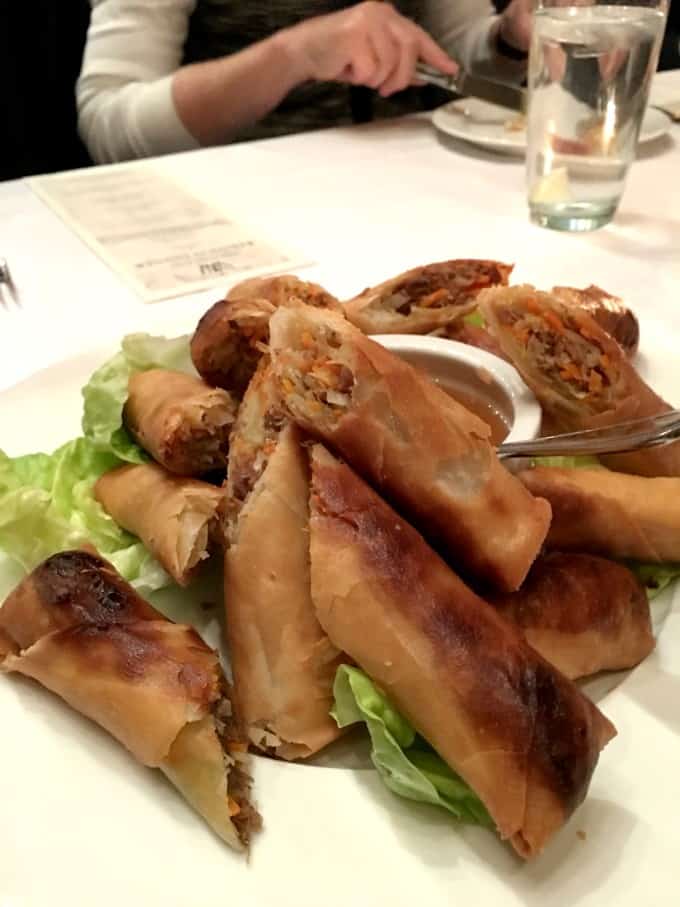 Next were Duck Spring Rolls, so lovely and crisp on the outside and wonderfully flavored with the duck on the inside. All appetizers paired with Cantine Lunae Vermentino.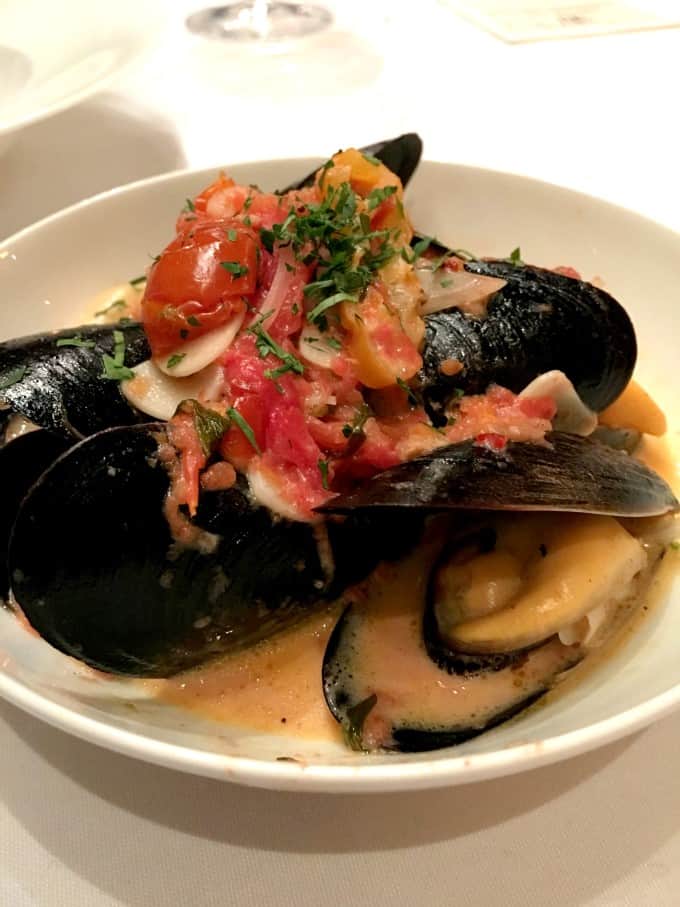 The second course were Mussels, my absolute favorite!! These were done slightly different and I loved them with white wine, sundried tomato cream, asiago and banana peppers. The mussels themselves were big and plump and mild tasting, perfection!! Paired with Landron Clos la Cariziere.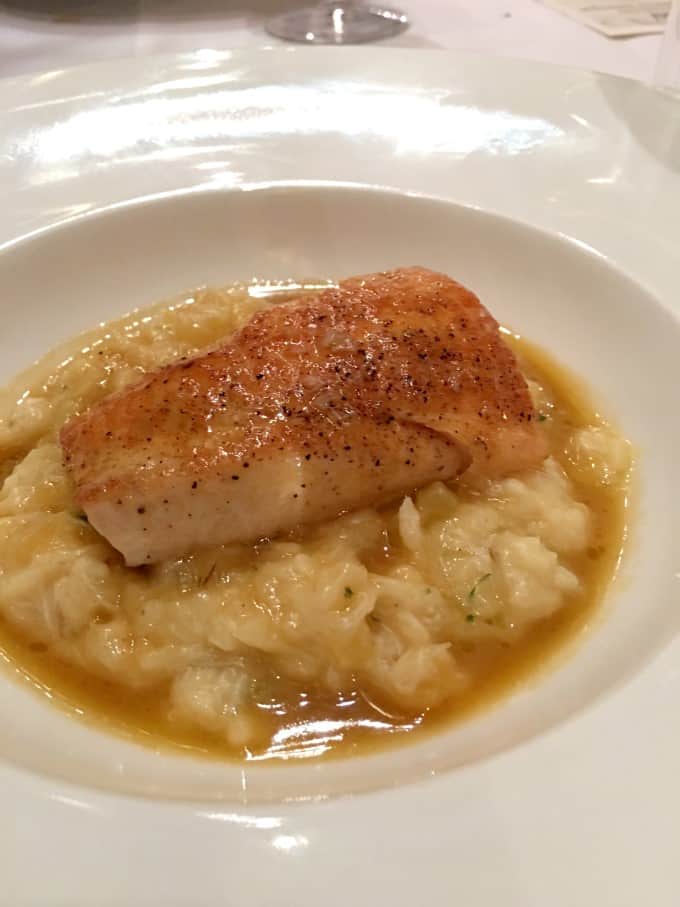 The Third Course was Arctic Char served on a bed of crab risotto with gold beets. The fish was cooked perfectly, the crab was sweetened by the golden beets. I have to admit I am not a risotto fan but if you are you would be diving into this. Paired with Lavau Vacqueyras.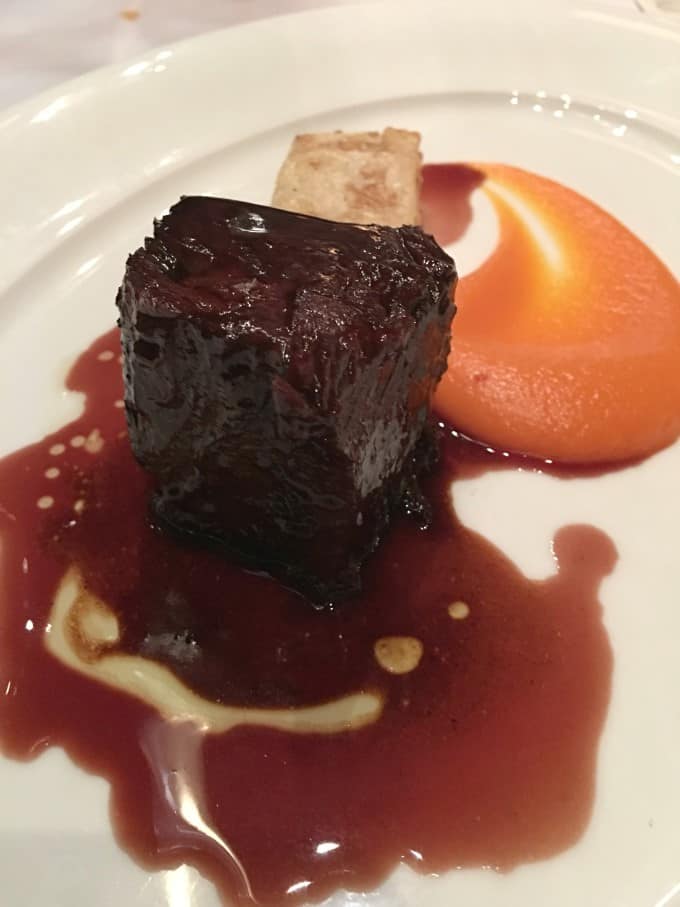 Starting to get very full by now as you can imagine, but this melt in your mouth Bison Short Rib I made some room for, plus enjoyed it the next day for lunch. It was served with a celery root pave which I adored as I love that gnarly root so much. Also, a gorgeous carrot puree and a sour cherry reduction to finish it all. Paired with Aia Vecchia Lagone.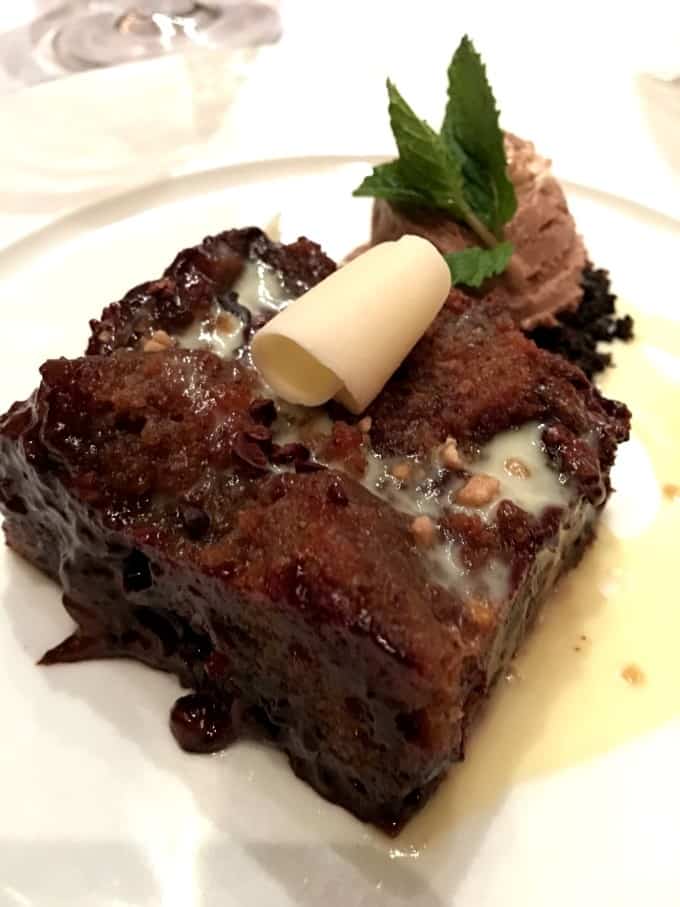 To finish off the night was a Dark Chocolate Banana Bread Pudding. I loved the flavor of the banana jumping out and the milk chocolate and marshmallow ice cream paired divinely with it. Paired with 20 year old Taylor Fladgate.
For many it was a night to celebrate a restaurant they loved and to reminisce of wonderful meals they have enjoyed previously. Cheers to a wonderful celebration!!