This month is Swirly June, so I decided to attempt a difficult cake, some thing that I have seen a few times but have never attempted. Well, it didn't turn out to be a fabulous success, I have to admit. Yes, I have some swirls but they are not even. I also did find the cake to be kind of dry. I really do like adding a yogurt, sour cream or pudding mix to my bundts but this recipe didn't call for it. There is room to improve. I will have to try it again!!
I think this cake does take a few times to master. You have to have consistent layering and consistent batter for both the different batters. I found the chocolate to be thinner than the vanilla batter and therefore they ran differently. It tasted great but was a bit dry. I did use it again in another recipe to make desserts in jars and there I liked it better as it had a kirsch drizzle on it. See that one big thick layer of chocolate near the bottom. I would like the strips or swirls to be that thick right through. Less swirls and more pronounced. The Kaluha glaze is amazing by the way!! Oh well, back to the drawing board.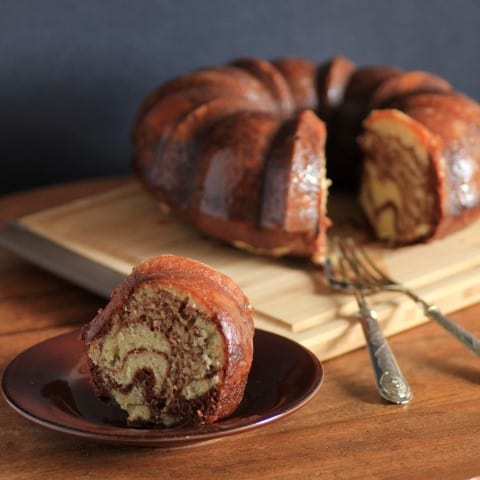 Zebra Bundt for Swirly June #BundtaMonth
Zebra Cake
Ingredients
4 eggs
1 cup sugar
1 cup butter, at room temperature
1 cup milk
1 tsp. vanilla extract
3 cups flour
2 tsp. baking powder
¼ tsp. salt
Chocolate Batter
3 Tbsp. cocoa powder
¼ cup milk
1 Tbsp. sugar
Kahlua Glaze
2 Tbsp. butter
1 Tbsp. water
¼ cup sugar
2 tbsp. Kahlua
Instructions
Spray a bundt pan with cooking spray and flour. Shake off excess. Preheat oven to 350F.
In a large bowl whisk together the dry ingredients, flour, salt and baking powder. Set aside.
In a medium bowl mix together the chocolate batter ingredients.
In the bowl of a stand up mixer with a paddle attachment, cream butter. Add sugar and mix well until fluffy. Add the eggs one at a time and mix well after each. Add the vanilla extract.
Turn the mixer down to low and mix in alternatively the milk and flour mixture. Mix well.
Remove 2 cups of the batter and mix into the chocolate mixture. Mix well.
Use one tablespoon at a time (I think I would use more and have thicker lines). Create the layers of the batter. Pick one spot in your bundt pan and start with the vanilla layer then the chocolate. Continue alternately spooning it in the same spot letting the batter flow on it's own around the pan, repeat until all the batter is used.
Gently tilt the pan so that the batter is even. Bake for 50-60 min. until toothpick comes out clean. Remove from the oven and let cool for 25 min. on a cooling rack before removing from pan.
For the glaze, mix the ingredients together in a small pot until the butter is melted and the sugar is dissolved. Glaze the cooled cake by brushing on the glaze and continue until all is used up.
Recipe adapted from Home Cooking Adventures
Here are more beautiful Swirly Bundts for you to enjoy!!
Here ís how you can be a part of Bundt-a-Month:
Simple rule: Bake us a swirly bundt
Post it before June 30, 2013
Use the #BundtaMonth hashtag in your title. (For ex: title could read  #BundtaMonth: Cherry Bundt)
Add your entry to the Linky tool below
Link back to our announcement posts
Even more bundt fun! Follow Bundt-a-Month on Facebook where we feature all our gorgeous bundt cakes. Or head over to our Pinterest board for inspiration and choose from hundreds of Bundt cake recipes.
Powered by Linky Tools
Click here to enter your link and view this Linky Tools list…