After all the indulgences of the holidays, it is time to lighten things up but that does not mean you have to forgo a great dinner. These Avocado Cream Slaw Fish Tacos are just as good as any I have ever had in a restaurant. The fish is spiced up just right and then piled high is a delicious slaw. All of this is topped with divine avocado cream. Your family will think they are dining in Mexico.
I found some really good quality wheat/corn chili tortillas when I was out shopping one day. I bought them with no idea of a recipe to make. I put them in the freezer for a later date. We just returned from a cruise to Mexico and the one thing I missed on the ship was authentic fish tacos. I could eat them almost every day when we vacation in Mexico. The cruise didn't have any Mexican fare. Well, I fixed my craving right when we got home when I saw my beautiful tortillas in the freezer.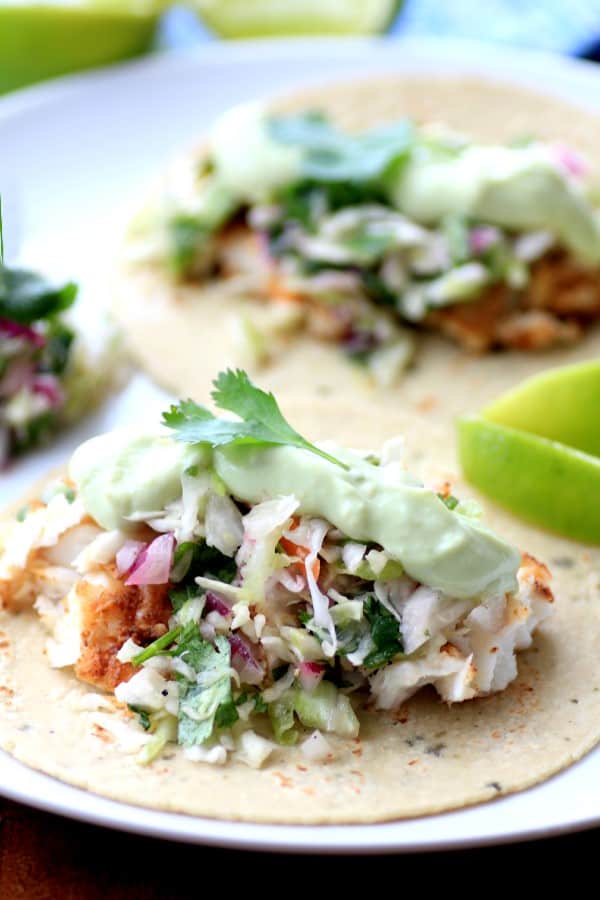 The avocado cream was my favorite part of these tacos. It added so much great flavor and went brilliantly with the slaw and fish. The fresh flavors of these tacos and the pretty colors will help to brighten you day.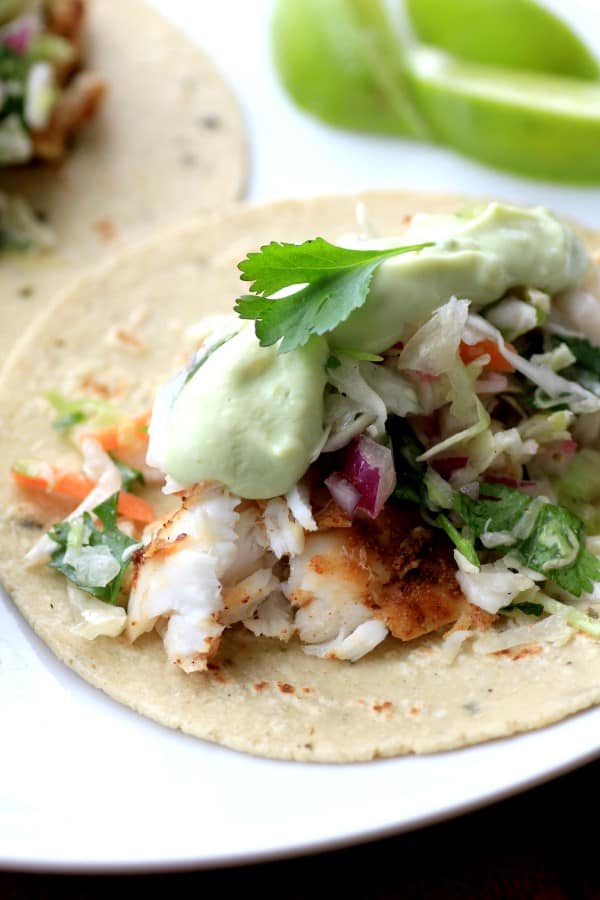 Tilapia is a great fish to work with and cooks up fast in a skillet with a little oil. The whole dinner was nothing to put together and my family raved over it.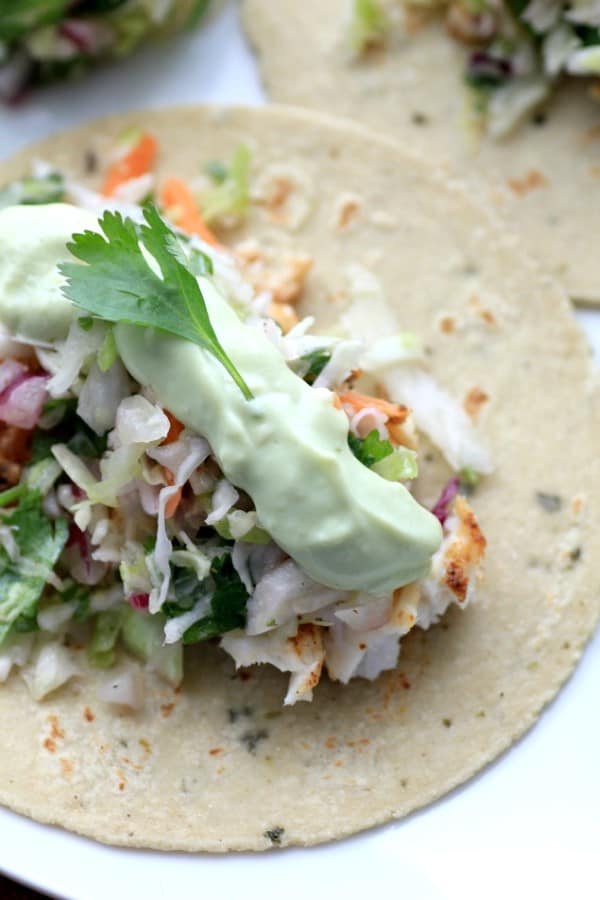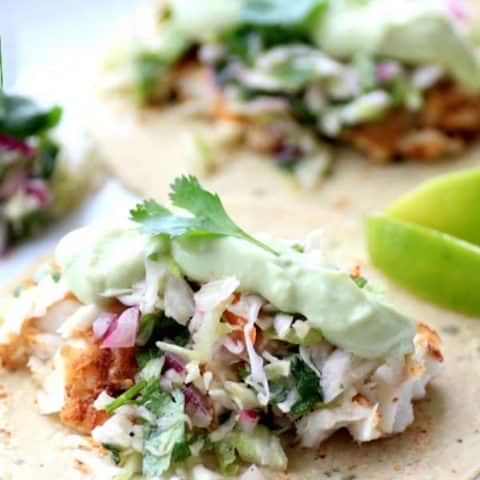 Avocado Cream Slaw Fish Tacos
Yield: 4
Prep Time: 15 minutes
Cook Time: 6 minutes
Total Time: 21 minutes
An authentic Mexican fish taco topped with a cilantro slaw and avocado cream.
Ingredients
Fish
4 Tilapia fillets
Ancho chile powder, to taste (3/4 tsp.)
Garlic powder, to taste (1/2 tsp.)
Cumin, to taste (1/4 tsp.)
Salt, to taste
1 Tbsp. canola oil
Avocado Cream
1/4 tsp. grated lime rind
2 Tbsp. fresh lime juice
1/4 cup light sour cream
2-3 Tbsp. milk
1/2 ripe peeled avocado
Salt, to taste
Cilantro Slaw
2 cups packaged slaw
1/4 cup red onion, finely diced
1/4 chopped fresh cilantro
1 Tbsp. canola oil
Salt, to taste
8 (6") corn or wheat tortillas (I found a wheat and corn tortilla with green chilies)
Instructions
In a blender or food processor, mix the avocado cream ingredients together. Use more or less milk to get the right consistency that you like. Set aside.
Mix the slaw ingredients together and set aside.
Season the fish with the ancho chili powder, garlic powder, cumin and salt. Use more ancho than cumin and a moderate amount of garlic powder. See approximates in brackets.
Heat the 1 Tbsp. canola oil in a non stick fry pan. Cook the fish for 3 min. per side or until desired degree of doneness.
Meanwhile heat the tortillas as per package. Flake the fish and place on one taco, top with slaw and avocado cream. Serve immediately.
Recipe adapted from
My Recipes
.