We all want a delicious, easy, inexpensive meal to feed our family on weeknights. These Roasted Sheet Pan Chicken Thighs are all that and more. We love easy sheet pan dinners, also try our Sheet Pan Tuna Steak Dinner for great umami flavors or Maple Dijon Sheet Pan Salmon for a scrumptious sweet and savory dish.
I have found a few times chicken thighs, bone-in and skin-on, on sale at a really low price for a big huge package. I then divide them up into thirds or quarters of the package (depending on how big the package is) and freeze them.
That way I've always got chicken thighs on hand for when I need a protein source for a quick easy dinner. If you find boneless, skinless chicken thighs you can use those too but they're usually more expensive. Also, try our Skillet Chicken with Olives and Tomatoes for another quick and delicious chicken dinner.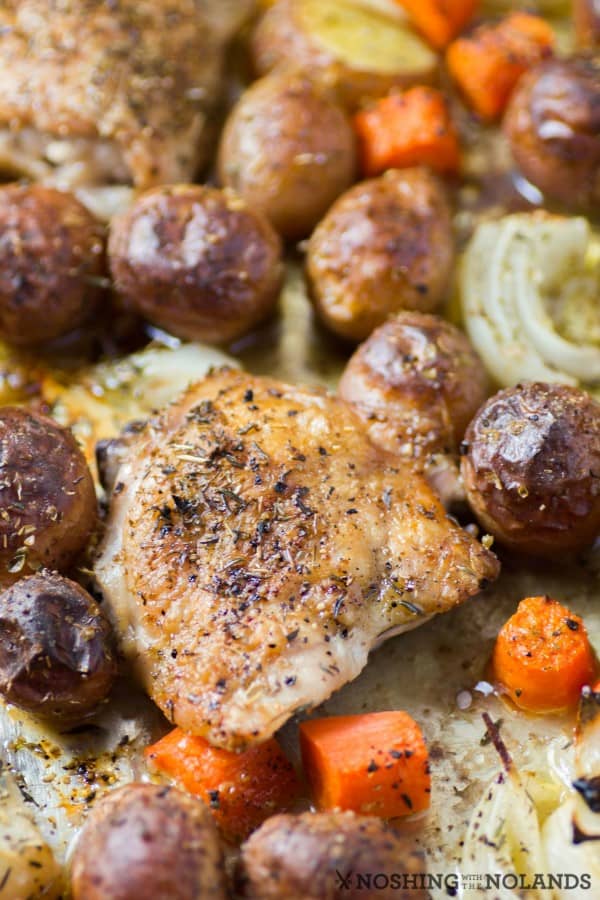 This recipe is great because the dark meat of the chicken thighs is more flavourful than your typical boneless skinless chicken breast without having to add a lot of seasoning. I'm always careful when seasoning our meals.
Knowing how much sodium I am serving is very important to me. That said, proper seasoning is important it can make or break the taste of your food.
Under seasoning your food will result in a bland taste, on the other hand over seasoning can also ruin a meal. It's important to find a happy medium, your family will thank you, trust me!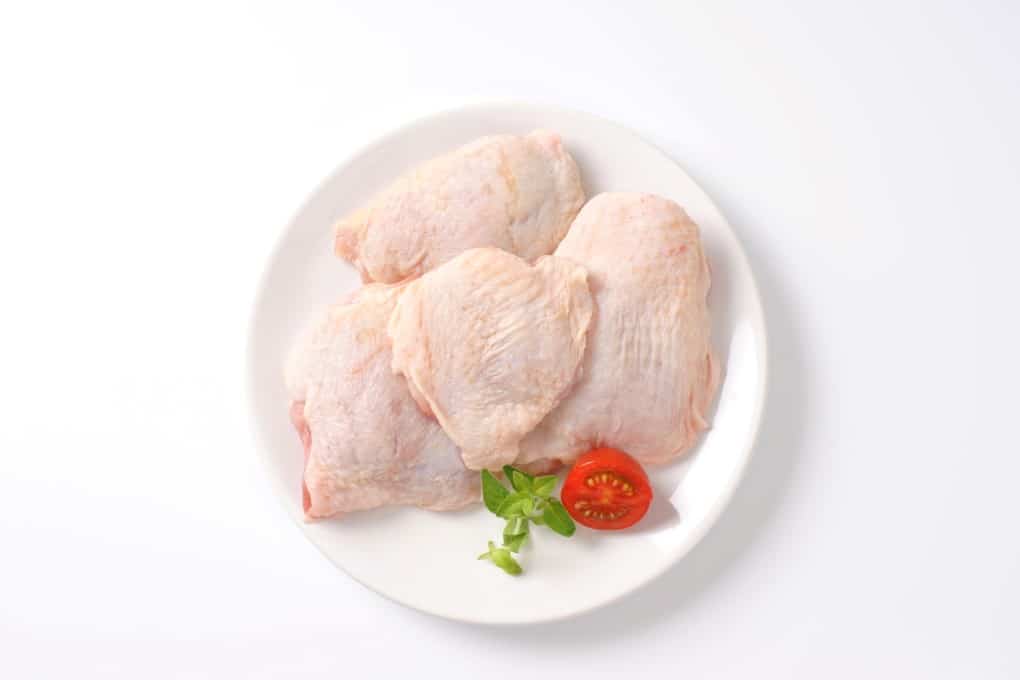 Simple Ingredients
A few simple ingredients make this scrumptious baked chicken dinner in no time. I love that it is a complete pan meal, easy chicken and veggies and so does my family.
Leaving the skin-on and bone-in while cooking adds amazing flavor to this simple chicken dinner. We love meals like this, it can be a quick weekday dinner if your family is running here or there like we often are!
It can also be an easy weekend dinner when you just don't feel like spending hours in the kitchen!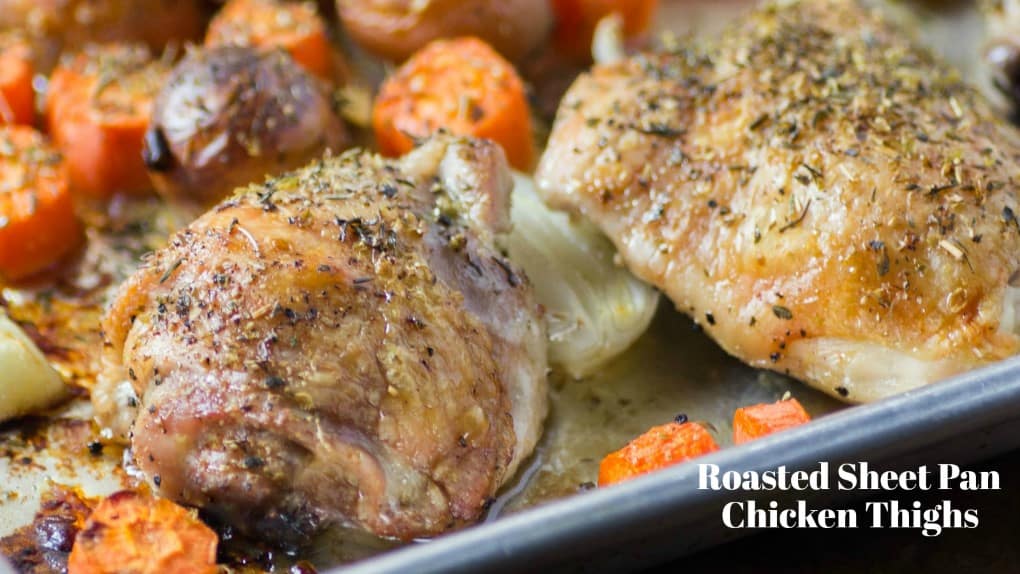 Helpful Items for This Recipe
This post contains affiliate links.
The chicken roasts up juicy along with the veggies being sweet and tender. I love the fact that there really very little clean-up with this recipe. My family loves roasted vegetables and with this recipe, the results are amazingly wonderful.
The chicken is perfectly done and the veggies are nicely browned with just the right amount of crunch.
If you want to line the pan with foil, then there is even less clean up! Anytime I can make create a dinner with all the trimmings in one pan I'm a happy camper!
I have made this recipe many times now and have started to get a little creative with my ingredients. The last few times I have made it I have added other veggies that I happened to have on hand.
I have tried squash, parsnips, turnip, sweet potatoes, and Brussel sprouts.
You could also mix up the chicken if you like. Sometimes you can find quarter chickens in the grocery store. Or alternatively, you could use just legs, really you can use any combination you and your family like.
The only caution I would let you know about is being careful if you are using chicken breasts as they can dry out, especially roasting in the oven like this.
The only limitation is your imagination, you could create a new and different dinner nearly every time you make this recipe.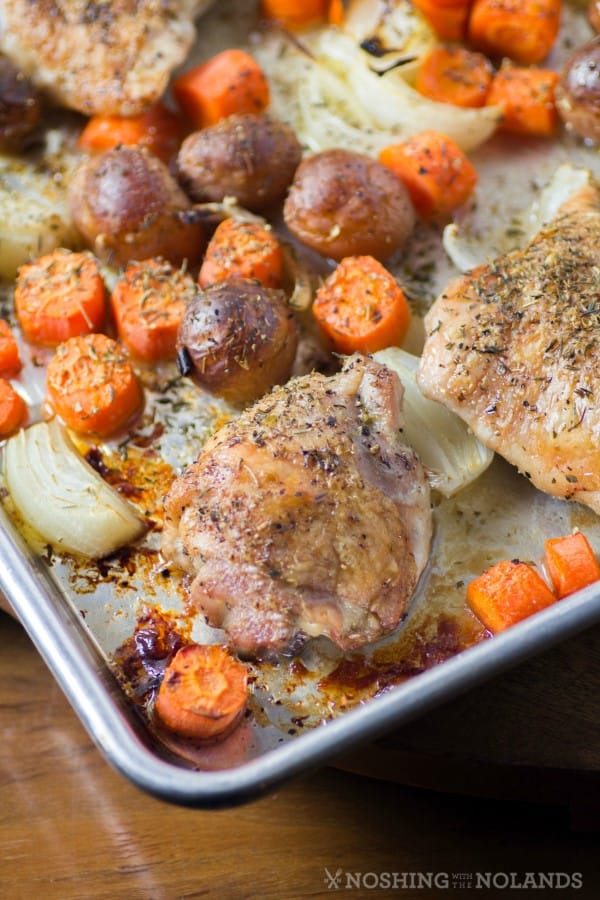 Sheet Pan Dinner
You will fall in love with this recipe and make it again and again. Sure doesn't taste like you just added a bunch of ingredients to a tray and popped it in the oven. The chicken and potatoes along with the other veggies are so tender and flavorful from the garlic herb seasonings and salt and pepper.
It tastes as though you slaved over it. The chicken juices escape adding flavor to the veggies. Cooking sheet pan dinners are easy and delicious!!
The veggies then brown and caramelize giving even more flavor to the meal. Using little potatoes couldn't be easier too, no need to peel, cut or even wash, just pop them onto the tray.
The meal prep. time is about 10 minutes maximum!! You then pop them in the oven and have an amazing meal in no time!!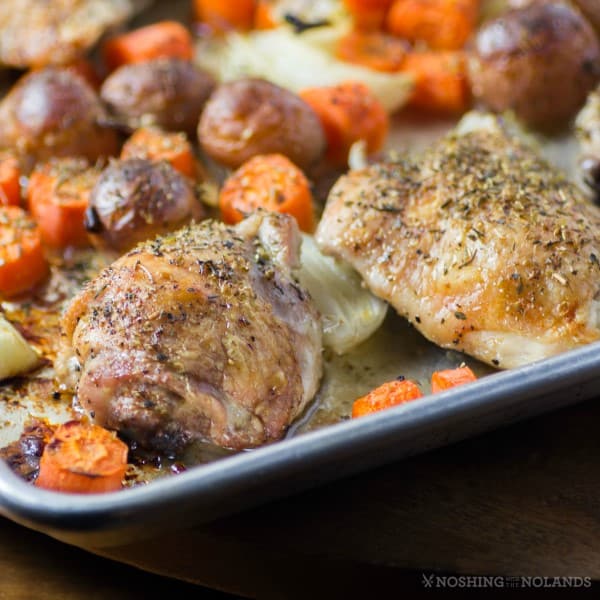 Chicken is so versatile and lends itself to numerous flavors. If you think about it, nearly every style of cooking has recipes utilizing chicken!
We have lots of other great chicken recipes too like French-influenced Lemon Garlic Sauvignon Blanc Braised Chicken or our very popular Indian influenced Healthy Slow Cooker Butter Chicken.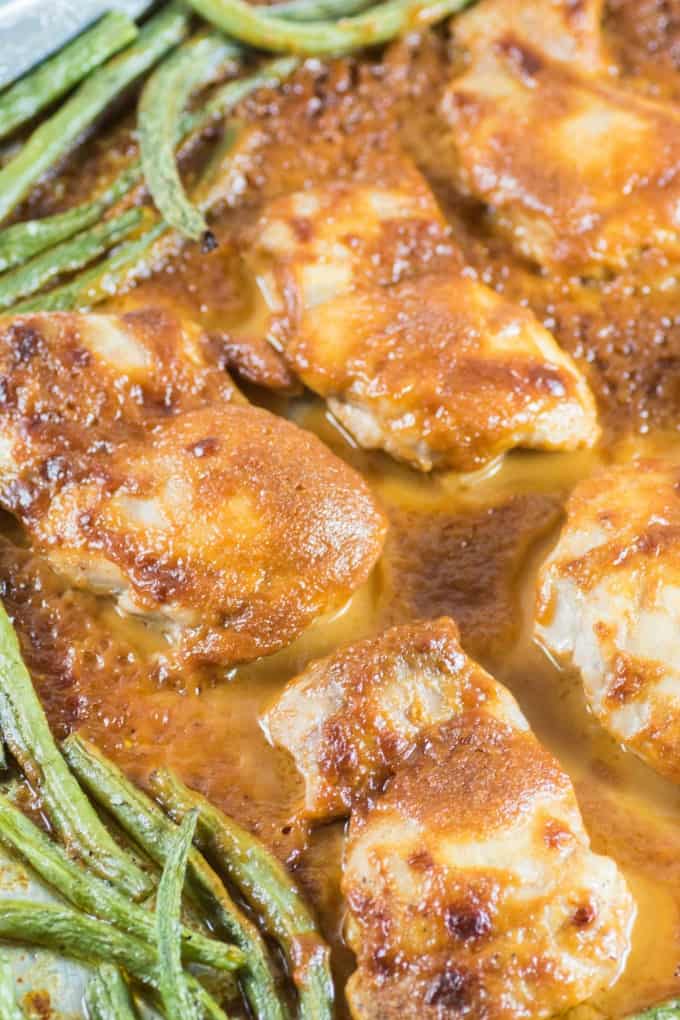 Another great chicken sheet pan meal is this Easy Chicken Thighs in Peanut Sauce with Green Beans. This one the kids just rave about and ask me to make it again and again. It has more of an Asian influence on this chicken meal.
In all cases just make sure the chicken is cooked through, which is done easily with an Instant Read Thermapen. This is how I make sure all my proteins are cooked to perfection.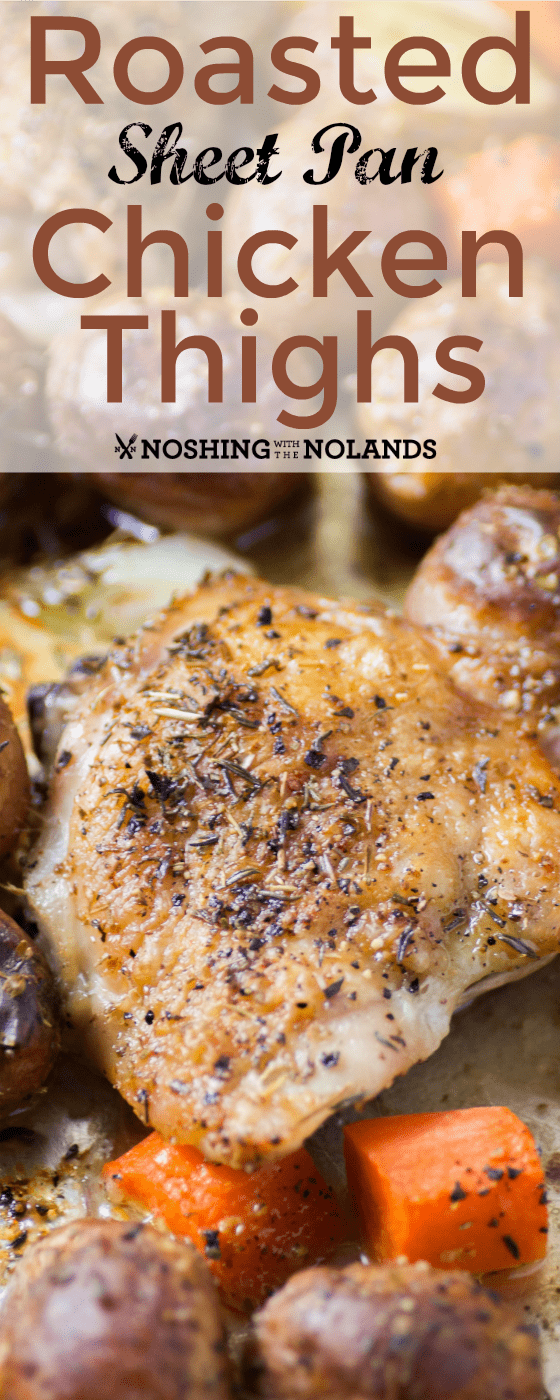 Roasted Sheet Pan Chicken Thighs Recipe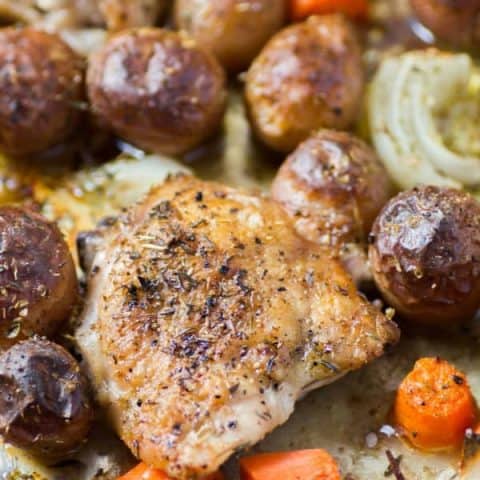 Roasted Sheet Pan Chicken Thighs
Yield: 4 servings
Prep Time: 10 minutes
Cook Time: 28 minutes
Total Time: 38 minutes
An easy Roasted Sheet Pan Chicken Thighs dinner with veggies and all done on one pan. Prep. time and clean up is a breeze.
Ingredients
6-7 bone-in, skin-on chicken thighs
4 large carrots, peeled and cut into large chunks
2 small to medium onions, cut into large chunks
1 lb. little potatoes
2-3 Tbsp. olive oil
1 tsp. each dried oregano and thyme
Garlic salt to taste
Freshly ground pepper
Instructions
Preheat oven to 425F. Place the chicken, carrots, onions, and potatoes onto a rimmed cookie sheet. Drizzle on the olive oil and toss. Season with oregano, thyme, garlic salt, and pepper.
Roast for 25-28 min. or until chicken reads 165F. Serve.
Nutrition Information:
Yield: 4
Serving Size: 1
Amount Per Serving:
Calories: 386
Total Fat: 25g
Saturated Fat: 4g
Trans Fat: 0g
Unsaturated Fat: 20g
Cholesterol: 42mg
Sodium: 195mg
Carbohydrates: 32g
Fiber: 5g
Sugar: 4g
Protein: 11g
Recipe calculation was provided by Nutritionix and is an estimation only. If you need nutritional calculations for medical reasons, please use a source that you trust.