A Breakfast Charcuterie Board is a fun and elevated option for breakfast and brunch, especially when you're entertaining. Everyone loves a hotel continental breakfast, right? Well, this breakfast charcuterie board is an easy way to bring the fun of a continental breakfast to your own table. With a combination of both sweet and savory items, there's something for everyone to enjoy! This board surely can be enjoyed on any weekend but think Valentine's Day, Mother's Day, Father's Day, Christmas Day, and more!!
Want more delicious breakfast ideas? Try our simple and delicious Breakfast Quesadillas with Fruit Salad with Honey Lime Dressing. For something a little bit fancier, check out this Savory Dutch Baby or Cordon Bleu Breakfast Sandwich. Or try another fun board with our Garlic Butter Board. For ultimate brunch ideas try our 25 Diner Brunch Recipes, all of them are so good.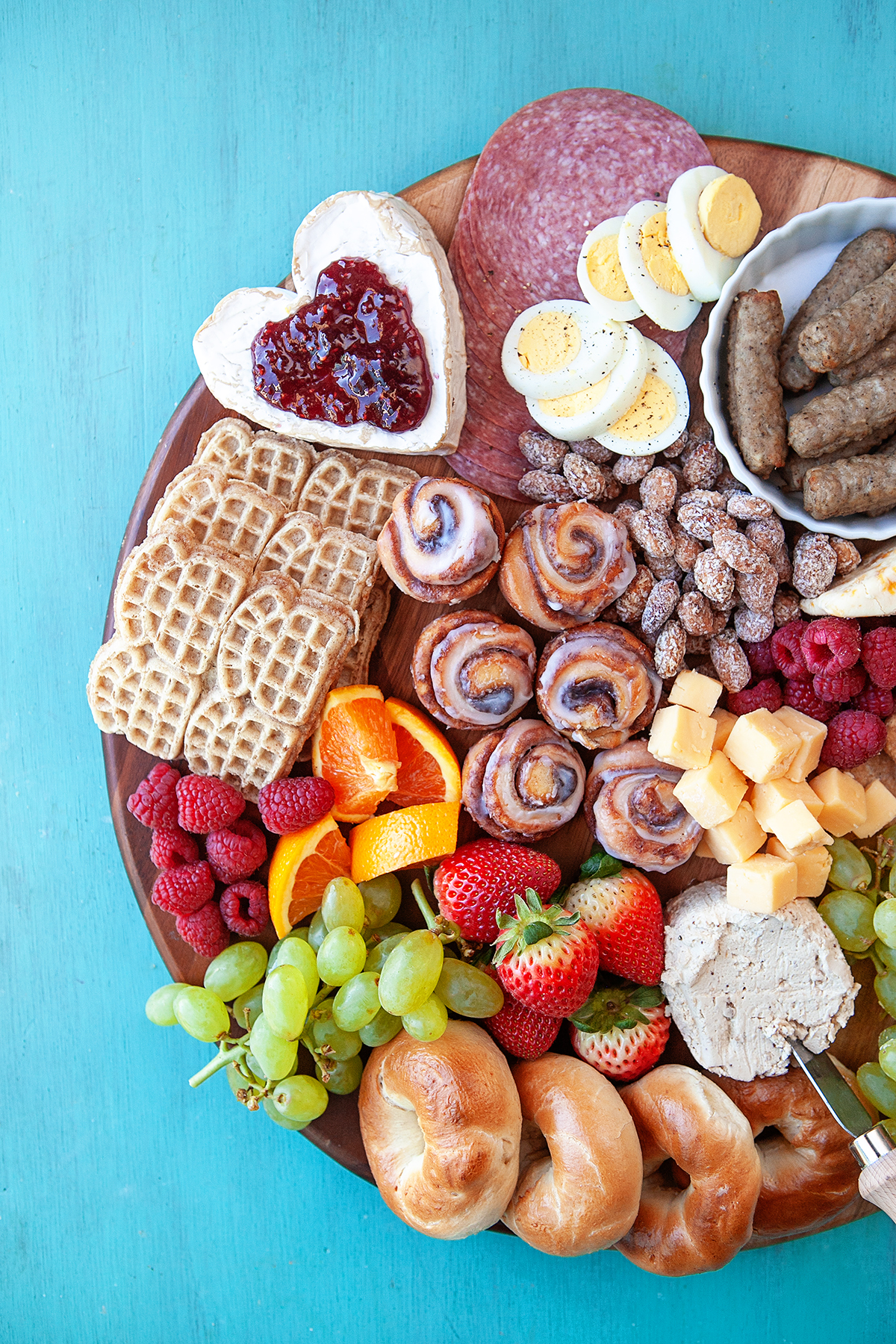 Charcuterie boards are so easy to put together and they're always a showstopper on every table. If you haven't tried making one before, this post has all the inspiration and information that you need! You are going to love this breakfast board!
How to Make a Breakfast Charcuterie Board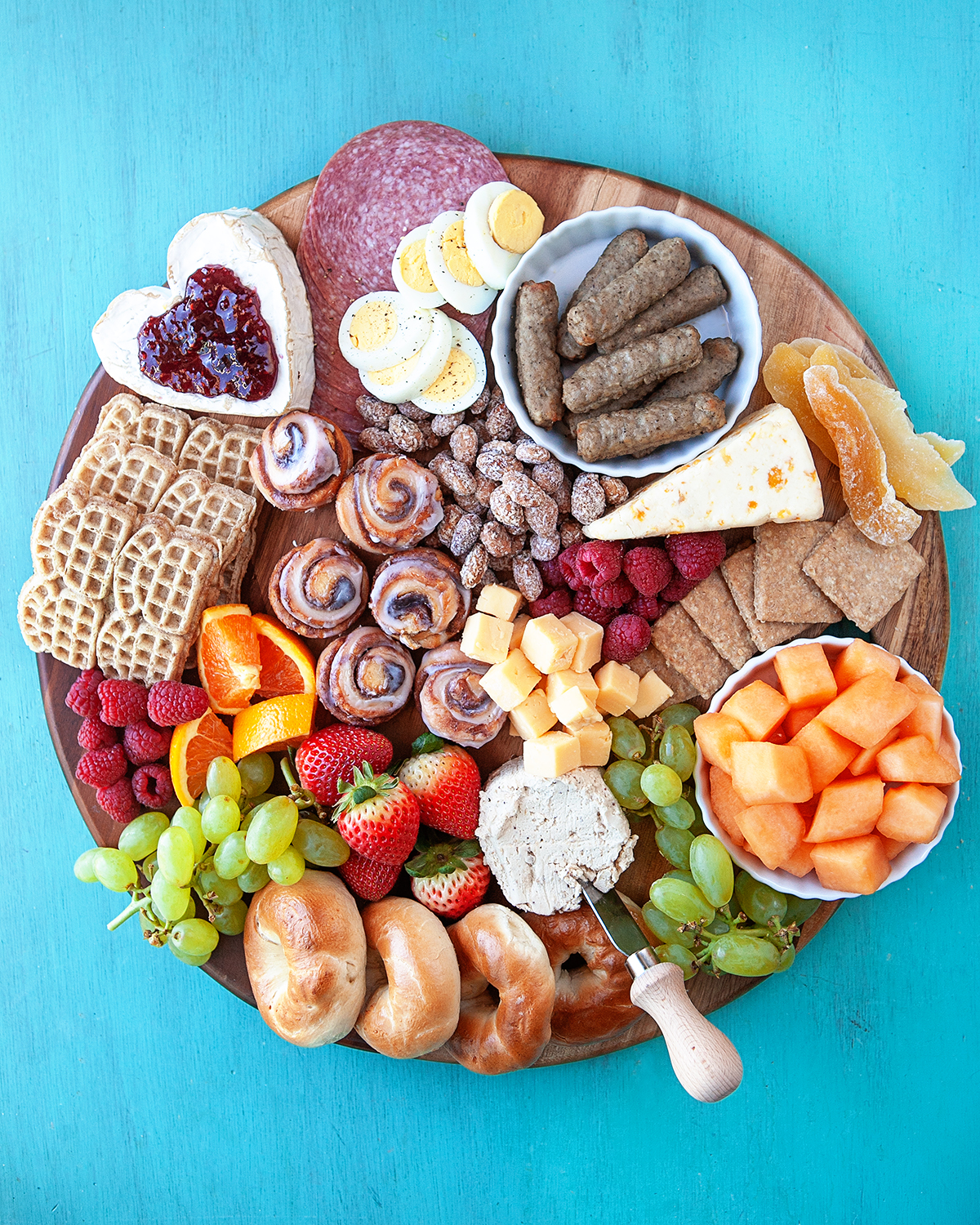 Though charcuterie boards look really impressive (and taste impressive too!) they are actually very easy to put together. They're also fun because you can easily make them your own.
To get started making a breakfast charcuterie board, you only need a few serving items:
Large cutting boards of any shape
Small bowls or ramekins (usually 2 or 3 is enough)
Cheese knives/spreaders (if you don't have these, you can use whatever spoons or knives you have on hand)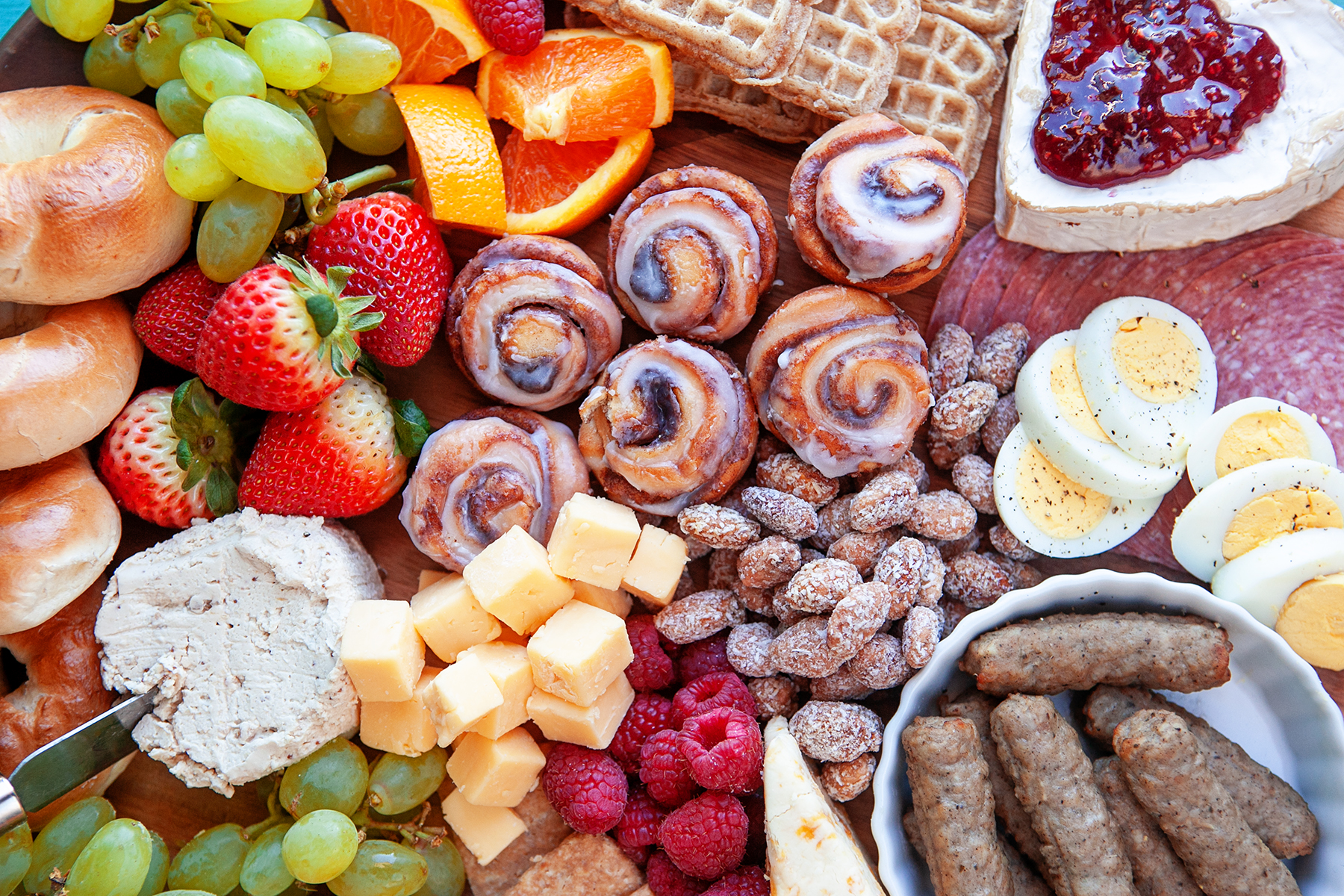 What is on a Breakfast Charcuterie Board?
The best thing about a brunch board like this is that you can pick and choose what you want to put on it. But while you can and should pick your favorite breakfast items as well as meats and cheeses for the board, here are a few tips for building a crowd-pleasing charcuterie board:
First, pick your cheeses. Good cheeses for a breakfast board could include a soft spreadable cream cheese, like Boursin or Alouette, a stilton with fruit (like apricot or blueberry), a hard or semi-hard cheese like cheddar or gouda, and Brie, which can be paired with fruit, jam, or honey.
Next Meats, Fruits and More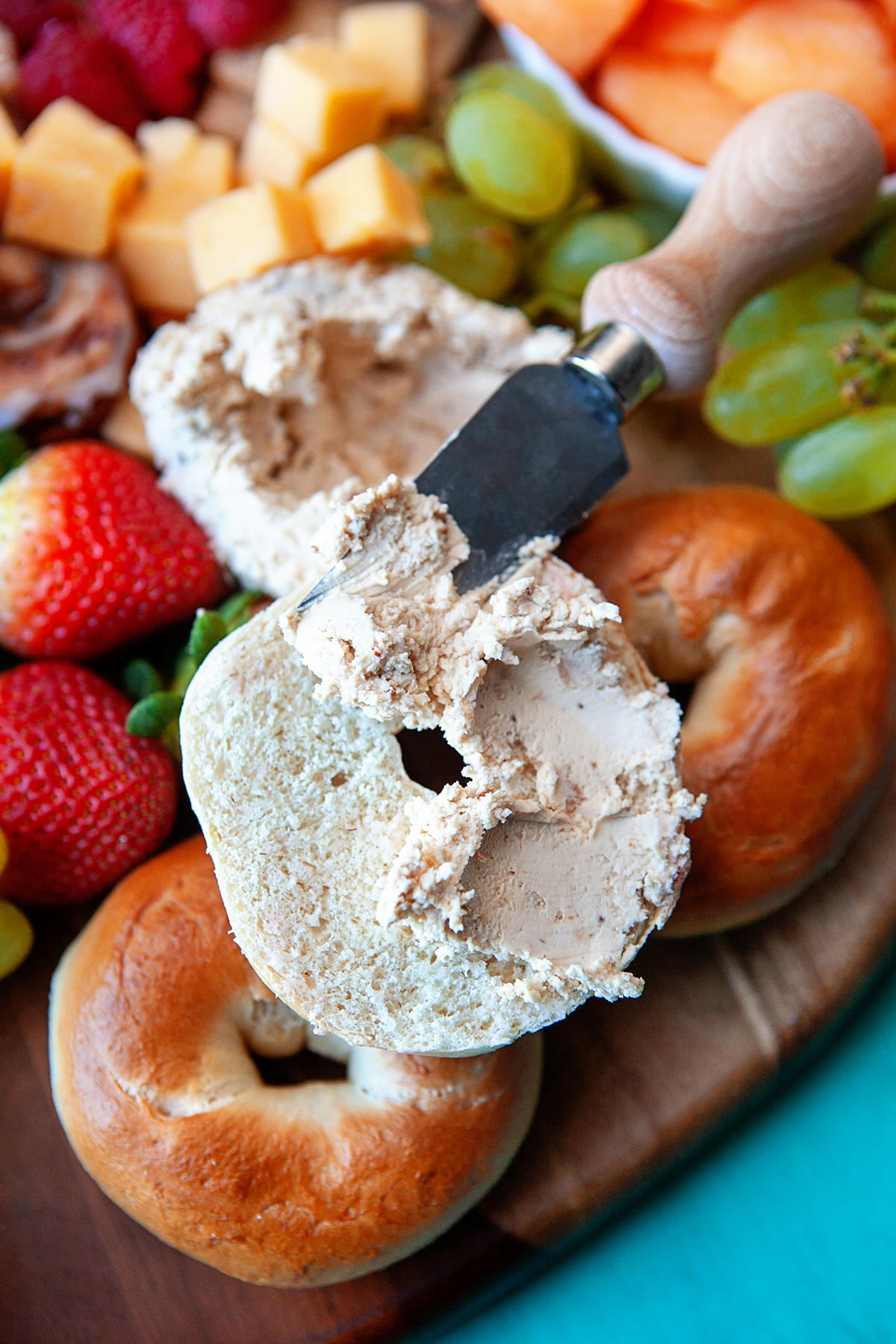 Second, pick your meats. Since it's a breakfast board, consider using a variety of salami, as well as bacon or sausage links. If using meats that are to be served hot, then add them last.
Third, add your fruits and nuts. Berries are always a delicious addition to any cheeseboard, and grapes, citrus, melon, and pineapple are also great fresh fruits. Sweet nuts, like candied pecans or coconut almonds, pair well with the breakfast fruits.
Breads and Pastries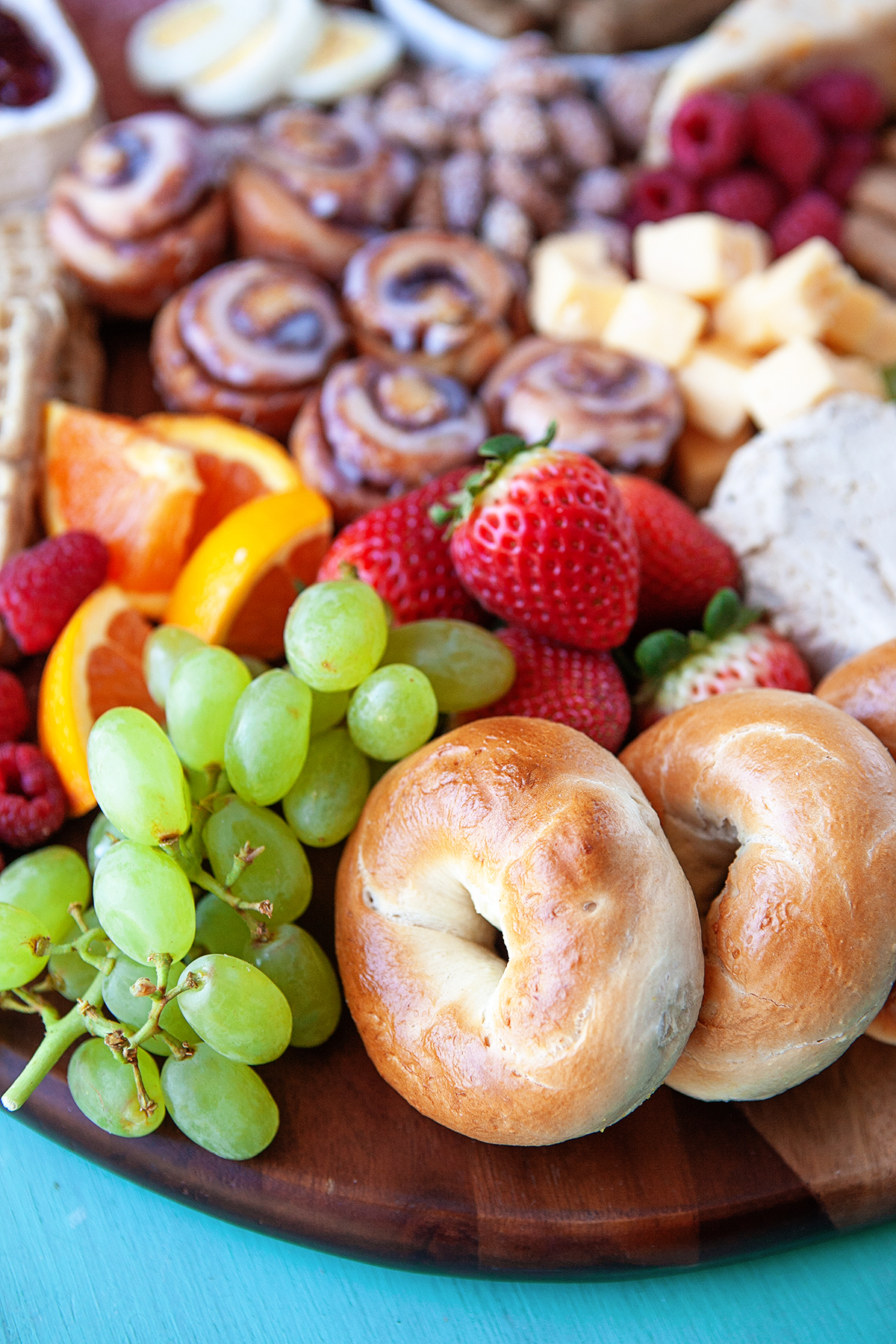 Fourth, to make sure it's hearty and filling enough to count as breakfast, fill in the gaps with mini bagels, mini muffins, mini pancakes, or mini waffles. I also added hard-boiled eggs to this board for a healthy protein that pairs well with both the meats and the fruits. You could add in a bowl of piping hot scrambled eggs too.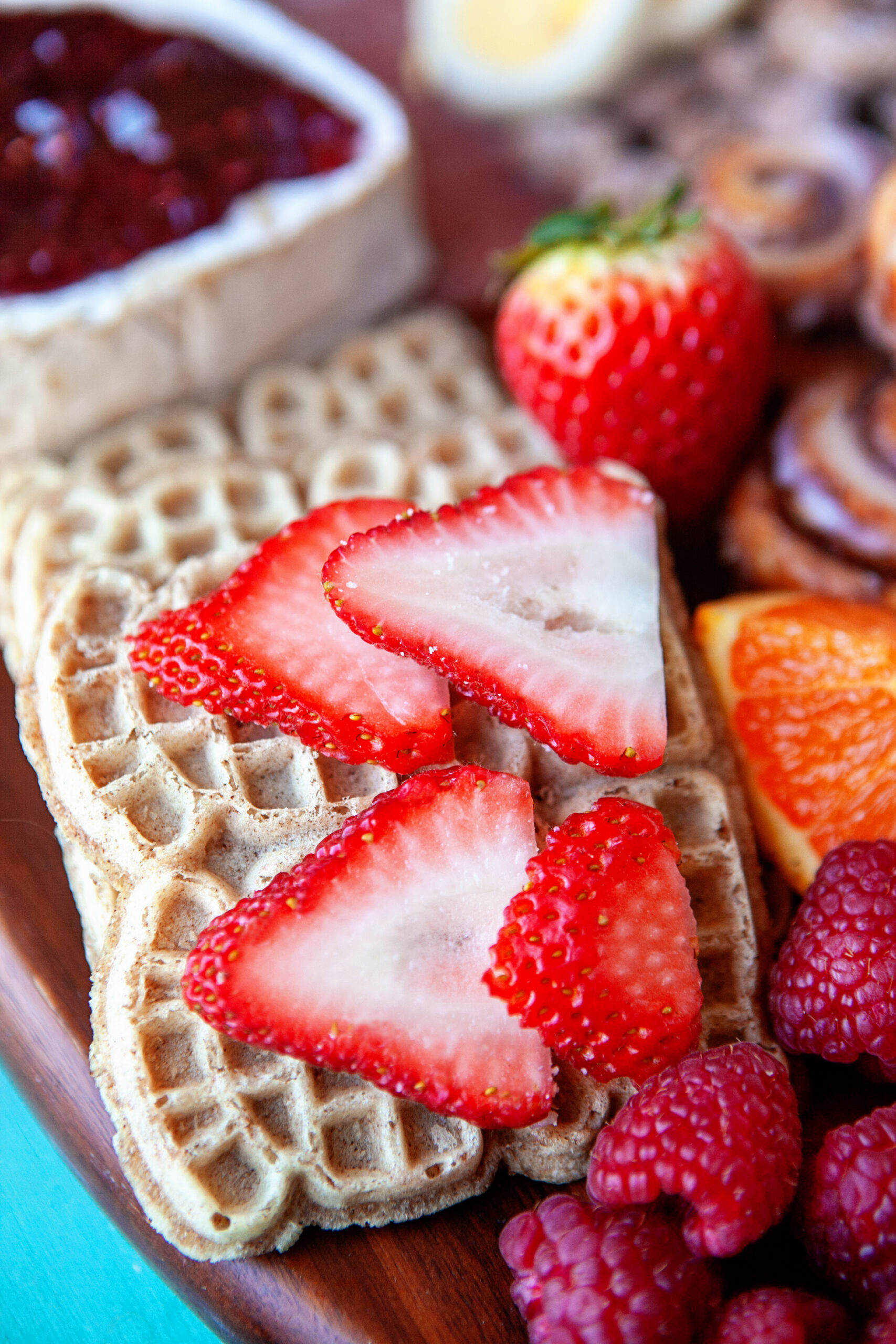 Finally, add something fun. I chose mini cinnamon rolls as a fun sweet treat for this breakfast charcuterie board, but you could also add donuts, donut holes, or any kind of sweet breakfast pastry. All of these items can be easily purchased and just added to your board. People will be in awe of the variety and won't care if they are homemade at all.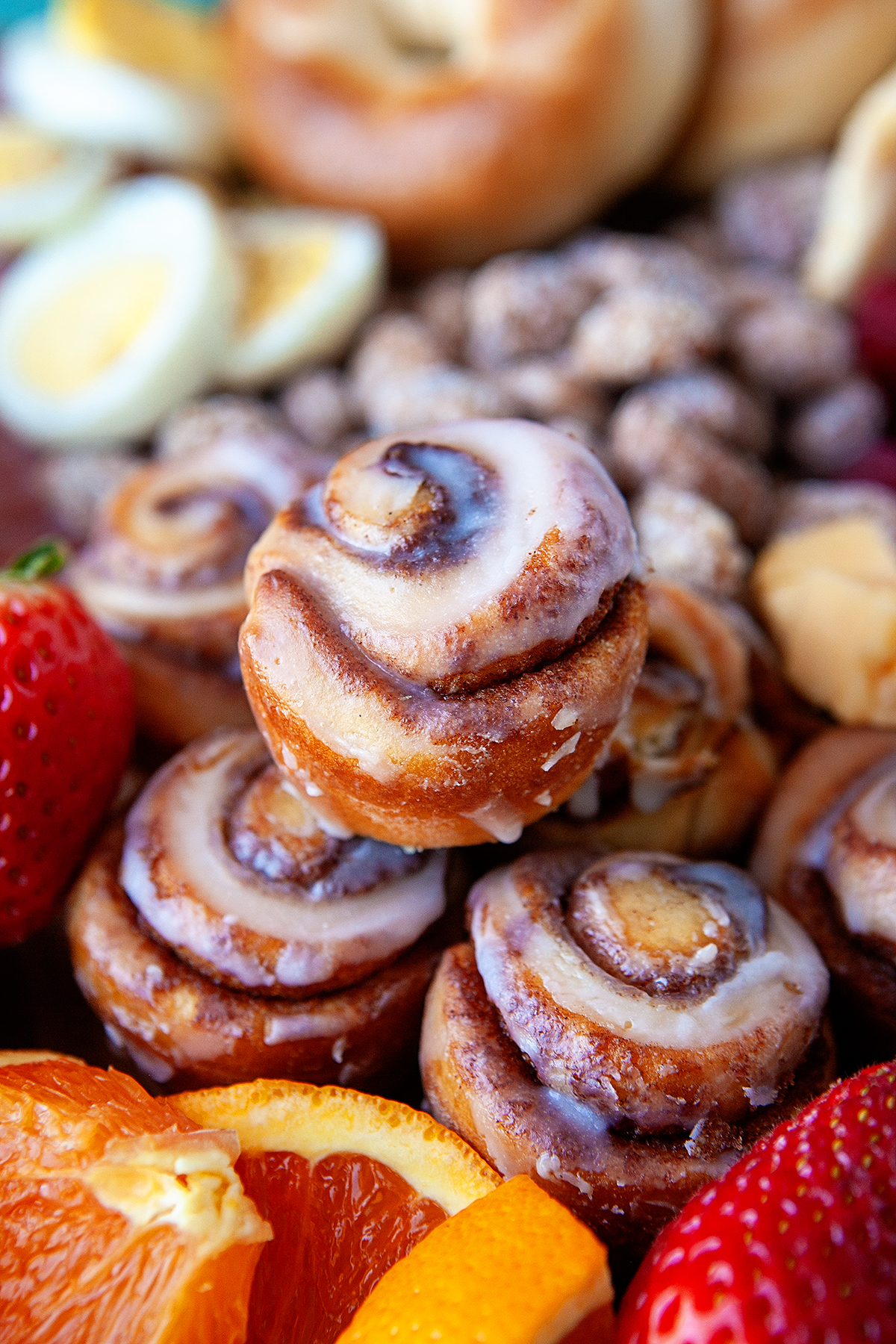 Breakfast Charcuterie Board Ideas
Hopefully what we have spoken about so far has given you some direction for putting together your own breakfast or brunch board. Here is a list of ingredients that will all work well on a breakfast board. Mix and match your favorites for a board that is perfect for you!
Breakfast Fruits
Cantaloupe
Honey Dew
Watermelon
Pineapple
Kiwi
Mango
Bananas
Oranges
Grapefruit
Grapes
Berries (Strawberries, Blueberries, Raspberries, Blackberries)
Avocado
Breakfast Cheeses
Stilton with fruit (like apricot, cranberry, or blueberry)
Gouda
Cheddar
Whipped Cream Cheese
Boursin or Alouette (sweet or savory)
Brie
Goat Cheese
Breakfast Mains
Mini Waffles
Hard-Boiled Eggs
Mini Pancakes
Small Bagels
Mini Muffins
Mini Cinnamon rolls
Donuts / Donut holes
Breakfast Meats
Bacon
Prosciutto
Sausage Links
Salami
Ham
Lox
Miscellaneous
Nuts (sweet or savory) like almonds, pecans, cashews
Jam
Honey
Maple Syrup
Whipped Cream
Dried fruit (like mango, or apricot)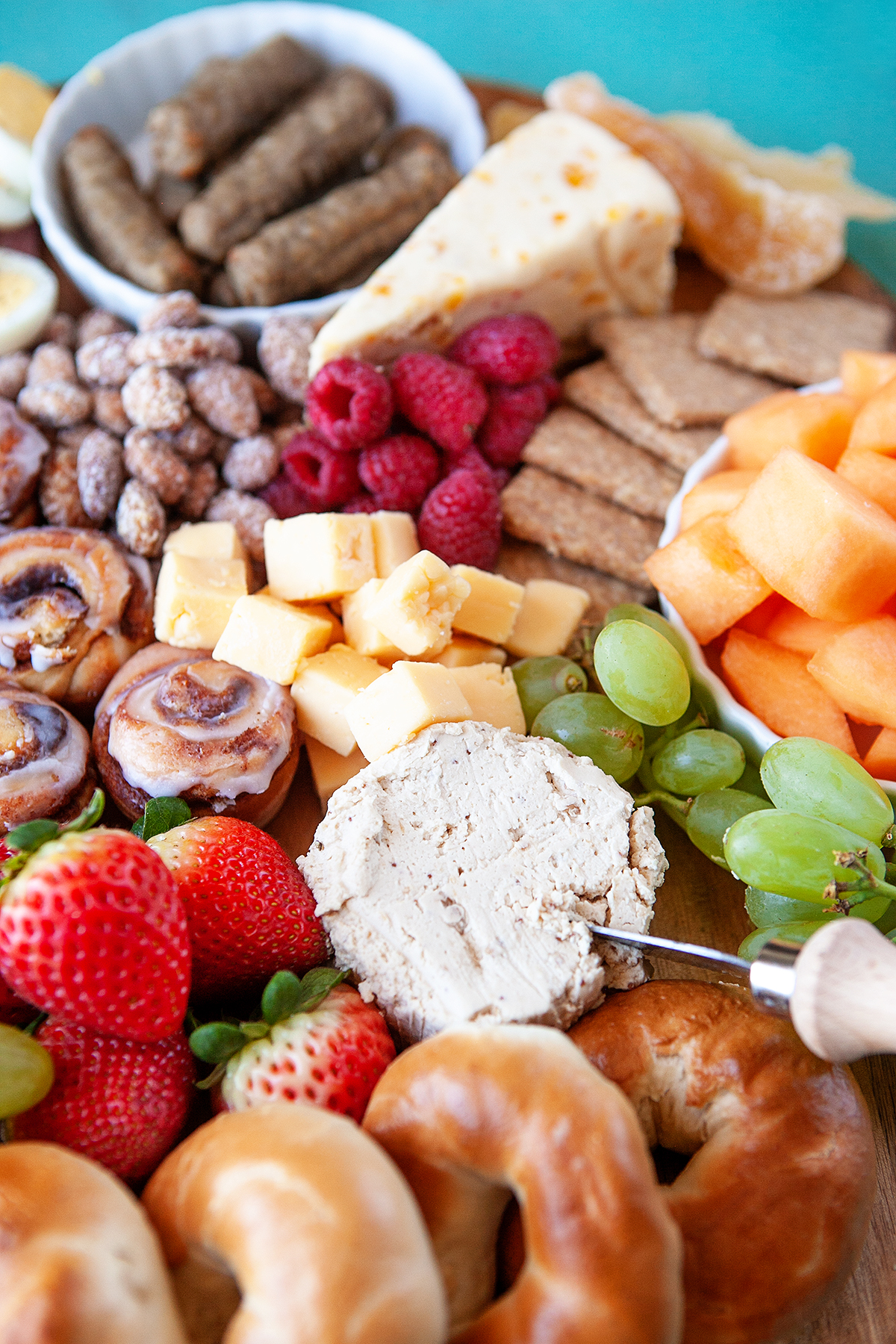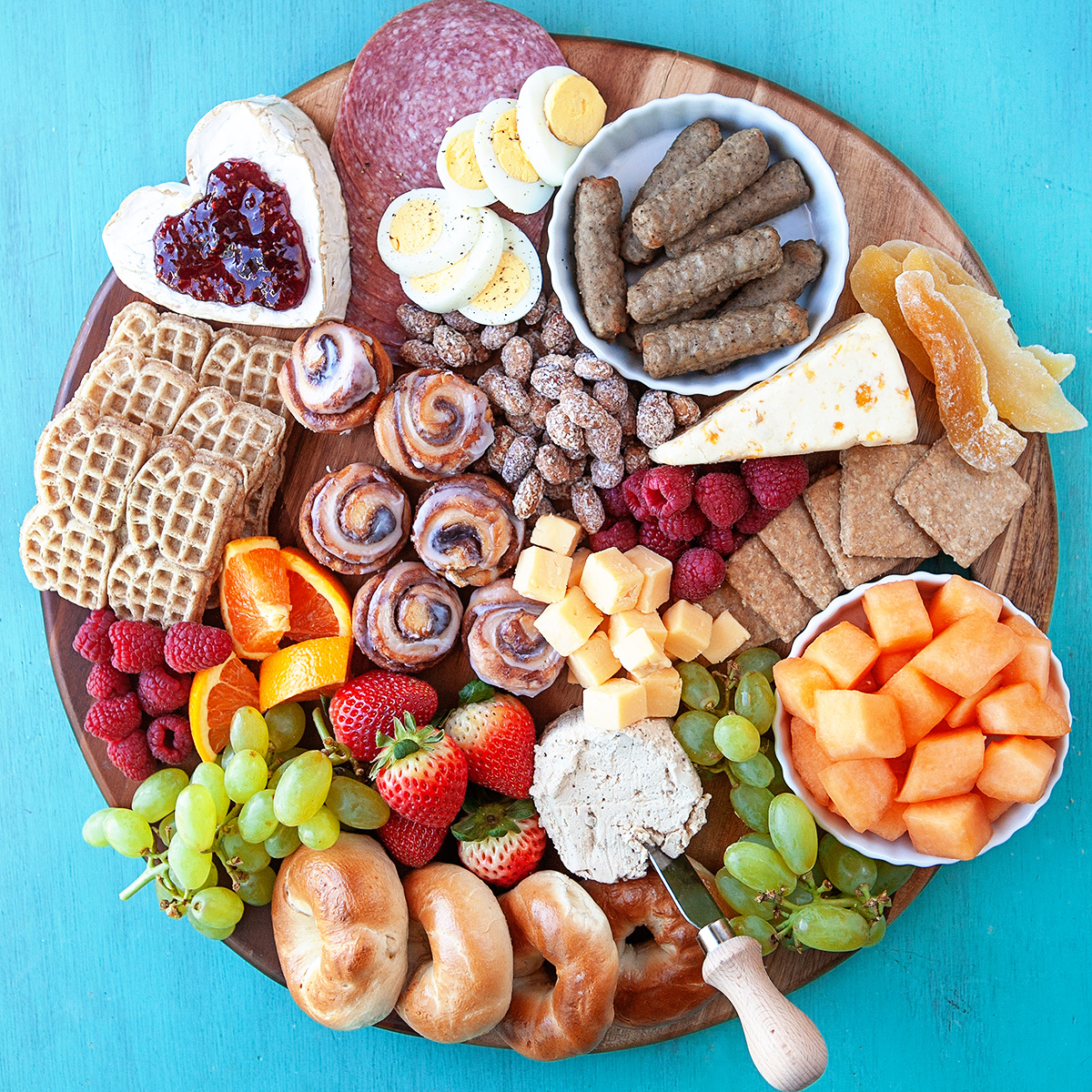 Pin it HERE!!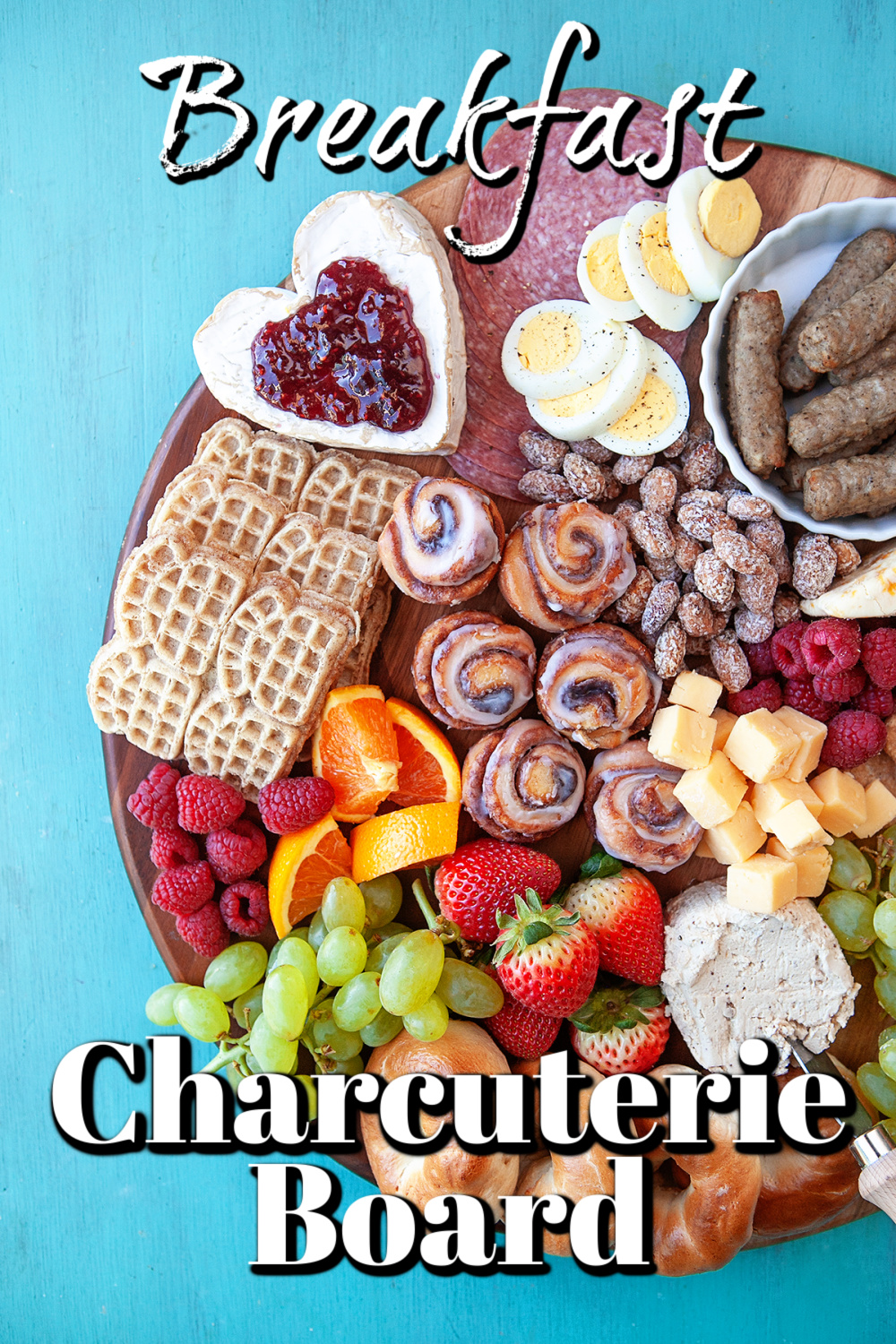 Pin it HERE!!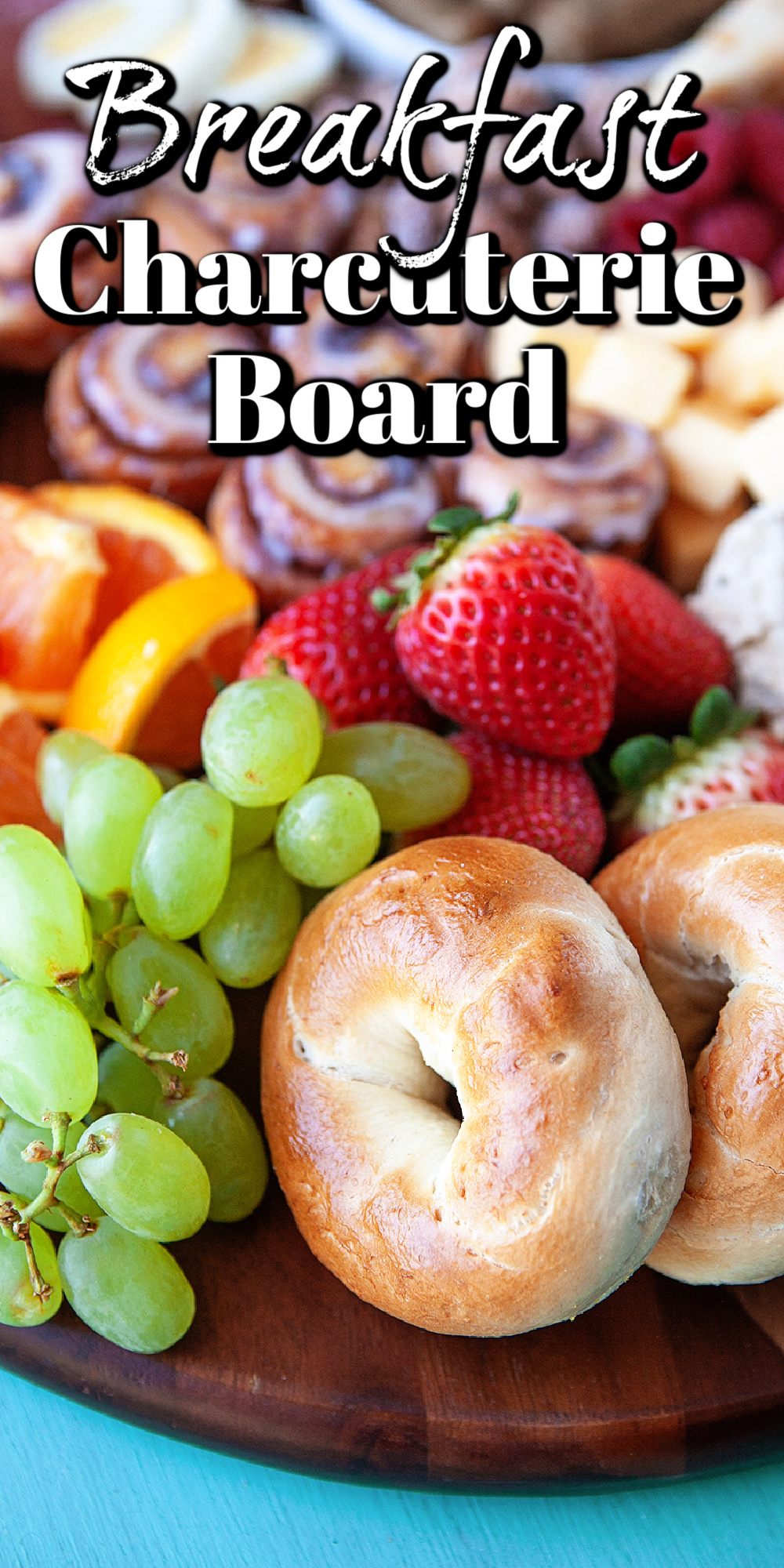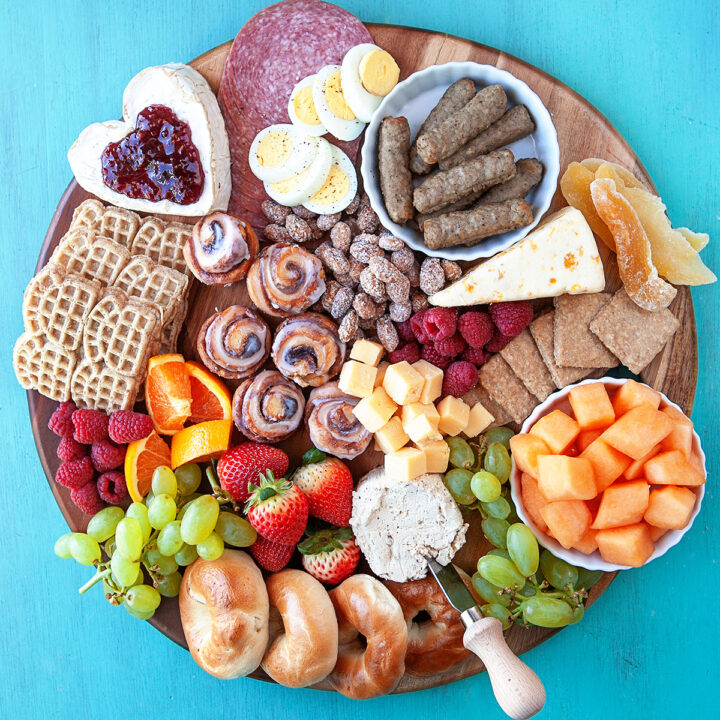 Breakfast Charcuterie Board
Yield: 8 to 10 servings
Prep Time: 20 minutes
Total Time: 20 minutes
This breakfast charcuterie board is a perfect blend of sweet and savory. This is a perfect breakfast or brunch board for entertaining!
Ingredients
1/4 pound wedge White Stilton with Apricot
5 oz round of Fig & Balsamic Boursin
6 oz round of Brie
6 oz Gouda cheese cubes
8 slices Genoa Salami
1 (7.2 ounce) package Effe's Oatcake Biscuits
8 Mini Cinnamon Toast Waffles, prepared according to package instructions
8 mini bagels
6 oz fresh raspberries
8 oz fresh strawberries
1 large orange, cut into slices
1 small cantaloupe, peeled and cubed
Green grapes
Dried mangos
Coconut almonds
10 sausage links, prepared according to package instructions
3 hardboiled eggs, sliced and sprinkled with salt and pepper
Raspberry Jam
8 mini cinnamon rolls
Optional: whipped cream and maple syrup for serving
Instructions
Before assembling the cheese board, keep in mind that you'll want your cheeses to be at room temperature. It only takes a few minutes to put together the cheese board, so set out your cheese ahead of time and then put together the cheese board 15 or 20 minutes before you're ready to serve it.
To assemble the cheese board, first place your cheese around the board. Spread a few tablespoons of raspberry jam on the brie. Then, arrange your meats, fruits, bagels, waffles, and crackers around the cheeses. Fill in the holes with handfuls of nuts, berries, and grapes.
Add the hardboiled eggs last and remember to avoid leaving them at room temperature for too long for food safety reasons.
Serve with maple syrup and whipped cream on the side.
Nutrition Information:
Yield: 10
Serving Size: 1
Amount Per Serving:
Calories: 893
Total Fat: 41g
Saturated Fat: 17g
Trans Fat: 3g
Unsaturated Fat: 16g
Cholesterol: 144mg
Sodium: 1747mg
Carbohydrates: 104g
Fiber: 6g
Sugar: 45g
Protein: 30g
Recipe calculation was provided by Nutritionix and is an estimation only. If you need nutritional calculations for medical reasons, please use a source that you trust.