My rhubarb has been up for awhile now and ready to be picked. We have then had some visitors to my patch. A deer that is staying in our backyard and the surrounding neighborhood has given birth to twin fawns.
They use my rhubarb patch to gain entry to the backyard and had started trampling the rhubarb. I quickly picked a bunch of it and found a great recipe for Rhubarb Dream Bars. You can freeze rhubarb too so that you can use it at a later date.
These Rhubarb Dream Bars are easy to make and a great way to use up all that wonderful rhubarb you have growing in your garden! I can tell you now that so many people love this recipe.
I planted even more rhubarb to make more desserts and recipes like, Old-Fashioned Rhubarb Pudding Cake, Rhubarb Meringue, Blueberry Rhubarb Jam, Strawberry Rhubarb Jam, No-Churn Rhubarb Ice Cream Recipe, Rhubarb Strawberry Cobbler, Super Easy Rhubarb Tarts, and Old Fashioned Rhubarb Loaf to name a few.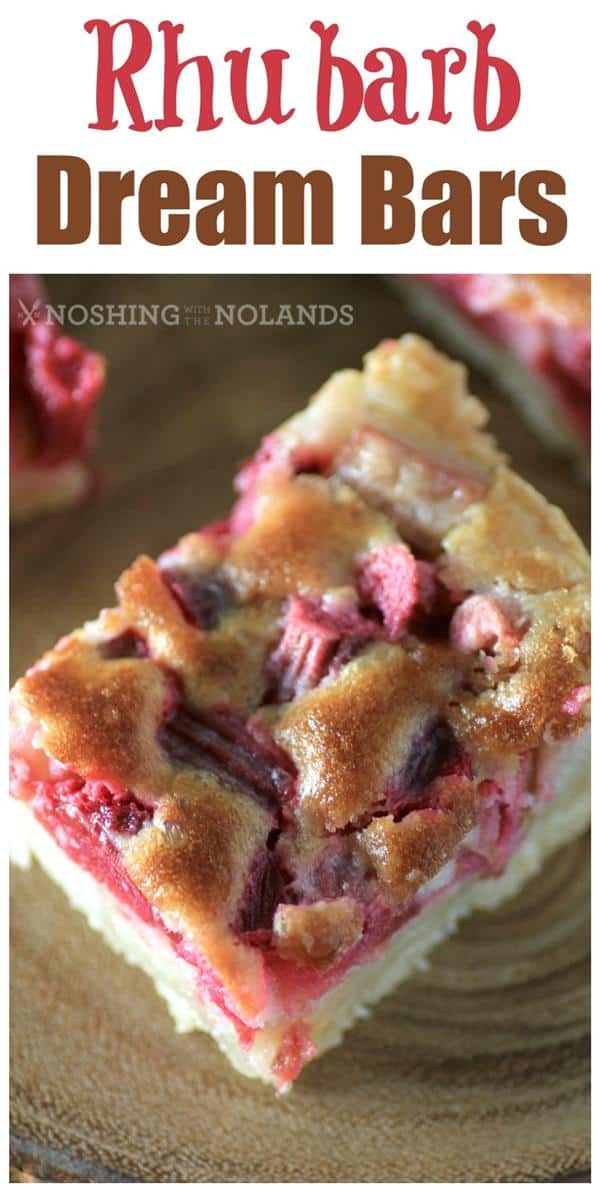 With the deer around it was either the garden or them this year and I quickly surrendered to the beauty of these animals.
I can shop at the grocery store for all my fruit and vegetables, the deer can't. So instead of fighting it, I happily let them in.
Momma Dear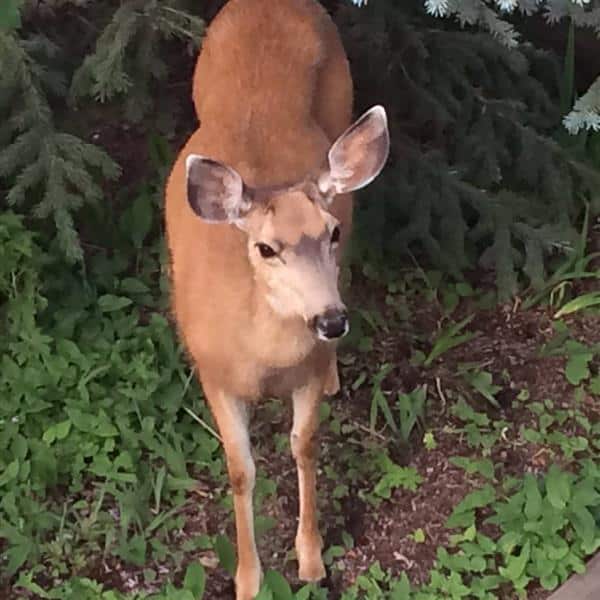 Here she is standing in my garden, this is her preferred spot for lounging, nice and cool under the evergreen tree.
Fawn in our Vegetable Garden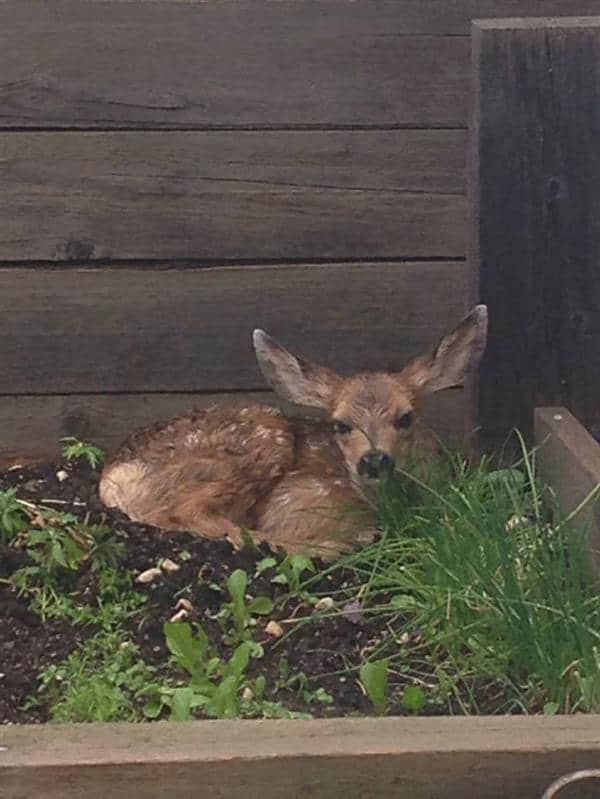 Here is one of her fawns in my vegetable patch in the rain. She has made a little hole to lounge in there. How cute is she with those long ears!
They are majestic gorgeous animals. This year instead of a garden I have deer growing in our backyard.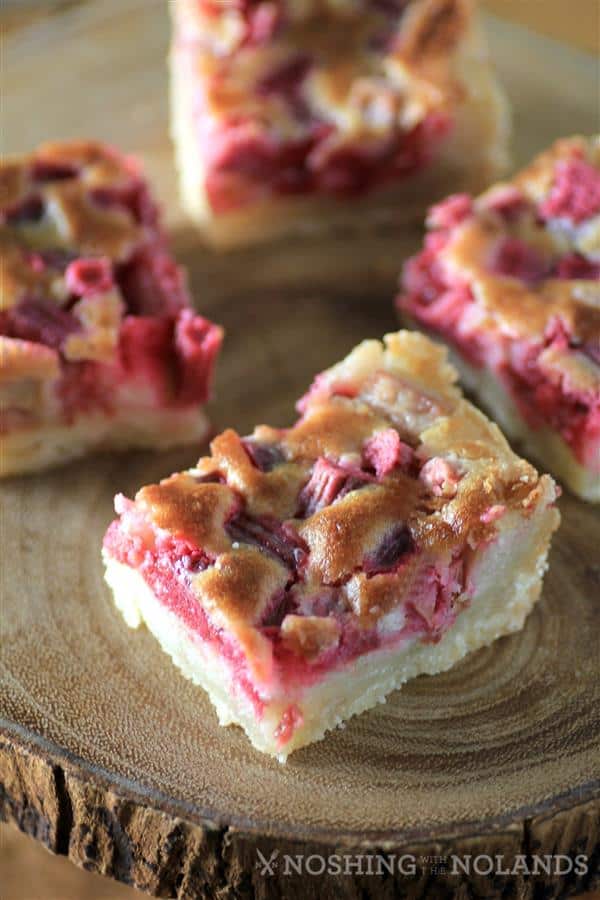 These dessert bars are super easy to make and bursting with the taste of fresh rhubarb. Plus they are pretty in pink for a summer treat!!
They are a tried and tested recipe here on Noshing With The Nolands and one of our most popular recipes now.
Luscious creamy filling with the just-right sweet/tart flavor from the rhubarb. You can use frozen rhubarb for this recipe too.
They are also very easy to make and something that a lot of people enjoy as they are not a huge dessert and very portable to a BBQ, picnic or any gathering.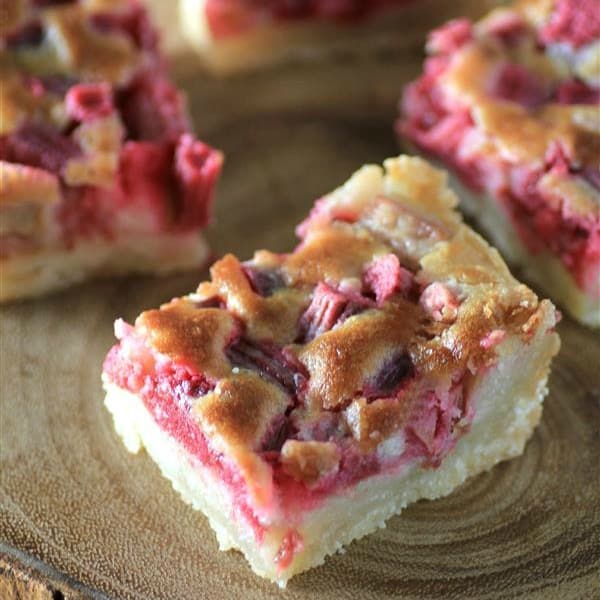 Here are some other delicious recipes I have made using rhubarb, Rhubarb Strawberry Cobbler, Super Easy Rhubarb Tarts and Old Fashioned Rhubarb Loaf. Plus we have Rhubarb Strawberry Crisp, Rhubarb Strawberry Sour Cream Pie, Rhubarb Lemonade, Rhubarb Ginger Granola Parfaits, and Strawberry Rhubarb Compote.
And our latest winners Rhubarb Dump Cake and Rhubarb Impossible Pie.
Rhubarb Dream Bars Recipe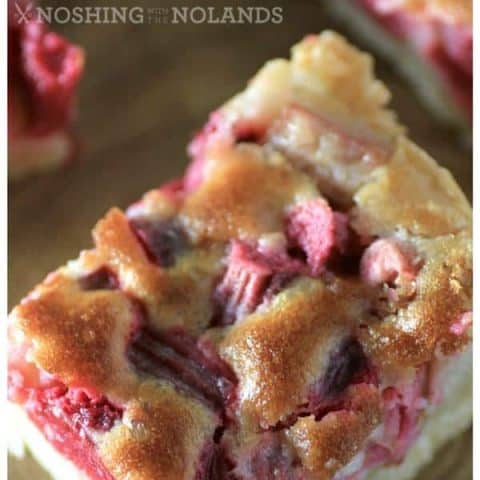 Rhubarb Dream Bars
Yield: 16
Prep Time: 20 minutes
Cook Time: 45 minutes
Total Time: 1 hour 5 minutes
A delicious rhubarb creamy square that is perfect for spring and summer!
Ingredients
Crust
1 cup all-purpose flour
1/2 cup sugar
1/2 cup butter, room temperature
Filling
2 large eggs
1 cup sugar
1/4 cup flour
1/4 tsp. salt
2 cups diced rhubarb
Instructions
Preheat oven to 350F. Line the bottom of an 8x8" pan with parchment bringing it up the sides so that it will be easy to remove the squares after. Whirl the crust ingredients in a food processor and then press into the prepared pan. Bake for 15 min., crust will still remain very pale in color.
While crust is baking mix together eggs, sugar, flour and salt and whisk well. Stir in rhubarb. Pour onto the hot crust and continue to bake for 40-45min.
Let the bars cool and remove with the parchment paper. Cut into squares.
Nutrition Information:
Yield: 16
Serving Size: 1
Amount Per Serving:
Calories: 171
Total Fat: 6g
Saturated Fat: 4g
Trans Fat: 0g
Unsaturated Fat: 2g
Cholesterol: 39mg
Sodium: 92mg
Carbohydrates: 27g
Fiber: 1g
Sugar: 19g
Protein: 2g
Recipe adapted from Food.com.