Do you have a backyard full of rhubarb and never know what to do with it? This year we made delicious Blueberry Rhubarb Jam without any Certo or pectin. This keeps it very simple. Rhubarb thickens gorgeously when cooked so no need to add anything to make it gel.
This recipe is also easy requiring only four ingredients. Ken did most of this recipe as he does really enjoy canning and preserving. Want more easy jam recipes? Try our Fig Jam, Peach Freezer Jam, Strawberry Rhubarb Jam, Blackberry Freezer Jam, No-Pectin Raspberry Jam, or our savory Tomato Jam.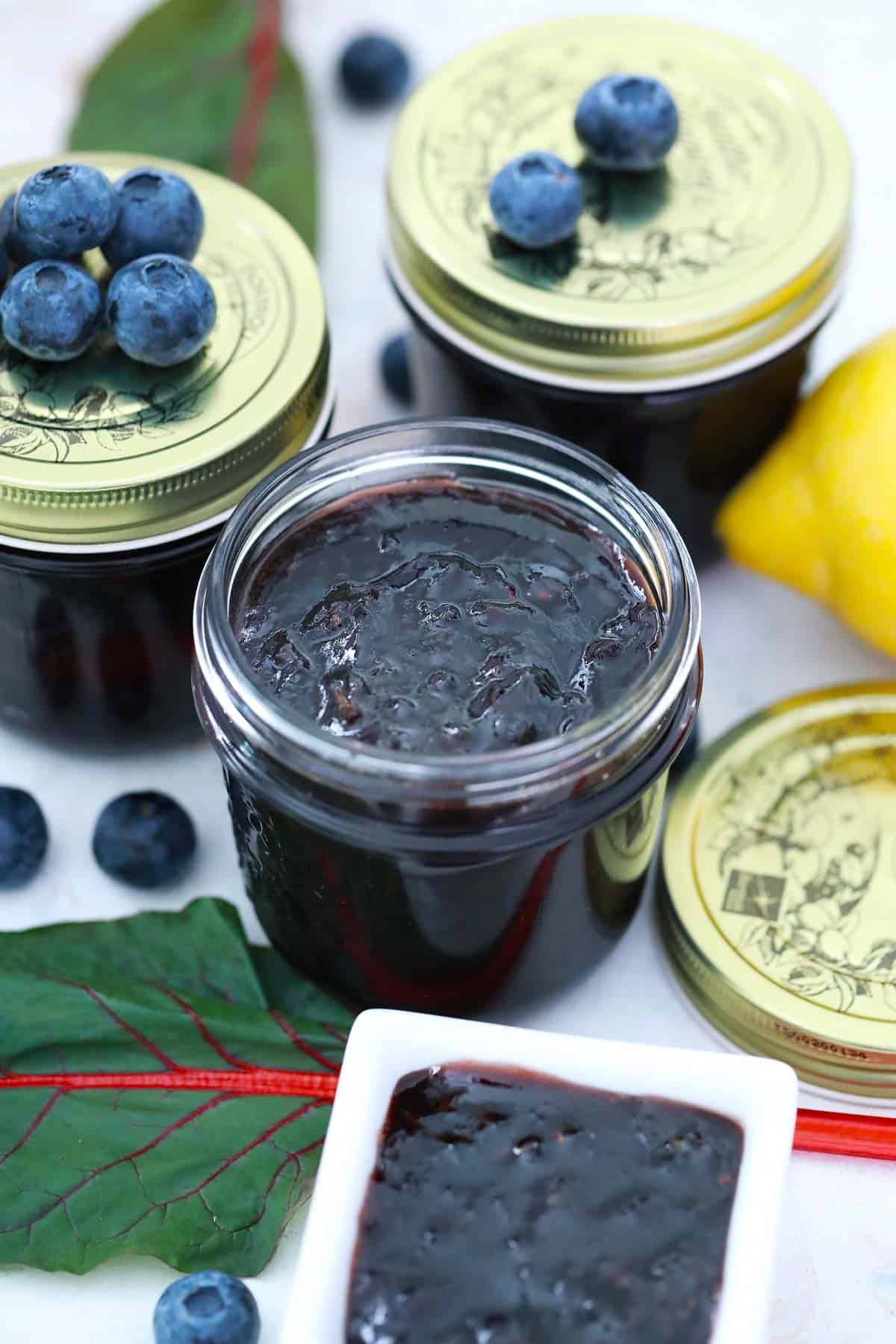 I have loved rhubarb forever!! I remember growing up and taking a stalk from the garden along with a little bowl of sugar. Then I would find myself a lovely spot under a tree and dip, crunch and munch away on that rhubarb until it was gone. That was a real treat for me.
I have also loved anything and everything rhubarb. We have done loads of recipes on the site for rhubarb that have been very popular and I will review those again today for you. If you are like me you will have stashed some rhubarb away in the freezer for use in the winter. Nothing like a rhubarb dessert or recipe to take away the winter blues!!
Helpful Items For This Recipe
This post contains affiliate links. As an Amazon Associate, I earn a small portion from qualifying purchases at no extra charge for you.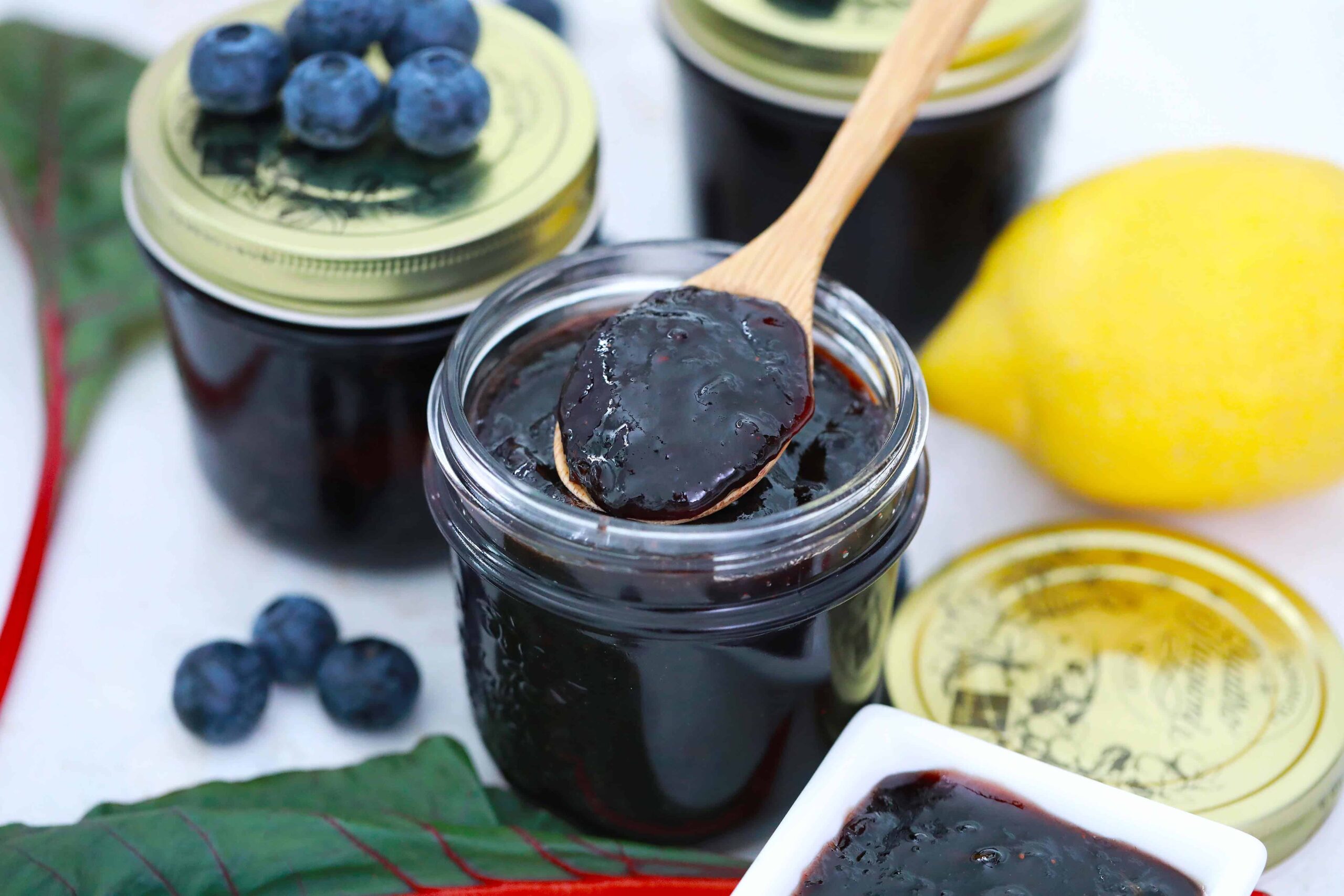 I now have a large patch of rhubarb, about 6 plants. They are a lovely red rhubarb color. I have now put them to bed for the fall having picked all my rhubarb and put it into 4 and six cup amounts and freezing them.
With both blueberries and rhubarb in abundance in Canada this could be a very Canadian recipe.
I only got 14 cups this year but last year I got a whopping 25 cups. Maybe it was too hot this year or it overproduced last year giving me a smaller yield.
We actually used frozen rhubarb from last year for this jam. This recipe works great using frozen rhubarb and rhubarb lasts a long time in your freezer.
Blueberry Rhubarb Jam without Pectin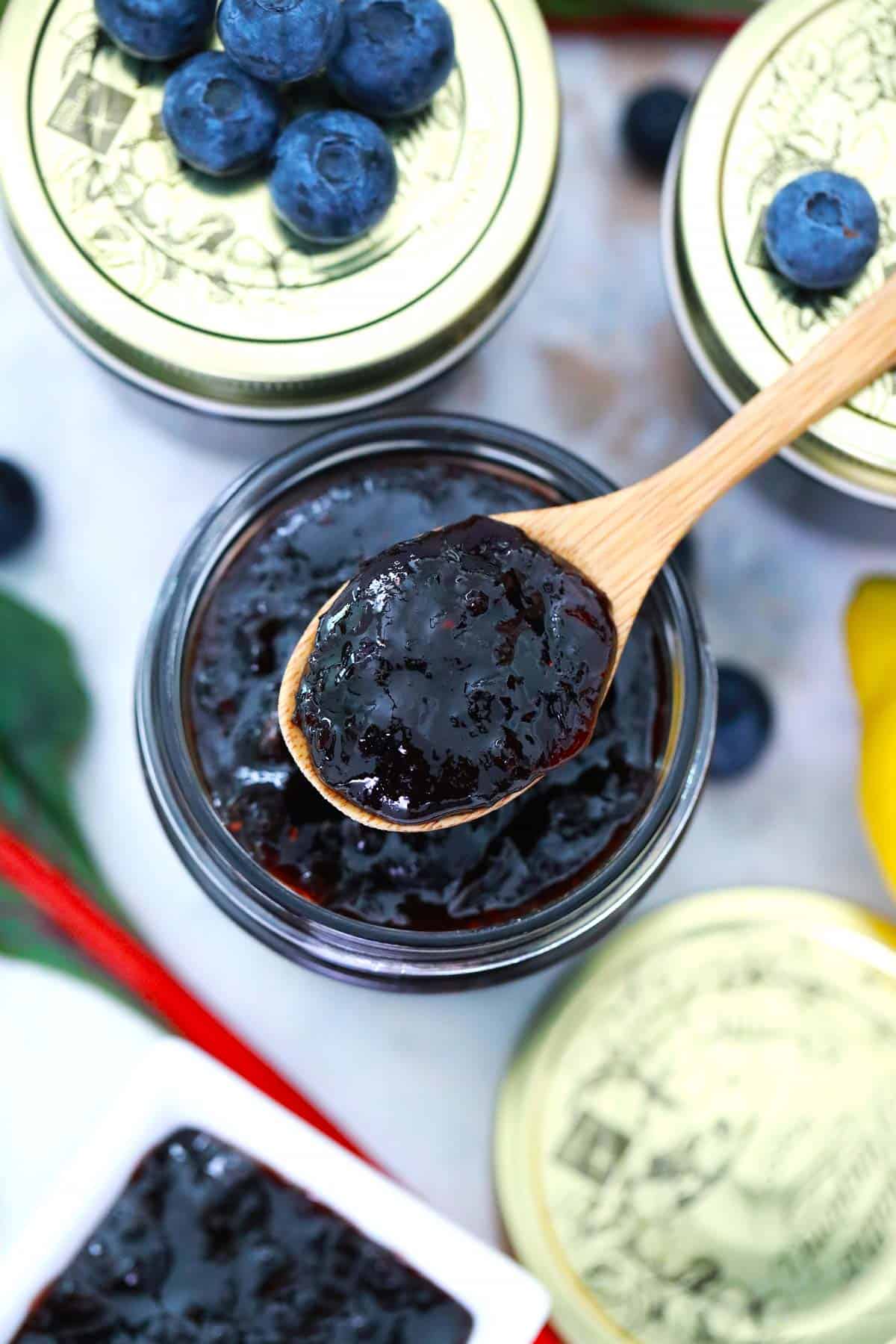 See how lovely and thick it is?! The rhubarb gives it the right tartness while the blueberries add color and flavor! This is my new favorite jam!!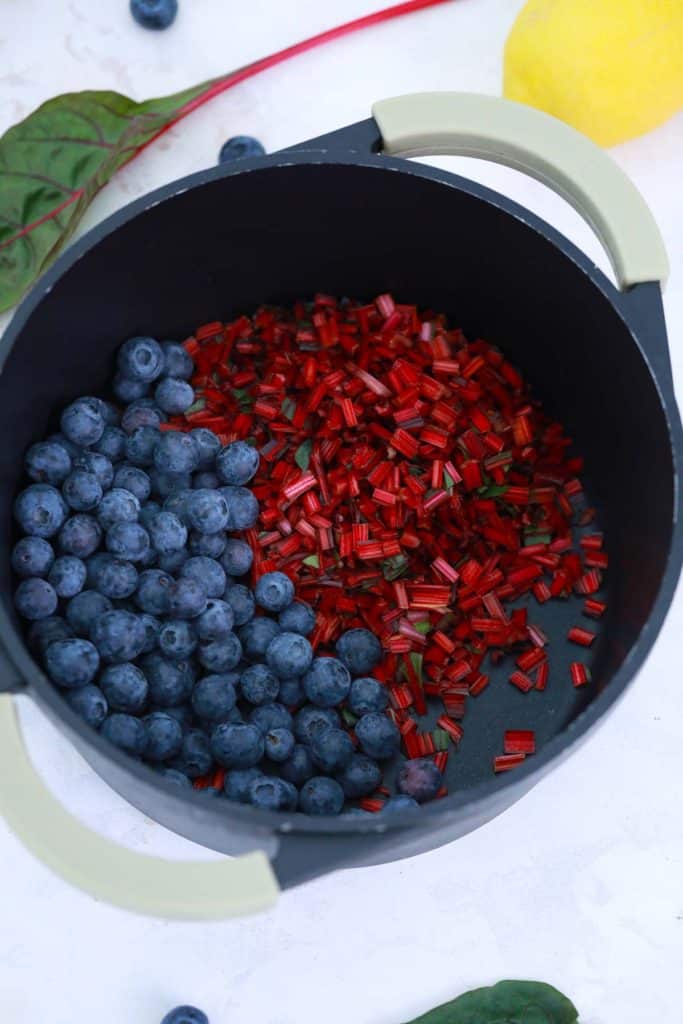 It is very easy to make a jam like this and you don't have to rely on pectin to make it gel and then be disappointed if it doesn't set.
Sometimes it is hard to use up all your rhubarb and you may have to be creative. Think outside the box from pie and try a preserve instead. Your family will thank you for it. This recipe uses up a good quantity as it requires 7 cups of rhubarb.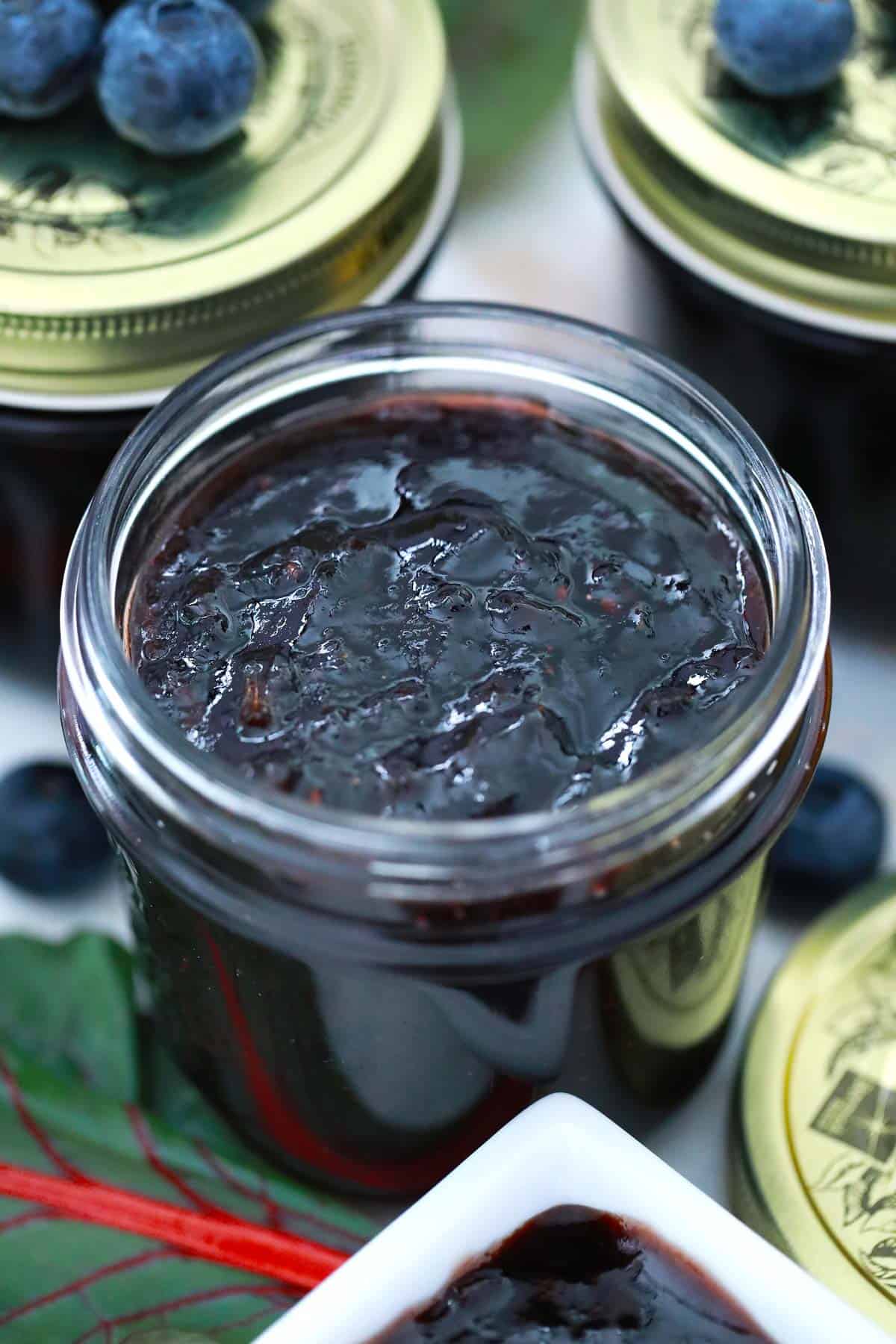 I like to put it into little jars to give away as gifts. Everyone will appreciate your hard work and enjoy the bounties of your garden too.
I have sung about the virtues of rhubarb but not blueberries yet. They are probably our number one favorite berry and we almost always have a container of these little powerhouses of antioxidants in our fridge.
PRINTABLE FOR WATER BATH CANNING

If you don't want to can the jam, any jam can be a freezer jam. It will last up to one year in the freezer. When thawed it will last 3-4 weeks in your refrigerator.
Blueberry Recipes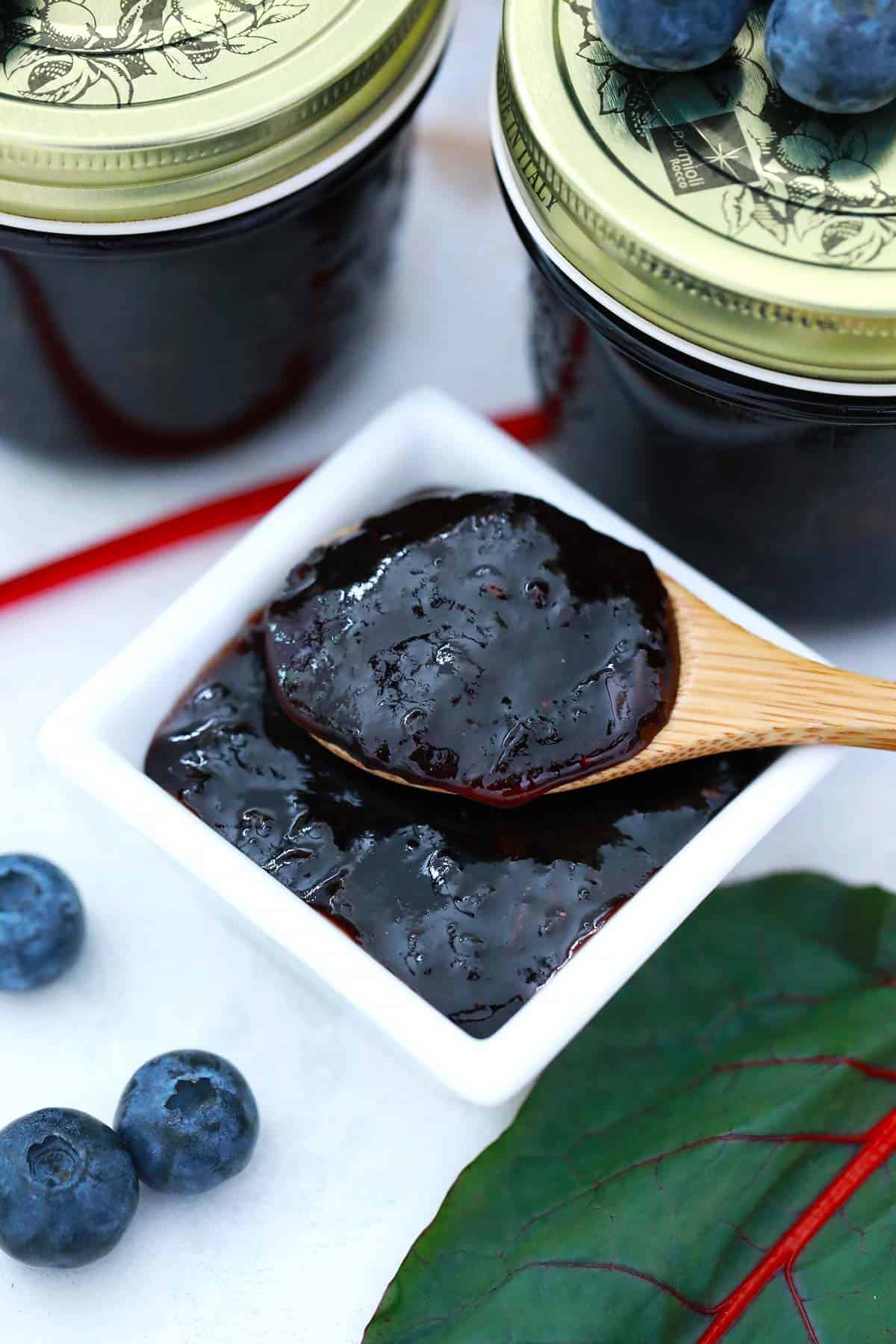 What is not to love about blueberries? The color is so pretty and the flavor so wonderful. They also give the perfect "jammy" consistency to this preserve.
We tuck blueberries into lots of recipes like Lemon Blueberry Bundt, Blueberry Muffin Smoothie, Blueberry Banana Bran Muffins, Blueberry Coffee Cream Cheese Cake, and Blueberry Pie. We also love blueberries in drinks like Peach Blueberry Sangria and Blueberry Basil Lemonade.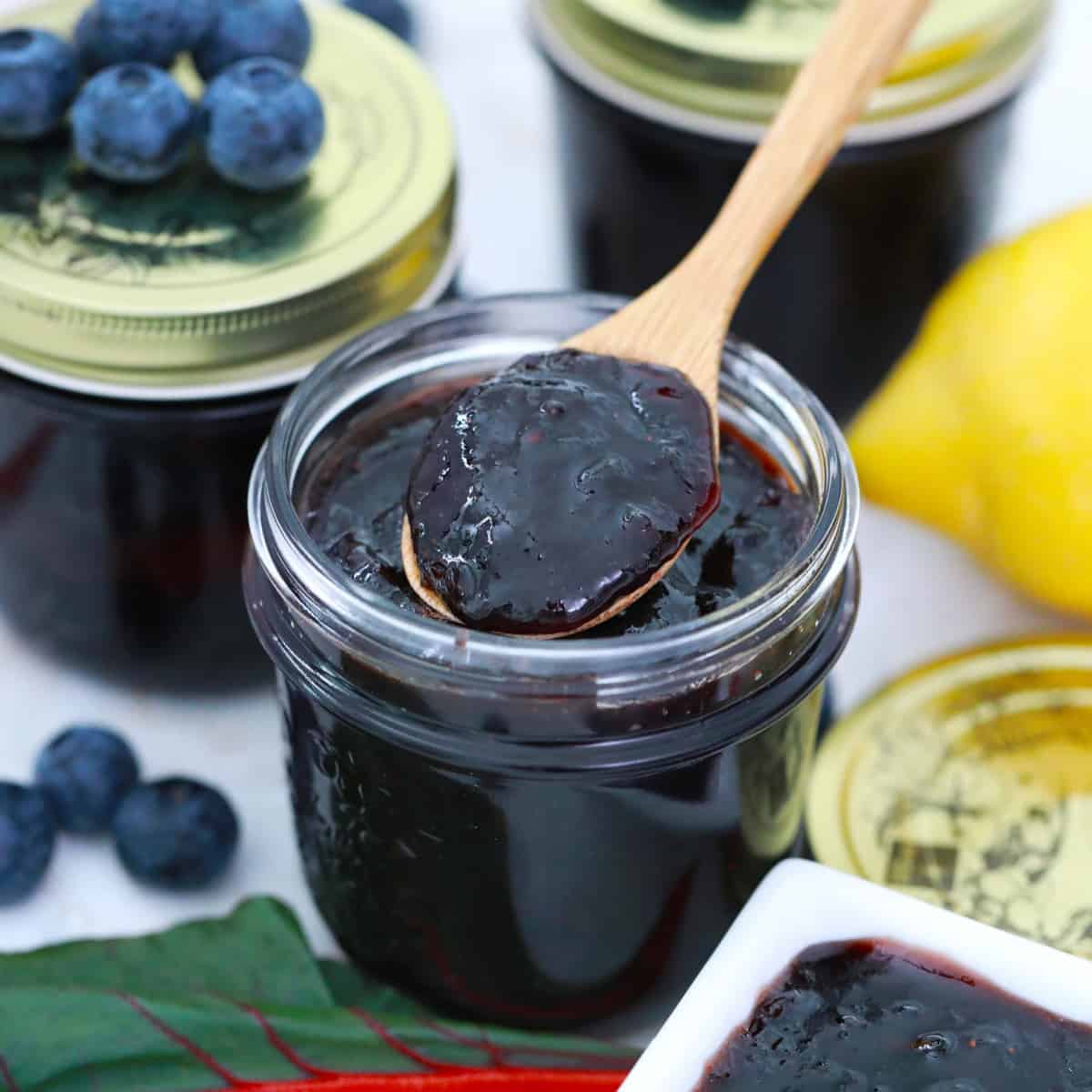 Rhubarb Recipes
The four ingredients in this recipe are blueberries, rhubarb, sugar, and lemon. It is completely vegan, gluten-free, and can be enjoyed by everyone! Rhubarb as I mentioned early is a big draw on this site as we have many, many wonderful recipes. In my top ten almost on a year-round basis are these Rhubarb Dream Bars.
Also very popular is the Old Fashioned Rhubarb Loaf and our Super Easy Rhubarb Tarts. Some newer recipes that I made this year are No Churn Rhubarb Ice Cream Recipe, Rhubarb Syrup (great in cocktails or lemonades), Rhubarb Margaritas, and a pretty Rhubarb Strawberry Cobbler that I made last year and just love the color.
You will be surprised at how many, many recipes you can use with rhubarb. A standard over the years for me has been this Strawberry Rhubarb Sour Cream Pie, one that I have loved to make, again and again, year after year.
An easy Rhubarb Strawberry Crisp in our house is always welcome too or the ever-popular Strawberry Rhubarb Compote or an Orange Rhubarb Compote which we love to add to yogurt and granola. Sometimes I just make a plain rhubarb compote and omit other fruit. That is also gobbled down here!
Well, there you have it, a treasure trove of rhubarb recipes! I have to go to the savory side sometime and try a rhubarb chutney which I think would be delightful with pork, turkey or chicken!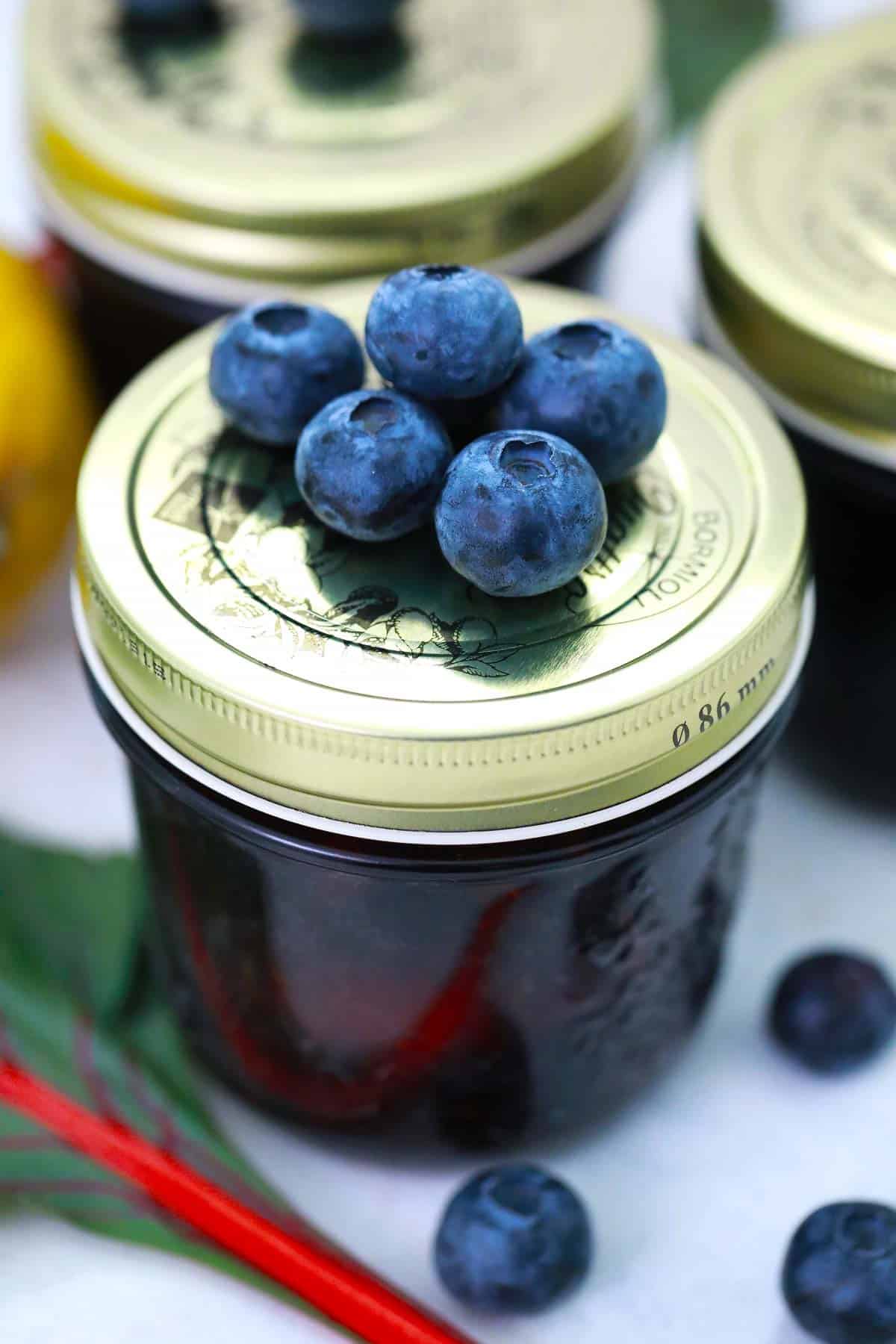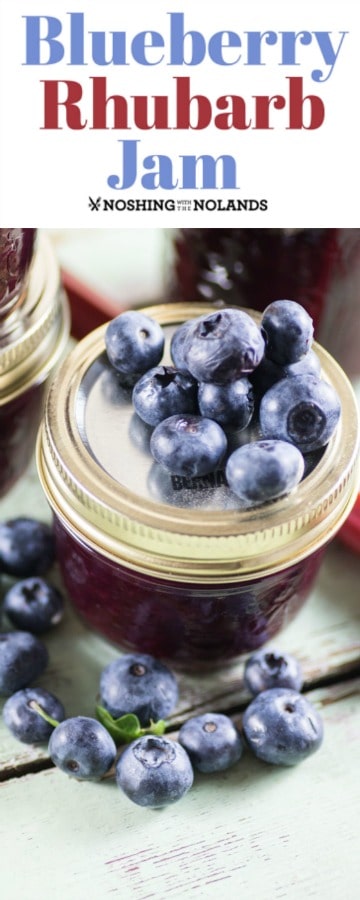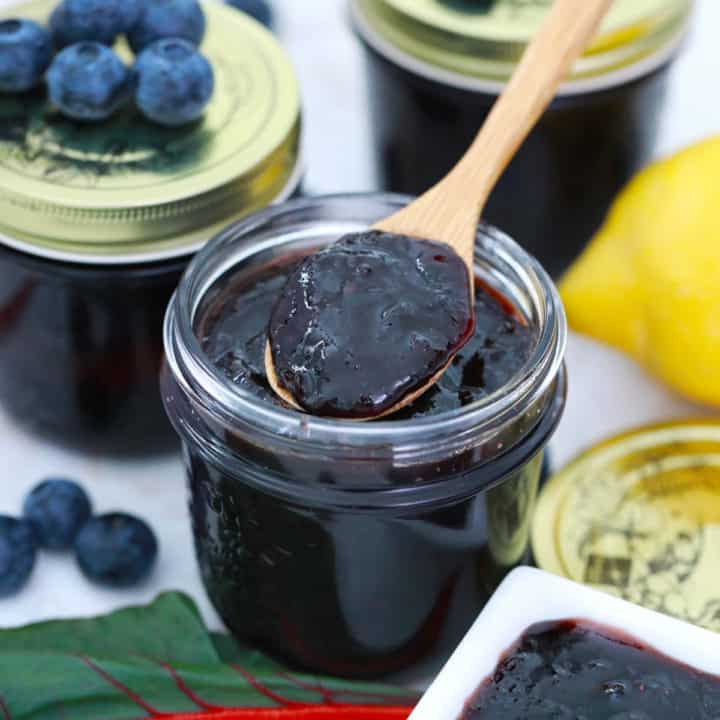 Blueberry Rhubarb Jam
Yield: 7 - 8 oz. jars
Prep Time: 15 minutes
Cook Time: 25 minutes
Additional Time: 10 minutes
Total Time: 50 minutes
Blueberry Rhubarb Jam is easy to make and you can omit the pectin. If you can it in small jars you will be wanting to give it away to family and friends as a gift.
Ingredients
7 cups rhubarb, chopped
4 1/4 cups blueberries
4 1/4 cups sugar
1/3 cup lemon juice
Instructions
The night before you want to make the jam or the morning of. Add the rhubarb, blueberries, sugar and lemon juice to a large pot, stir to combine. Let macerate for 30 min. to overnight. Sterilize jars and lids. Place a small plate in the freezer.
When ready to make the jam place the pot with the fruit in it on the stove. Bring to a boil on medium-high heat and boil hard for 15-25 minutes or until you reached the setting point, stirring occasionally. At the setting point, the foam will have subsided and the bubbles will get larger looking like fish eyeballs.
Place a small amount of the jam (1 tsp.) on the freezer plate and place the plate back in the freezer for a few minutes to cool. If the jam seems very close then remove the pot from the heat while the plate is in the freezer. If the jam wrinkles when pushed with your finger the jam is done. If not return to a boil for 5 min. and repeat. Careful as the jam thickens it can start to burn so stir more frequently.
Ladle jam into hot jars to within 1/4" of the top. Remove air bubbles and wipe the rim with a clean cloth. Place lids on and screw to tighten until finger-tip tight only. Place in a water bath canner, submerged in 1" water above jar and process for 10 min. or according to altitude.
When the jam has cooked for its allotted time removed the jars to a towel-lined counter to cool. You should hear the popping of the lids as they seal. That is a very satisfying sound. If any jars don't seal refrigerate and eat right away.
Recommended Products
As an Amazon Associate and member of other affiliate programs, I earn from qualifying purchases.
Nutrition Information:
Yield: 112
Serving Size: 1 Tablespoon
Amount Per Serving:
Calories: 34
Total Fat: 0g
Saturated Fat: 0g
Trans Fat: 0g
Unsaturated Fat: 0g
Cholesterol: 0mg
Sodium: 1mg
Carbohydrates: 9g
Fiber: 0g
Sugar: 8g
Protein: 0g
Recipe adapted from Preservation Society Home Preserves by Camilla Wynne