Sweet corn makes this side dish a must for any time of the year. This Cornbread Casserole, I tried a few years back. Not sure where I got it from now. I made it for Thanksgiving when my girlfriends were coming out.
Karen absolutely loved it and has made it many times now for her family. I had lost track of the recipe and actually had to get it back from her. If you don't feel like having stuffing this is a great alternative or just add it into the meal like I did. Also, try our Turnip Puff for another excellent side dish for the Thanksgiving holiday.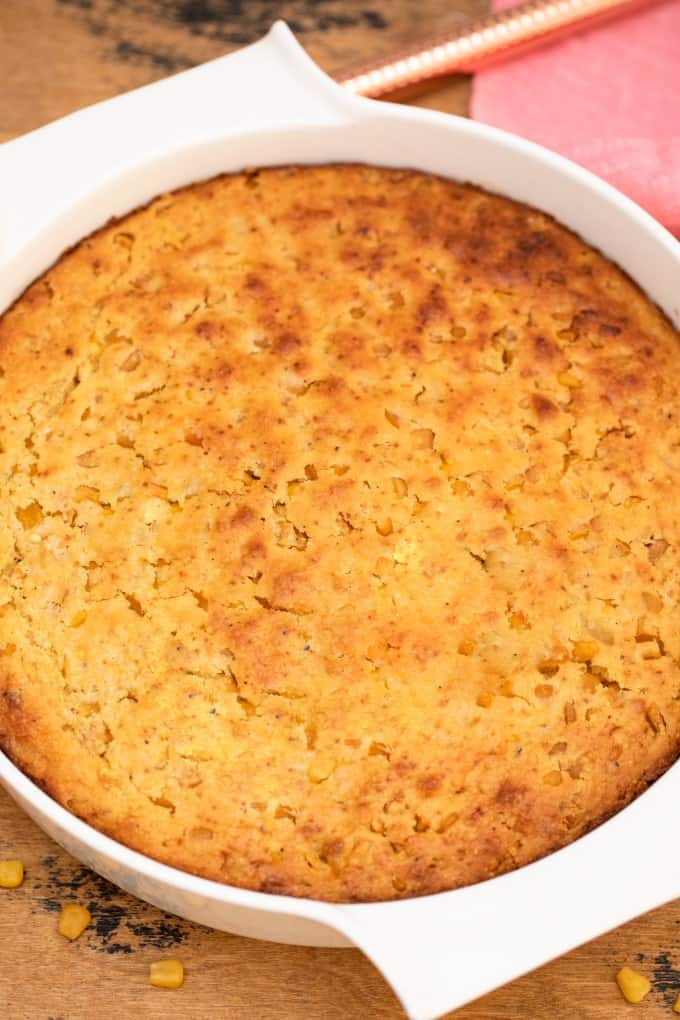 Helpful Items For This Recipe
This post contains affiliate links. As an Amazon Associate, I earn a small portion from qualifying purchases at no extra charge for you.
My family really enjoyed having it again!! Not only does it go great with turkey but it accompanies ham, chicken and even roast beef very nicely too!
So this can easily be served up at Easter or other holidays too!! It is also so easy you could make it for a weeknight meal too. There is no excuse needed!
What is Cornbread Casserole?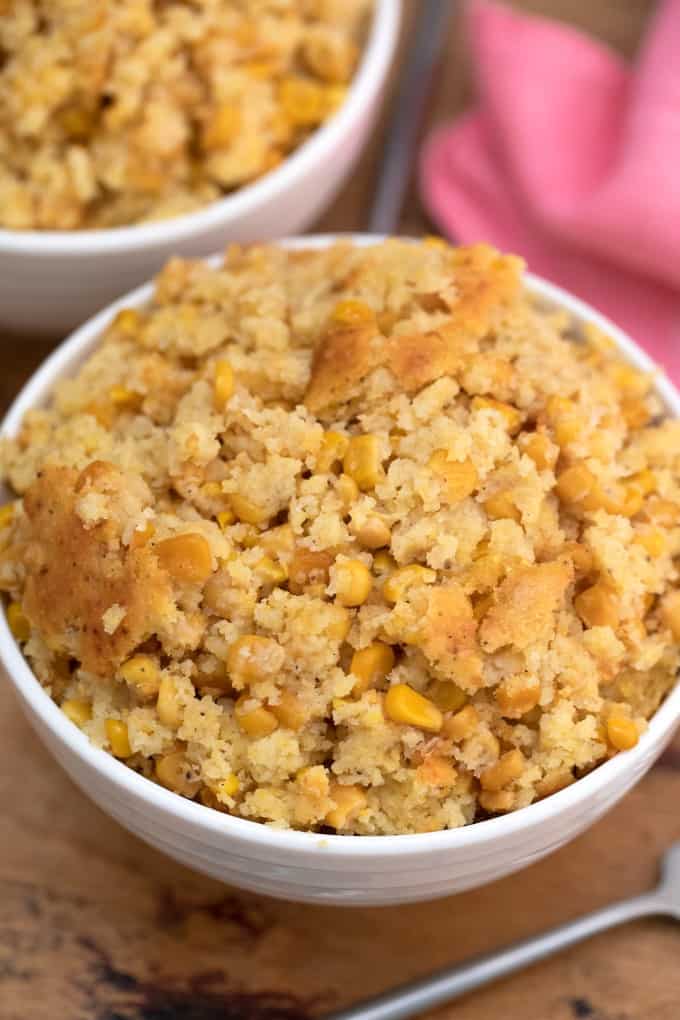 Cornbread Casserole is basically corn added into cornbread that gives you a lovely crumbly mixture that can be a great substitute for stuffing or dressing.
It is a bit sweet but so is corn. It really is considered a savory side dish, though, just the same as cornbread.
We make a homemade cornbread recipe all the time and love it, so this recipe I knew would be a hit in our household.
It sops up the gravy just like stuffing and is very popular not just in the southern US but many areas of the world.
We don't tend to have quick mixes like Jiffy up here in Canada to make cornbread quickly but that is fine as it is so easy to make with just a few ingredients anyway.
What Makes This Dish So Wonderful?
It is a super easy and fast side to make, takes only 15 minutes to make.
It can be made ahead and refrigerated or even frozen. Yup, I have done this many times; just thaw and reheat in the oven covered. Just add it in with other sides to reheat for about 30-40 minutes at 325F.
Goes great with so many mains entrees, ham, turkey, chicken, pork, and beef.
Corn lovers dream, cornmeal, corn, and creamed corn!
Sweet, crunchy, creamy, it has it all.
Like a bread yet still a vegetable.
Comfort food at its finest; young and old will love this dish.
All homemade, no box of Jiffy cornbread mix needed.
How to Make Cornbread Casserole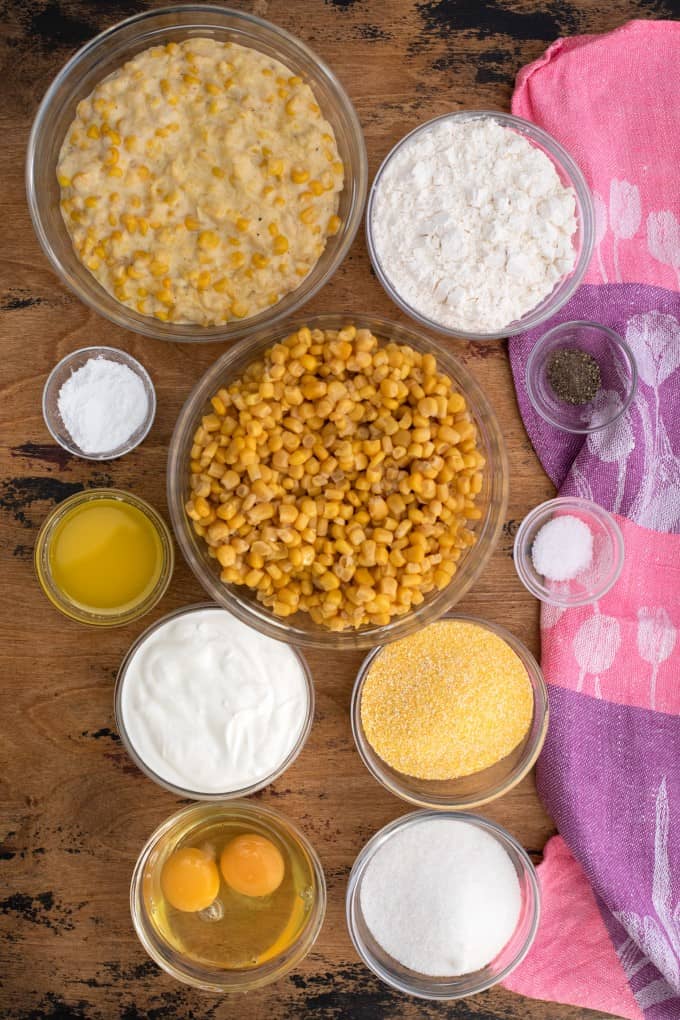 Cornbread casserole is as easy as mixing a few ingredients together in a bowl and adding it to a casserole. A corn casserole is always a hit with so many people.
Ingredients
Can cream corn
Can whole kernel corn
Cornmeal
Sour cream
Melted butter
Eggs
Salt
Pepper
Flour
Baking powder
Sugar
Butter for casserole
Butter a 9″ casserole dish and set aside. Preheat oven to 350F.
Mix cornmeal with sour cream in a small bowl and set aside. Add all the dry ingredients together in a large bowl whisking to combine.
Then add the rest of the ingredients, including the cornmeal mixture, and pour it into the corn bread mixture. Pour the mixture then into your prepared casserole dish.
Bake 60-70 min. at 350F. until golden brown.
What Can I Add To My Cornbread Casserole?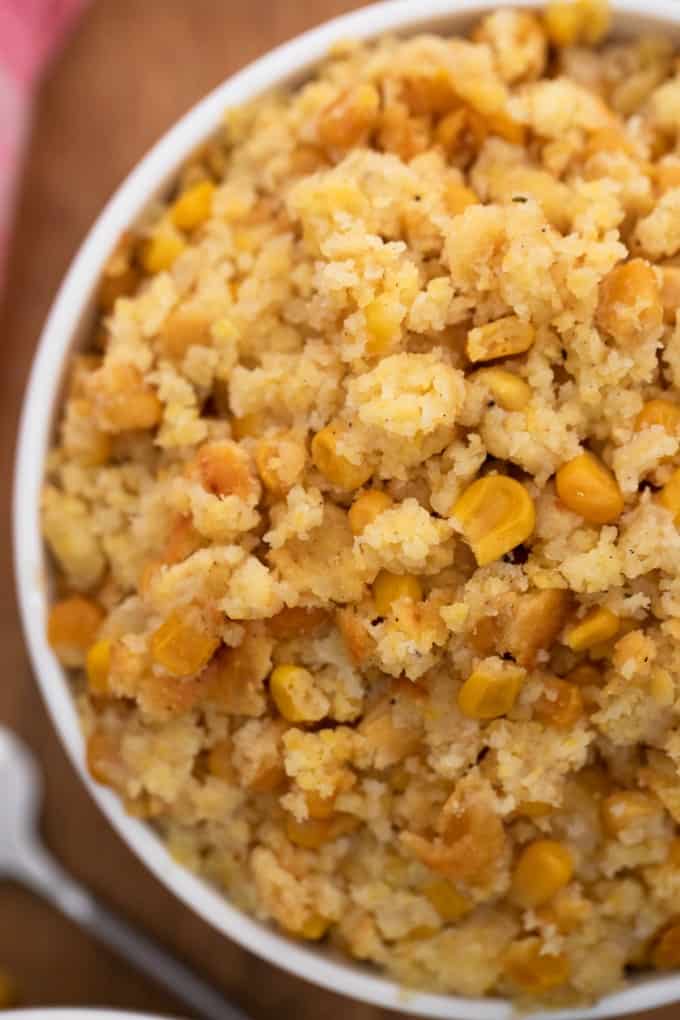 When we make cornbread we love to add in chopped jalapenos (removing the veins and seeds make it less spicy) and cheddar cheese.
You can add both of these to your cornbread casserole, which would amp it up just a bit, but it is so good just on its own, so you don't need to. Sometimes though, it is fun to play with a recipe and make it your own.
Here are a few other additions that I have not tried but would be nice to add also. Think of a combination of some of these that you might like.
Meats like bacon, cooked crumbled sausage, cubed ham, cooked crumbled prosciutto on top, cooked spicy shrimp, pepperoni, salami
Vegetables like green onions, red peppers, sweet onions
Canned green chilies
Fresh or frozen corn instead of canned
Herbs like dill, basil, oregano, thyme, poultry seasoning, chives, coriander
Spices like Cajun seasoning, chili powder, lots of black pepper, crushed red chili peppers, ancho chili peppers, smoked paprika, cumin
Honey, maple syrup, brown sugar
Cheeses, besides cheddar, try jalapeno jack, a sprinkle of cotija, Parmesan
Dried fruits like cranberries, apples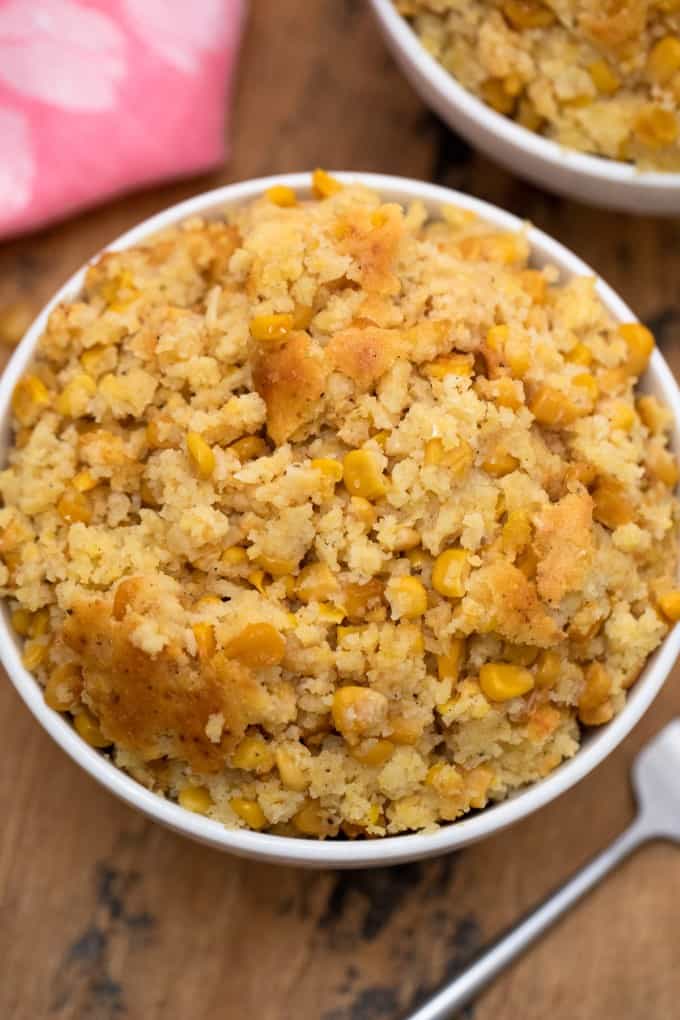 Other Thanksgiving or Holiday Favorites Side Dishes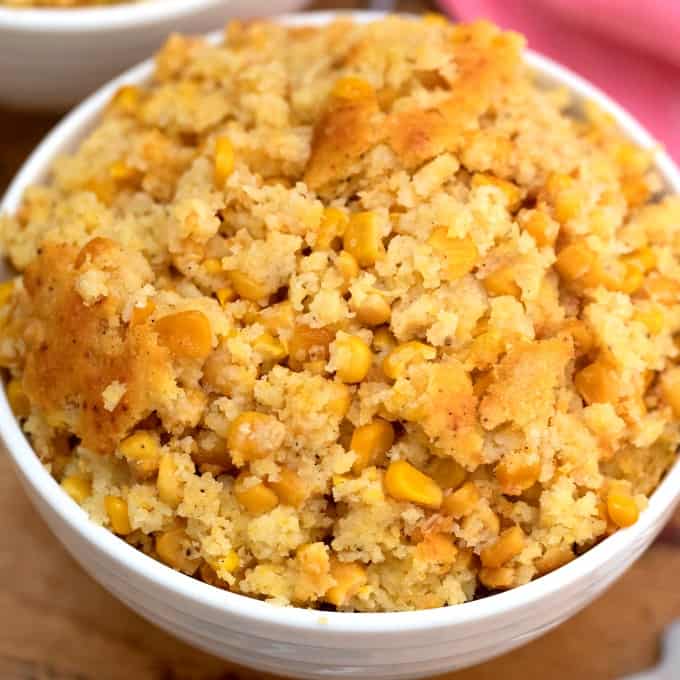 We love our side dishes for the holidays and here are some of our all time favorites.
I have given you a variety of potatoes to try, dinner rolls that can't be beaten, stuffing, gravy and vegetables. A virtual feast with that turkey, ham or roast beef.
Perfectly Fluffy Pumpkin Dinner Rolls
Make-Ahead Mashed Potato Recipe
Noland's Homemade Stuffing Recipe
Turkey Gravy – Simply The Best
Cranberry Apple Slow Cooker Carrots Recipe
Roasted Brussels Sprouts with Parmesan
Zesty Green Bean Casserole Recipe
*NEW PIN*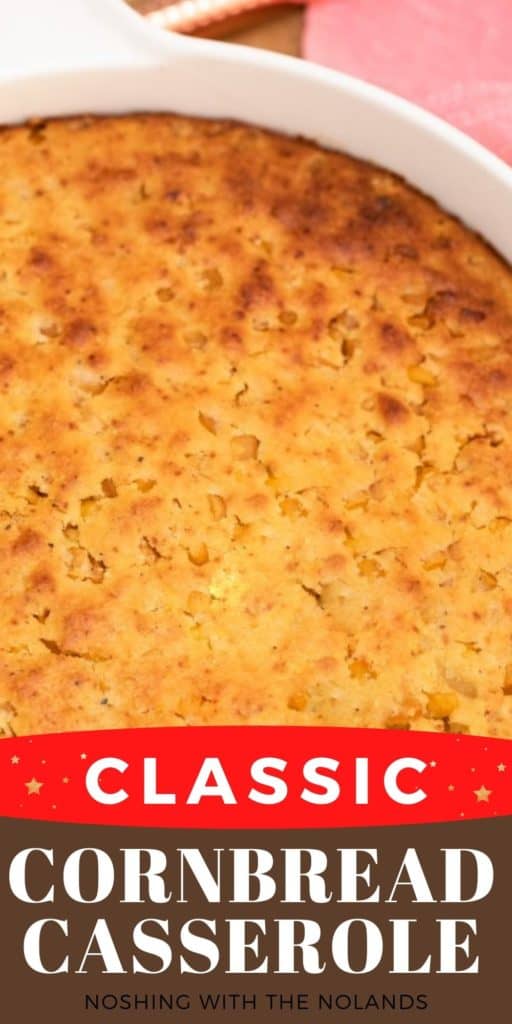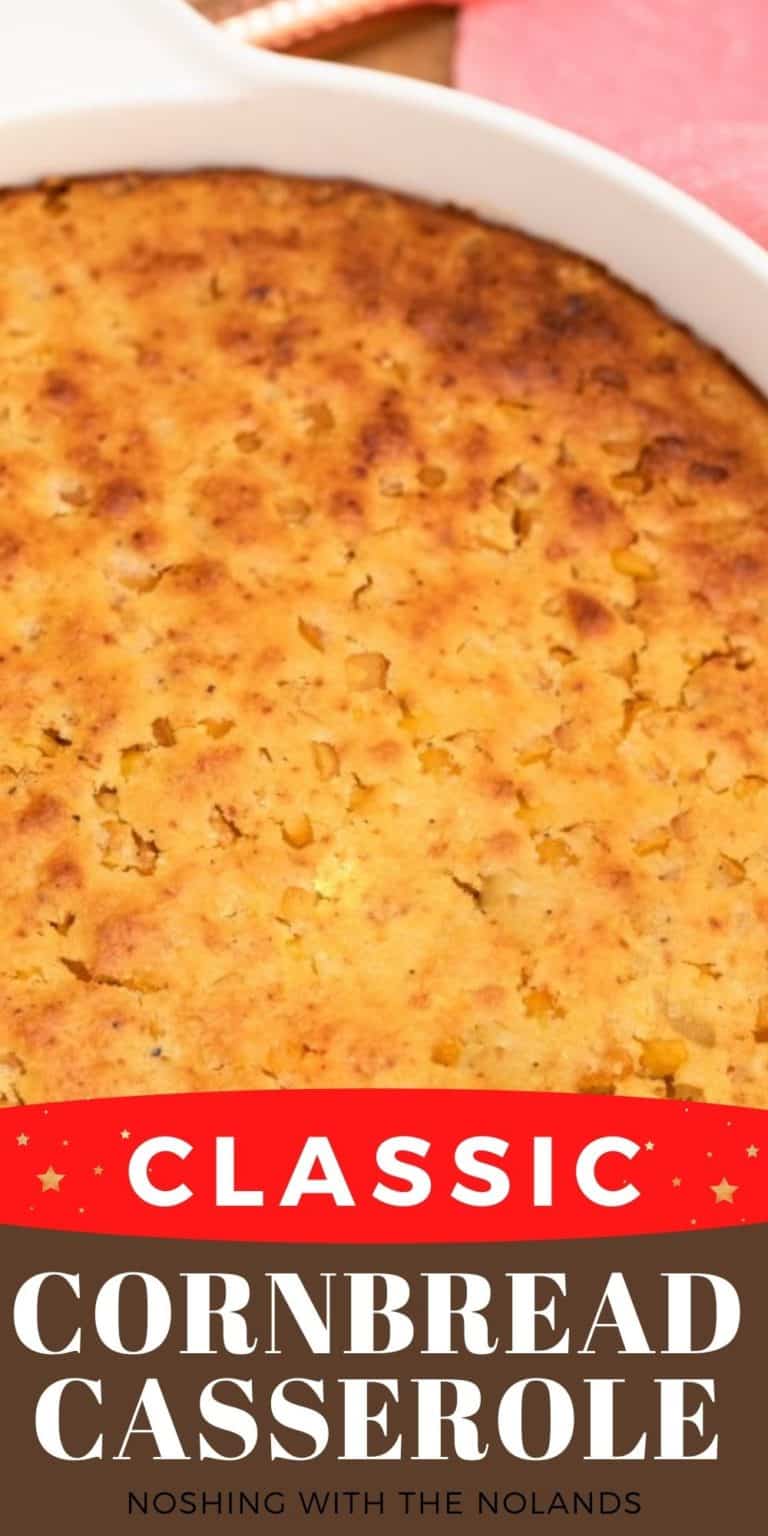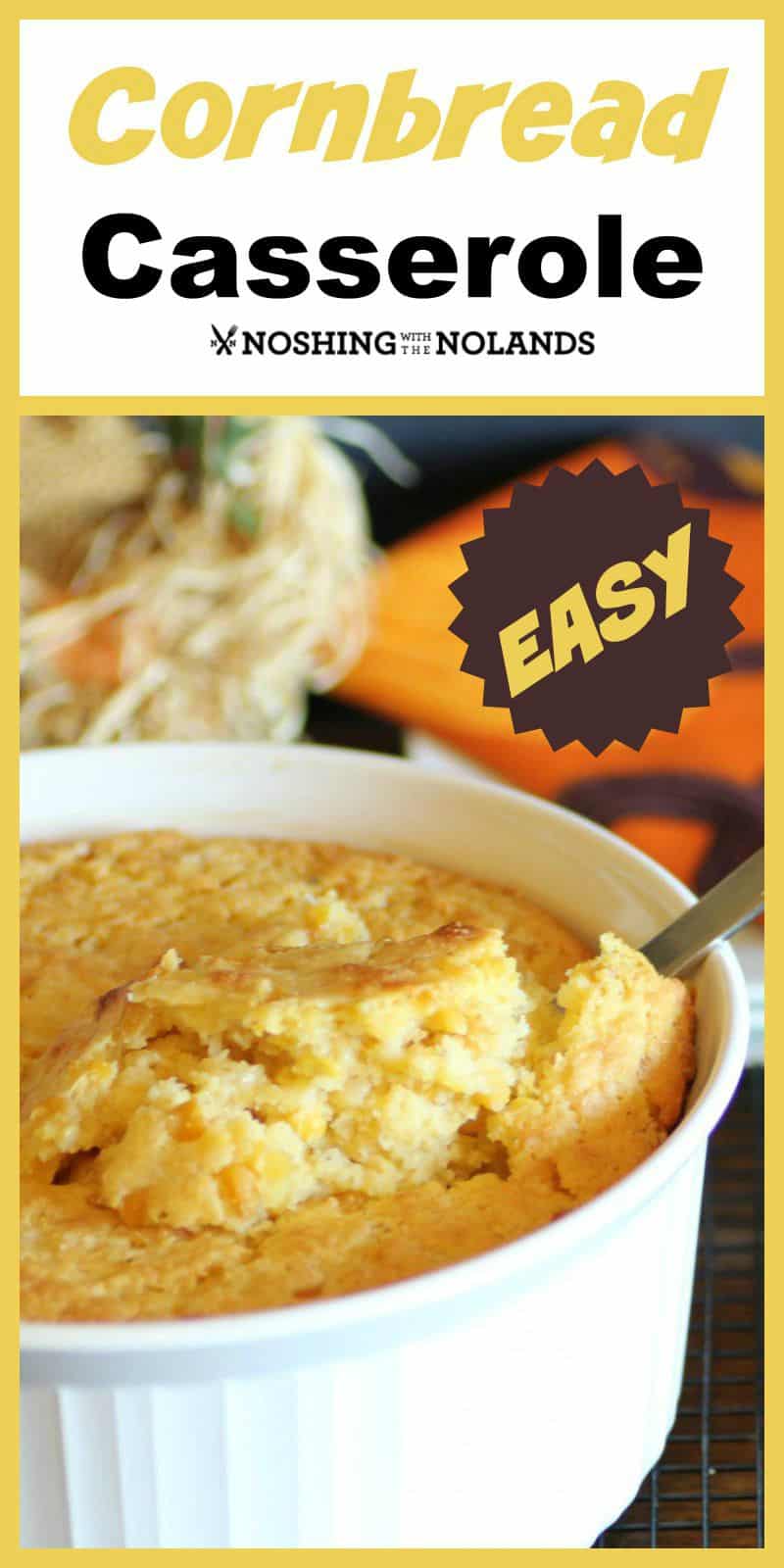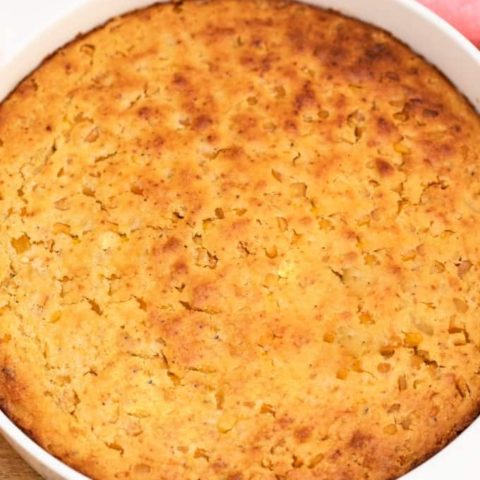 Cornbread Casserole
Yield: 10 Servings
Prep Time: 15 minutes
Cook Time: 1 hour 10 minutes
Total Time: 1 hour 25 minutes
This Cornbread Casserole is the perfect addition to any holiday table. With its sweet corn flavor, it goes great as a side dish with ham, turkey, chicken, and even roast beef. It is an easy make-ahead that is the perfect comfort food.
Ingredients
19 oz. can cream corn
19 oz. can whole kernel corn, drained
3/4 cup cornmeal
1 cup sour cream
1/4 cup melted butter
2 eggs, beaten
1 tsp. salt
pepper to taste
1 cup flour
3 tsp. baking powder
1/3 cup sugar
Butter for casserole
Instructions
Butter a 9" casserole. Mix cornmeal with sour cream and set aside in a small bowl. Mix all the dry ingredients together in a large bowl. Then add the rest of the ingredients, including the cornmeal mixture, and pour it into the greased casserole.
Bake 60-70 min. at 350F.
Nutrition Information:
Yield: 10
Serving Size: 1
Amount Per Serving:
Calories: 342
Total Fat: 15g
Saturated Fat: 7g
Trans Fat: 0g
Unsaturated Fat: 5g
Cholesterol: 73mg
Sodium: 655mg
Carbohydrates: 48g
Fiber: 3g
Sugar: 12g
Protein: 9g
Recipe calculation was provided by Nutritionix and is estimation only. If you need nutritional calculations for medical reasons, please use a source that you trust