Do you like a great homemade mashed potato but yours always end up rough, bumpy and dry? Try ours for the best Creamy Mashed Potatoes Recipe. This recipe you can even make ahead of time.
Well, maybe not like days like our Make-Ahead Mashed Potato Recipe. Our make-ahead mashed potatoes have both cream cheese and sour cream in them to keep them from drying out but you may not want that for an everyday mashed potato.
We also have a great recipe for a quick and easy mash with our Country Style Smashed Garlic Potatoes that uses whole Little potatoes which require no peeling or washing. All of these are great side dishes but I wanted really good creamy mashed potatoes. We sure love our spuds around here and so enjoy a Fluffy Crock Pot Baked Potato too.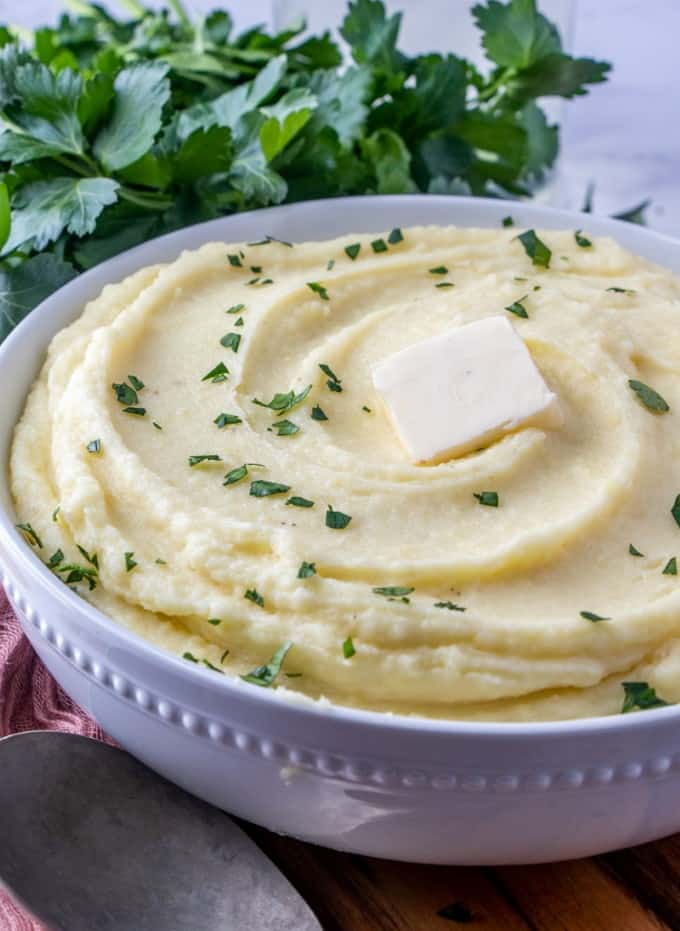 Helpful Items for This Recipe
This post contains affiliate links. As an Amazon Associate, I earn a small portion from qualifying purchases at no extra charge for you.
Is there anything better than perfectly creamy and velvety mashed potatoes? I think not. They are the perfect side to go with many, many dishes from a stew, to roast beef, chicken, turkey, seafood, lamb and vegetarian dishes.
So many of us love mashed potatoes with just about anything. So you want them to be really good when you decide to have them!
How to Make Mashed Potatoes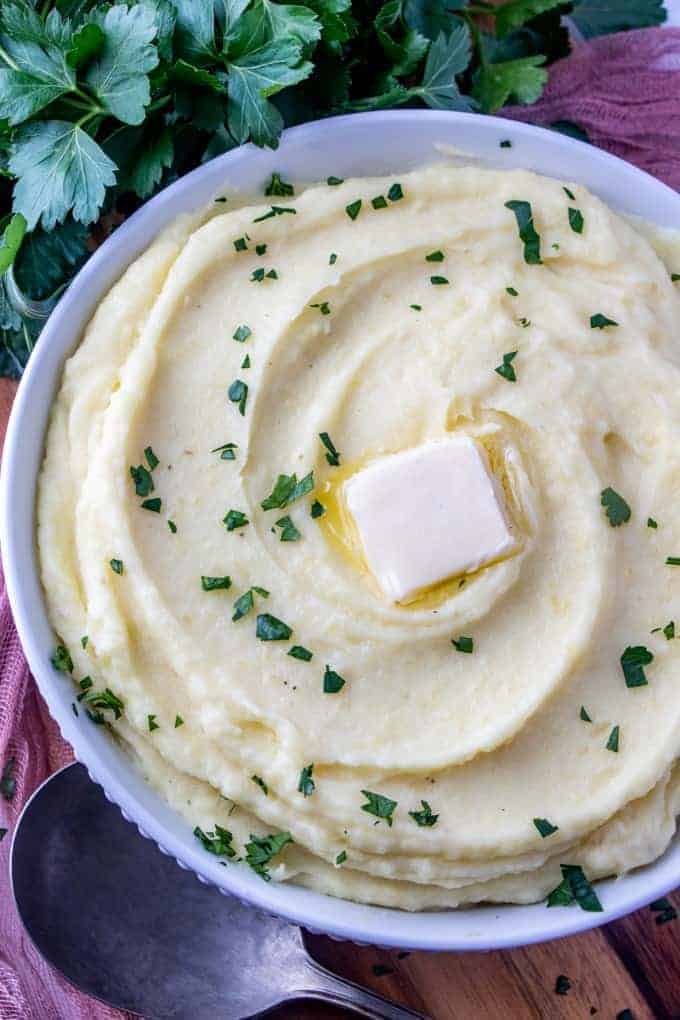 Sure you can whip up mashed potatoes in no time and hammer away on them with a potato masher and get something that passes as a mashed potato but don't you want to move the game up from that?
You know the potatoes you get at a restaurant and you say wow, how do they get them to be so amazing? Let me show you how!
To start with use good quality potatoes like Yukon gold potatoes or Russet potatoes! Peel and cut into chunks. Add to a large pot of salted water and cover. Bring to a boil and cook until very, very tender.
Meanwhile, in a small saucepan warm the cream and add the butter over medium heat until the butter melts.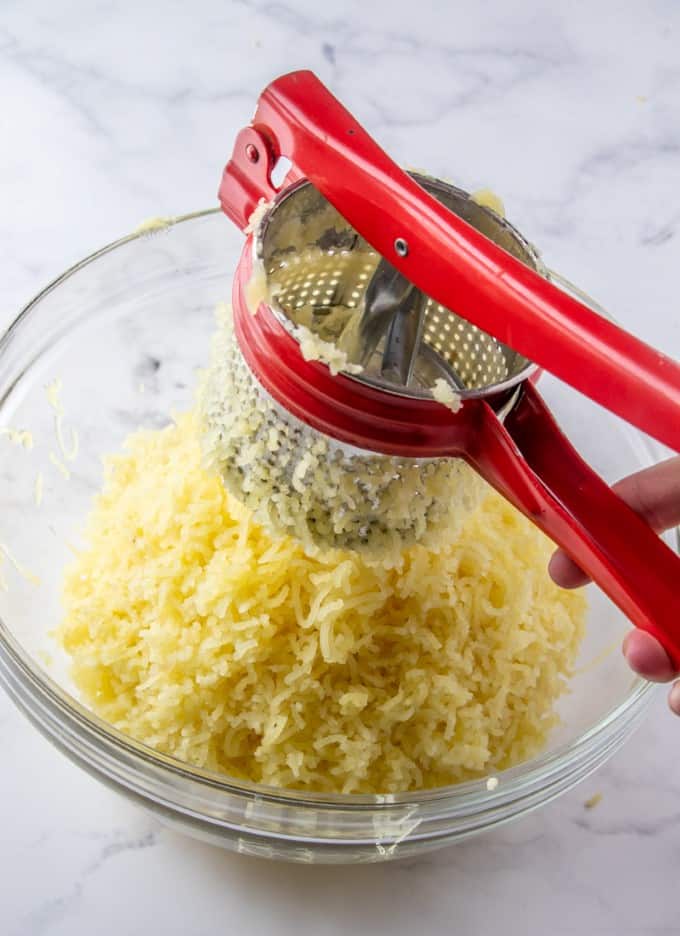 A crucial step so that your potatoes don't have lumps is using a potato ricer. To achieve velvety, clump-free mashed potatoes, most experts recommend using a ricer.
Forcing a potato through a ricer's small holes creates pieces of potatoes that resemble rice (hence the name). While this is getting rid of the clumps it is also incorporating air into the potatoes which makes them light and fluffy.
Next, you take your fluffy riced potatoes and add in the warm cream and butter mixture. Stir until the potatoes absorb the cream mixture.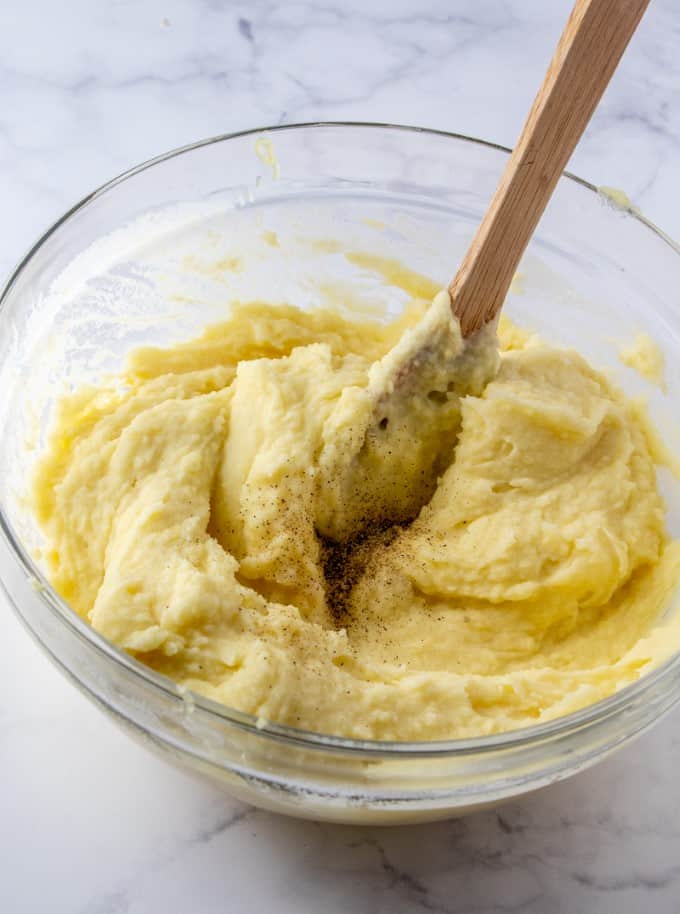 Add in seasonings like salt, pepper and then 1/4 cup olive oil. You may want to reheat them slightly now before serving in the microwave if you like them piping hot. Then serve with a pat of butter and garnish with parsley or chives.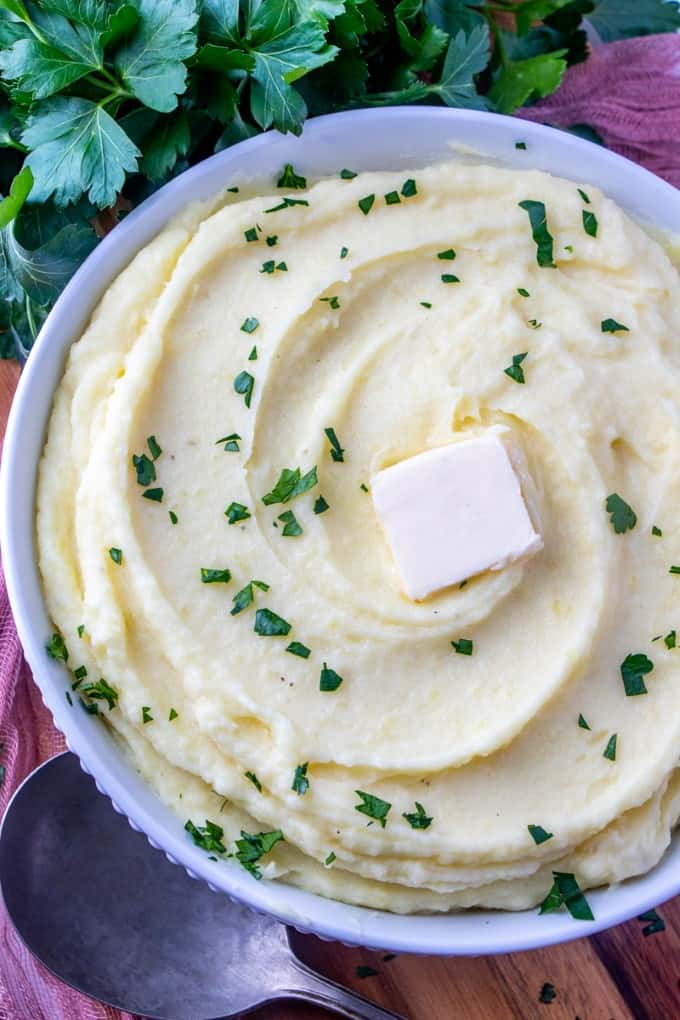 Pretty simple but just one added step that will make the world of difference to your mashed potato recipe. Your family and friends will be asking why have you not made potatoes like this before?
Can You Make Mashed Potatoes Ahead of Time and Reheat?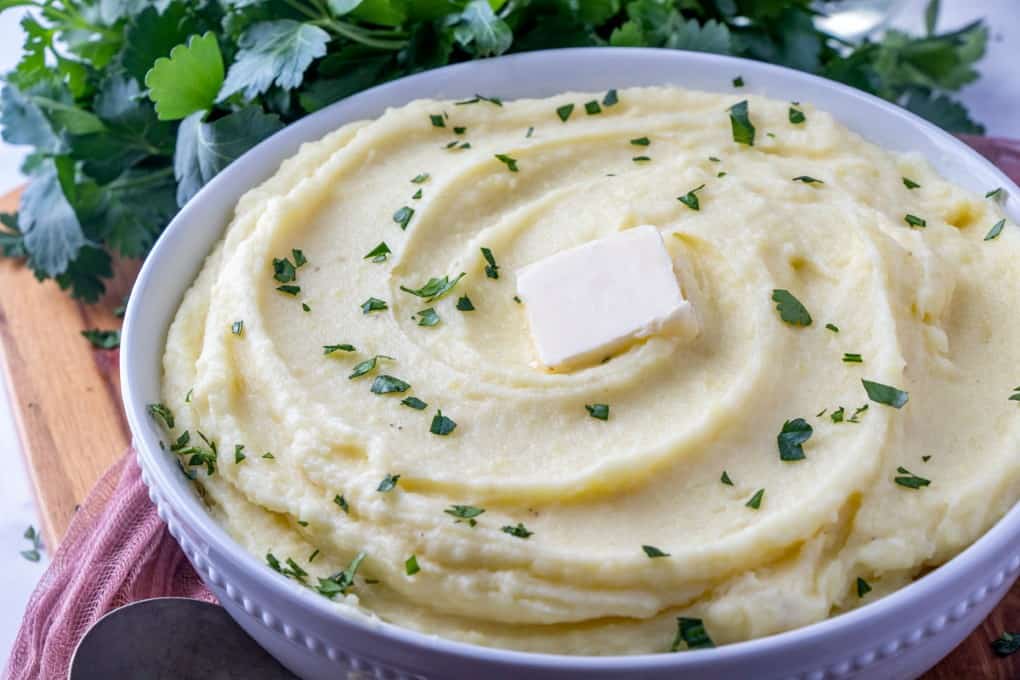 The answer is absolutely you can make mashed potatoes ahead of time. This is one of the easiest sides to have done in the morning or afternoon and then microwave to reheat to get them piping hot.
We left out the olive oil until we wanted to reheat them. This left them still nice and creamy.
This leaves you to other dishes that need last-minute attention and frees you up from standing at the stove mashing while people are waiting on their meals. I love doing dishes ahead of time so that I spend more time with family and friends and less time preparing in the kitchen.
Can You Freeze Mashed Potatoes?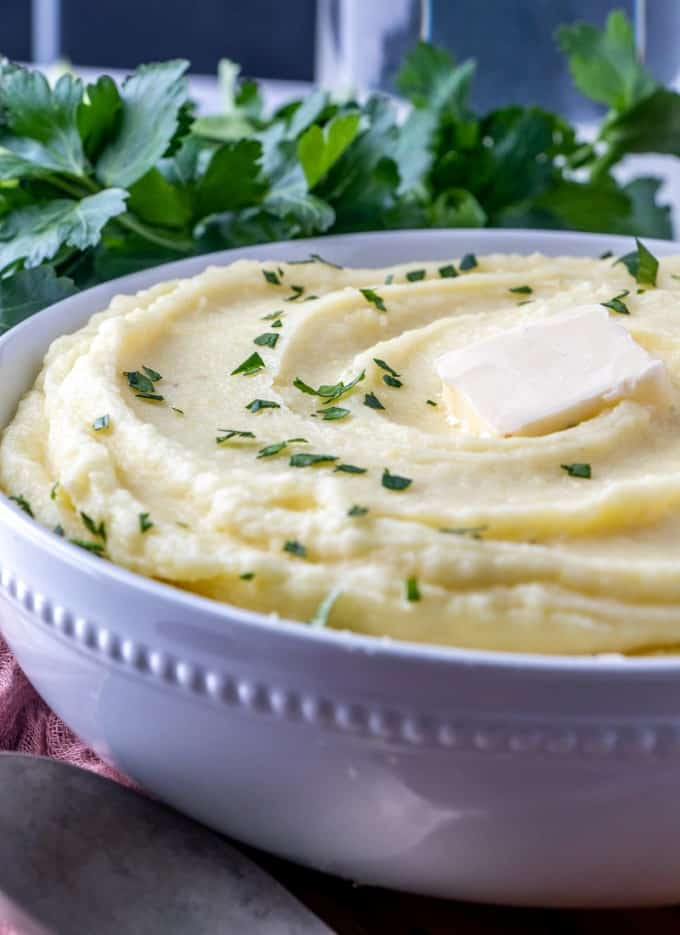 Yes you can, we have successfully frozen our Make-Ahead Mashed Potatoes for company many times and they turn out wonderful. Just take the casserole out of the freezer a couple of days ahead of time to thaw.
Then heat them in the oven with other casseroles for 40-50 min. or until heated through. This works great for holiday entertaining when you have multiple casseroles to make among other items. These can be made weeks or even a month ahead of time.
What To Do With Leftover Mashed Potatoes?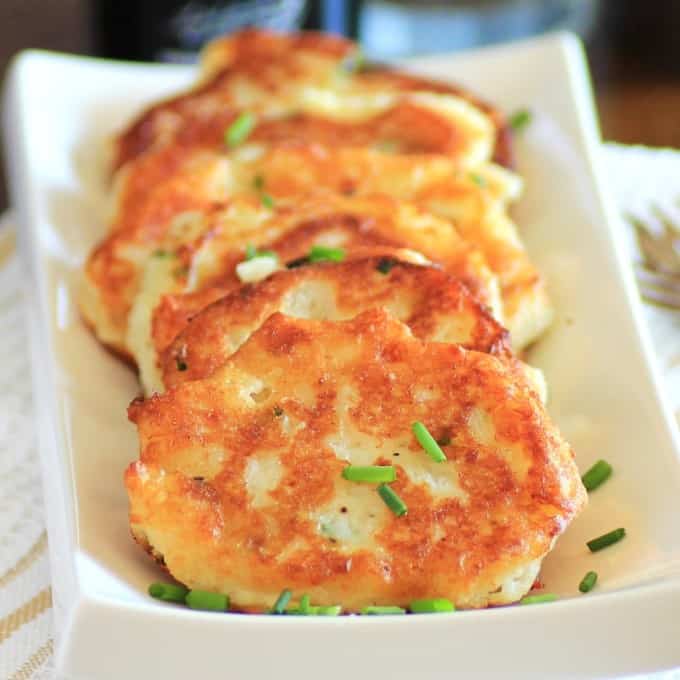 My ultimate favorites are my grandmother's Irish recipes like these Potato Pancakes or her Potato Scones. This is a good reason on its own to make not only really good mashed potatoes but extra!!
The crispiness on the outside of the potatoes is amazing with the creamy texture on the inside. A real treat but don't make potatoes right away for these recipes.
They work best when the potatoes are dried out a bit and really cold like when they are a day or two old. My grandmother would always, always make extra potatoes so she could make either of these recipes.
I have very fond memories of coming home from school to find just hot out of the pan Potato Scones. Simply wonderful!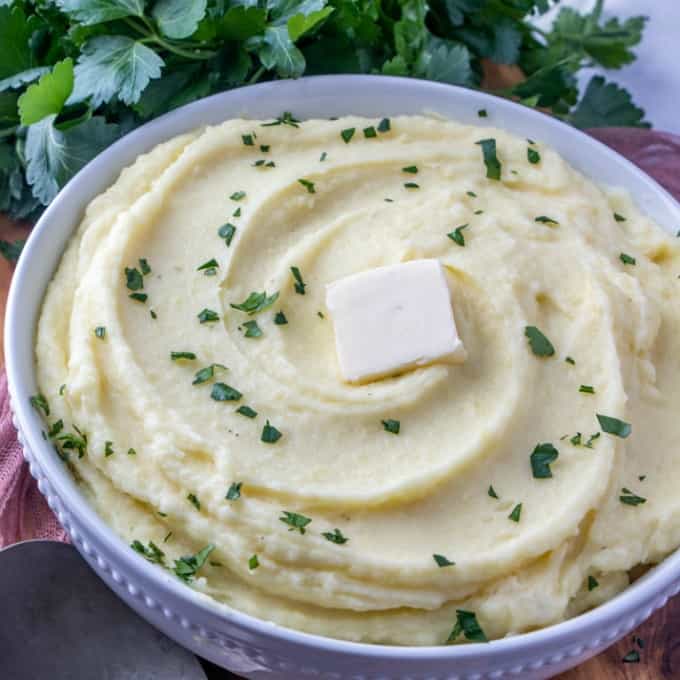 How do you like to make your mashed potatoes? Have you ever used a slow cooker or an instant pot? Those are two appliances I have never used to make mashed potatoes.
Pin it HERE!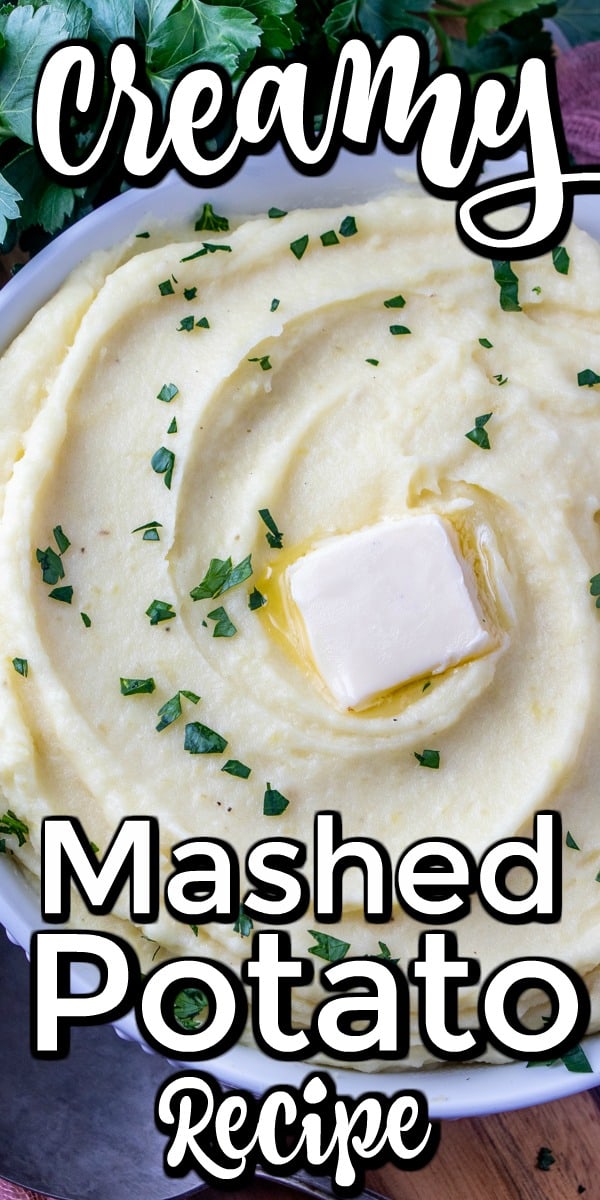 Pin it HERE!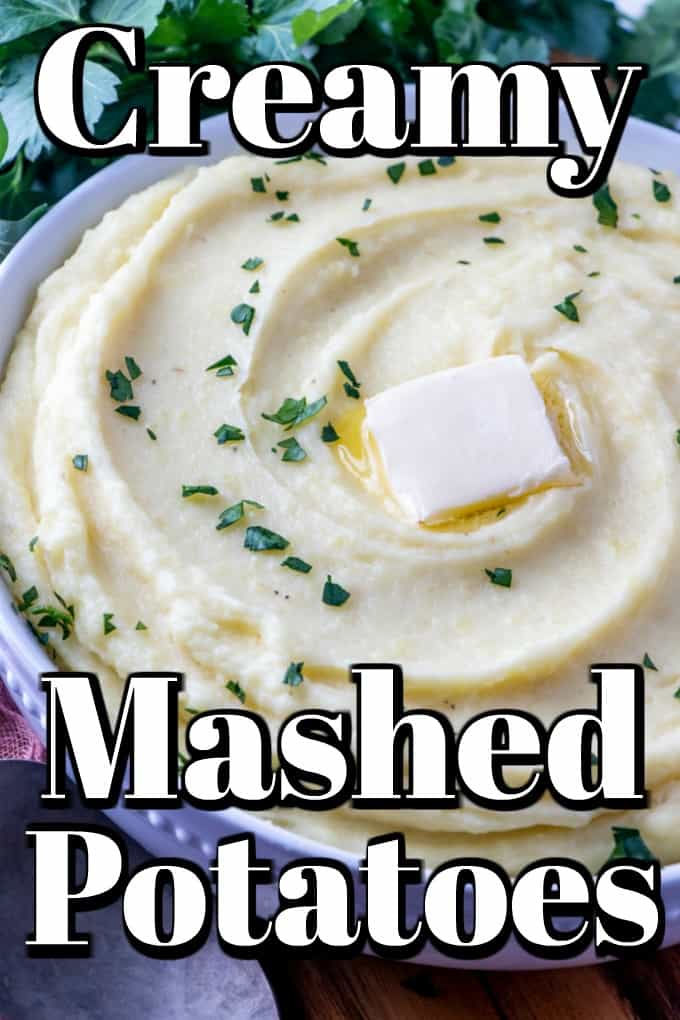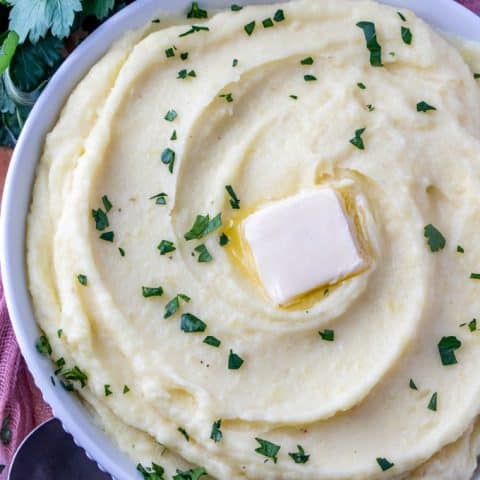 Creamy Mashed Potatoes Recipe
Yield: 6 to 8 servings
Prep Time: 15 minutes
Cook Time: 25 minutes
Total Time: 40 minutes
Ingredients
5 (3 1/2 lbs.) large Yukon Gold potatoes, peeled and large diced
1 cup coffee cream (10%)
6 Tbsp. butter, salted
Kosher salt
Freshly ground pepper
1/4 cup olive oil
Chopped fresh flat-leaf parsley or chives
Instructions
Add the potatoes to a large pot of salted water. Bring to a boil and reduce to a simmer. Cook for 15 to 20 minutes or until the potatoes are very, very tender.
Meanwhile, in a small saucepan warm the cream and add the butter over medium heat until the butter melts.
Drain and then press the potatoes through a potato ricer into a large mixing bowl. Stir in the warmed cream and butter and mix until smooth and absorbed.
Season with salt and pepper, then add in the olive oil and stir well.
Garnish with a dab of butter and then chives or flat-leafed parsley and serve.
Notes
If making ahead of time, like in the morning or afternoon before serving then make up to the point of adding in the olive oil. Refrigerate covered. Reheat in the microwave, add in the olive oil, garnish with a dab of butter and then chives or flat-leafed parsley and serve.
Recommended Products
As an Amazon Associate and member of other affiliate programs, I earn from qualifying purchases.
Nutrition Information:
Yield: 8
Serving Size: 1
Amount Per Serving:
Calories: 229
Total Fat: 21g
Saturated Fat: 9g
Trans Fat: 1g
Unsaturated Fat: 10g
Cholesterol: 41mg
Sodium: 167mg
Carbohydrates: 9g
Fiber: 1g
Sugar: 2g
Protein: 2g
Recipe calculation was provided by Nutritionix and is an estimation only. If you need nutritional calculations for medical reasons, please use a source that you trust.