This Herb Crusted Grilled Leg of Lamb recipe is a show stopper! The lamb is coated in a herb crust and then slowly cooked on the BBQ using an indirect method giving you mouth-watering results every time.
I am working with Ontario Lamb today to bring you this amazing Herb Crusted Grilled Leg of Lamb. I love lamb and always have, just like my daughter. My husband, though, has grown to love it with amazing dishes like this one. This recipe will have everyone loving lamb as it is not gamey at all but nice and mild and full of wonderful flavor from the marinade. Try pairing this lamb with our gorgeous and Easy Moroccan Couscous.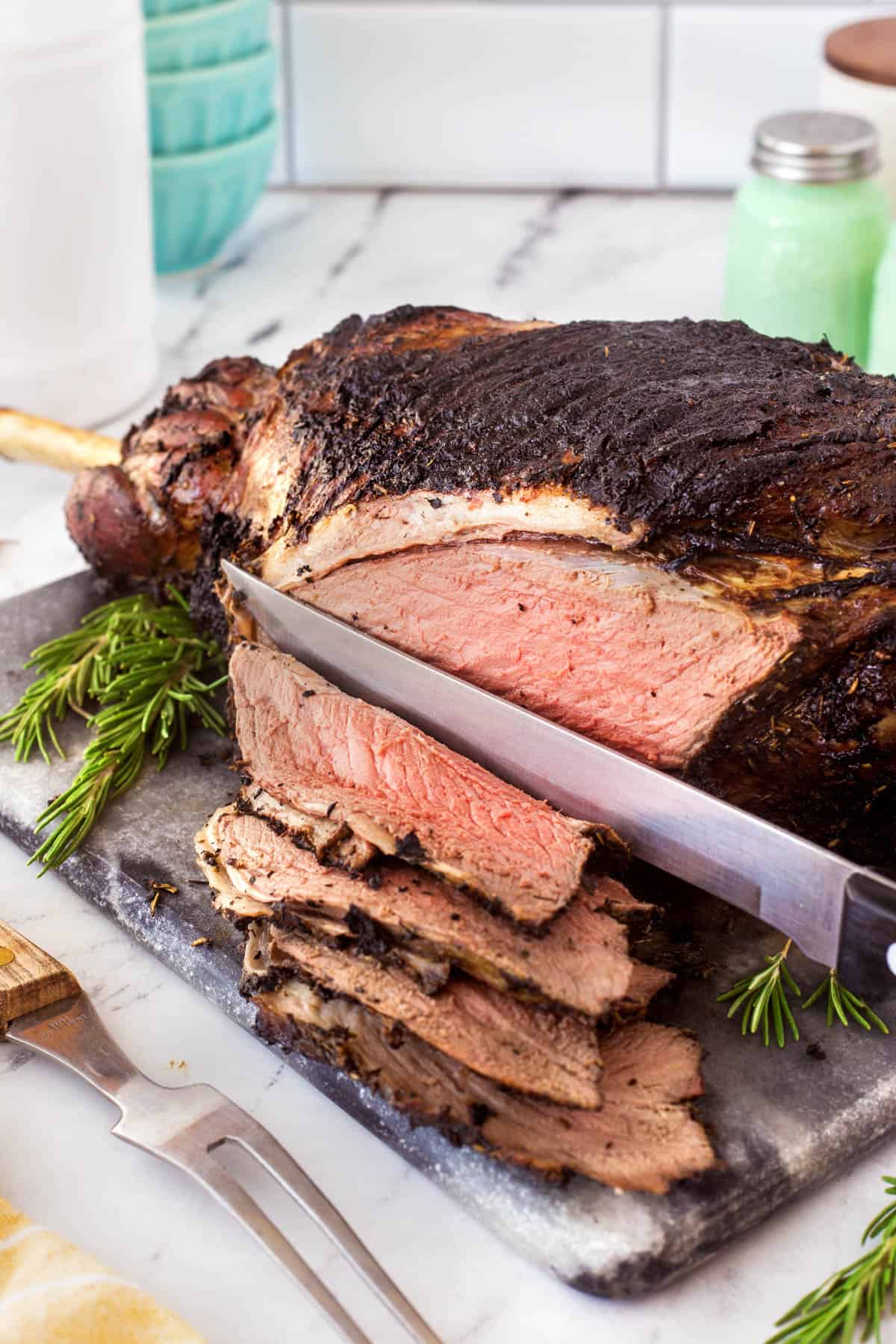 Here are a couple more lamb recipes that you need to try! These Grilled Lamb Chops are super tender and juicy, and this Smoked Rack of Lamb recipe is simply superlative! And for a full-out Greek feast, try our Slow Roasted Boneless Leg of Lamb.
Disclaimer: I have been compensated monetarily for this post sponsored by the Ontario Sheep Marketing Agency. All opinions, though, are my own.
Lamb is a great source of protein, minerals, and essential vitamins. Serving this up to your family, you know they will be getting all this wonderful nutrition in a gorgeous meal fit for the finest of Sunday suppers. Both the marinade and herb crust have easily accessible ingredients, most you may have on hand.
Helpful Items For This Recipe
This post contains affiliate links. As an Amazon Associate, I earn a small portion from qualifying purchases at no extra charge to you.
Carving Knife, Classic 2-Piece Set
What Goes Into Making a BBQ Leg of Lamb?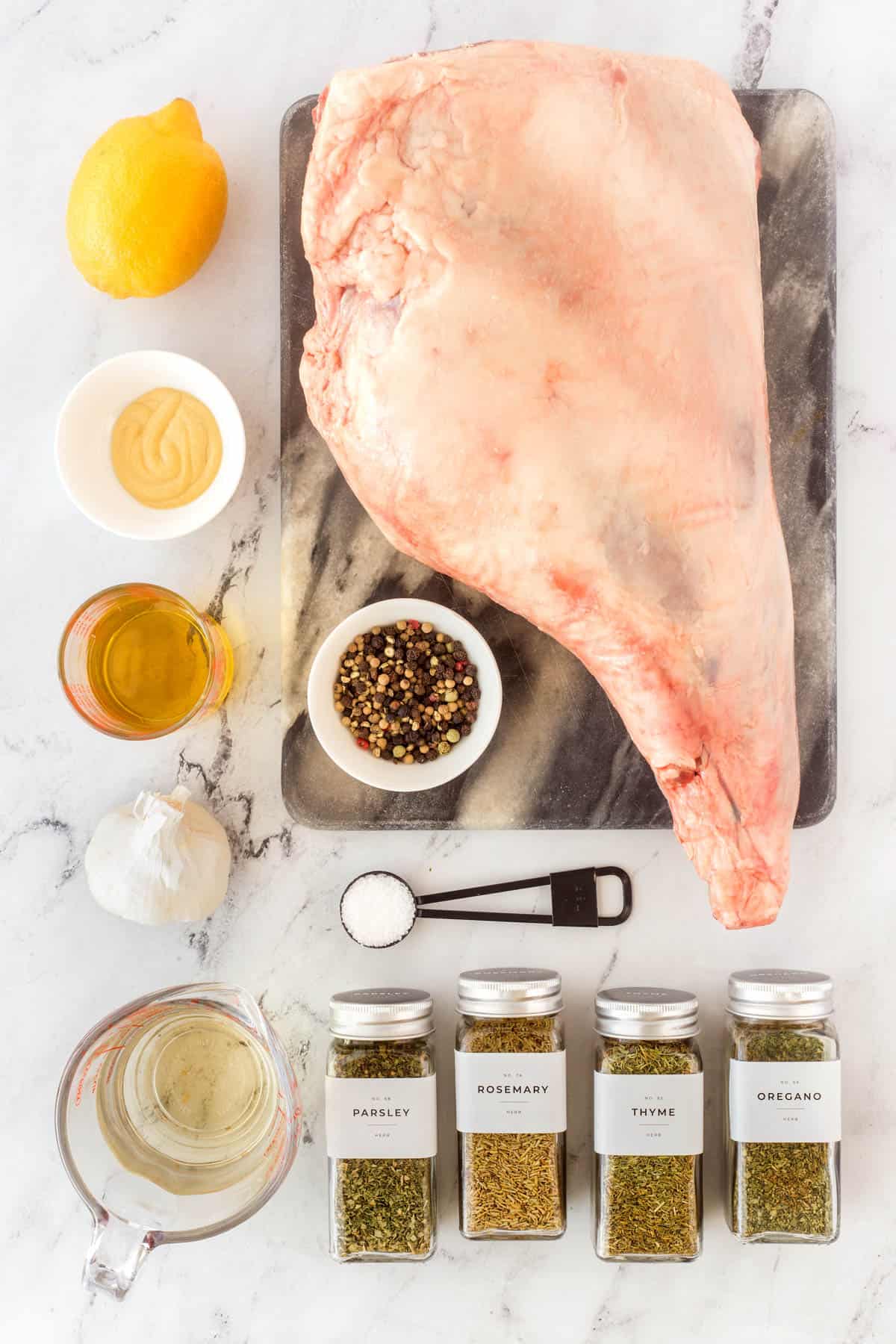 Ontario Lamb is produced locally by almost 4,000 committed farmers to give you a fresh and quality product, something you will be proud to serve.
This recipe is packed with flavor from herbs like fresh rosemary, oregano, and thyme. You can get amazing flavors equally from a gas grill or a charcoal grill, whatever your preference.
Ingredients
Olive oil
White wine
Garlic
Oregano
Rosemary
Thyme
Kosher salt
Lemon
Whole peppercorns
Bone-in leg of lamb
Parsley
Dijon mustard
For a big leg of lamb like this, you get well done to medium or medium-rare as you slice into the leg. With the delicious herb crust on the outside, everyone gets a little of that. Served up with any sides you like, this lamb is an exquisite meal to be enjoyed by family and friends.
How to Grill a Leg of Lamb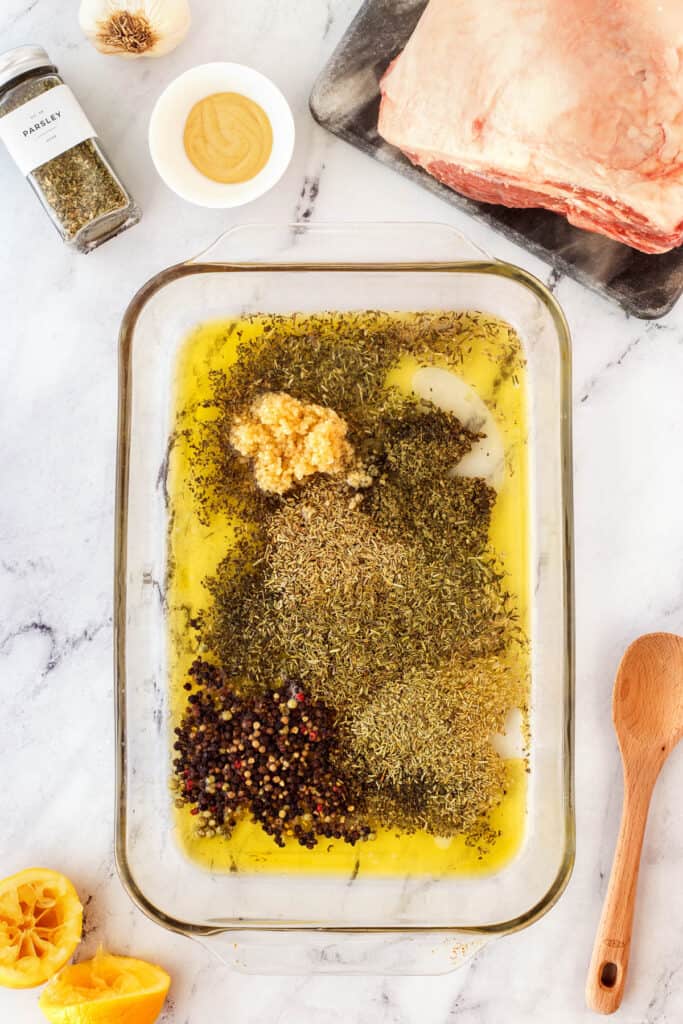 The first step in the process is to make the marinade for your leg of lamb. Add the olive oil, white wine, garlic, oregano, rosemary, thyme, kosher salt, juice of a lemon, and whole peppercorns to a large dish or extra large storage bag.
Stir to make sure that all the ingredients are combined. Lay the lamb in the dish or place it in the bag and turn to coat all sides. Cover with plastic wrap and marinate in the refrigerator for 12 – 24 hours. Make sure you turn the lamb occasionally while it is marinating.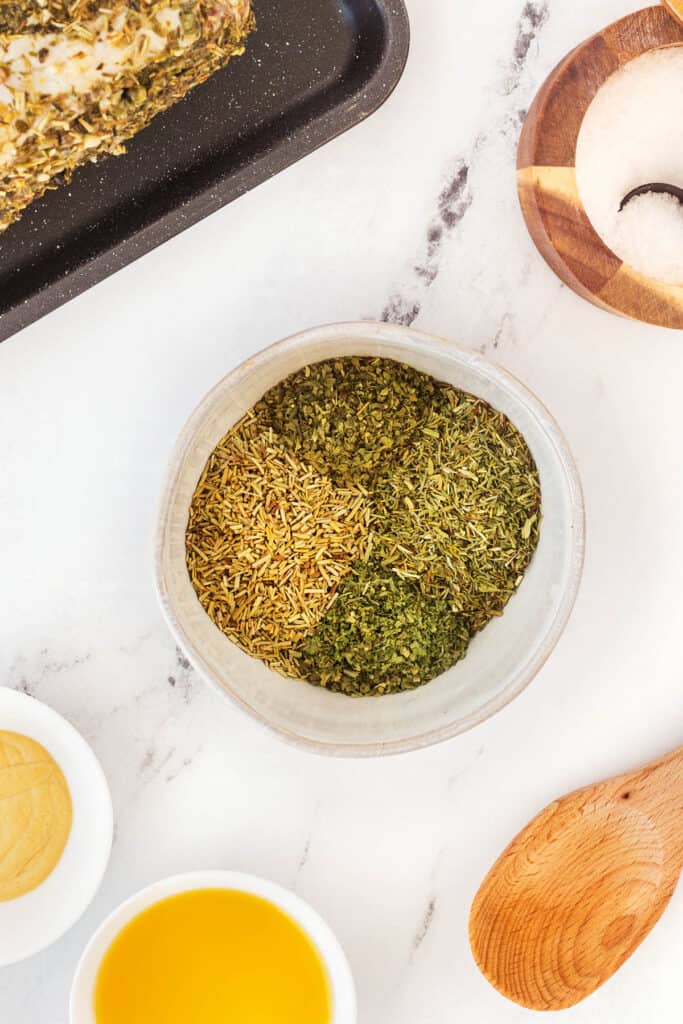 After the lamb has marinated, it's time to make the herb rub. Mix the oregano, rosemary, thyme, parsley, minced garlic, Dijon mustard, olive oil, and Kosher salt in a small bowl. Stir the herb mixture until you have a paste.
Using a paper towel, lightly dry the lamb. Rub the herb paste all over the lamb, covering both sides of the roast.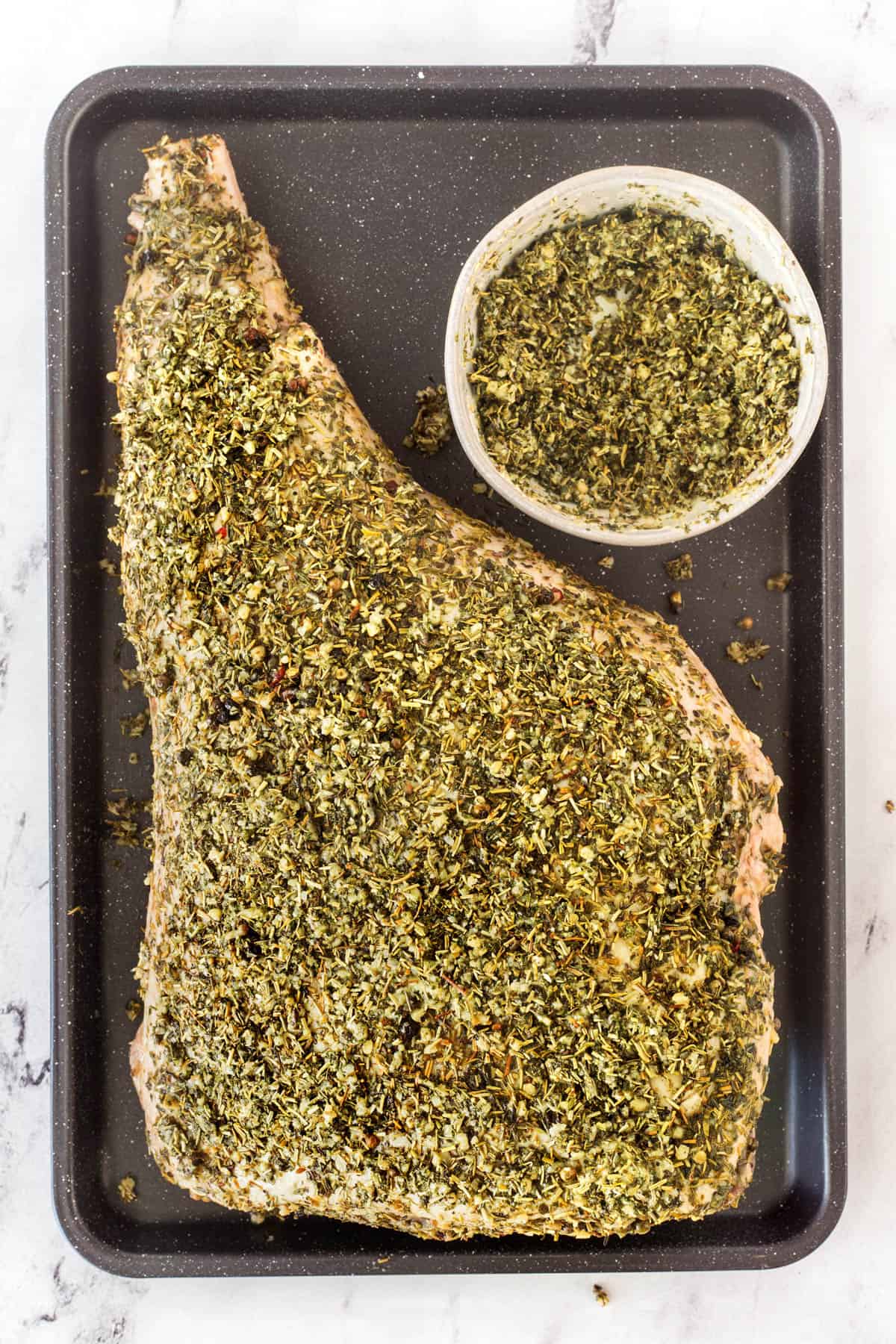 Make sure you allow time for your lamb to come up to room temperature. This will significantly reduce cooking time and give you a better outcome.
Set up your grill for indirect cooking. You want one side of your grill to be hot and the other side of the grill to not have any heat under it.
How Long to Grill a Leg of Lamb
Place the leg of lamb on the hot side of the grill over the direct heat. Sear on all sides; you want the outside to be nicely charred, giving you an altogether marvelous flavor. Then move the lamb over to the cool side of the grill and cook with the lid closed using indirect heat for 1 1/4 to 1 3/4 hours.
What temperature do you cook lamb on a gas grill? You want to BBQ the lamb until the internal temperature reaches about 140 degrees F. in the thickest part, using an instant-read thermometer.
Thermapen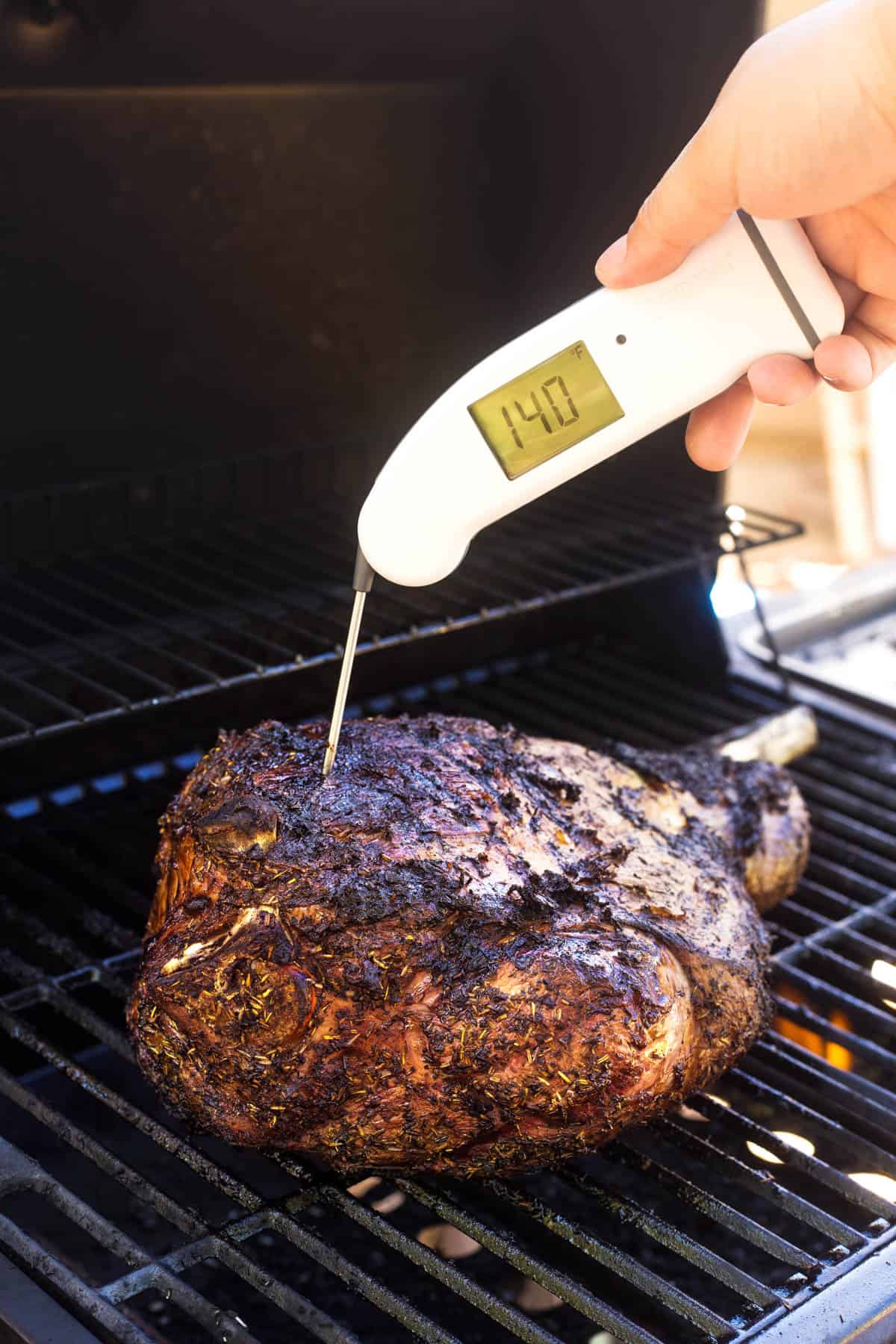 How do you check to see if it is done perfectly? Undeniably, I use my easy-read Thermapen; it gives you a very accurate instant temperature. Cook to 140F and then let rest for 15 min.
This post contains affiliate links. As a Thermoworks Affiliate, I earn a small portion from qualifying purchases at no extra charge to you.
Time to Serve The Lamb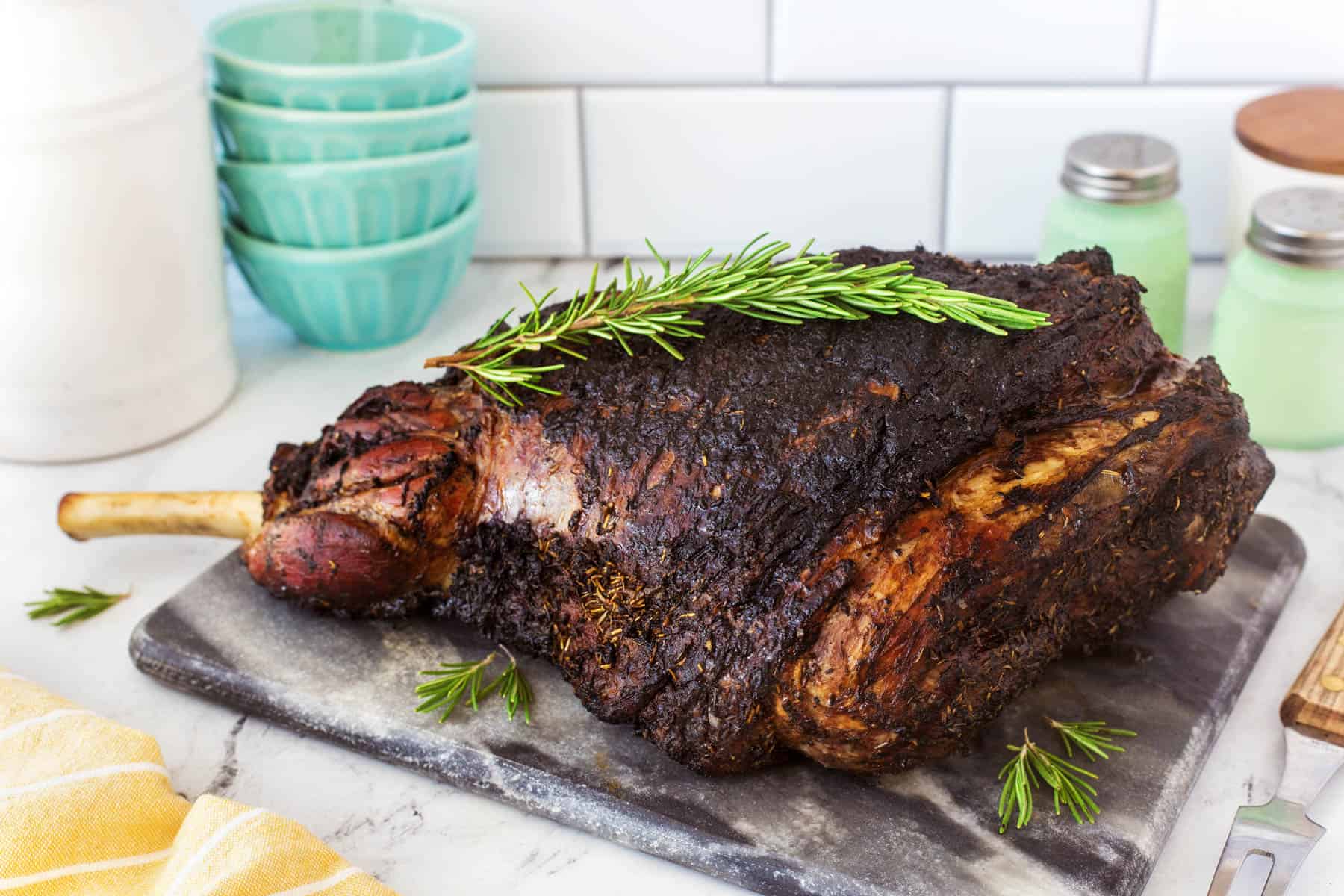 Once you remove the lamb from the grill, you need to let it rest for at least 15 minutes before you start slicing into it. Therefore this time resting allows the juices to be reabsorbed into the meat.
If you start slicing the lamb as soon as it comes off the BBQ, you will lose much of the juices in the roast, resulting in a dry leg of lamb.
Lastly, once it is rested, now it is time to start slicing your lamb. Your leg of lamb should be medium-rare to medium, just, and pink in color. I like to slice the lamb fairly thin; I find it is easier to eat than a thick slice of lamb.
Look at how juicy, tender and delicious this cooked lamb looks. The lamb is first grilled directly to get that awesome charred crust, then slowly roasted on indirect heating until cooked to desired doneness.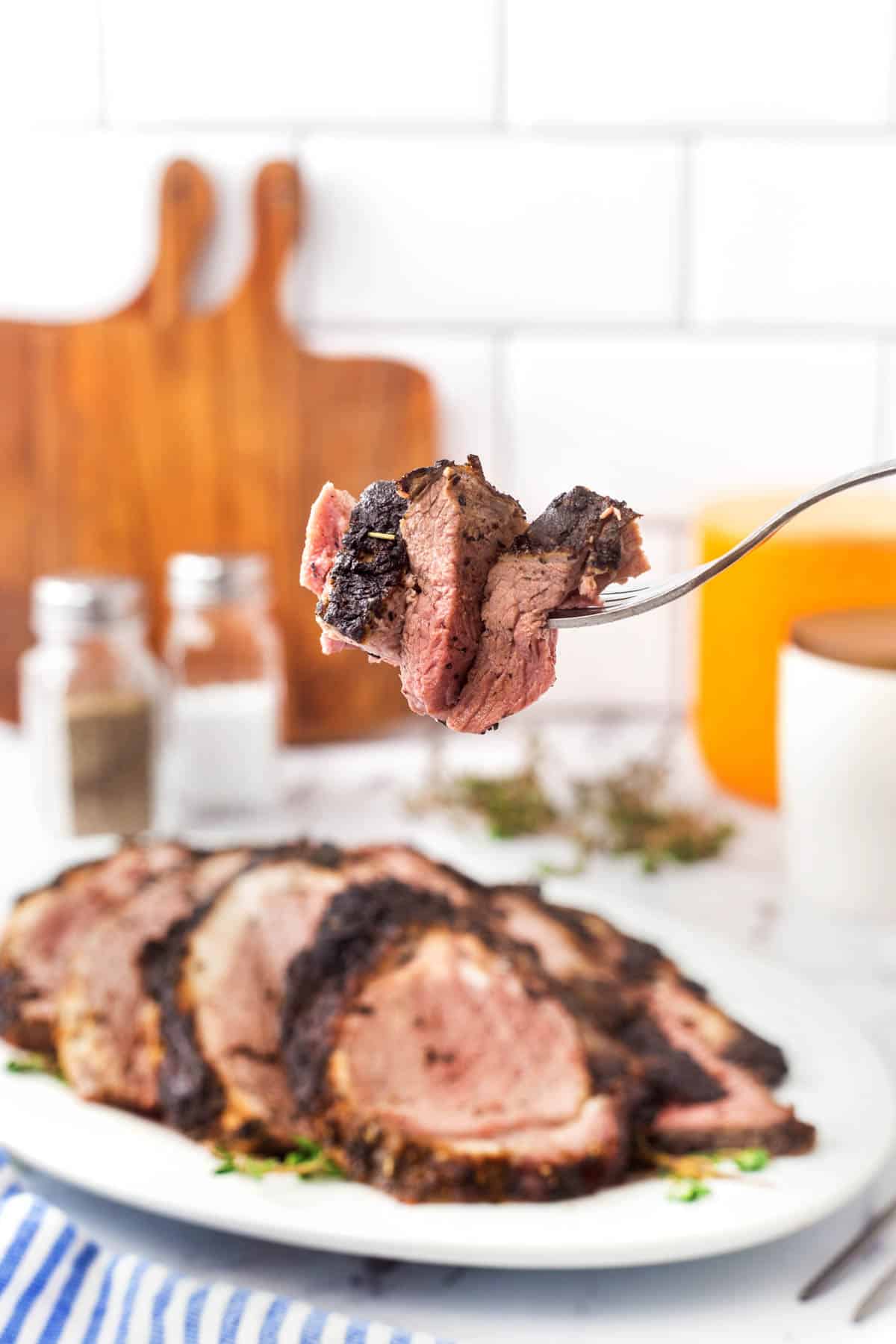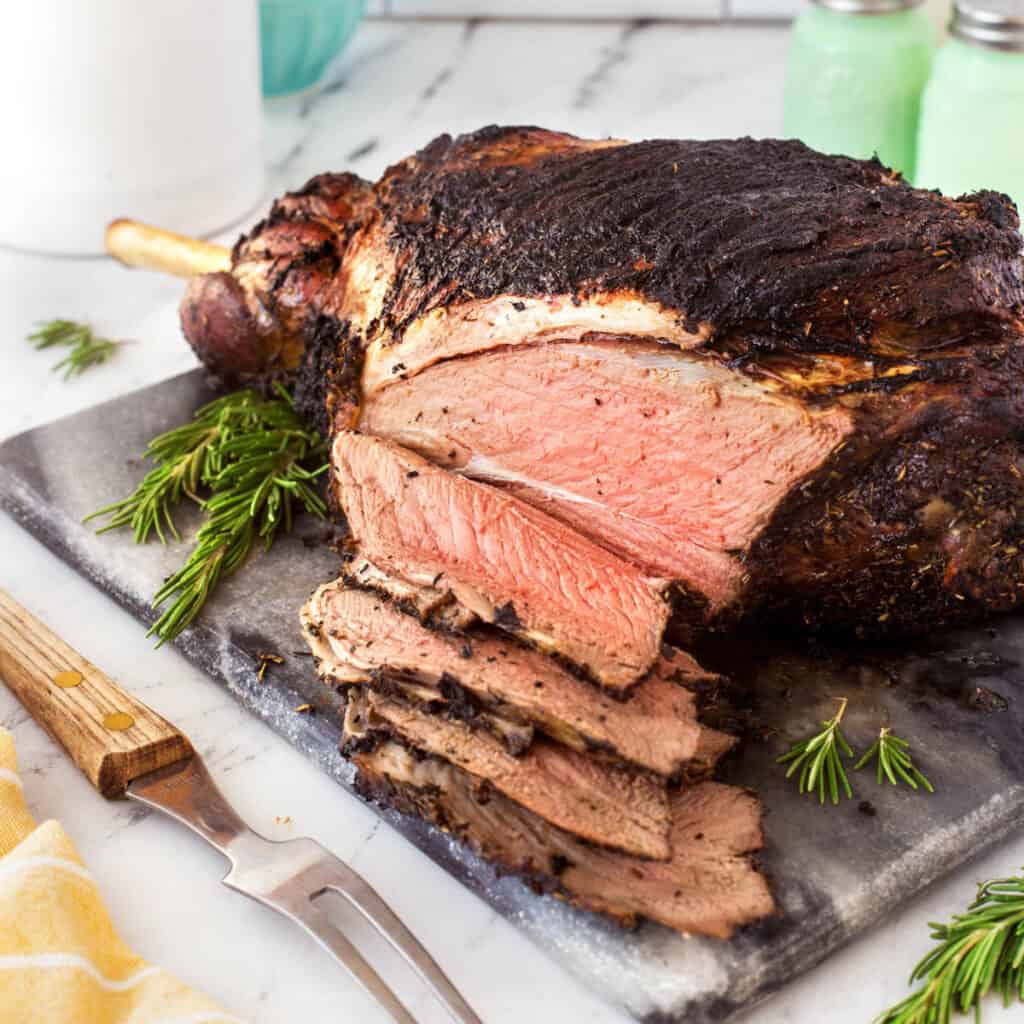 Pin it HERE!!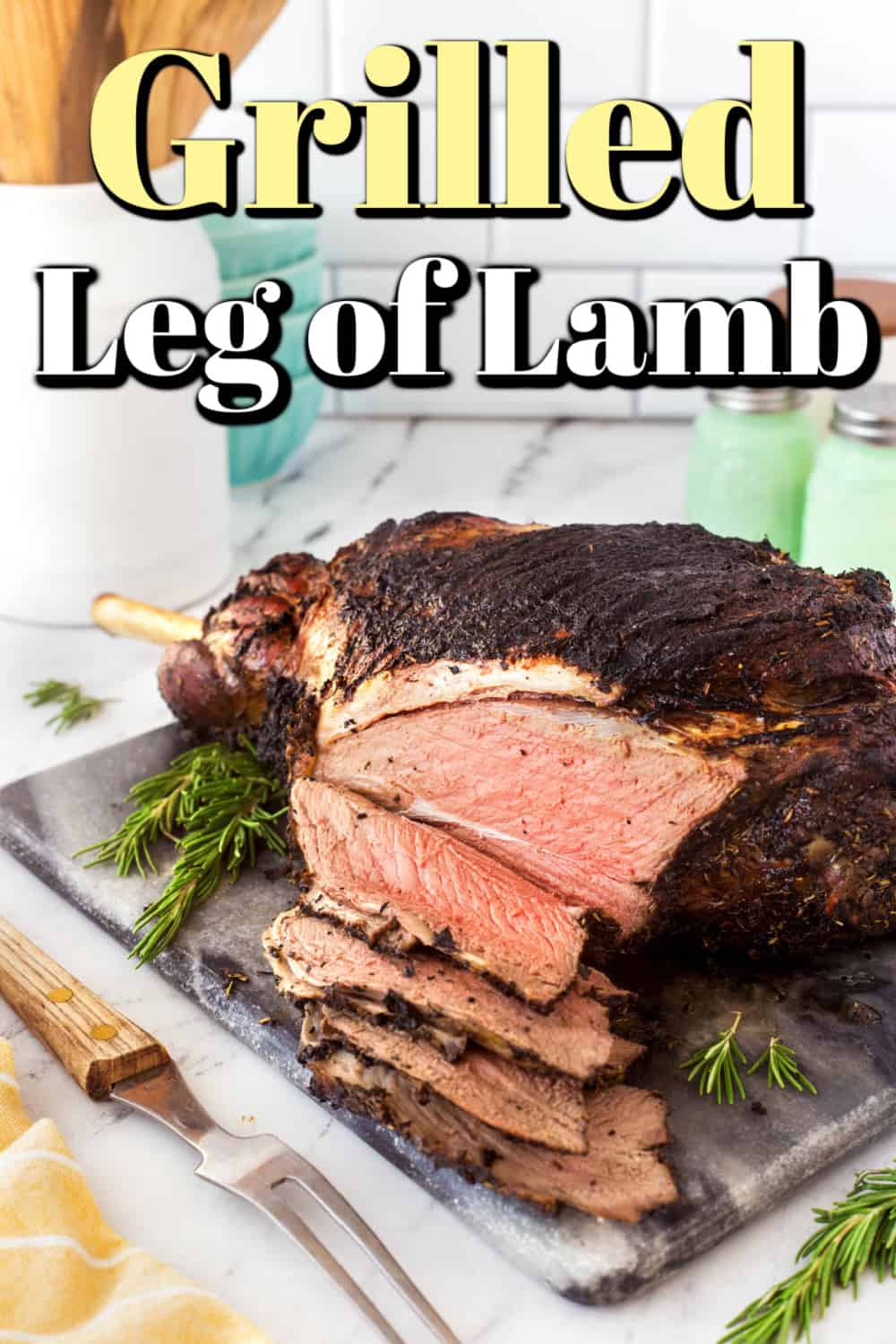 Pin it HERE!!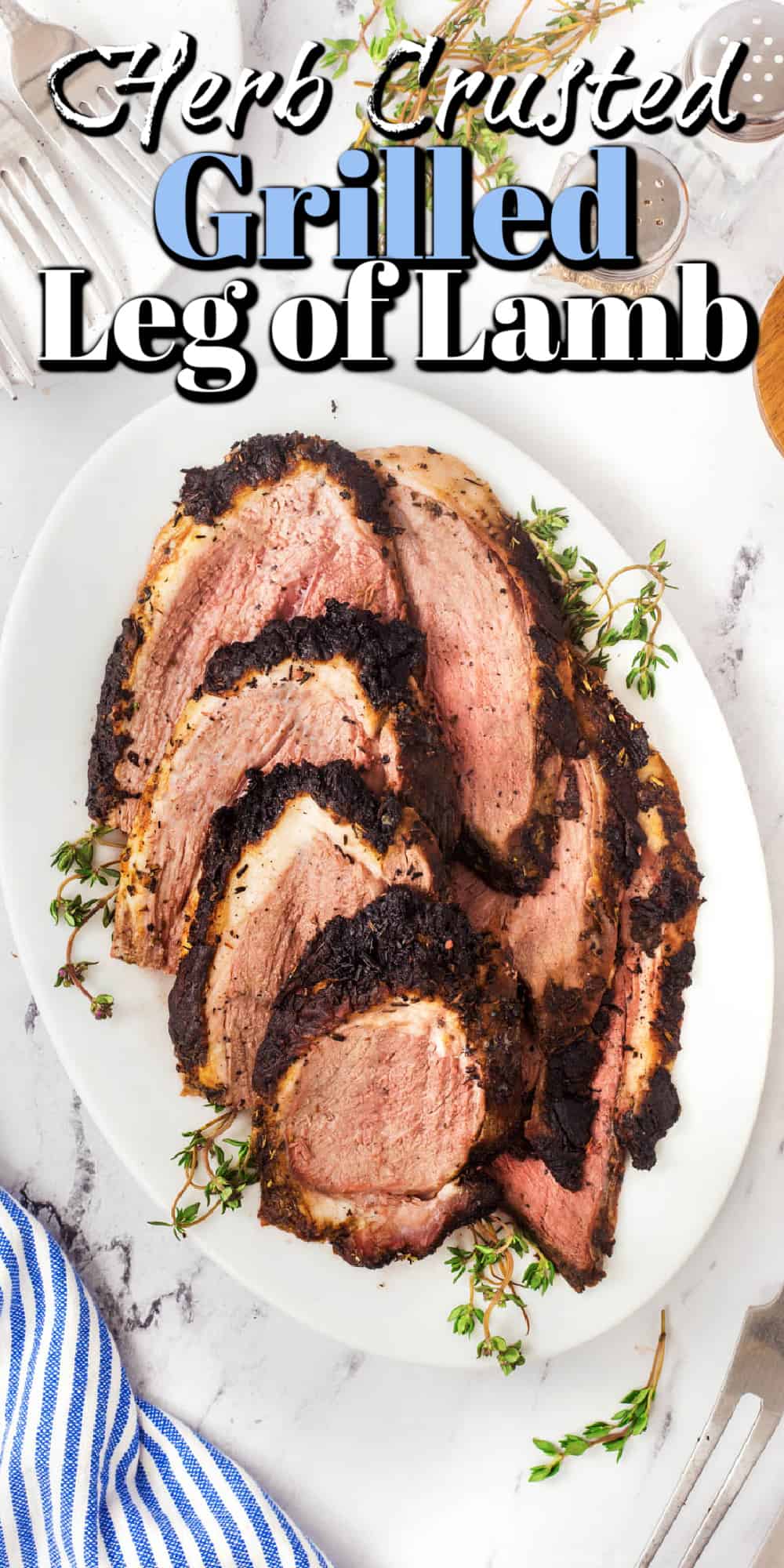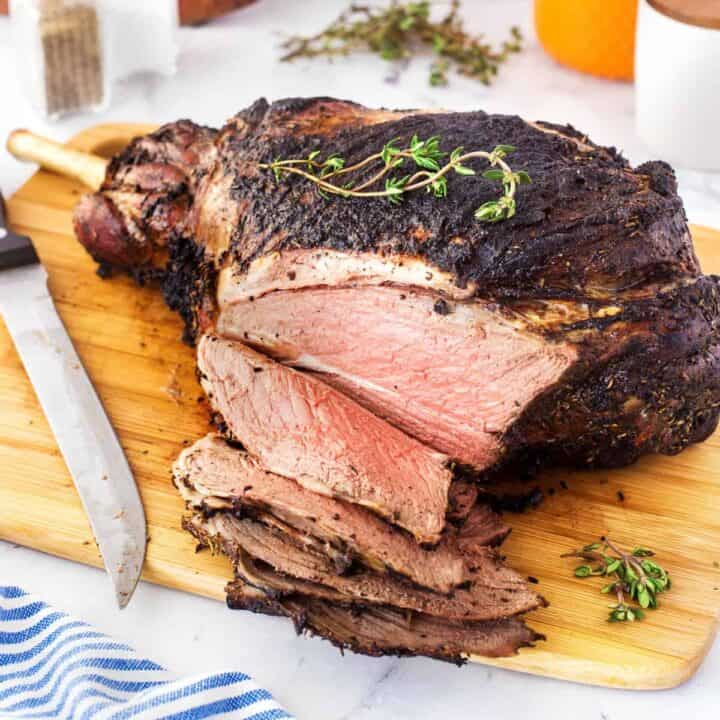 Herb Crusted Grilled Leg of Lamb
Yield: 8-10 servings
Prep Time: 30 minutes
Cook Time: 2 hours
Inactive Time: 1 day
Total Time: 1 day 2 hours 30 minutes
A marinated, slow grilled, herb-encrusted bbq leg of lamb that is fit for company and so easy to make too. A generous amount of herbs are added to the outside of the roast giving the roast exceptional flavor and a gorgeous crust too.
Ingredients
Marinade
1/3 cup olive oil
2/3 cup white wine
6 garlic cloves, minced
2 Tbsp. each oregano, rosemary and thyme
Salt to taste
Juice of one lemon
2 Tbsp. whole peppercorns
Lamb
5 lb. leg of lamb
2 Tbsp. each oregano, rosemary, thyme and parsley
2 Tbsp. Kosher salt
2 Tbsp. minced garlic
3 Tbsp. olive oil
1 Tbsp. dijon mustard
Instructions
Mix the marinade ingredients in a large pan. Lay the leg of lamb in and turn to coat on all sides. Cover with plastic wrap and refrigerate.
Let the lamb marinate for 12-24 hours, turning in the marinade a few times.
Remove the lamb from the refrigerator and allow it to come to room temperature.
Meanwhile, combine the oregano, rosemary, thyme, parsley, Kosher salt, minced garlic, olive oil, and Dijon mustard in a small bowl stirring to create a paste.
Lightly dry off the leg of lamb with a paper towel and generously rub with the paste on all sides.
Prepare the grill to cook the lamb using the indirect method. You should have one side of your grill very hot and the other side cool.
Start by cooking the lamb over direct heat until charred on all sides.
Move the lamb to the cooler side of the grill and continue to cook on indirect heat with the lid closed for 1 1/4 to 1 3/4 hours or until the lamb registers about 135 - 140 degrees F.
Allow the lamb to rest for 15 min. before slicing.
Nutrition Information:
Yield: 10
Serving Size: 1
Amount Per Serving:
Calories: 627
Total Fat: 42g
Saturated Fat: 16g
Trans Fat: 0g
Unsaturated Fat: 22g
Cholesterol: 211mg
Sodium: 946mg
Carbohydrates: 1g
Fiber: 1g
Sugar: 0g
Protein: 58g
Recipe calculation was provided by Nutritionix and is an estimation only. If you need nutritional calculations for medical reasons, please use a source that you trust.