These super Fun Cookie Monster Cupcakes are going to be a guaranteed hit with kids and the star of any birthday party, boys or girls! Who doesn't love Cookie Monster! These cupcakes are easy to make, with candy eyes, blue frosting, and chocolate cake.
You can simplify these Cookie Monster Cupcakes by using a chocolate cake mix and prepared frosting. However, if you want to use a favorite chocolate cake recipe and make it from scratch, that works too. Either way, these Cookie Monster Cupcakes are easier to make than they might look.
If you need more cupcake ideas, be sure to check out these Happy Birthday Cupcakes, Strawberry Shortcake Cupcakes, and these super cute Flower Pot Cupcakes. Or how about the Best Chocolate Layer Cake to add to your celebrations.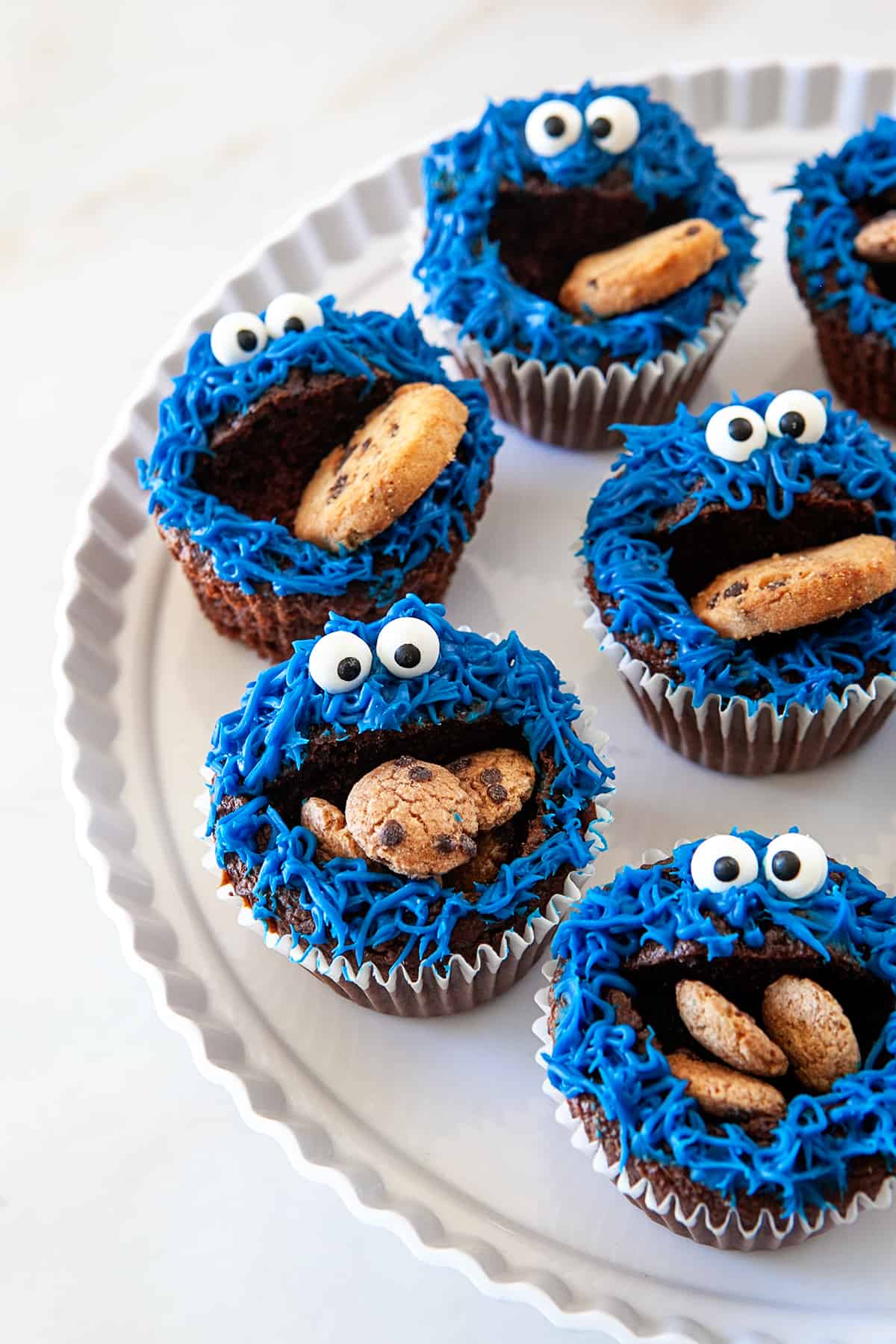 Helpful Items For This Post
This post contains affiliate links. As an Amazon Associate, I earn a small portion from qualifying purchases at no extra charge for you.
Disposable Piping Bags 12 Inch – 100 Pcs
How to Make Cookie Monster Cupcakes
I'm so excited about these cupcakes! I know a lot of people love Elmo, but Cookie Monster was always my favorite character on Sesame Street.
These cupcakes are so cute and fun to make! Luckily, they're also pretty easy. They don't require any special cake-making skills and this recipe tutorial is really easy to follow.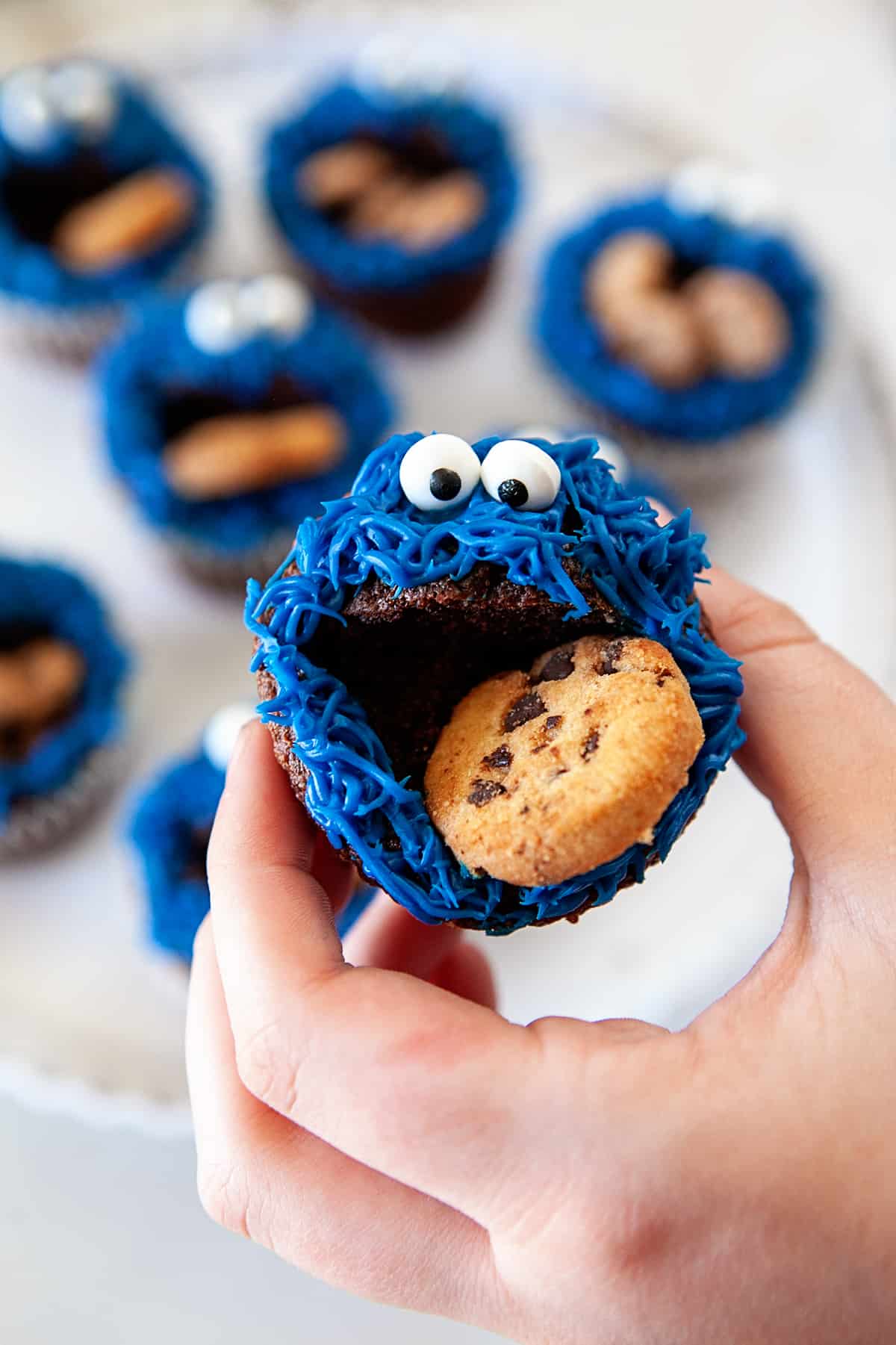 The first thing you'll need is your cupcakes! I used a Chocolate Devil's Food Cake Mix. However, to make the cupcakes something that Cookie Monster himself would approve of, I added a chocolate chip cookie at the bottom of each cupcake.
I used Mini Chips Ahoy Cookies and they fit in the standard cupcake liners perfectly (Oreos will work too)! Then, just prepare your cake batter as usual and pour the batter right over the cookies. You'll want to fill the liners 3/4 full, which is about 3 tablespoons.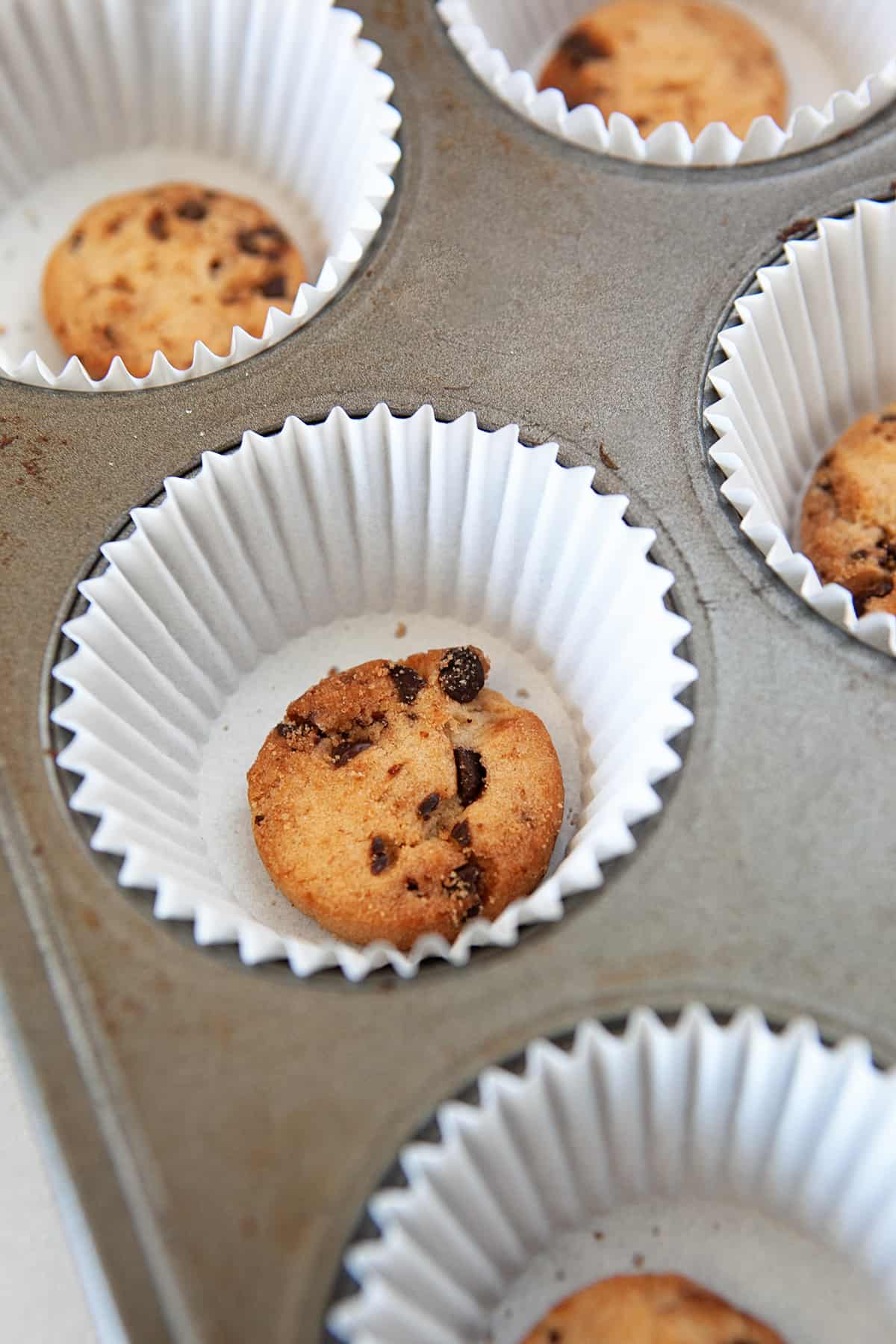 For these Cookie Monster Cupcakes, you'll want a higher dome on the cupcake than normal. Luckily, there's a simple trick to achieve a high dome!
Instead of a preheated oven to 350 F, start with a hot oven, 400 degrees Fahrenheit, and cook them hot for the first 5 minutes. Then, turn the oven down to 350 degrees Fahrenheit to finish cooking.
That initial burst of heat will cause the cupcakes to rise up more quickly and give you that extra height on top. This is perfect for making Cookie Monster's face.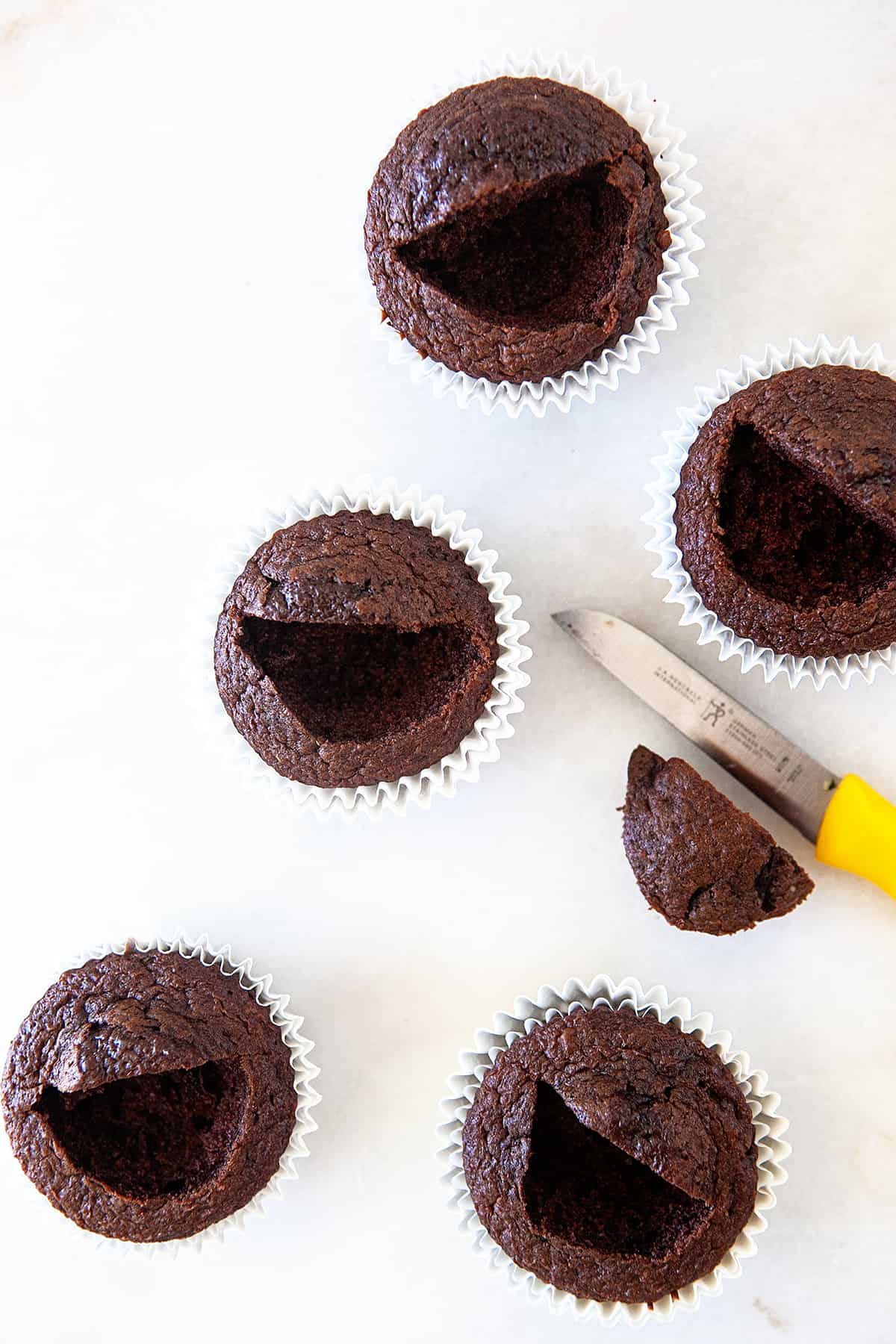 How to Decorate Cookie Monster Cupcakes
Once your cupcakes are cooked and cooled on a wire rack, you can give Cookie Monster a mouth. Use a sharp, small paring knife and cut out a half-circle shape. Cookie Monster has a big mouth, so don't be afraid to go big!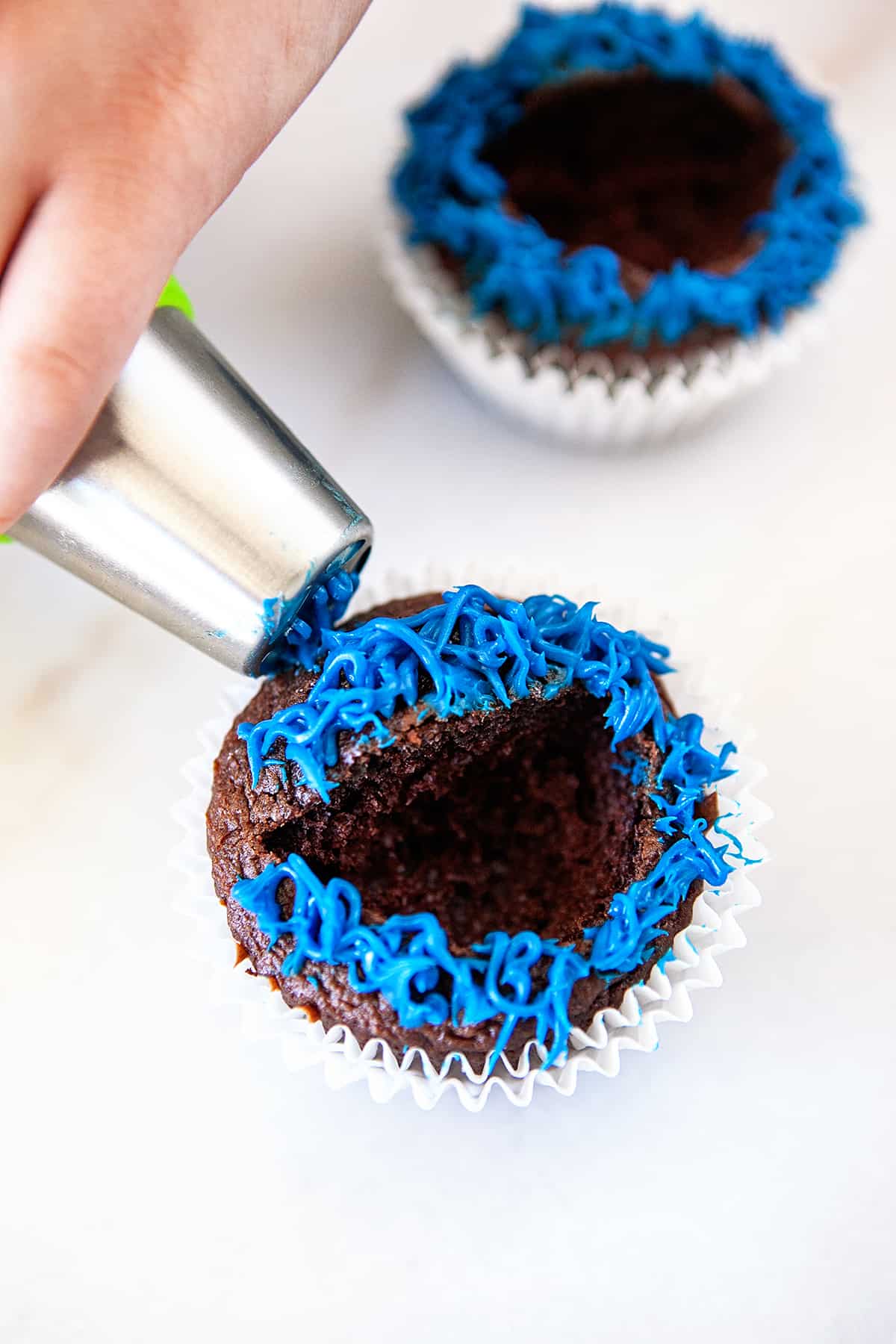 Now it's time for the fun part! I used a buttercream frosting dyed Royal Blue with gel food coloring to get that Cookie Monster color for the icing. Cookie Monster's fur is kind of wild, which makes him fun and easy to decorate as a cupcake.
To achieve that wild, crazy fur look, I used a Grass Piping Tip and just let it be messy! Note: grass tips compared to a star tip can get a little clogged up as you frost, so keep a paper towel nearby and wipe it clean every now and then as you pipe.
Once all the wild furry frosting is done, it's time for the finishing touches. It wouldn't be Cookie Monster without a mouth full of cookies, right? I used Mini Chips Ahoy Cookies as well as Cookie Crisp Cereal for the extra cute and tiny cookies.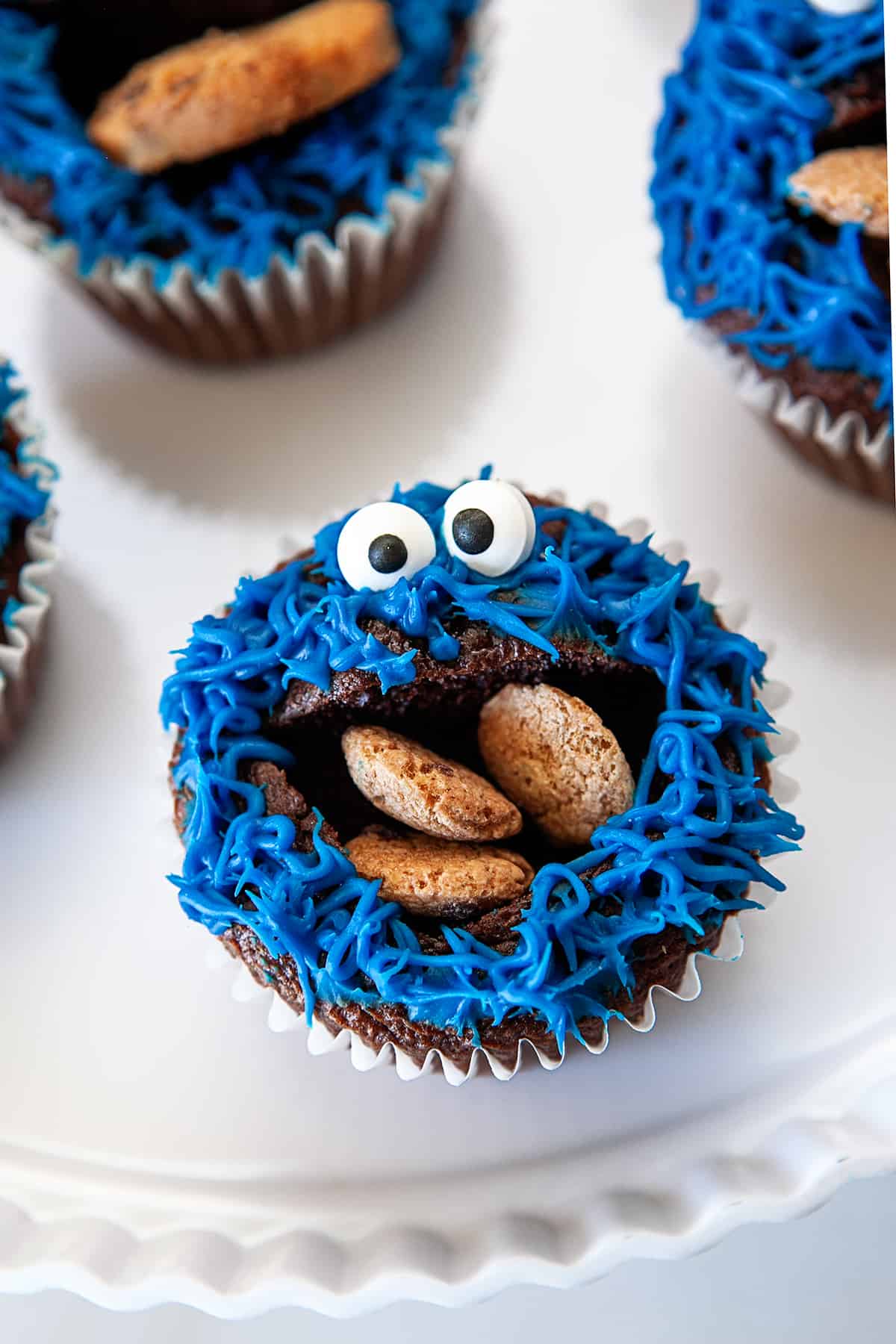 How to Make Cookie Monster Eyes for Cupcakes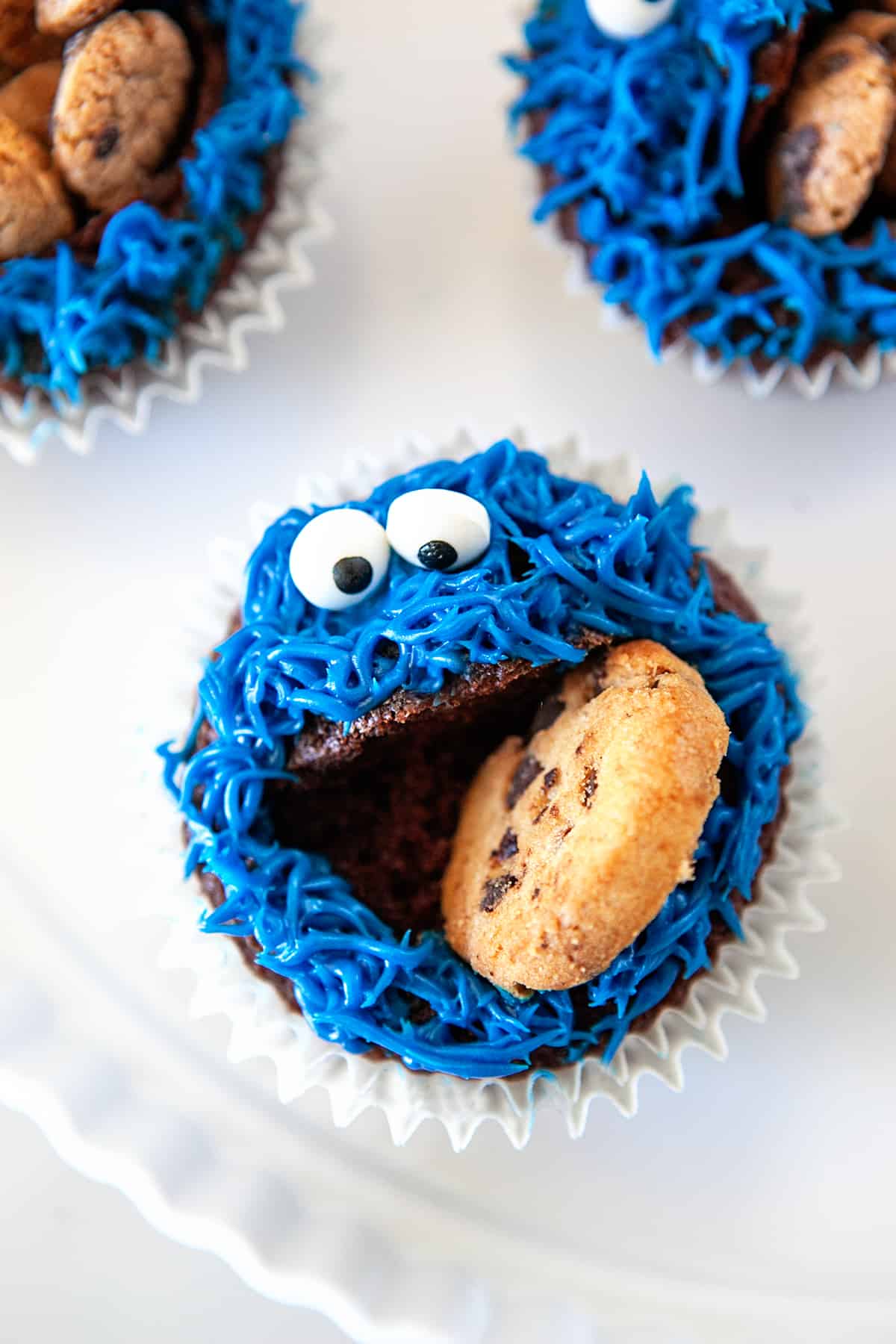 For Cookie Monster's eyes, I used candy eyes from Wilton. I tried both the large and small eyes, and I thought the small eyes looked more like Cookie Monster.
There is a trick you can use to make store-bought candy eyes look a little more custom. Just flip the eyes over and on the plain white side, use an edible decorating pen to draw your own circles for the eyes.
Cookie Monster's eyes always look a little crazy (wild for those cookies!), so imperfect eyes, not perfectly aligned, are exactly what you're going for.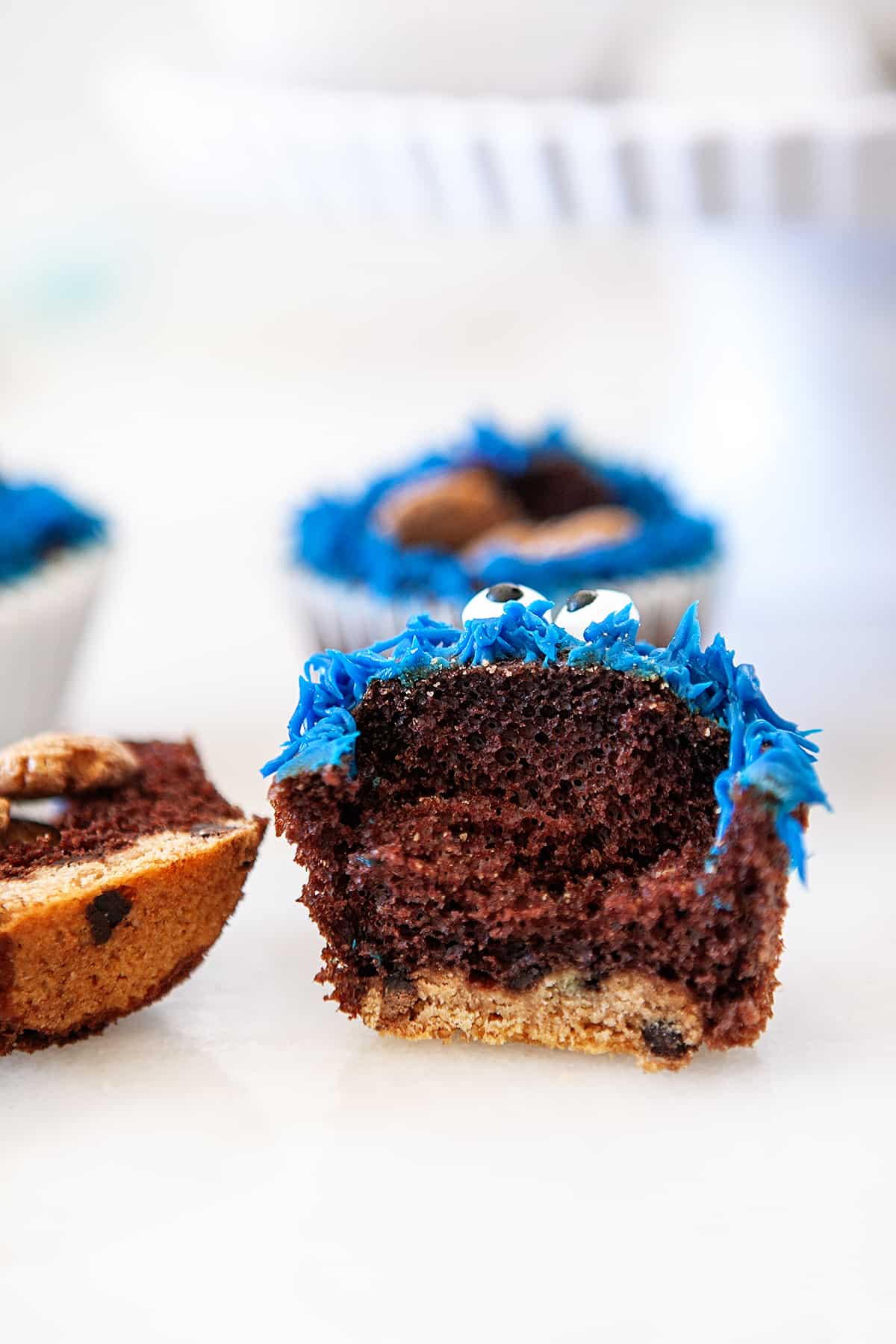 What is the Secret to Moist Cupcakes?
Whether you're using a cake mix or making your cake from scratch, there are few things you can do to ensure you end up with tender, moist cupcakes.
First, using canola or vegetable oil instead of butter will create a more moist cupcake. The fat content in the oil makes this possible! Most cake mixes call for oil instead of butter for this very reason.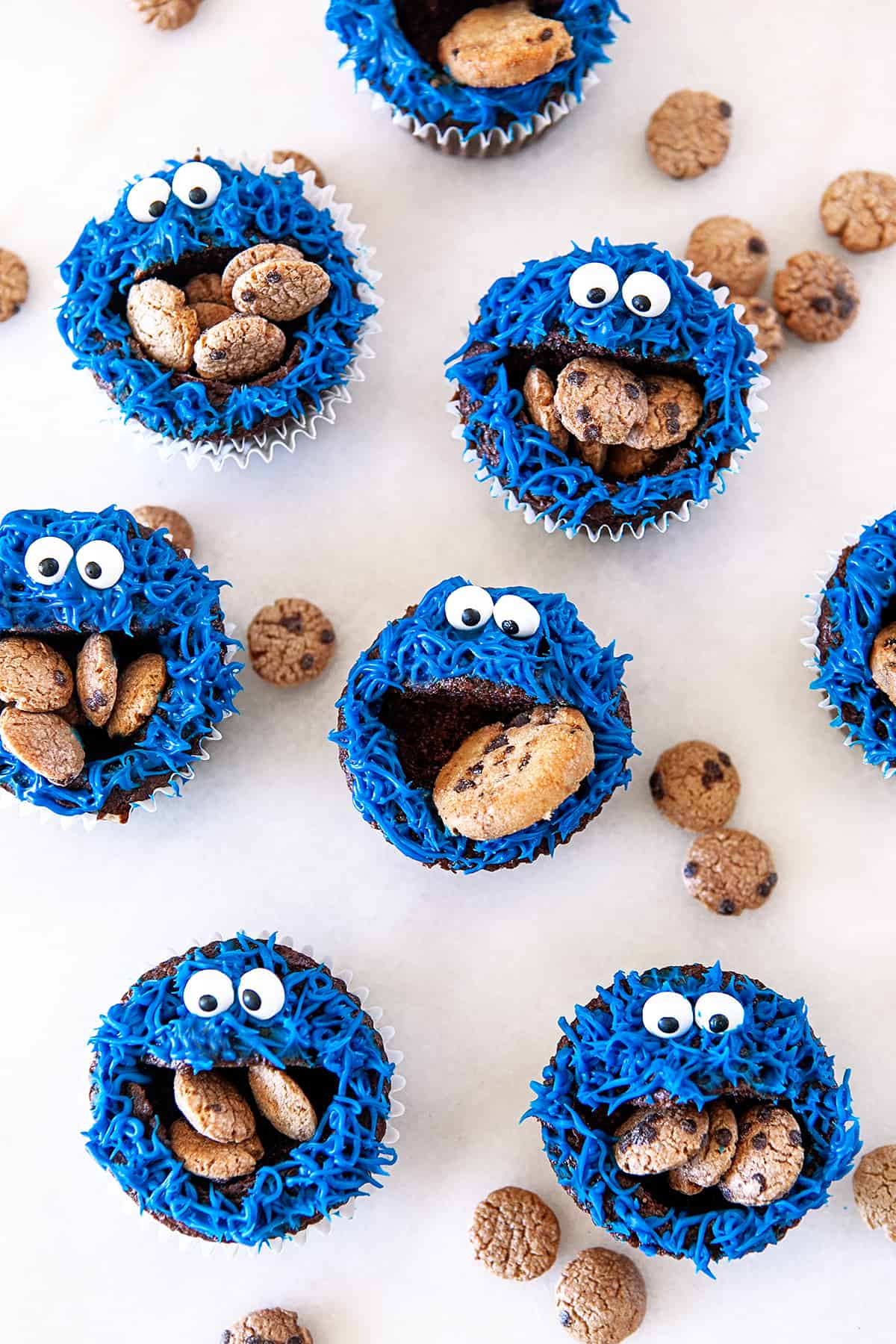 Second, don't overmix the batter. You want bubbles to form in the wet batter, but the more you mix, the more of those bubbles collapse, which will result in a more dense and dry cake. So mix just until all of the dry ingredients have been incorporated and then stop.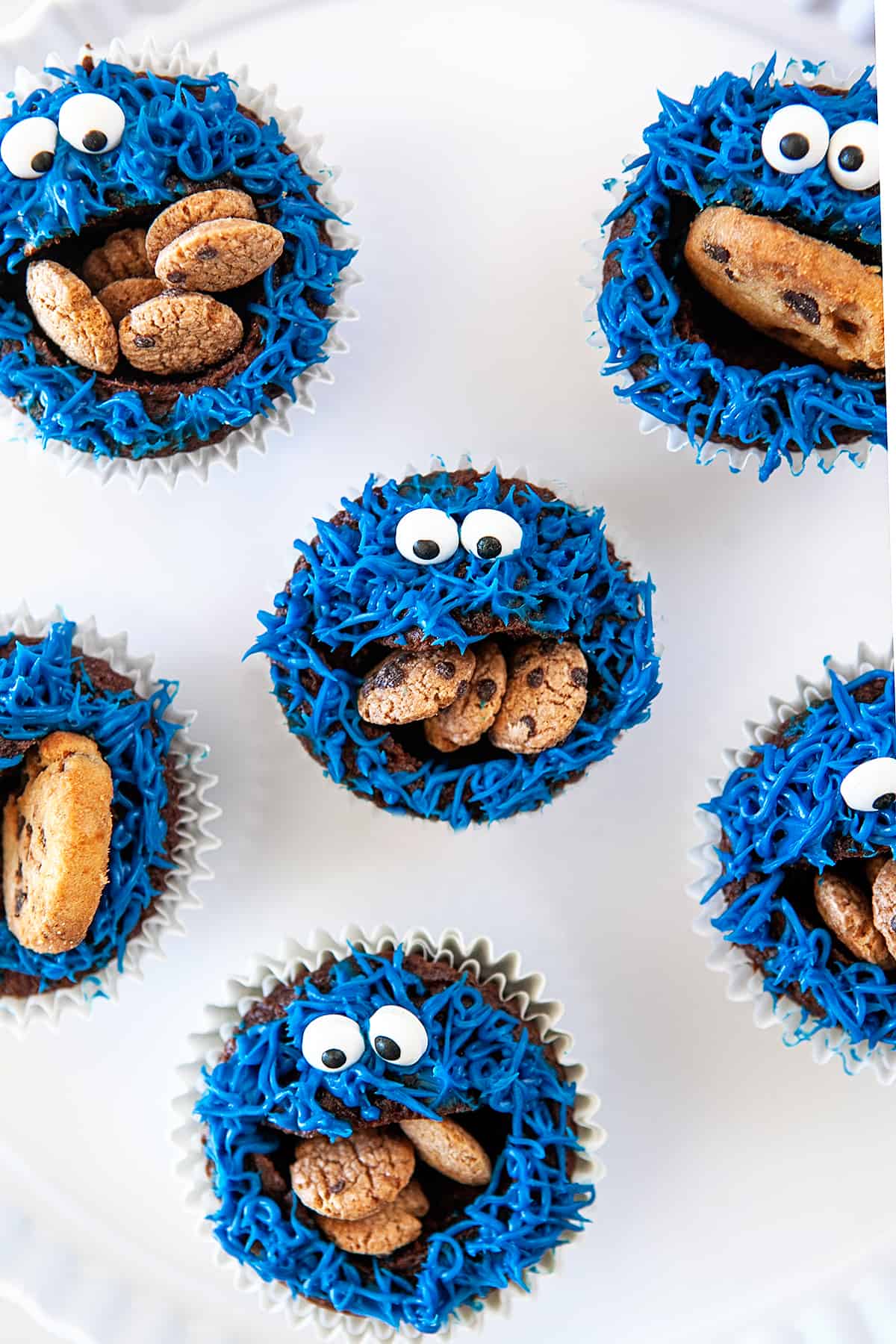 Finally, don't overbake a cupcake! I always begin checking a minute or two before the recipe says they'll be done. When a toothpick inserted into the center comes out clean, they're done.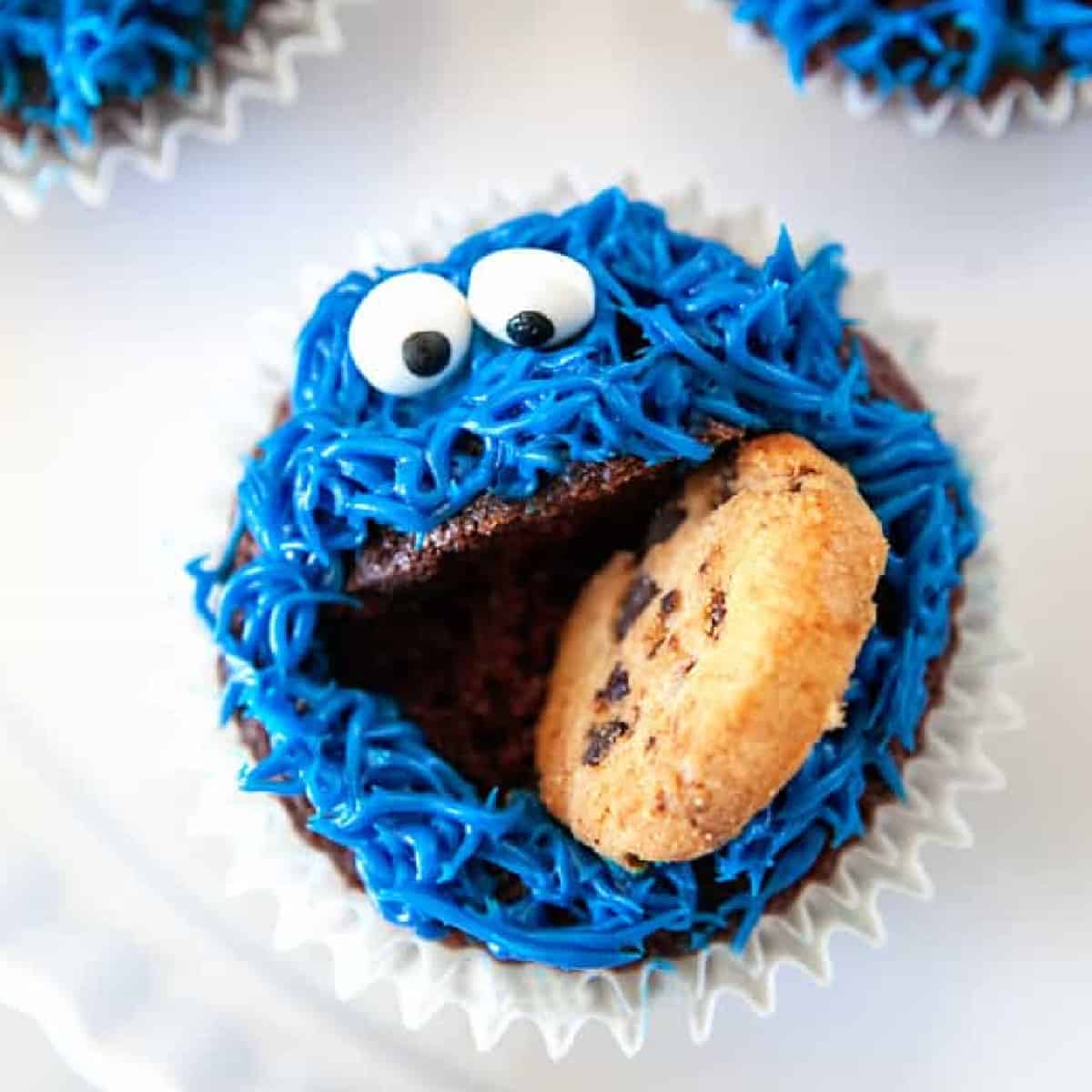 Pin it HERE!!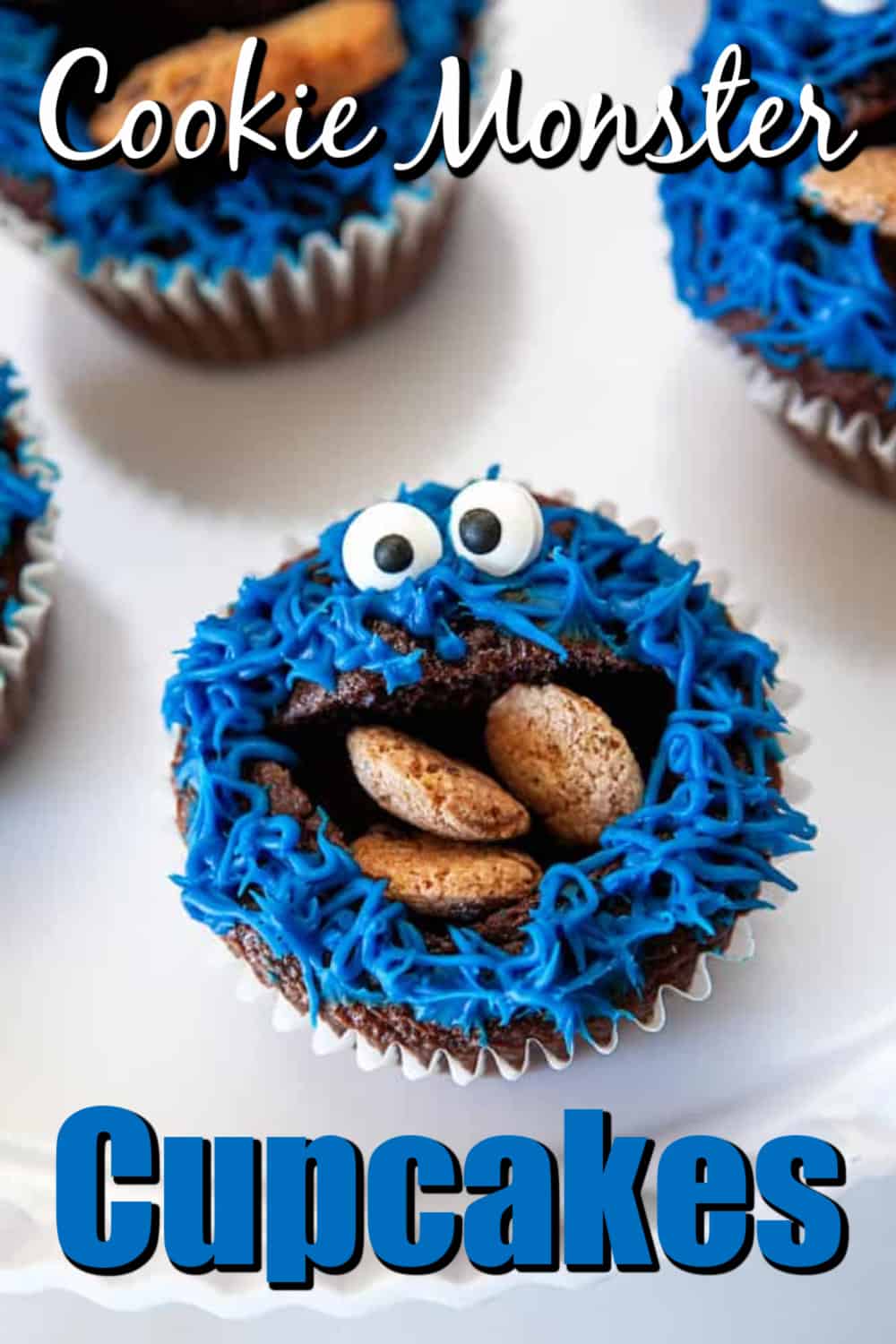 Pin it HERE!!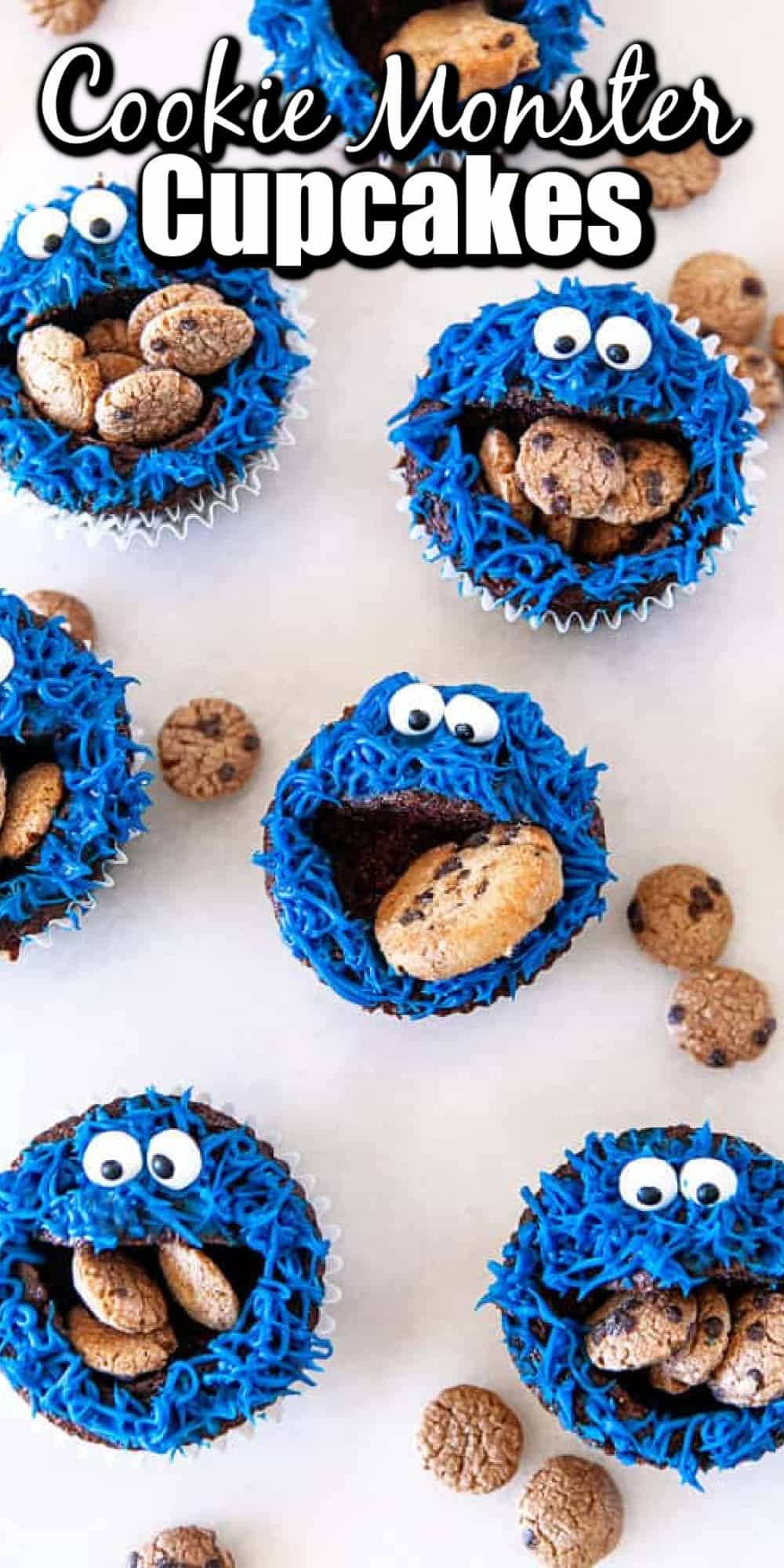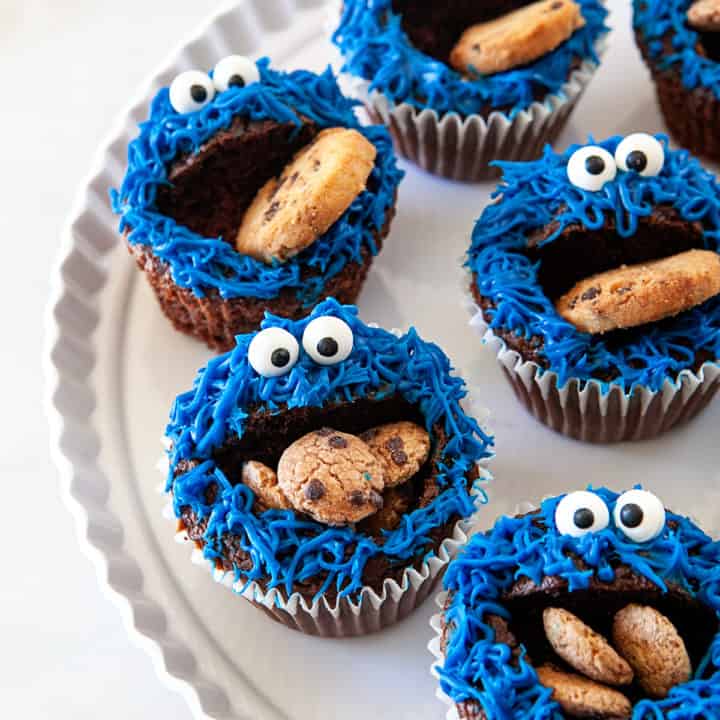 Fun Cookie Monster Cupcakes
Yield: 24 cupcakes
Prep Time: 1 hour
Cook Time: 18 minutes
Total Time: 1 hour 18 minutes
These Fun Cookie Monster Cupcakes are a hit at every party! Stuffed with chocolate chip cookies and fun royal blue icing, kids love them.
Ingredients
24 mini Chips Ahoy cookies (plus more for decoration)
1 Devil's Food Cake Mix
3 eggs
1/3 cup vegetable oil
1 cup water
1 (.88 oz) package Wilton candy eyeballs
2 cups Cookie Crunch cereal
For the Icing
12 tablespoons salted butter, softened
1 pound powdered sugar
2 teaspoons vanilla
1 to 2 tablespoons heavy cream
Royal Blue Gel Food Coloring
Instructions
Prepare the Icing: In the bowl of a stand mixer, beat the butter on medium-high speed with the paddle attachment until fluffy, or about 5 minutes. Turn the mixer speed to low and slowly add the powdered sugar and beat until fully incorporated. Mix in the vanilla and food coloring. If the mixture is too thick, add heavy cream 1 teaspoon at a time until the desired thickness is achieved. You'll want the icing to be thick enough to hold its shape but still soft. Refrigerate until ready to use; just bring to room temperature before decorating.
Preheat oven to 400 degrees Fahrenheit (even if your cake mix or cake recipe has a lower temperature). Line 2 standard 12 cup cupcake pans or muffin tins with cupcake liners. Place a mini Chips Ahoy cookie in the bottom of each liner.
In a large bowl, prepare cake mix according to package instructions - add the eggs, water, and oil to the dry ingredients and beat just until incorporated.
Fill each of the cupcake liners 3/4 full; this is about 3 tablespoons of batter in each liner. Bake at 400 degrees for the first 5 minutes, then reduce the temperature to 350 degrees for the remaining cooking time.
Cool on a wire rack until the cupcakes are room temperature.
Using a sharp, small paring knife, cut a large half-circle shape out of the top of the cupcake (see photos above) for Cookie Monster's mouth.
Using a grass piping tip, pipe the frosting in an erratic pattern to resemble Cookie Monster's wild furry look. Keep a paper towel nearby to periodically wipe the tip clean, so it doesn't clog.
Place two candy eyeballs ( they don't have to perfectly align because Cookie Monster has crazy eyes) and fill the mouth with Cookie Crisp cereal or mini Chips Ahoy cookies.
Note: These are best eaten shortly after they are decorated because the cookies do get a little chewy as they sit.
Recommended Products
As an Amazon Associate and member of other affiliate programs, I earn from qualifying purchases.
Nutrition Information:
Yield: 24
Serving Size: 1
Amount Per Serving:
Calories: 389
Total Fat: 18g
Saturated Fat: 7g
Trans Fat: 0g
Unsaturated Fat: 10g
Cholesterol: 37mg
Sodium: 287mg
Carbohydrates: 54g
Fiber: 1g
Sugar: 33g
Protein: 4g
Recipe calculation was provided by Nutritionix and is an estimation only. If you need nutritional calculations for medical reasons, please use a source that you trust.