Need a cute idea for a spring or summer little girl's birthday party or another event? Make these adorable Flower Pot Cupcakes!! Kids can even help you build these by creating their own flowers too. It is a simple craft that is not messy for them to build which in my mind is the perfect craft.
The marshmallow flowers are made with what we call Smarties in Canada but you would call M&M's in the States or other flat candies would work too. The marshmallows are sticky enough for them to stay on for a short period of time while they build them.
If you want to make them ahead you will have to do the marshmallow flowers at the last minute. They stayed on for me for at least an hour before the marshmallows started to dry and the candy then starts to fall off.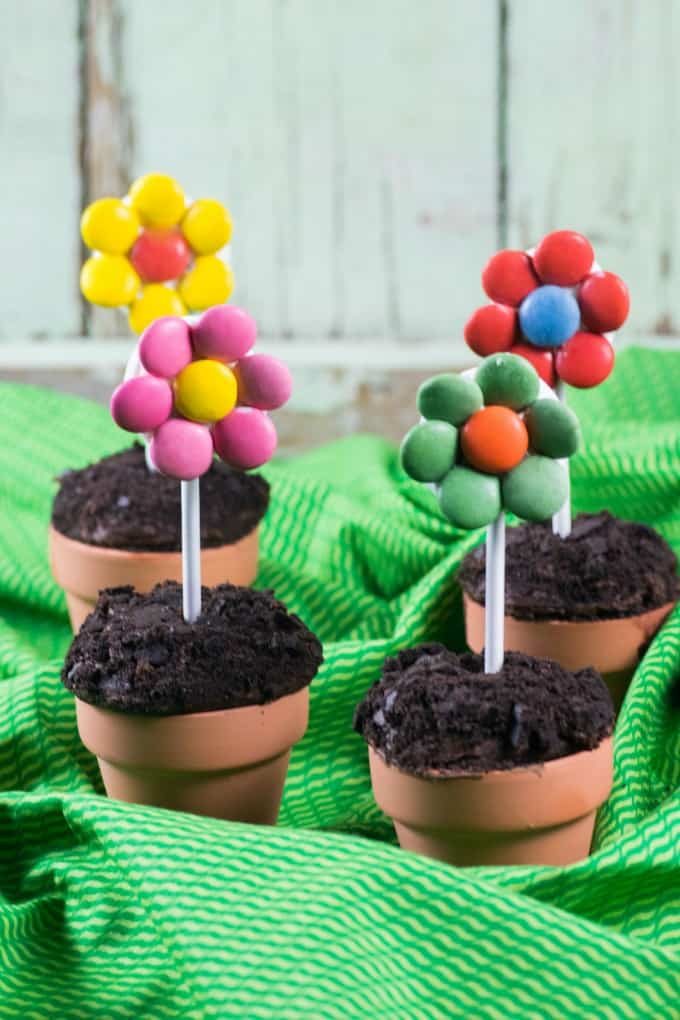 Amber was the one that made these cupcakes! We used a homemade batter but I would recommend just to use a store bought cake mix and icing for these.
It makes them so much more simple to make and more of an edible craft than a recipe. Trying to keep these as simple as possible for you.
A rich boxed deviled foods cake would be perfect for these. You could also make a homemade buttercream icing or use your favorite homemade cake mix too.
Can you Bake Cupcakes in Small Clay Pots?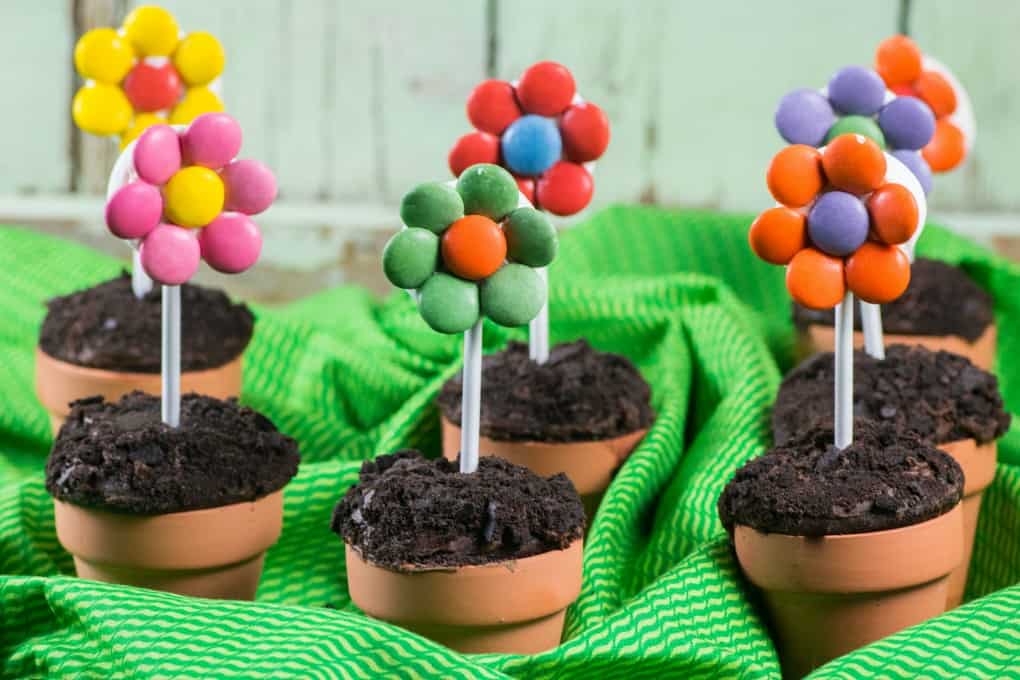 You can bake cupcakes in small clay pots!! Just wash them well to begin with. Spray them well with cooking spray and line the bottom with parchment paper circles to close off the holes.
How to Make Flower Pot Cupcakes
The cupcakes are easy to make once you have your pots washed and prepped. The batter is poured into the pots to about 2/3 full, if you fill these too much they will over flow and make a huge mess, trust me on this one!!
Use less time to bake your cupcakes that is called for a cupcake on the package. Once they spring back they are done, keep a close eye on them.
After cooling a quick icing and then your "dirt" is applied which is crushed chocolate wafers. The rest is the marshmallow flower that I explained at the beginning.
If you are to do this as a craft you can have the pots set up with the cupcakes and have the kids ice and put the dirt on. If you find that would be too messy have them just create the flowers and "gluing" on the candies!!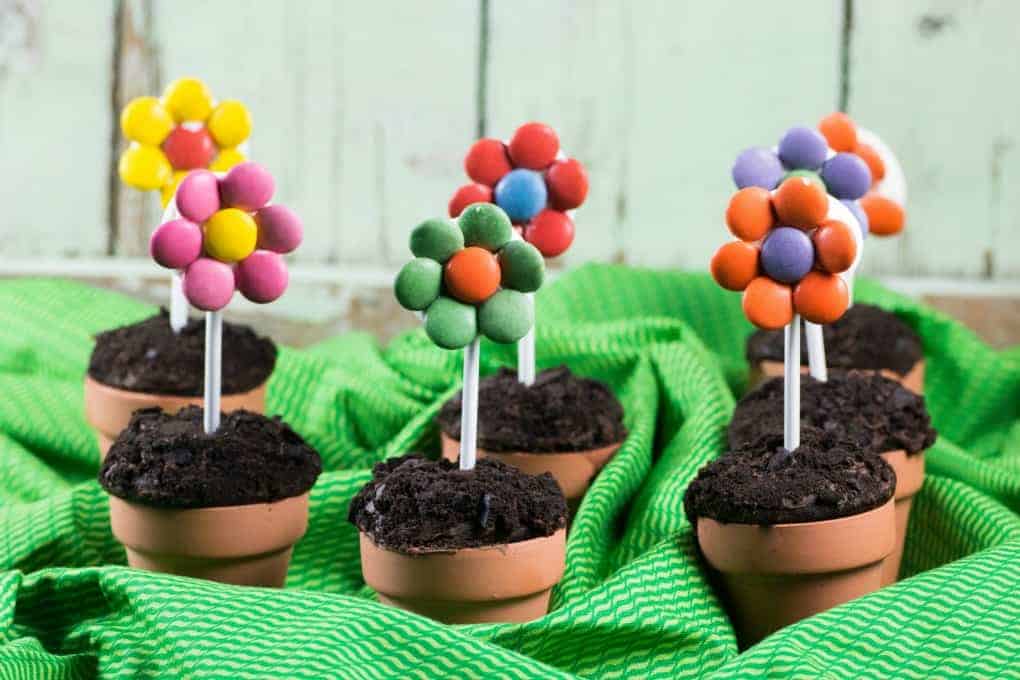 Aren't they cute? Amber had fun making these cute cupcakes. They are creative and delicious. The perfect little treat for a party!! Use these pots for gardening to start some seeds. That would be the perfect way to recycle them.
I like that they have multiple uses then and don't have to be thrown away. You can get the pots on the internet or any garden store will have these available too.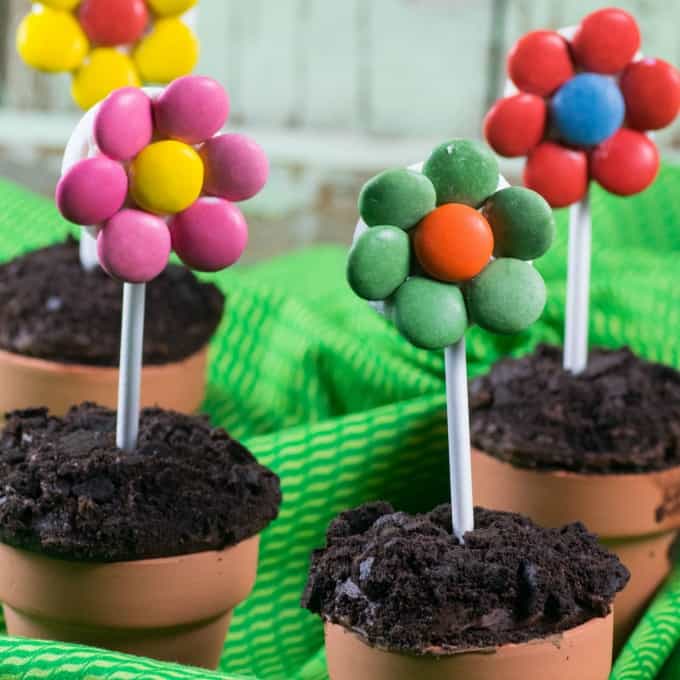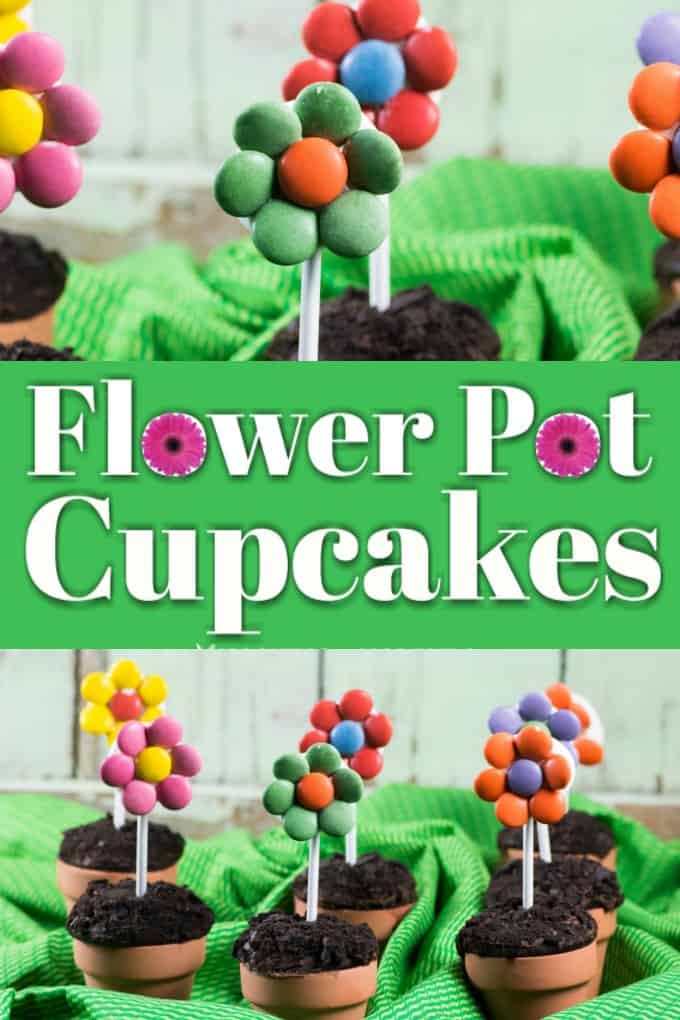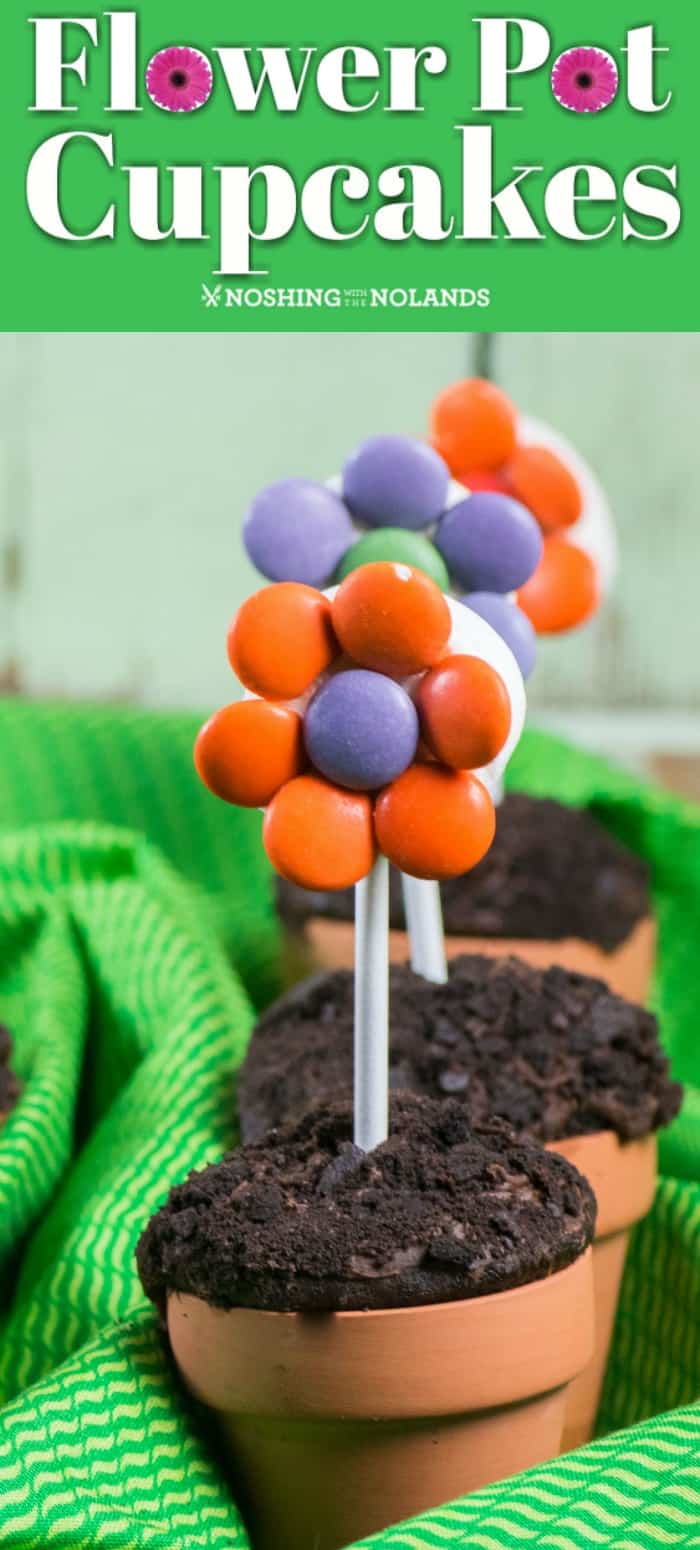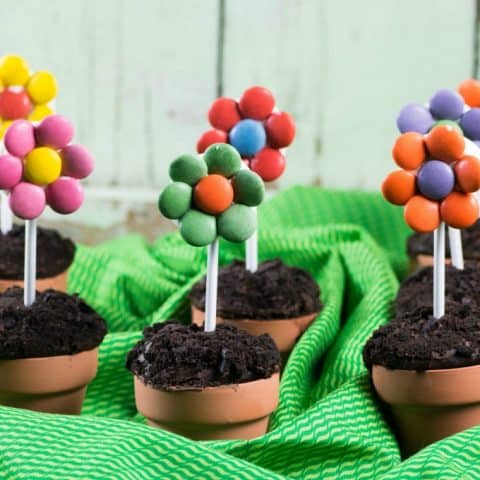 Flower Pot Cupcakes
Yield: 10 flower pot cupcakes
Prep Time: 30 minutes
Cook Time: 18 minutes
Total Time: 48 minutes
These Flower Pot Cupcakes are fun to make and would wow a crowd at your next little party!! Perfect for a girl's spring or summer birthday!! They are a fun edible craft too for kids to make!!
Ingredients
10-12 terra cotta pots, 2" wide
Cooking spray
Parchment paper
Chocolate cake mix
Chocolate store bought or homemade frosting
Chocolate wafers
Large marshmallows
Canadian Smarties or candy coated chocolates like M&M's
Lollipop sticks
Instructions
Prepare the terra cotta pots by first washing well and let them dry completely. Then spray with cooking spray and line the bottom with little circles of parchment paper. Set aside.
Crush the chocolate wafers in a plastic bag with a rolling pin or mallet. Set aside.
Preheat oven to 350F. Prepare the cake mix as per package.
Fill the terra cotta pots 2/3 full with batter and place on a sturdy tray. Bake for 12-18 min. checking frequently to see if they are done.
Fill the leftovers into regular sized cupcake liners and bake according to package.
Remove from oven and let cool completely before icing. Ice each cupcake and then top with crushed chocolate wafers.
Cut the large marshmallows in half and slide onto a lollipop. Stick the candy coated chocolates on making a flower pattern. Serve immediately.
Nutrition Information:
Yield: 12
Serving Size: 1
Amount Per Serving:
Calories: 68
Total Fat: 2g
Saturated Fat: 1g
Trans Fat: 0g
Unsaturated Fat: 1g
Cholesterol: 1mg
Sodium: 43mg
Carbohydrates: 11g
Fiber: 0g
Sugar: 8g
Protein: 1g