Cheesy Ground Turkey Enchiladas
Cinco de Mayo is only in a few days but enchiladas like these Cheesy Ground Turkey Enchiladas could be eaten at any time of the year! This is an easy dinner to pull together that the whole family will love.
We had some ground turkey in the freezer and I got creative with it making up this delicious recipe that everyone raved over.
The delicious turkey enchiladas are smothered in a simply scrumptious cheese sauce. You will want to be adding this to your growing repertoire of Mexican dishes.
Can you make enchiladas with flour tortillas?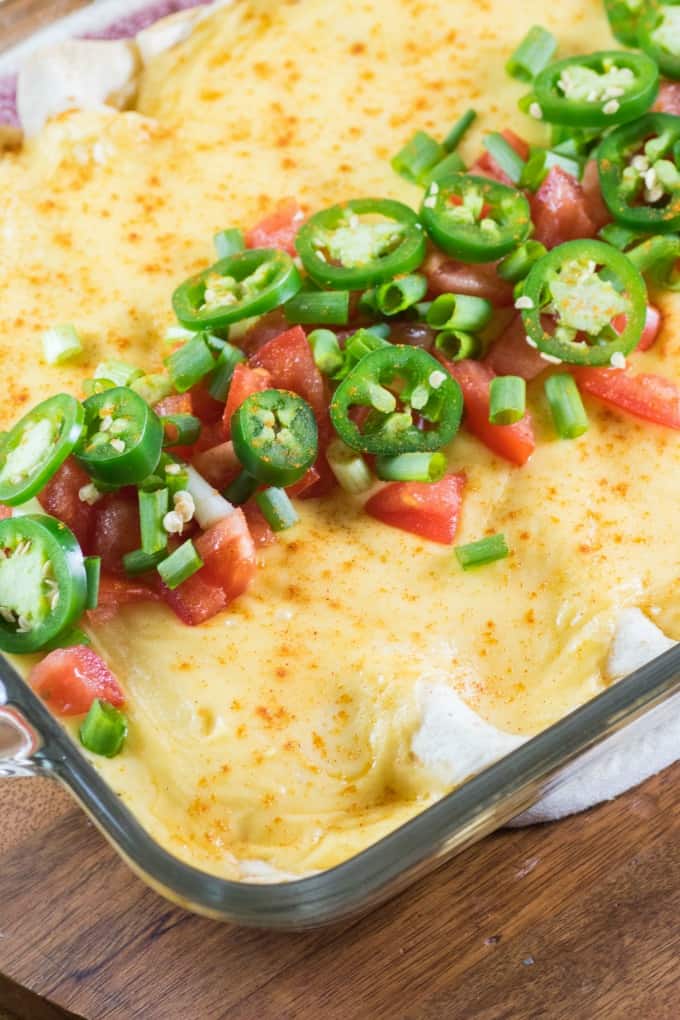 Can you make enchiladas with flour tortillas? Enchiladas are made with flour tortillas or corn tortillas. Corn tortillas are more traditional for sure but I enjoy the flour more.
The tortilla is rolled around a filling and covered with an enchilada sauce which is a chili pepper based sauce.
In the case of our recipe I took the liberties to change that up to a cheese sauce!! There are no laws in cooking, no policing, you can do what you like!!
The sky is the limit when you are creating recipes as you don't have to stay in the box of the original one if you don't want to.
What should I put in my enchiladas? Enchiladas are very versatile as they can be filled with a variety of ingredients.
Various meats can be used along with cheese, beans, potatoes, vegetables or combinations of.
Can You Make Enchiladas with Ground Turkey?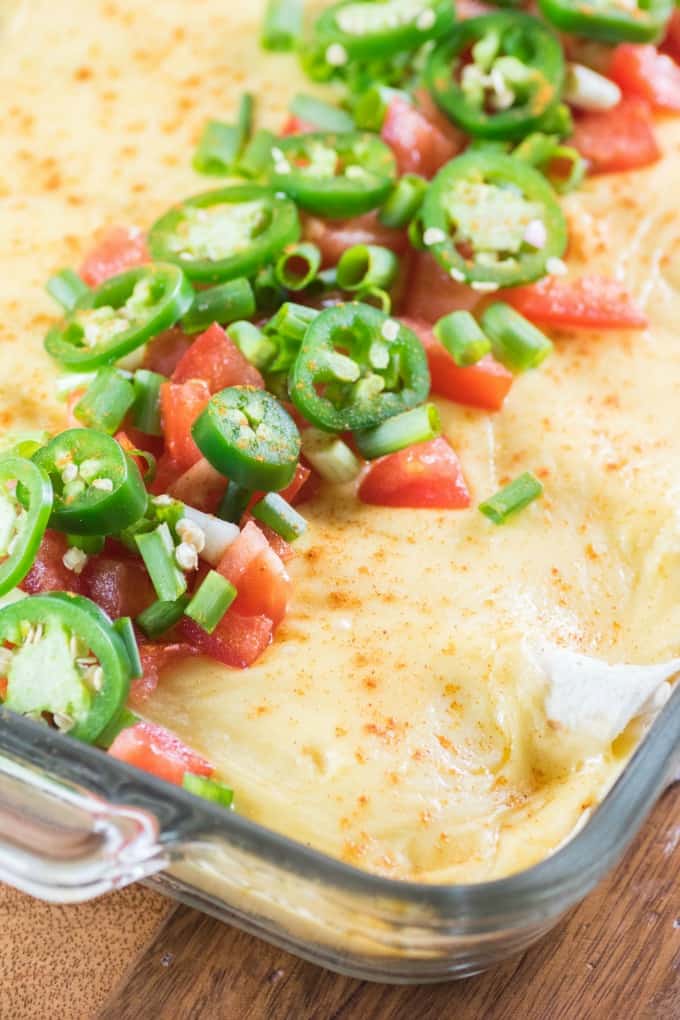 Can You Make Enchiladas with Ground Turkey? You sure can use ground turkey. I like using ground turkey in place of ground beef as it is a healthy choice of proteins that is super versatile too.
The tortillas, after being filled are placed in a casserole dish. This is an easy recipe and can be made ahead also. Just after you build the tortillas and place them in the casserole dish. Cover them and refrigerate.
Make the cheese sauce when you are ready to bake, pour it on and into the oven they go to heat.
Also, you can have the toppings chopped and prepped so they are an easy sprinkle on top just before serving!!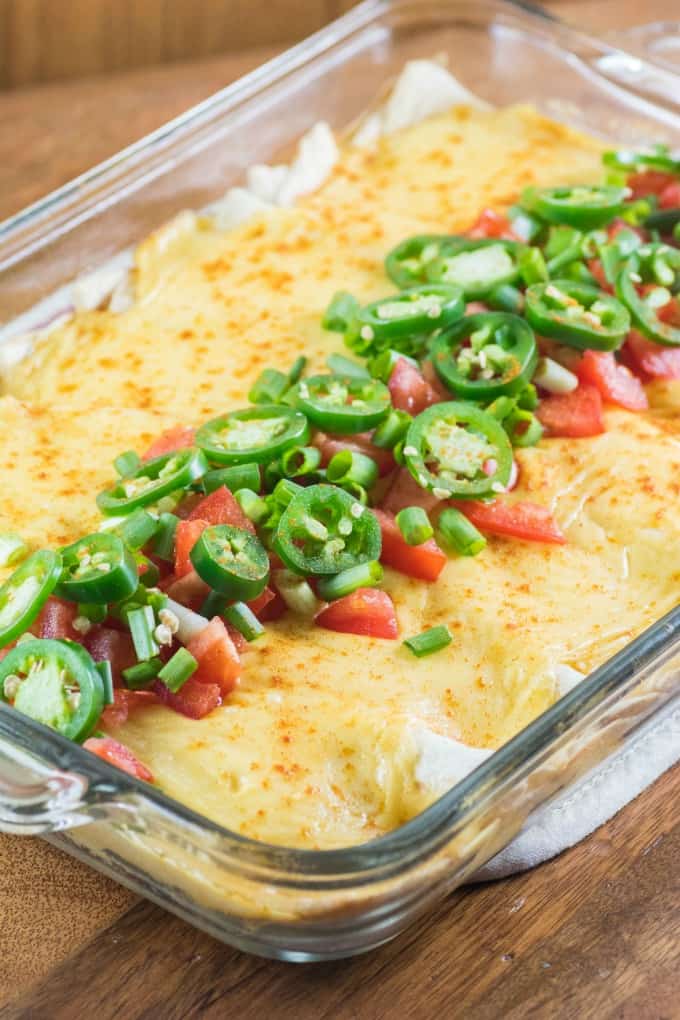 You can serve this up with a simple green salad or add another side with our super easy Rice Cooker Mexican Rice!! Add in some guacamole, salsa and sour cream and make it a feast!!
There is nothing wrong with a big ol mess of nacho chips to celebrate Cinco de Mayo but sometimes you may want to get a little more creative. We do love our Easy Bean Chicken Nachos for a simple and quick meal.
Watching your carbs? We also have Healthy Mini Pepper Low Carb Nachos for you to try. They are another delightful recipe using ground turkey.
What should I put in my enchiladas?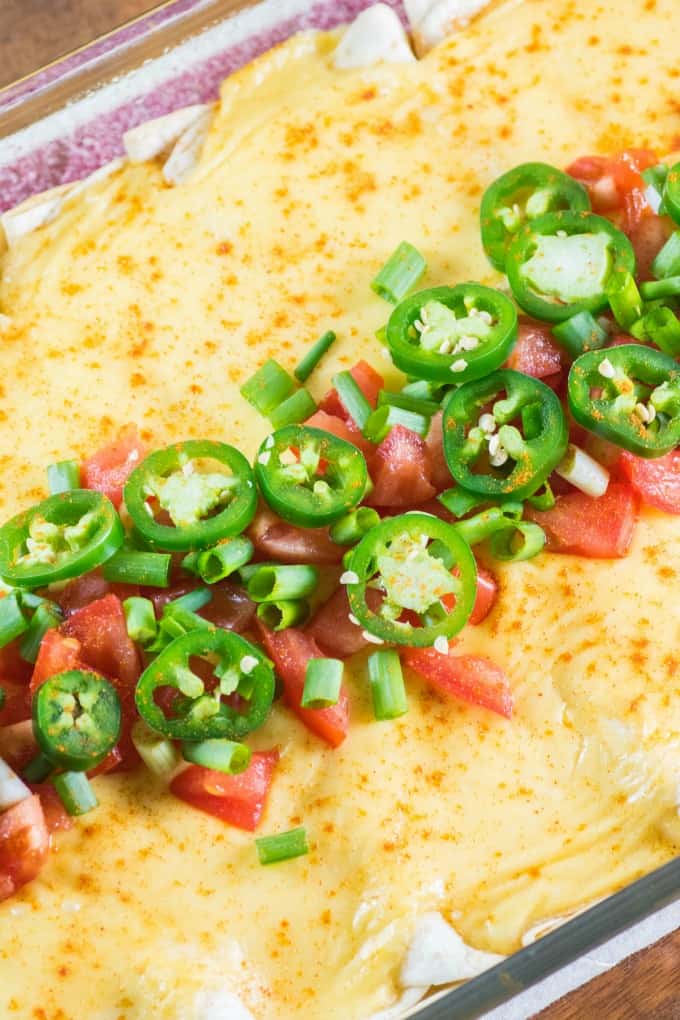 As for what to put in the enchiladas that goes with the ground turkey, that is easy. I added my go-to-ingredient canned green chilies after the ground turkey was browned and no longer pink.
I also added a red bell pepper, onion and some Monterey Jack cheese along with the standard salt and pepper. This was a perfect blend of flavors with the turkey.
When filling the tortillas, wrap them up and always put them in a baking dish seam side down. This will prevent them from unwrapping.
Make sure to use cooking spray also in the pan to prevent sticking. These couple of tricks will make for a successful dish.
As for the toppings I added in some heat with sliced jalapenos, tomatoes and green onions. The final touch was a little sprinkling of paprika but you could get a smoky flavor if you liked by using a smoked paprika too.
What is the difference between a burrito and an enchilada?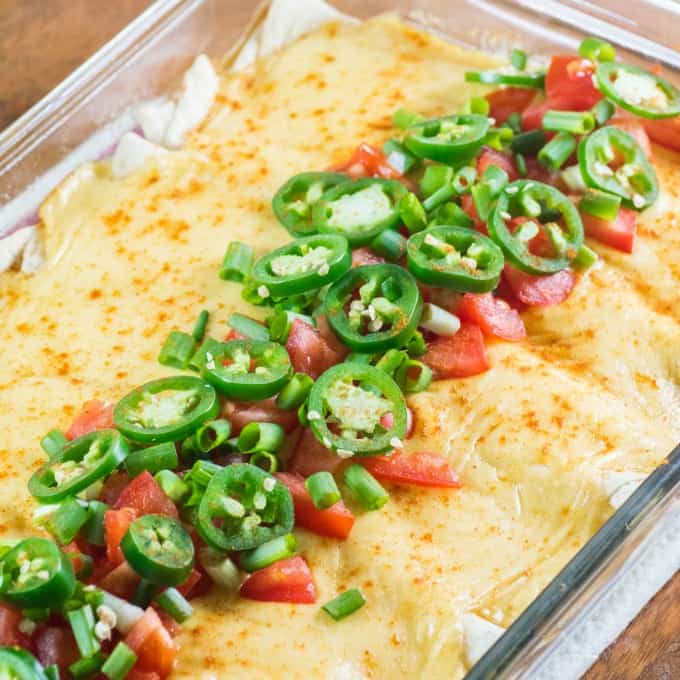 There are two major differences between a burrito and an enchilada. Firstly, an enchilada is usually made with a corn tortilla, I already told you I went to the other side and used flour.
That is entirely up to you. I just don't really like corn tortillas unless they are freshly made and of superb quality. They are a great option for making this dish gluten free though.
The second is that an enchilada is always smothered in sauce so it is not hand held like a burrito can be. It is made to eat with a fork and knife on a plate. Burritos are usually seen wrapped up and are more in the sandwich category.
I have seen something like our recipe today being called a smothered burrito, this is where the lines get slightly blurred for me.
For my own definition enchiladas are in a casserole and burritos are a hand held sandwich. All is up to interpretation from the originals though.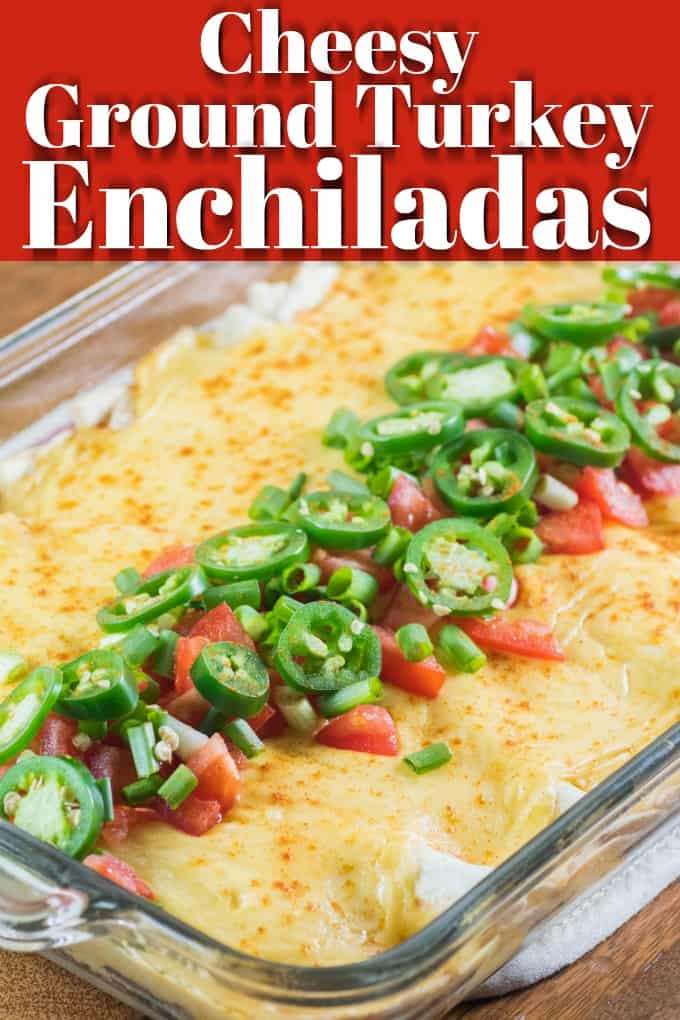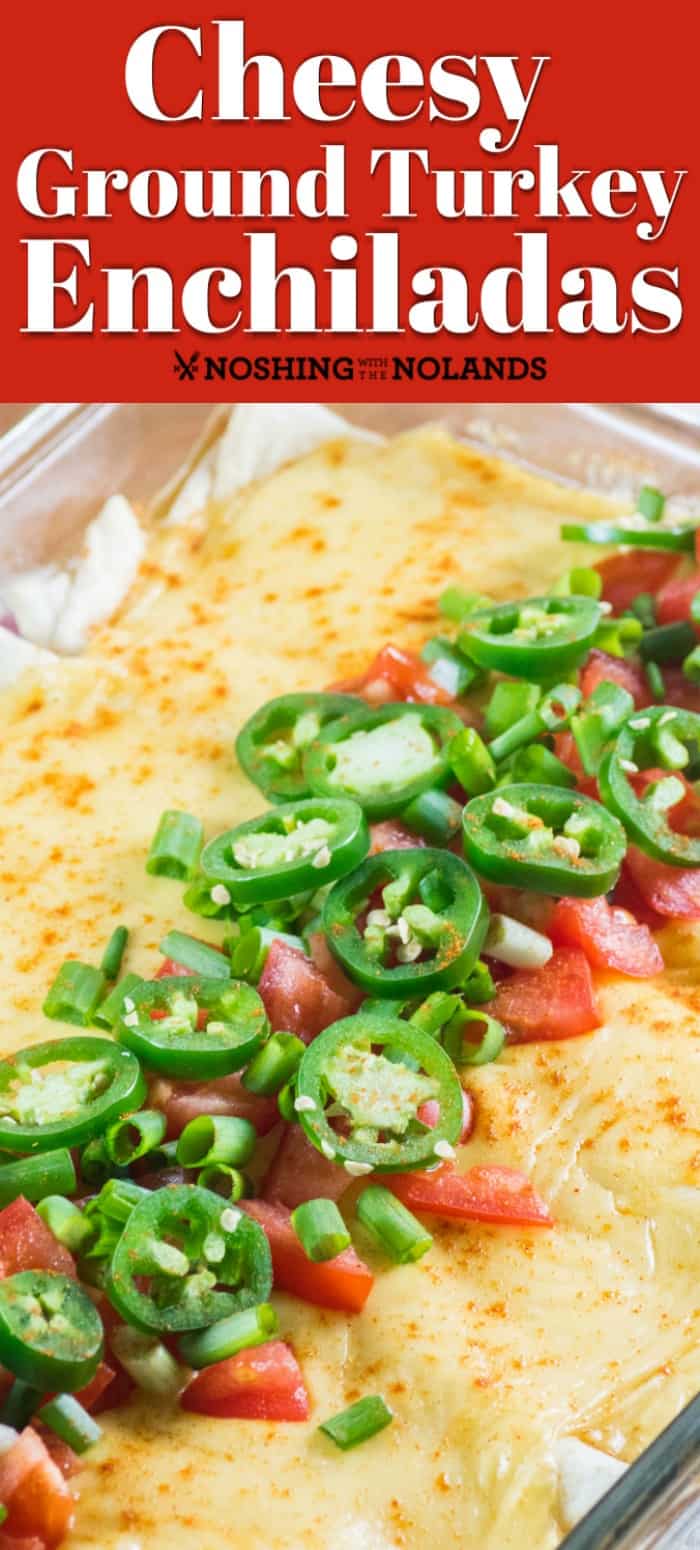 Cheesy Ground Turkey Enchiladas Recipe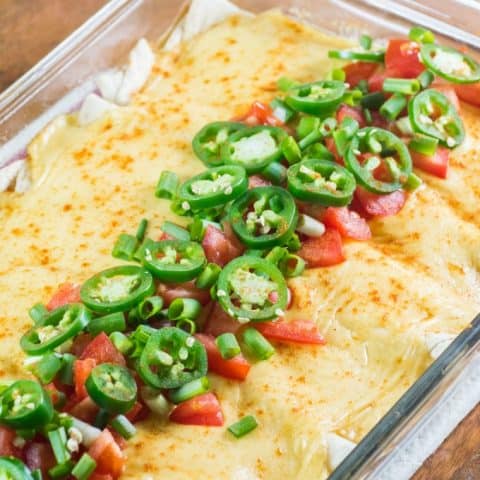 Cheesy Ground Turkey Enchiladas
Yield: 8 Large Tortillas
Prep Time: 15 minutes
Cook Time: 30 minutes
Total Time: 45 minutes
Cheesy Ground Turkey Enchiladas is a simple to pull together dinner that is a great one-dish meal for weeknights. The delicious turkey interiors go fabulous with the ooey gooey cheese sauce.
Ingredients
8 large tortillas
1 lb. ground turkey
1 (4.5 oz.) diced green chilies
1 Tbsp. canola oil
1 red bell pepper, diced
1/3 cup white onion, chopped
1/2 cup Monterey Jack cheese, grated
Salt and pepper to taste
Cheese Sauce
2 Tbsp. flour
2 Tbsp. butter
1 cup 3% milk
1 1/2 cups sharp cheddar cheese, grated
Salt to taste
Toppings
1 jalapeno, sliced
1 large tomato, diced
3 green onion, sliced
Instructions
In a large skillet heat the canola oil and cook the turkey until it is browned and no longer pink. Add in the bell pepper and onions and cook until softened. Season with salt and pepper. Add in the chilies and the Monterey Jack cheese and stir to combine.
Preheat oven to 350F. Spray a 9x13" pan and set aside.
Divide the turkey mixture among the tortillas and roll tightly. Place in the casserole dish seam side down. If making ahead you can now cover and refrigerate.
To make the cheese sauce, melt the butter in a medium saucepan and add the flour, let cook for one minute. Add in the milk slowly while whisking and continue to cook until heated, smooth, bubbly and thickened.
Remove from heat and add in the cheddar cheese, stir until smooth. Season to taste with salt.
Pour the cheese sauce over the enchiladas.
Bake for 20-25 minutes, longer if they were refrigerated until the enchiladas are heated through and the cheese sauce is bubbling around the edges.
Remove from the oven and sprinkle on the toppings. Serve immediately.
Recommended Products
As an Amazon Associate and member of other affiliate programs, I earn from qualifying purchases.
Nutrition Information:
Yield: 4
Serving Size: 2
Amount Per Serving:
Calories: 1000
Total Fat: 56g
Saturated Fat: 22g
Trans Fat: 1g
Unsaturated Fat: 28g
Cholesterol: 196mg
Sodium: 1236mg
Carbohydrates: 70g
Fiber: 5g
Sugar: 5g
Protein: 54g