I love digging up old recipes and sharing them with you like this Refrigerator Bran Muffins recipe. This recipe I have made many, many times over the years.
This bran muffin recipe will delight young and old alike. When they are warm and fresh from the oven they are so good, they beat any store-bought muffin hands down.
Once they have cooled, a quick 15-20 seconds in the microwave can bring them back to that just-baked stage too. You may also love our Banana Crumb Muffins, Zucchini Carrot Breakfast Muffins, or our Banana Chocolate Chip Muffins too!!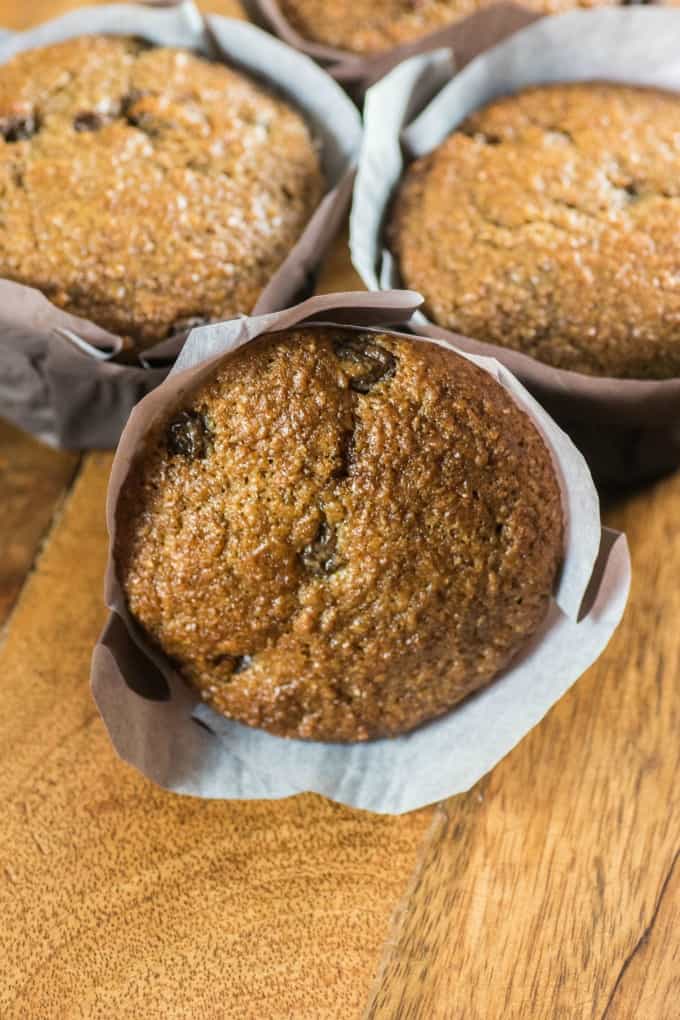 Helpful Items for This Recipe
This post contains affiliate links. As an Amazon Associate, I earn a small portion from qualifying purchases at no extra charge to you.
Bowl 32-cup in Rain Drop Blue by Tupperware
Tulip Cupcake Liners, 150 Brown Parchment Paper Baking Cups
Non-Stick Bakeware 12-Cup Muffin Pan
See how wonderful they look!! Tender and fresh!! I love baking them in the oversized muffin liners. These are made with parchment paper and the muffins just pop right out of the liners.
Not sure how long I have been making them but it was not a recipe that my mom made but a recipe that I enjoyed making for my family.
Anyone can whip these muffins up because they just need to be scooped into liners and off they go into the oven. The kids can easily make them too.
How long is muffin batter good for in the fridge?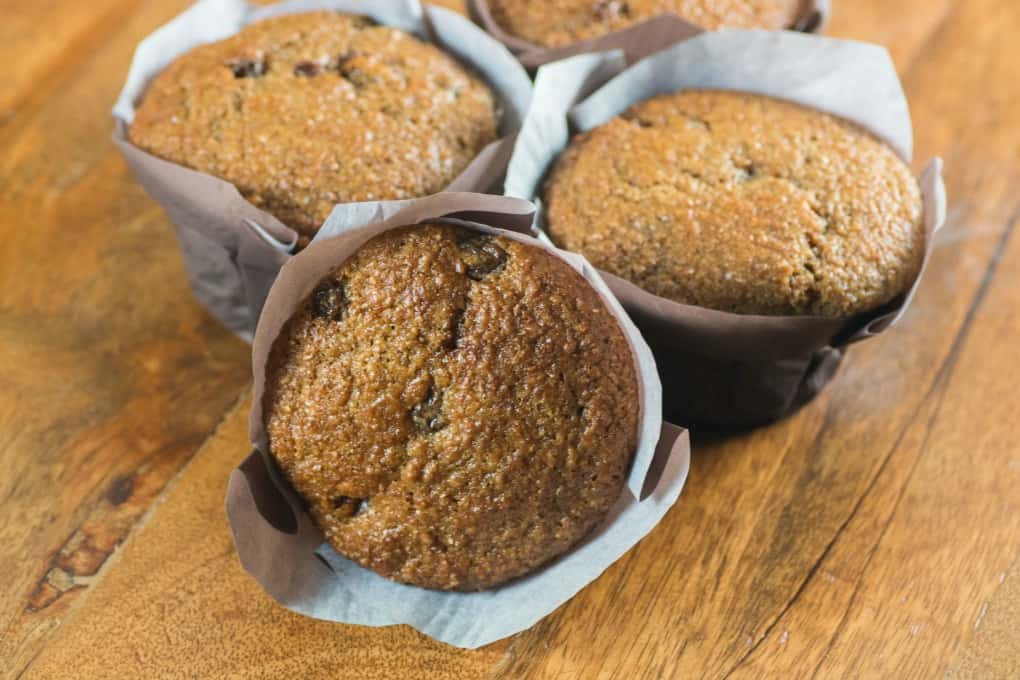 This recipe is also called a 6-week Refrigerator Bran Muffin recipe because you can keep the batter in the fridge for up to six weeks and have fresh hot bran muffins anytime.
I think keeping them for 4 weeks is plenty, makes me leery to keep them longer. Plus they have never lasted to the full six weeks anyway! I love to pop these into the oven 6 at a time so we always have fresh muffins on hand.
Use the freshest of ingredients when making these as you will be storing them for some time in the fridge. Don't use milk that will expire the next day as you will not end up with good results and your muffin mix won't last as long.
Are bran muffins good for you?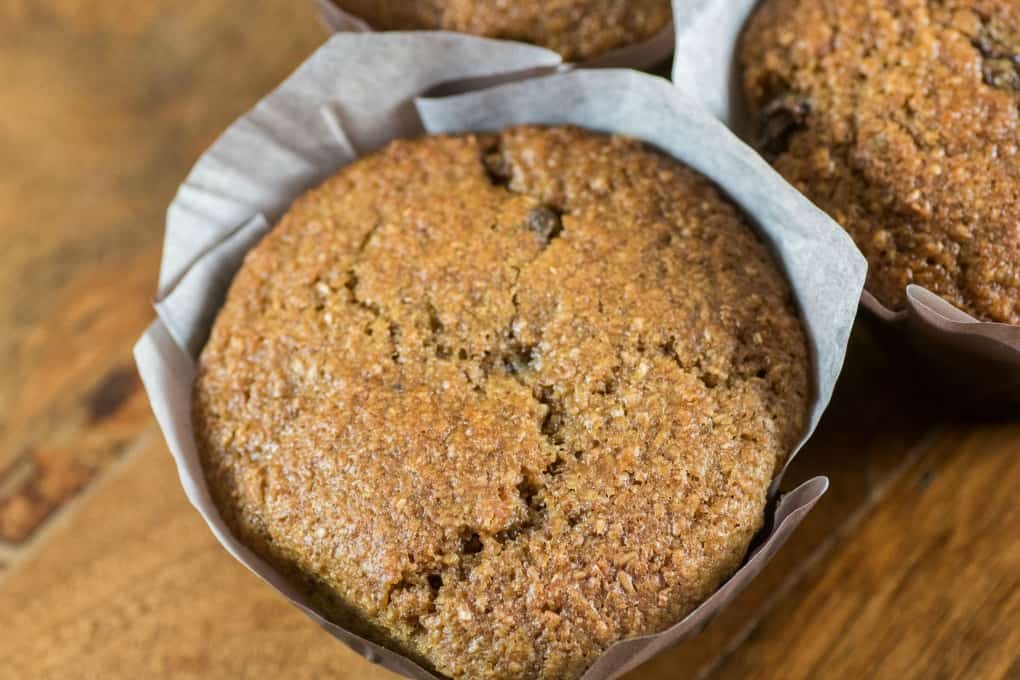 Bran muffins have been one of my all-time favorites and they are at least somewhat healthy for you with all the bran and bran flakes! Also with the goodness of buttermilk, eggs, raisins, and molasses.
They are high in fat though and calories and sugars but everything in moderation. I think of them as more of a treat than a real healthy alternative.
These large muffins will make less than the recommended 6 dozen, they are almost like two muffins in one. A regularly sized muffin is about 124 calories with 3 grams of fat.
To keep them tender don't over-mix them. Blend until they are just incorporated together. Mix them in a large bowl and preferably one with a lid. This can just go right into the fridge then.
How long do bran muffins last?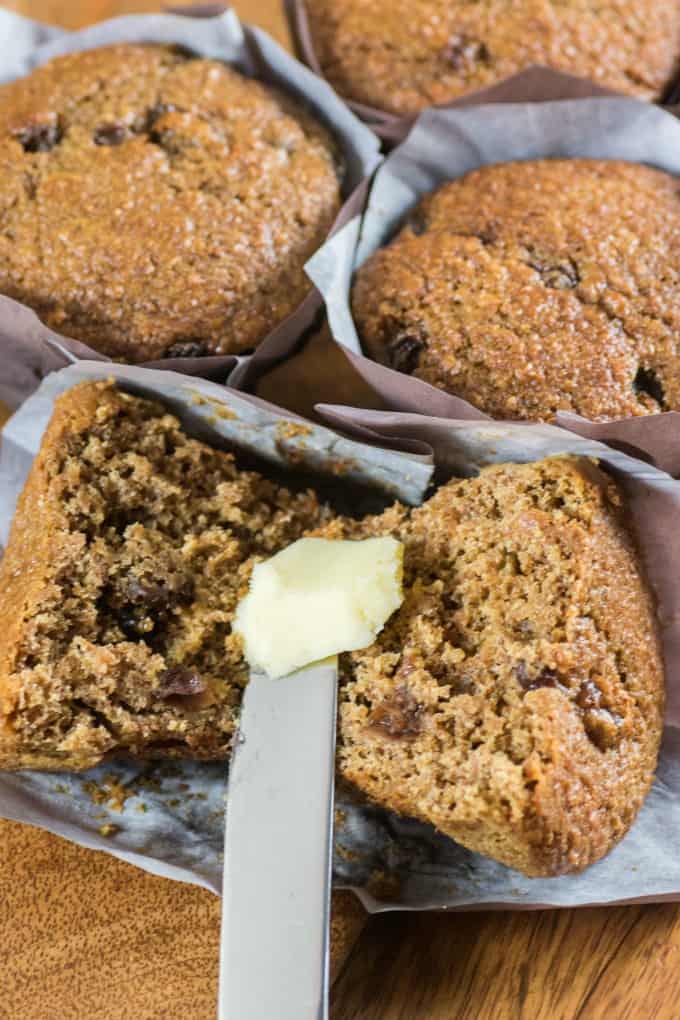 As I said I like to bake them up in sixes so that we will always have fresh bran muffins.
They will last on the counter in a sealed container for 2-3 days, longer if kept in the fridge and if you have baked too many then they can be frozen also.
These would be wonderful as an after-school snack or packed into a lunch box with fresh fruit!! Plus having them done ahead of time makes for very quick breakfasts for the whole family!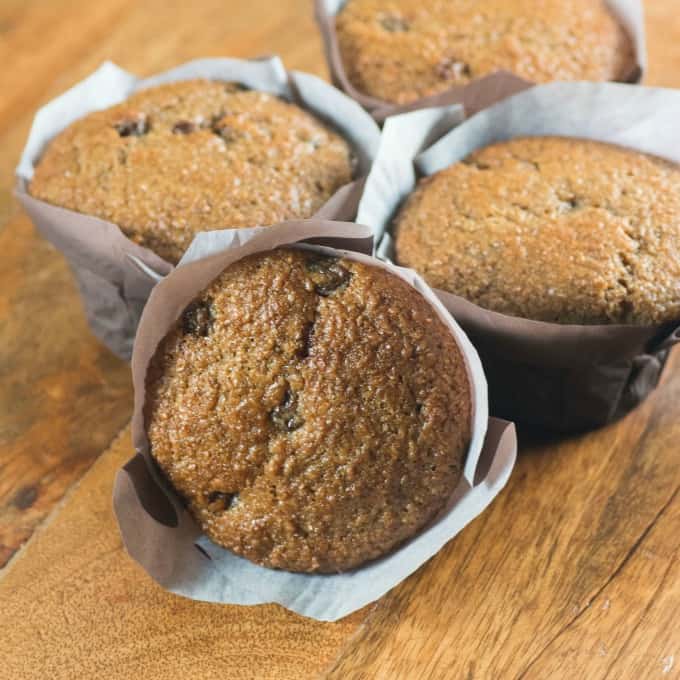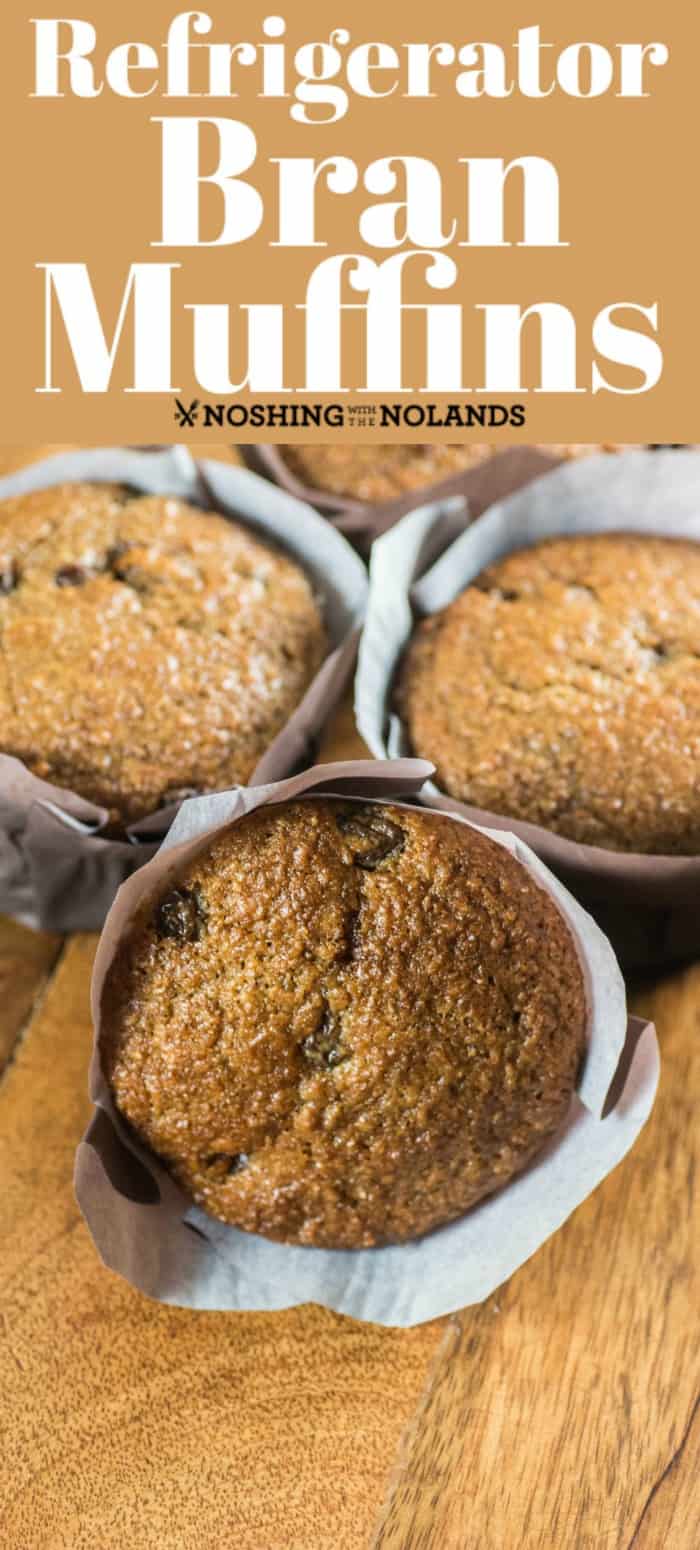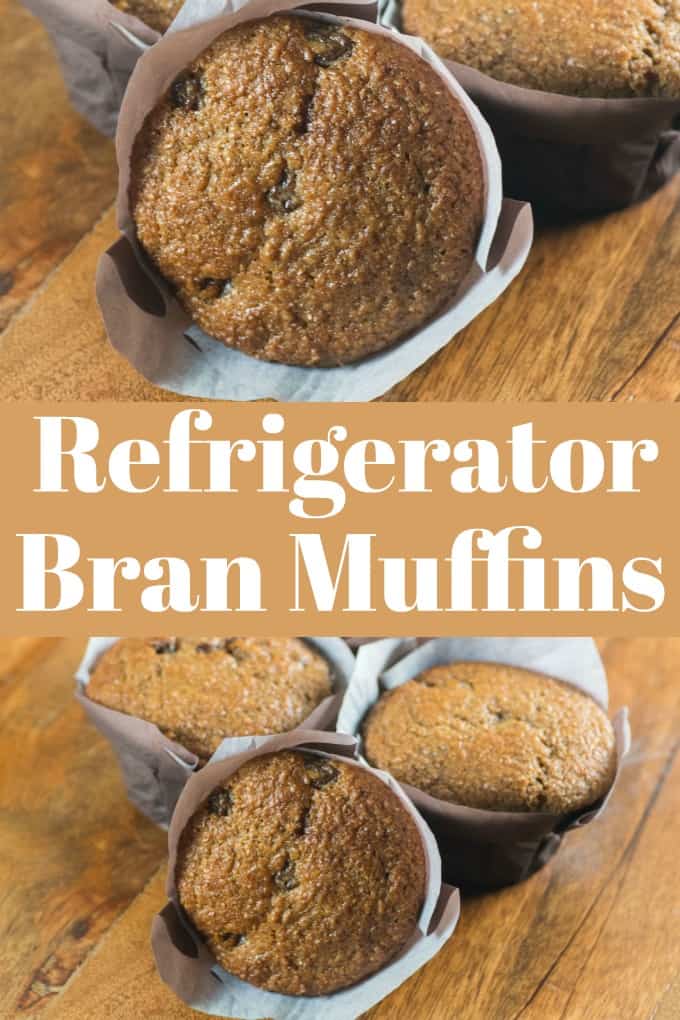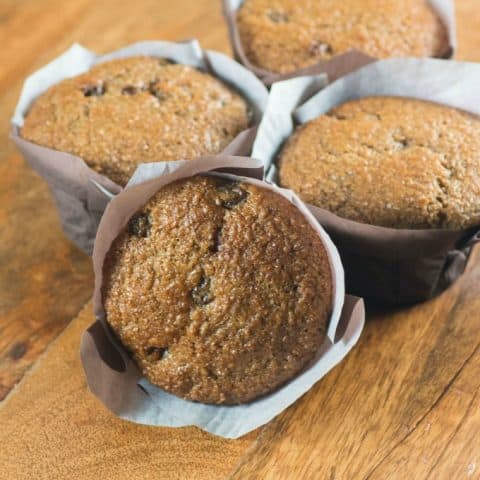 Refrigerator Bran Muffins
Yield: 6 dozen*
Prep Time: 20 minutes
Cook Time: 25 minutes
Total Time: 45 minutes
These wonderful Refrigerator Bran Muffins are ready when you are wanting a fresh hot muffin. The batter keeps up to 6 weeks in the fridge.
Ingredients
4 cups bran
2 cups bran flakes
2 cups boiling water
1 cup butter, softened
1 cup sugar
2 cups brown sugar
4 eggs
4 cups buttermilk
1/2 cup molasses
5 cups flour
2 Tbsp. baking soda
1 Tbsp. baking powder
1 tsp. salt
2 cups raisins
Instructions
Combine bran and bran flakes in a large bowl. Add the boiling water and stir well. Let stand.
In another bowl cream the butter with the sugars, beat in the eggs one at a time, then stir in the buttermilk and molasses and blend well.
In a third bowl add in the flour, baking soda, baking powder, salt and raisins. Stir into the sugar/egg mixture and stir until just blended. Add in the bran mixture and again stir until just blended.
When ready to bake the muffins, preheat oven to 400F. Fill lined muffin cups 3/4 full. Bake for 20-25 min. or until they spring back to touch or a cake tester comes out clean.
Keep covered in the refrigerator for 6 weeks (I only keep mine for 4 weeks).
Notes
*You will get less muffins by making ones like we did in the extra large muffin liners.
Recommended Products
As an Amazon Associate and member of other affiliate programs, I earn from qualifying purchases.
Nutrition Information:
Yield: 72
Serving Size: 1
Amount Per Serving:
Calories: 124
Total Fat: 3g
Saturated Fat: 2g
Trans Fat: 0g
Unsaturated Fat: 1g
Cholesterol: 18mg
Sodium: 219mg
Carbohydrates: 23g
Fiber: 2g
Sugar: 13g
Protein: 2g