Do you love a unique cracker that goes so well with a charcuterie or even all on its own? This Gluten Free Crackers Recipe was given to me by our friend Mark who has since passed away. He was a great chef and we enjoyed so many meals together with him and his wife Joan.
I cherish those really great memories of long dinners and great card games. Lots of wonderful meals and recipes we shared.
I have made this recipe many, many times over the years and it is the best! This time Amber jumped into the kitchen and made it for us.
The crackers are very easy to make and only take 4 ingredients with two of them being water and salt. I have done another recipe for a gluten free cracker with this recipe for Parmesan Crackers.
They were absolutely scrumptious too and made with almond flour.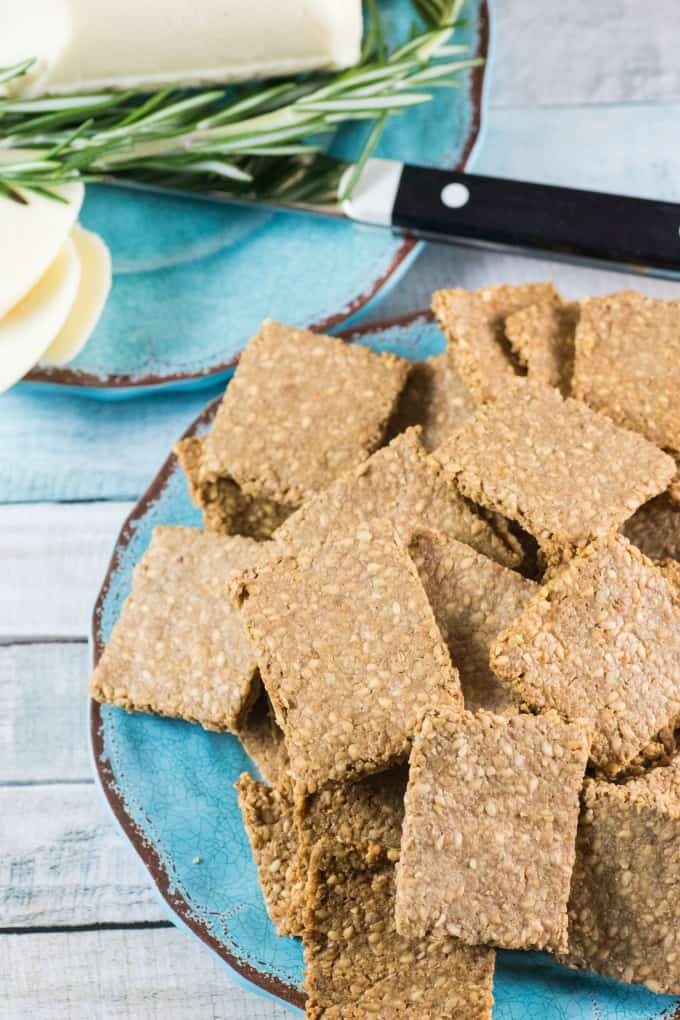 Helpful Items for This Recipe
This post contains affiliate links.
The other two ingredients are sunflower seeds and sesame seeds. When baked these crackers have that wonderful nutty taste and are perfect with a slice of any cheese or meat.
I just love munching on them on their own too. Such amazing flavor for so few ingredients.
What kind of crackers are gluten free?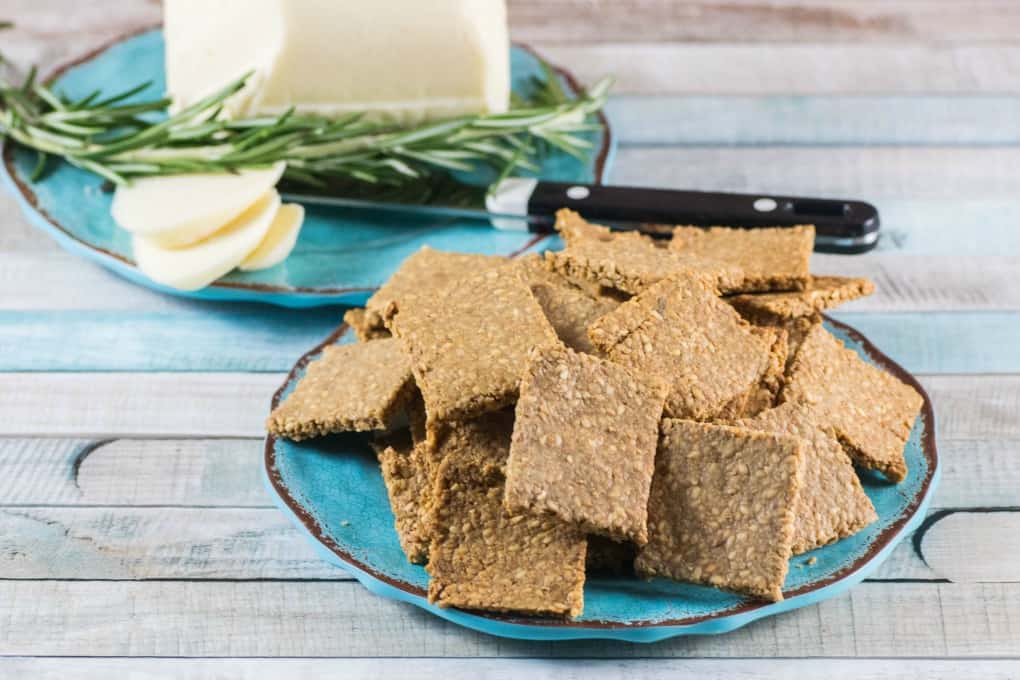 There are many kinds of crackers that are gluten free now in the market. The ones that I really enjoy are more naturally made without a lot of substitutes.
When they revamp an already favorite cracker recipe to be gluten free they always seem to mess with the taste. I love a crisp rice cracker that is gluten free, plain, simple and delicious.
A lot of specialty stores or health food stores would carry a bigger variety of gluten free crackers. Try a few to find the ones that you like.
A lovely nutty tasting one like these are even better. They aren't too delicate either and withstand spreading of cheese or dipping too.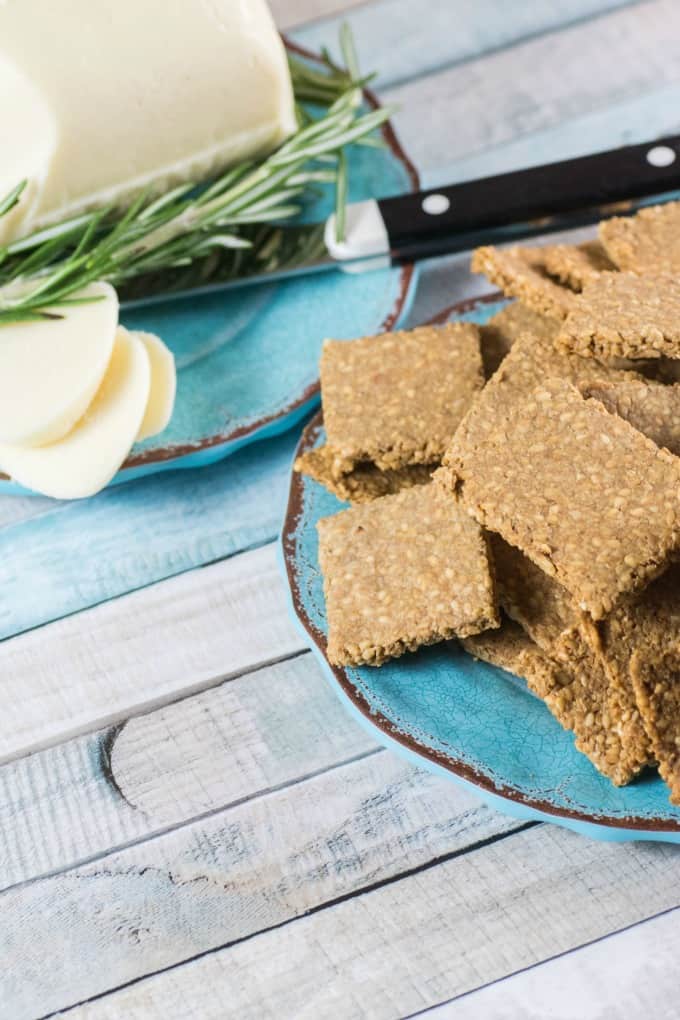 Do you have friends or family that are in need of gluten free recipes? Share these crackers with them when they come over. Give them the recipe so they can make them at home too.
Everyone will be loving how easy this recipe is and how fast you can whip them up. They stay fresh in an air tight bag or container for 1-2 weeks if they last that long.
Food Processor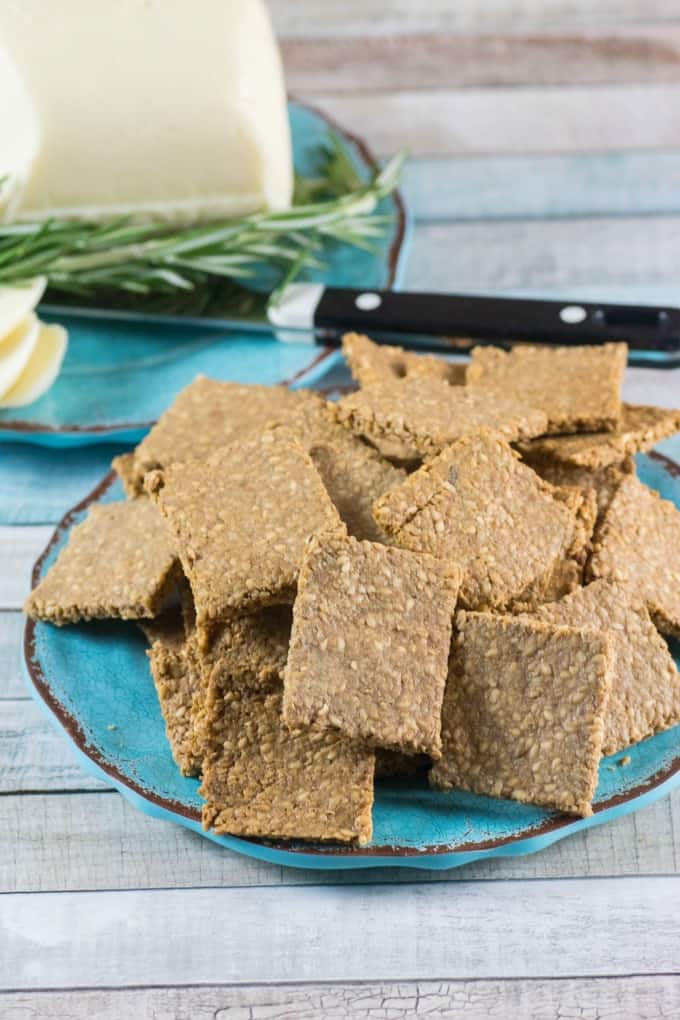 The ingredients are all added to a food processor and whipped up to form a dough, that is how easy they are to make.
They are then flattened out between two sheets of parchment paper, where you can easily roll the dough out.
You then roll them, score them and slide the parchment onto a cookie sheet to bake in a slow oven of 325F. A pizza cutter makes quick work of the scoring.
The crackers can be seasoned after the first 15 min. with finely grated Parmesan cheese or seasoning salt but I have always left them plain, they are so good just as is!!
There you have it, homemade gluten free crackers!!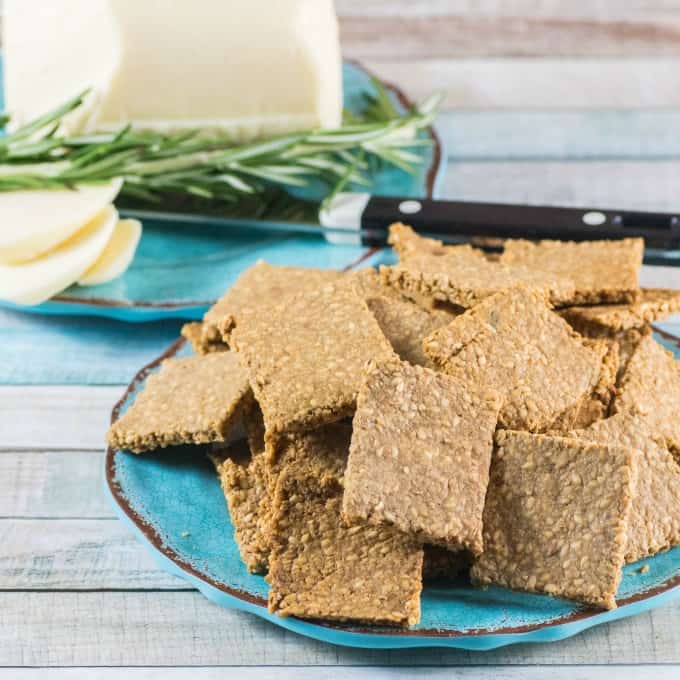 These crackers don't contain any flour so they are gluten free, they don't contain any animal products so they are also vegan.
You can put these into your kids' lunchboxes too for a healthy part of their lunch or a snack cracker for recess. The sunflower and sesame combination creates so much flavor so not much else is really needed to be added.
I like to bake them until they are just a little bit browned like this, be careful though as they can burn easily from this point.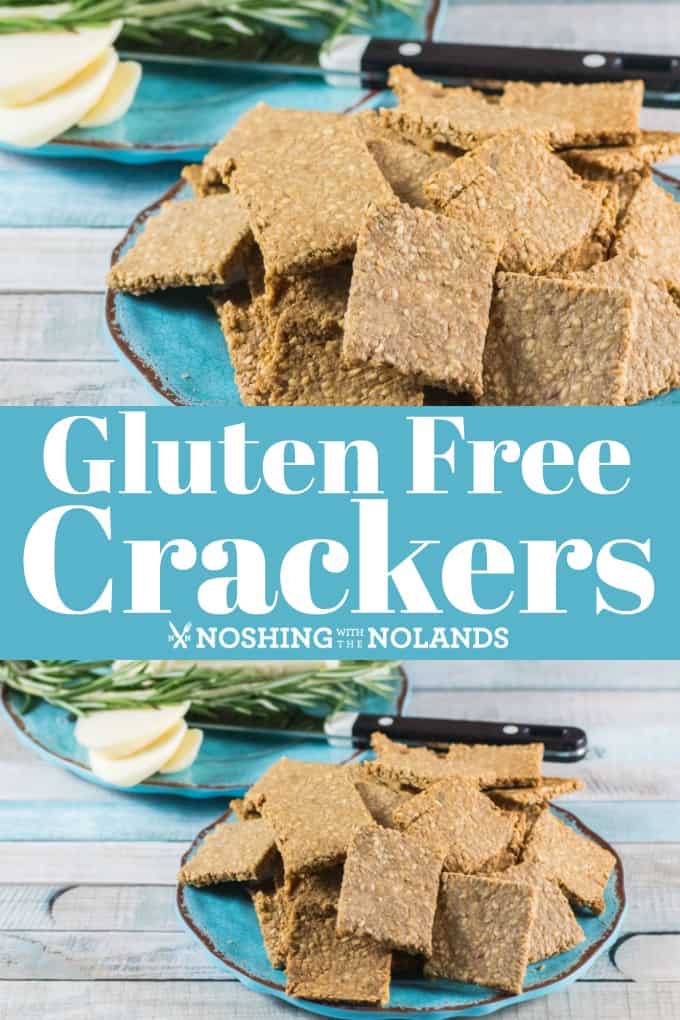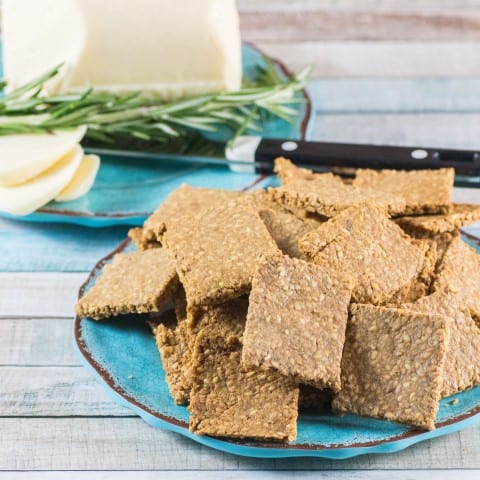 Gluten Free Crackers Recipe
Yield: 36 crackers
Prep Time: 10 minutes
Cook Time: 35 minutes
Total Time: 45 minutes
A four ingredient Gluten Free Crackers Recipe you will want to be making again and again. Even if you don't need a gluten free cracker these are great!!
Ingredients
1 cup sunflower seeds
1/2 cup sesame seeds
1/2 tsp. salt
1/4 cup water
Instructions
Preheat oven to 325F. And cut two sheets of parchment paper the size of a baking sheet.
In a food processor grind the sunflower seeds first and then add the sesame seeds and salt and pulse to combine.
Add the water and continue to pulse to make a dough.
Place the dough on a parchment paper and place the second sheet on top. Roll out to 1/8 of an inch thick. Try to keep the dough in a rectangle as much as you can. It is easy to work with and pieces can be cut off and added around the edges to get a better shape.
Slide the parchment onto a baking sheet and score using a pizza cutter. You can slice them all the way through also if that is easier.
Bake for 35 min or until slightly browned.
Notes
Options: After 15 min. of baking you can add finely grated Parmesan or seasoning salt.
Recommended Products
As an Amazon Associate and member of other affiliate programs, I earn from qualifying purchases.
Nutrition Information:
Yield: 12
Serving Size: 3 crackers
Amount Per Serving:
Calories: 88
Total Fat: 8g
Saturated Fat: 1g
Trans Fat: 0g
Unsaturated Fat: 7g
Cholesterol: 0mg
Sodium: 739mg
Carbohydrates: 3g
Fiber: 2g
Sugar: 0g
Protein: 3g