If you have ever had a charcuterie board, you know how delicious they can be. Offering up an array of pickled items, cured meats, cheese, sweet or savory jams, spreads, fresh fruit, crackers, bread, and more, a Charcuterie board is perfect to offer to a crowd. So today I bring you How to Build the Best Charcuterie Board.
Anyone can offer up a plate of basic crackers and cheese, but a well-constructed charcuterie board is so much more than that. In fact, it's more of a choose your own adventure story.
When it comes to building your charcuterie board, there aren't really any concrete rules. However, mixing and matching items that complement each other, adding in savory flavors, sweet tastes, and different textures is important to the board's success.
The word charcuterie means cold cooked meats which are usually cured or smoked or a store that sells cold cooked meats. Today the word "charcuterie" has been stretched a bit more to include other things like cheese, pickled items, mustard, condiments and so much more.
How do you pronounce charcuterie? [shahr-koo-tuh–ree]. Enjoy all this post has to offer with lots of information so you can know How to Build the Best Charcuterie Board around. Also, check out our new Breakfast Charcuterie Board or our Garlic Butter Board for more fun ideas.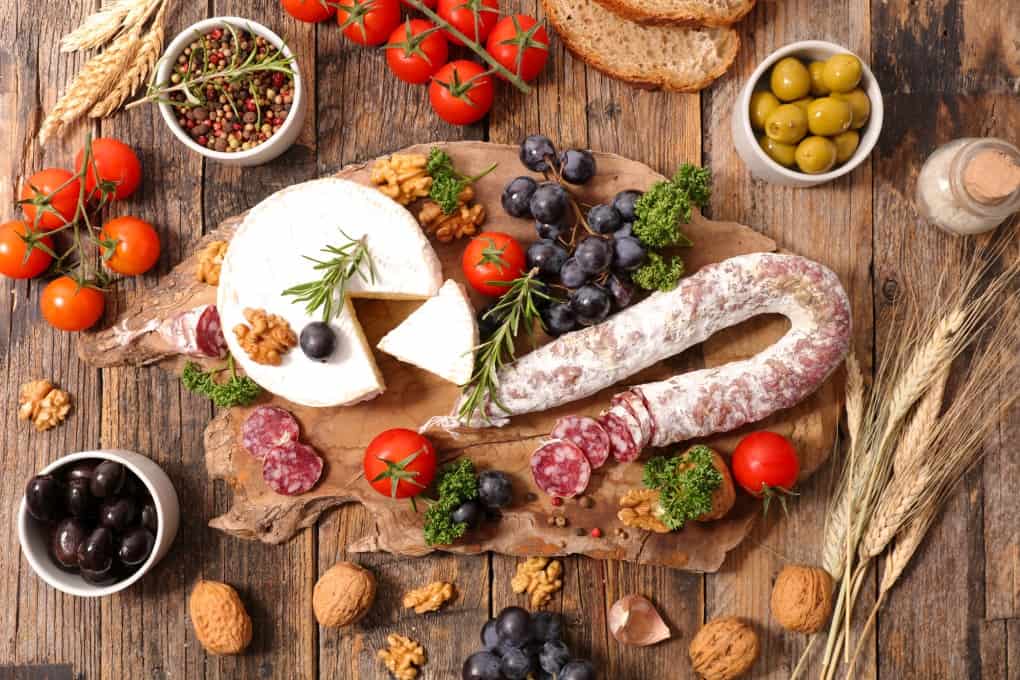 What You Need to Build a Charcuterie Board
The Board
One or two platters will work just fine. In fact, you can use a wooden cutting board or even a marble slab. There are several different boards you can use to create the perfect Charcuterie board.
Meats
When choosing the meats you will be adding to your charcuterie board, you will want to add variety. Choose cured sausage, whole muscle cuts and even forcemeats. Just make sure that the meats are sliced thin.
Cured Sausage
Salami (try one with a Parmesan rind)
Spanish Chorizo
German Sausage
Kielbasa
Polish Sausage
Whole Muscle Cuts
Bresaola
Prosciutto
Jamon Serrano (I am loving this even more than prosciutto at the moment)
Jamon Iberico
Forcemeats
Duck or goose liver pâté
Quenelle or Salmon mousse
Roulades or terrines
Pork, Duck, Goose or Rabbit Rillettes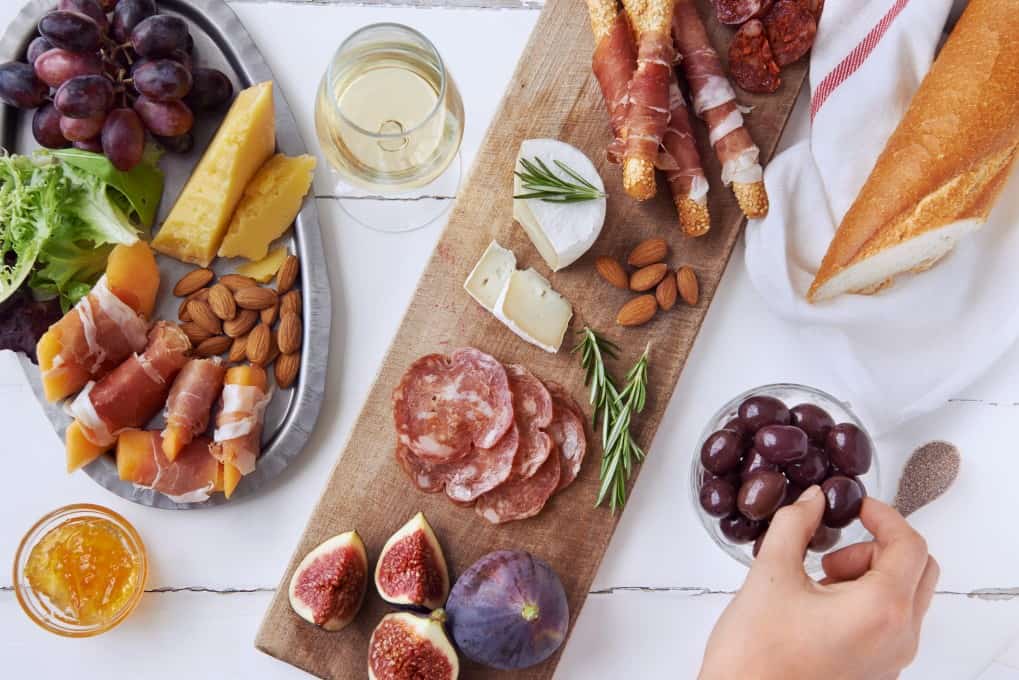 Cheeses
When it comes to creating a well-rounded Charcuterie board, it is important to include firm cheeses and soft cheeses. Adding a variety of texture and flavors is important. There are many, many kinds of cheese to choose from. Here is a selection of some of my favorites to add to a charcuterie.
Firm and Medium Firm Cheese
Parmigiano Reggiano
Piave
Sbrinz
Bellavitano
Cheddar, try an applewood-smoked, extra-aged, an Irish Porter or many more
Grand Padano
Pecorino
Gouda, smoked is lovely
Edam
Jarlsberg
Gruyere
Emmental
Manchego
Asiago
Semi firm and Soft Cheese
Brie
Camembert
Chevre
Blue Cheeses like Stilton, Roquefort, Cambozola, Gorgonzola
La Serena
Havarti
Munster
Smoked Mozzarella
Saint Andre
Cream Cheese
Neufchatel
Burrata
Boursin
Pickled Items
Adding pickled items to your charcuterie board will balance the flavors of the meats and cheeses added. Plus it is fun to add in different textures and tastes to your board.
Olives
Artichoke Hearts
Antipasti
Caperberries
Jams & Spreads
Adding jams and spreadable items to the board will help to make the experience more enjoyable. They add a lovely touch to both meats and cheeses.
Berry Jams
Cranberry Sauce
Hummus
Olive Tapenade
Store-bought dips like spinach dip, cheese dips, artichoke dip, onion dip
Vegetables and Fruit
Including fresh vegetables and fruits to your board will add the balance you need and act as a fantastic pallet cleanser. In the warmer months you can grill your vegetables and even your fruits to add another dimension. Vegetables like eggplants, zucchini, peppers, onions all lend themselves to a quick grill. While fruits like watermelon, peaches, pineapples and pears are also fun to experiment with.
Celery
Carrots
Cucumber
Cherry Tomatoes
Grapes
Strawberries
Blackberries
Blueberries
Sliced Apples
Sliced Pears
Melon
Pineapple
Pomegranate Seeds
Dried fruits like apricots, pineapple, dates, figs
Bread, Crackers, and Nuts
You will need something to give the tray a bit more substance. Add a variety of different breads, crackers and nuts. The crackers can be added right to the board or separately in a basket.
Whole Grain Crackers
Melba Toast
Pretzel Crisps
Plain Crackers
Crusty Bread
Crackers with Nuts and Berries
Toasted Crostini
Gluten-Free Crackers
Parmesan crisps
Pistachios
Almonds
Cashews
Mixed Nuts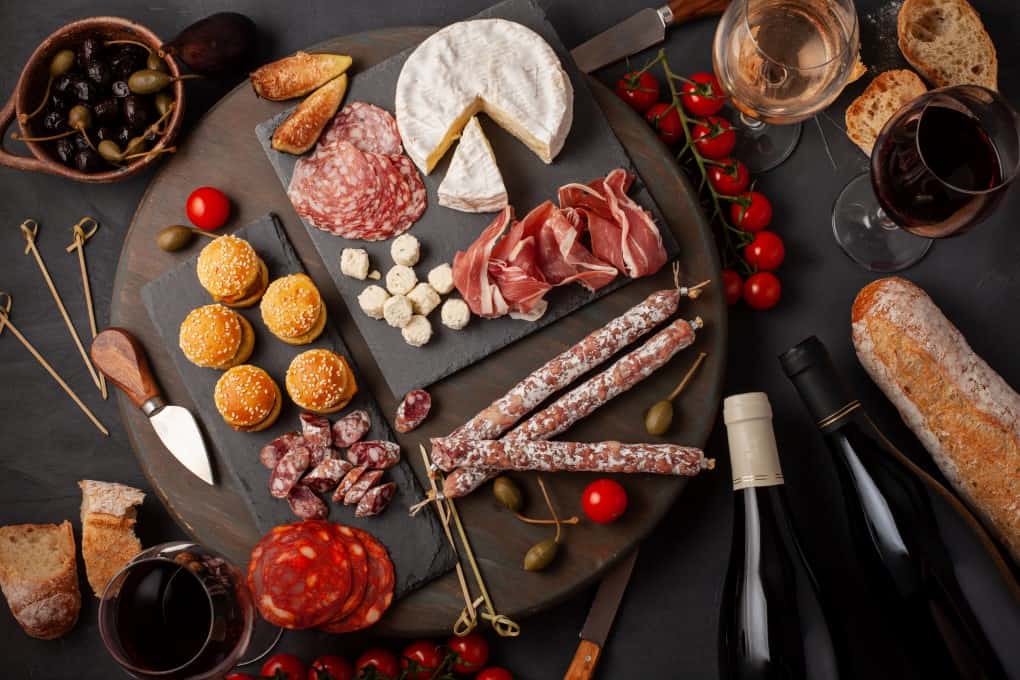 The Finishing Touches
The finishing touches to your charcuterie board make all the difference. It should be well arranged and well thought out.
Serve confiture and jams in their original jars, especially if they are attractive or in little bowls with appropriate serving tools.
Don't cut bread until it's being used to preserve its freshness.
Provide serving tools like a few cheese knives, spreaders, spoons, and a dish for olive pits. Plus don't forget little appetizer plates and napkins.
When constructing your board, arrange things in an attractive manner, staggering cheeses, meats, vegetables, and other items. This gives the board a pleasing appearance, making different colors pop. You can add in some fresh herbs to liven up the board too. They are attractive to look at and can even add some aroma to the platter.
When it comes to creating a beautiful charcuterie board, the sky is the limit. If things are planned ahead of time and fruits and vegetables are washed then a charcuterie board can be pulled together in a matter of minutes.
Pair it with a selection of different wines and beer varieties to please all your guests or makeup one of these 35 Festive Cocktails for the holidays. A charcuterie board can be served at any time of the year so check out 46 Cooling Summer Cocktails also.
Great Recipes to go with the Charcuterie Board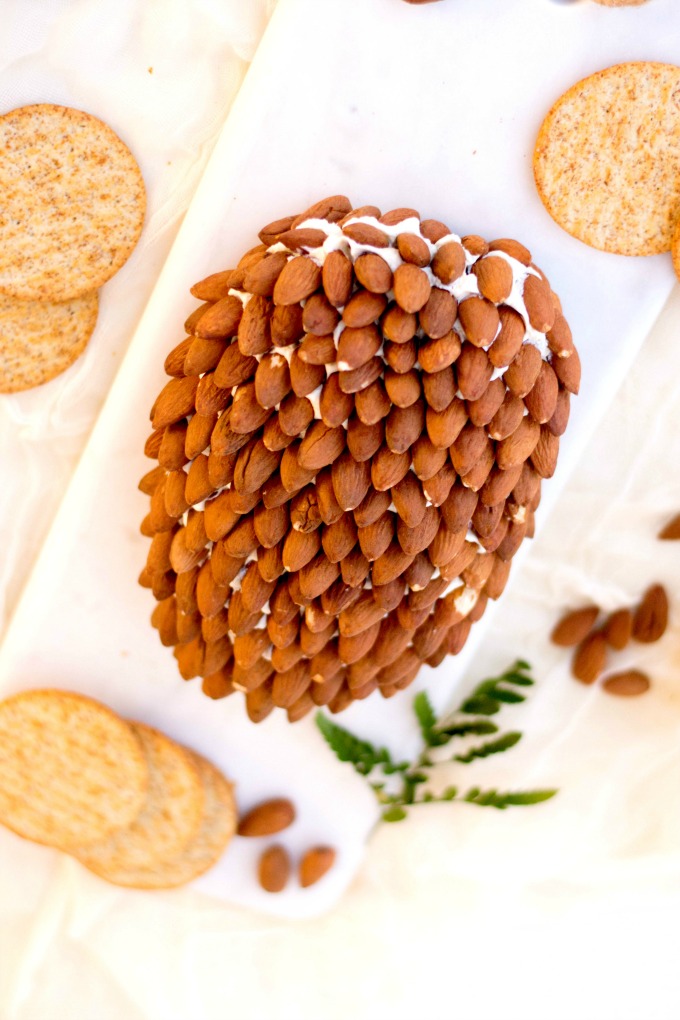 This Pine Cone Cheese Ball is perfectly festive for the holidays. It is easy to assemble, perfect for a crowd and is a great make-ahead that can be added to your charcuterie.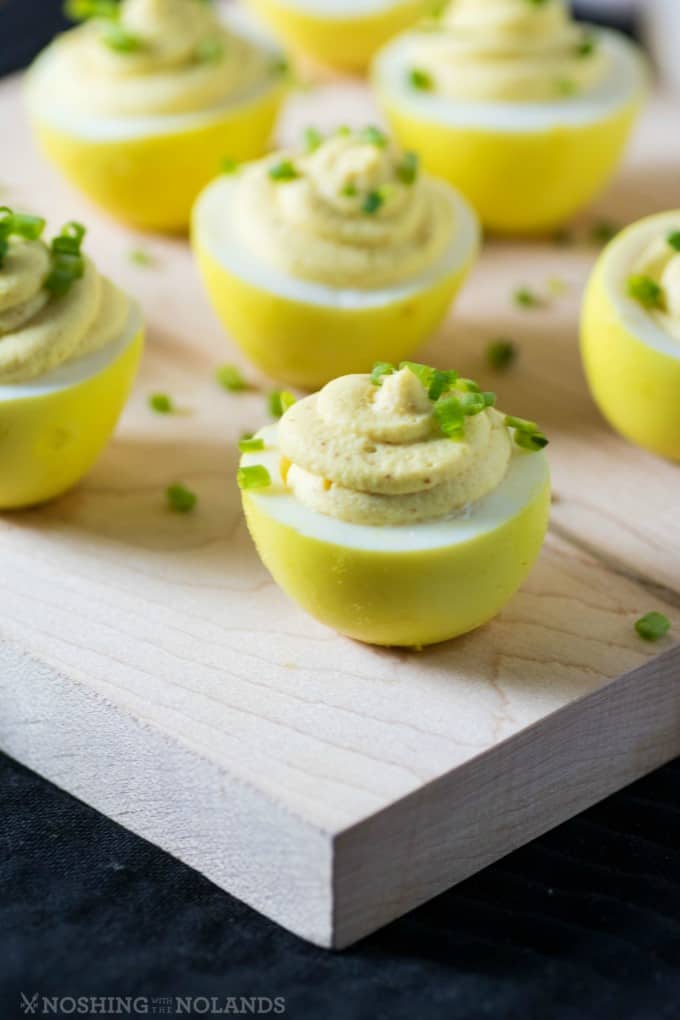 Tumeric Dyed Curry Deviled Eggs are fantastic at any time of the year. Deviled eggs are loved by so many people and are usually the first dish to disappear.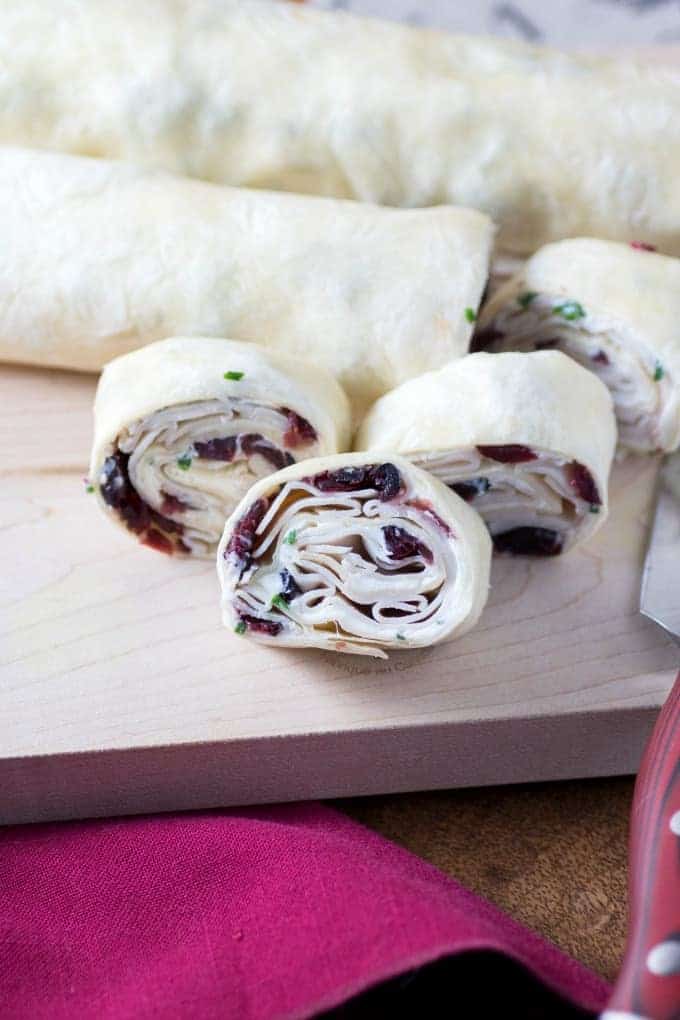 Cranberry Turkey Pinwheels are a great nibble and kids love these also. It is nice to have something on hand that little ones will enjoy too.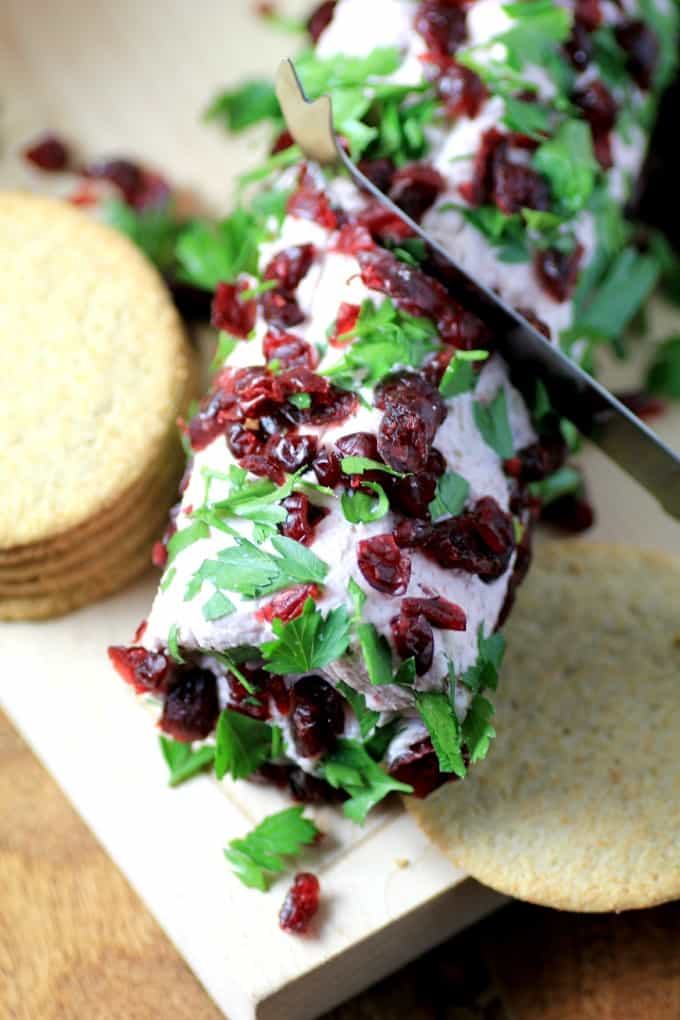 Cranberry Port Goat Cheese Log is easy and festive for the fall and winter holidays. I love the red and green addition to the outside of this log. People will be diving in to enjoy!!