Curried Red Pepper and Pickled Cauliflower
Charcuterie boards are all the rage for restaurants and home entertaining to even a casual dinner with family. Adding a few extra touches and a new recipe to a wonderful array of cheeses and meats brings it to a new level. That is why I made this scrumptious and colorful Curried Red Pepper and Pickled Cauliflower.
It is fun to try lots of different items for an appetizer board. We recently did Pickled Green Beans and Spicy Refrigerator Pickles. Both of which would be perfect served up with meats and cheeses.
This pickle recipe is packed with flavor from an assortment of spices and is just a perfect balance of sweet and spicy. The recipe is quick and easy and a great make ahead. It is bursting with color and adds so much to a pretty platter of goodies.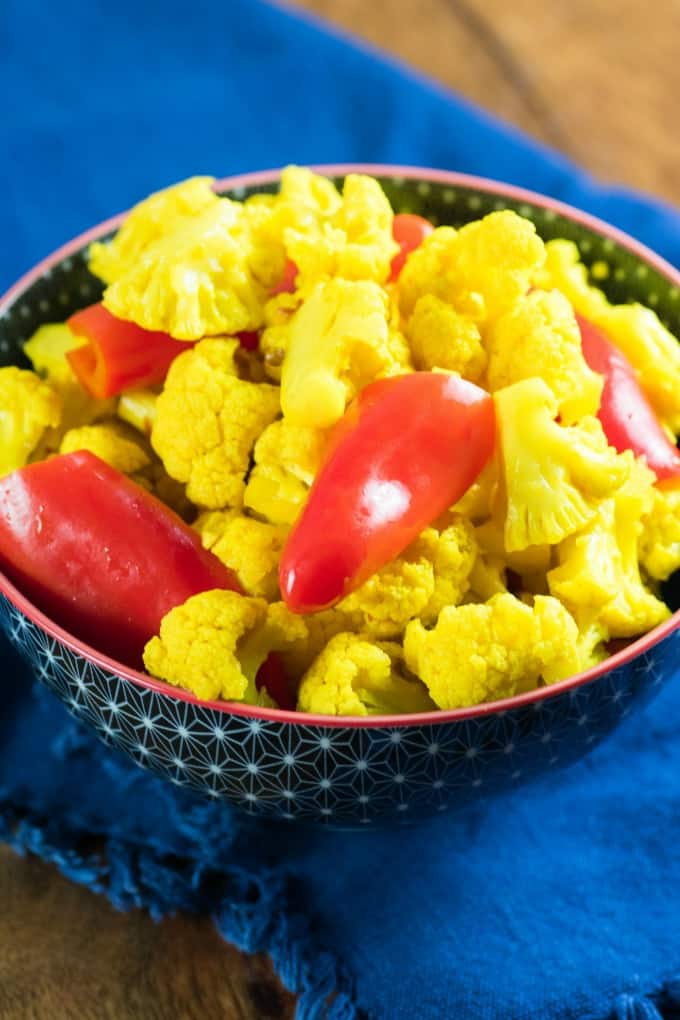 Helpful Items for This Recipe
This post contains affiliate links.
The red pepper adds a contrasting color to the gorgeous curried cauliflower and are just as delicious pickled too. You can use either a red bell pepper or as I did sweet mini peppers.
Sliced or julienned carrots make a nice contrasting color and pickle just as well too. You can also add in onions and jalapenos to make it even spicier. This recipe can be made to how you like it.
Using toasted spices gives you even more from the mustard seed, cumin seed, curry powder, dried ginger, cumin, tumeric, garlic and red pepper flakes.
How to Pickle Cauliflower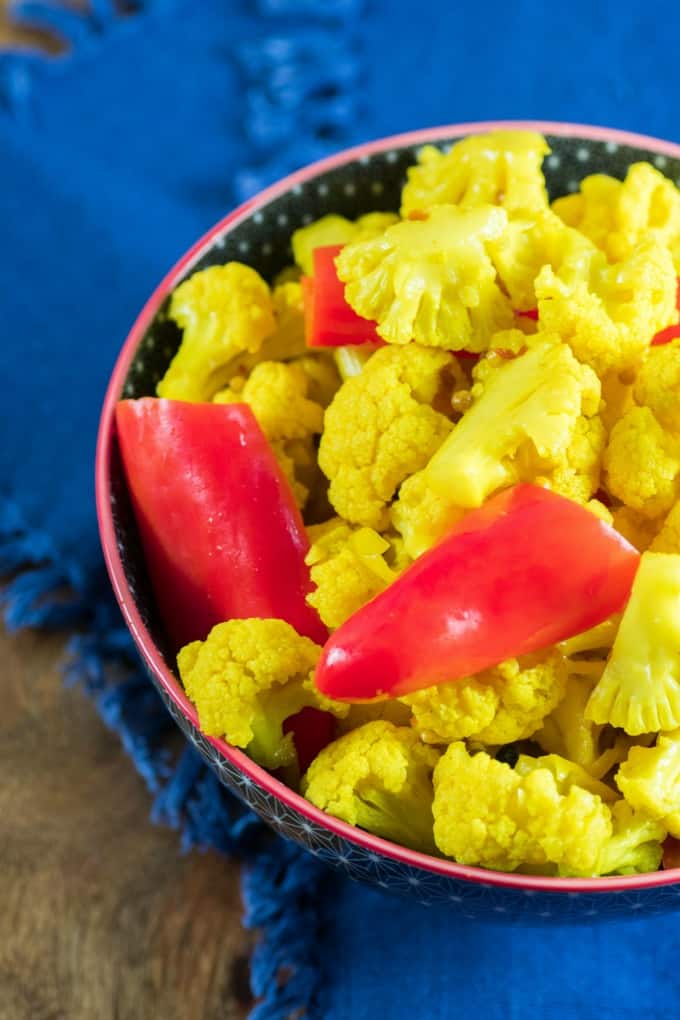 How to pickle cauliflower is a very easy process. It is a quick pickle method, one that takes about 2-3 days in the fridge. If you can't wait you can eat them sooner too they just won't be as flavorful compared to waiting a bit longer.
A canning process or water bathing is not necessary for a quick pickle. A hot brine is poured over the prepared cauliflower and red peppers and then they are left to cool and refrigerated.
The preserving or pickling is done by the acid from the white vinegar and the cider vinegar. Some people ask how do you can hot pickle cauliflower? It is this same method as you are adding a hot brine to the cauliflower.
How Long Does Pickled Cauliflower Last?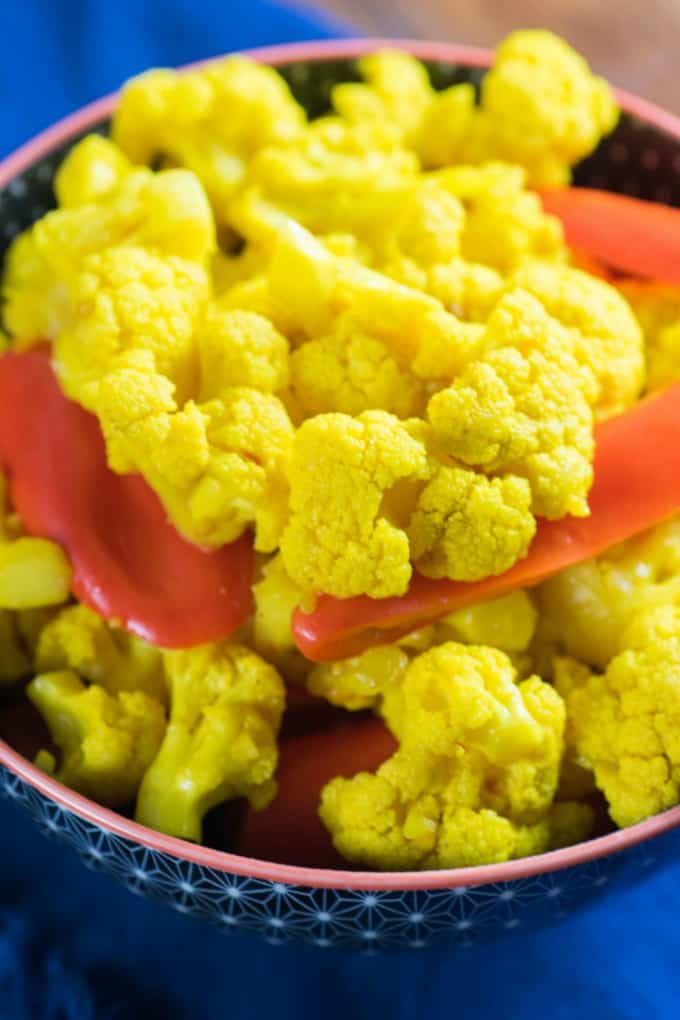 After it is fully pickled in 3 days it will keep up to 2-3 weeks in the refrigerator. It makes a great side to any meal or lunch.
Now you can process this and it will then last for months but I like the quick pickle method and enjoy it while it is in the fridge.
With its warming colors and flavors this makes a great winter pickle. This sure adds some healthy ingredients into an otherwise decadent time for the holidays.
Although this dish goes great in the winter it can be enjoyed in the summer too as it goes really well with grilled meats.
Is Pickled Cauliflower Good for You?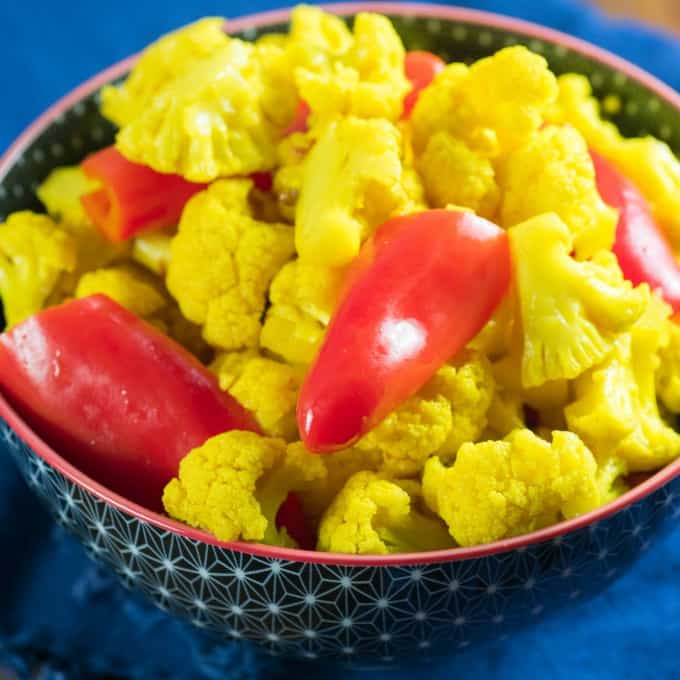 Cauliflower provides vitamin C and potassium. This recipe of course will be higher in sodium than if you just ate unpickled cauliflower but still healthy none the less.
As for the spices in this recipe they are all very healthy for you. Tumeric has many proven health benefits as does cumin, garlic, curry and more.
Make up a batch of this and create your own, making it spicier, sweeter, or more aromatic or pungent with spices.
Tip:
You need to know that you can't use iodized salt for canning. Use a pickling salt which can also be called canning salt or preserving salt. Also pickling salt is a pure granulated salt (sodium chloride).
Iodized salt can turn your produce black in color and your liquid cloudy. For this reicpe I use Kosher salt because it has the same benefits of pickling salt.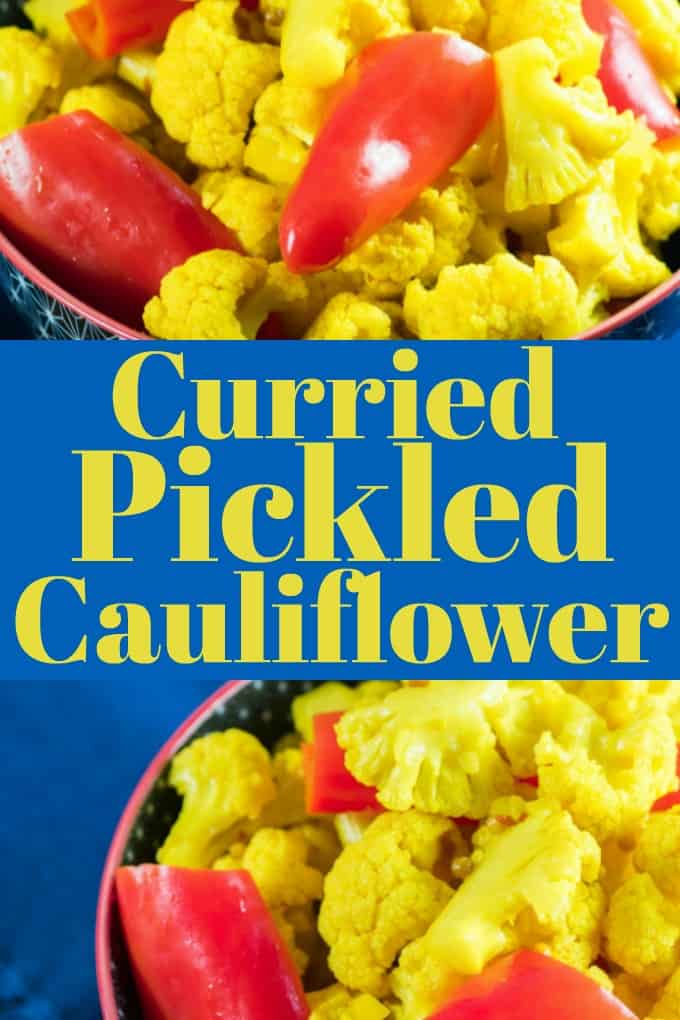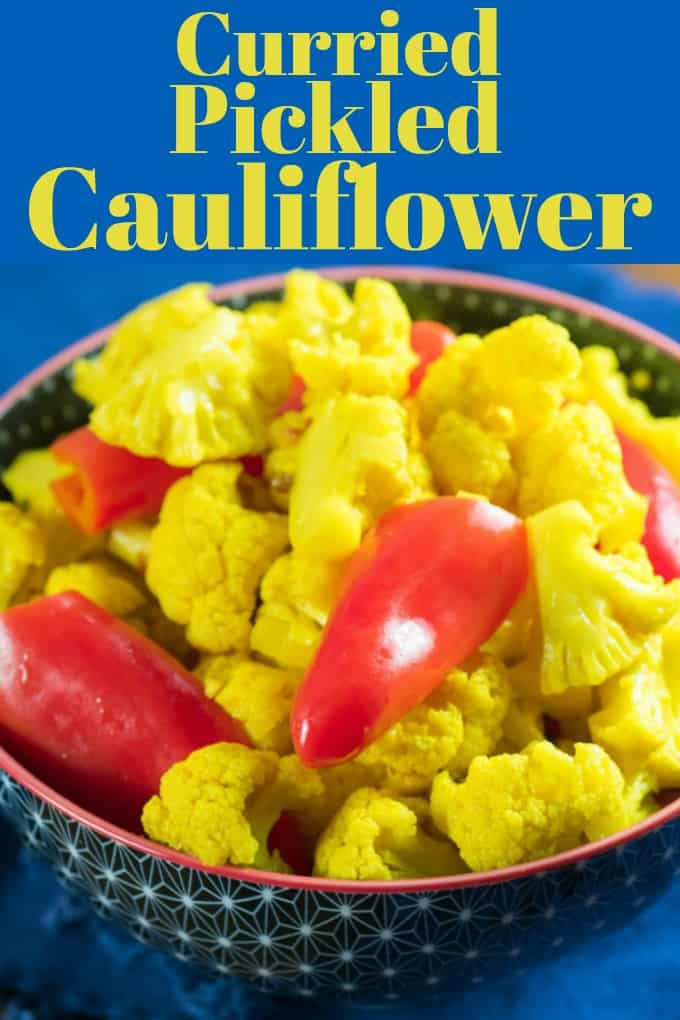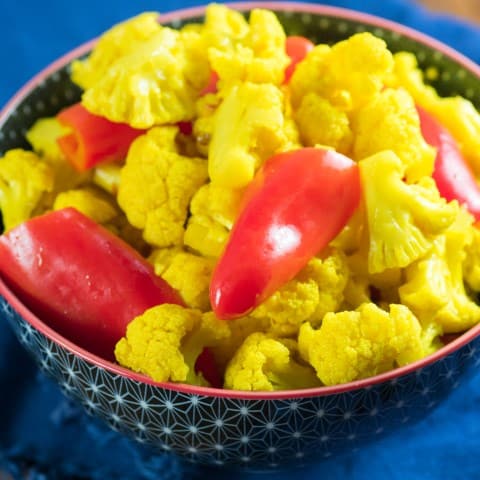 Curried Red Pepper and Pickled Cauliflower
Yield: 6 servings
Prep Time: 20 minutes
Additional Time: 3 days
Total Time: 3 days 20 minutes
This Curried Red Pepper and Pickled Cauliflower is perfect with any cheese board or charcuterie for anytime of the year.
Ingredients
1 tsp. mustard seed
1 tsp. coriander seed
2 tsp. curry powder
1/2 tsp. ground ginger
1 tsp. red chili flakes or to taste
1/2 tsp. cumin
1/2 tsp. tumeric
2 tsp. garlic, minced
1 cup water
2 cups white vinegar
1 cup cider vinegar
1 Tbsp. Kosher salt, use this or pickling salt not table salt
3/4 cup white sugar
1 head cauliflower, cut into florets
12 sweet mini red peppers, sliced in half
Instructions
In a dry pan add in the seeds and spices (mustard, coriander, curry, ginger, chili flakes, cumin and tumeric) and toast over medium heat until just fragrant, remove from pan.
In a medium pan add the water, vinegar, sugar and salt and bring up to a boil. Stirring until sugar is dissolved. Add in the toasted spices and garlic and stir.
in a large pot bring water up to a boil and add cauliflower and cook for a couple of minutes keeping it crisp. Drain.
Place cauliflower and red peppers into a large jar or container with a lid. Fill with hot brine.
Cool, chill, seal and refrigerate for 2-3 days. Serve and use up within 2-3 weeks.
Recommended Products
As an Amazon Associate and member of other affiliate programs, I earn from qualifying purchases.
Nutrition Information:
Yield: 6
Amount Per Serving:
Calories: 139
Total Fat: .6gg
Cholesterol: 0mgmg
Sodium: 1854.8mgmg
Carbohydrates: 31.8gg
Fiber: 2.5gg
Sugar: 28.1g
Protein: 1.7gg