Don't you love a great farmers' market? I could spend days there with all the fresh produce. I have made a refrigerator dill pickle recipe before and it tasted great but had left the cucumbers whole as they were the small ones. This time I found lovely fat cucumbers at the market and wanted to slice them and make them just slightly spicy. These Spicy Refrigerator Pickles were born and turned out fantastic! Such a great recipe that we love to make again and again every year.
Crunchy, briny, slightly spicy, and full of wonderful dill and garlic flavor, these homemade refrigerator pickles are the best. I love being able to offer them up at lunch or dinner and everyone can enjoy them to the fullest. They take little time to make and the rewards are fantastic. If you love to quick pickle try our Sweet & Spicy Radishes or if you love to can we also have delicious Bread and Butter Pickles to last all winter long.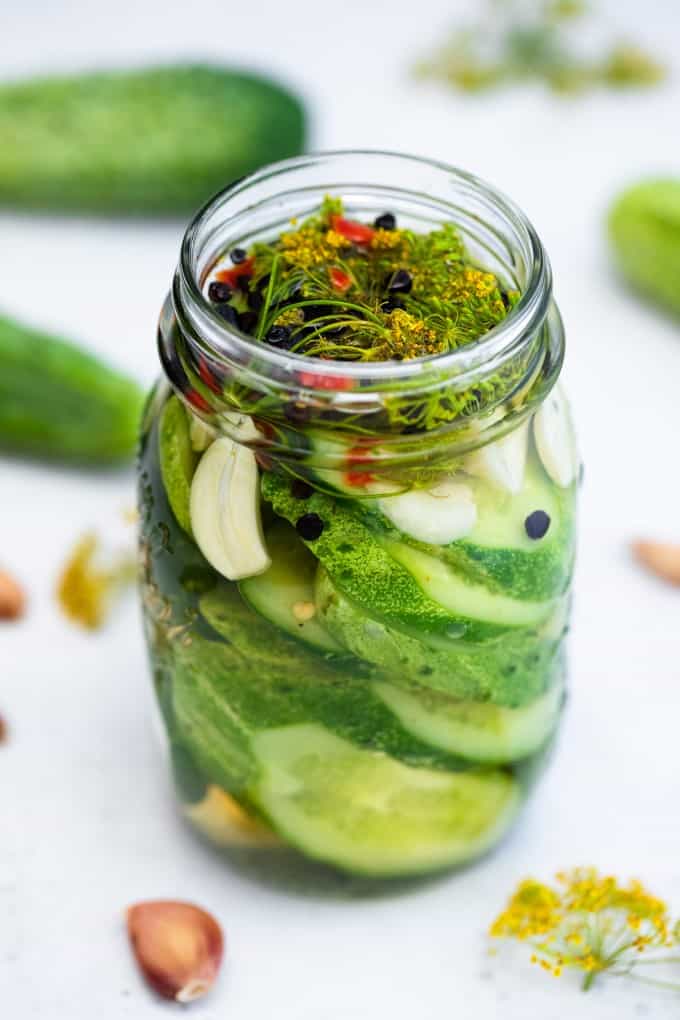 Helpful Items for This Recipe
This post contains affiliate links. As an Amazon Associate, I earn a small portion from qualifying purchases at no extra charge for you.
Quick pickling has become very popular now with the trend of charcuteries being offered everywhere. I love a quick pickle of veggies like carrots, cauliflower, onions, etc. It doesn't require any expensive machinery to make them—no fancy gadgets or knowing how to can properly.
You just make a simple brine or marinade, add in the touches you like, and away you go! It takes about 10 min. to make. I liked cutting the pickling cucumbers to look like a waffle chip. Just added that little extra oomph of ingredients and took no time at all.
You have to use fresh dill for this recipe, don't try adding in dry dill. If you want more of a garlic flavor slice the garlic like I do if you want less than leave them whole. You can double the recipe if you need more but I just make a fresh batch when the first one is gone.
How To Make Refrigerator Pickles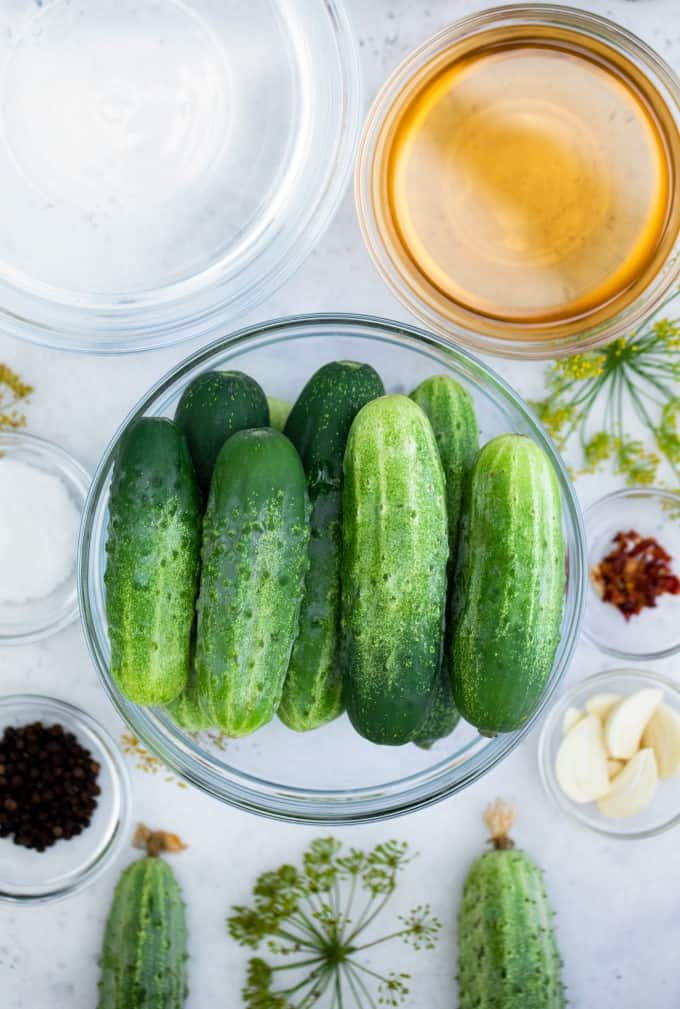 Refrigerator pickles are easy to make. They take simple ingredients but you want the freshest of produce too. The farmers' market is a great place to get wonderful cucumber for pickling.
Add the water, apple cider vinegar (you can use white vinegar also), salt, peppercorns, and crushed red pepper flakes to a small pot, heat on low and bring to a boil until the salt is dissolved. Let cool while you prep the cucumbers.
In a large jar or container, layer in the sliced cucumbers, sliced garlic, and fresh dill heads. Fill the jar or jars to the top if you can, leaving about 1/2″ or so for expansion as the cucumbers will give off water as they pickle.
Pour the cooled brine on top. Top with the lid and rotate around and up and down to disperse the ingredients.
Refrigerate for 2 days (but who can wait that long, at least 24 hours) and up to 2 weeks (can last up to a month also but mine never make it that long).
I don't use a pickling spice or the traditional ingredients like mustard seeds, celery seeds, etc. in this refrigerator pickles recipe but make it your own if you want to add in more spices.
Make sure to use Kosher salt or pickling salt when canning, not regular table salt. Iodized salt has iodine in it and will turn your canned goods a funny color, which is something that you will not want.
Are Refrigerator Pickles Healthy?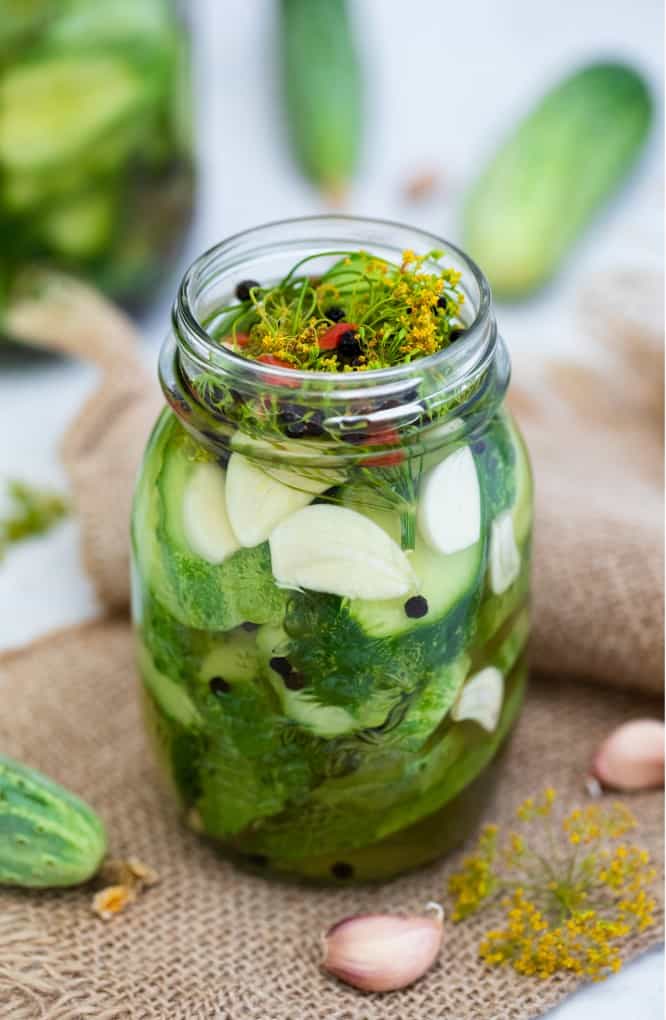 Are refrigerator pickles healthy? As for anything you have to weigh the good with the bad. Cucumbers contain many nutrients such as Vitamin C, magnesium, potassium and Vitamin K. Refrigerator pickles are low in carbs, low in calories, and are fat-free, that is the good side of them.
The bad side is that they are high in sodium so take them in moderation and don't eat the entire jar. I know they are good and all but you need to have limits, lol! Even with the higher salt content I would still consider them a healthy snack, especially compared to some other nibbles.
Starting with great produce is the key to pickling. You don't want anything that is subpar. Now is the time of year to get vegetables and herbs at their peak. Kids love pickles and if these are too spicy (I just find they have a delightful zing) then you can back off on the red pepper flakes.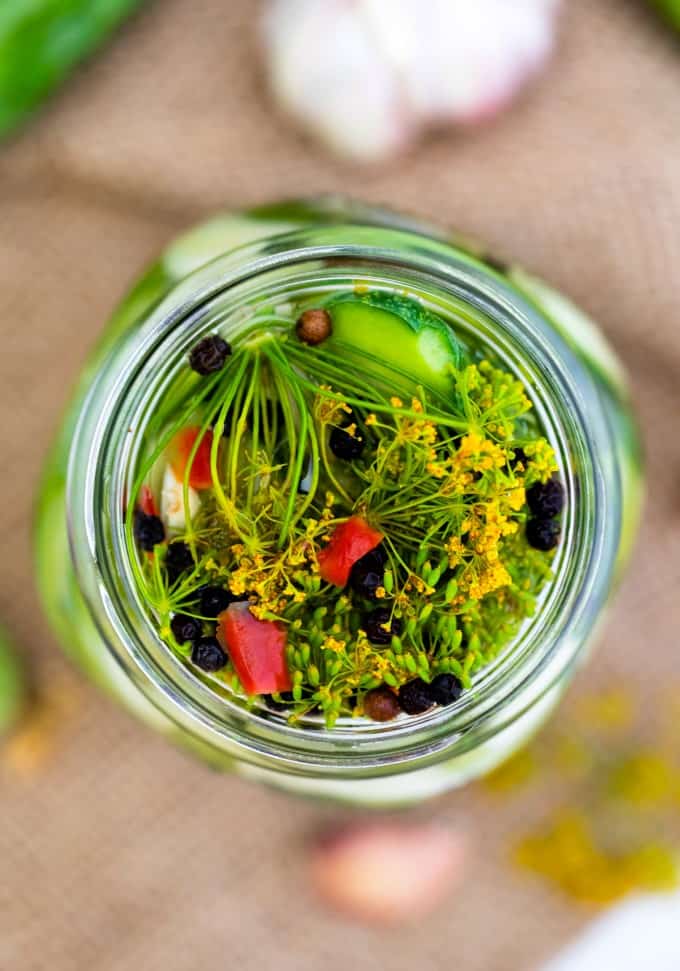 Here is a bird's eye view into the jar of pickles. I have one large jar that I use every year but you can use smaller jars too. They make a great gift if you are heading to someones for dinner. They are a wonderful potluck side for the summer that goes excellent with any BBQ or a hostess gift that so many will love.
These refrigerator pickles make a showing every year in our refrigerator. I love to pull them out for lunch and dinner or just as a snack. This year I have cucumbers growing in my garden. Maybe they will make it into a jar of quick pickles.
Easy Refrigerator Pickles
Lots of goodness in that jar! With writing this post I am thankful I still had some in the refrigerator as my mouth was watering thinking about them. I had to go and dive into that jar again.
You are supposed to leave them for two days to pickle but who the heck can wait that long!! We were into them the next day. It is interesting to see how they change with time though also. They start off lightly pickled with a little heat here and there. Now they are fully pickled a week later and the garlic is so nicely infused and the heat has evened out to a nice warmth.
There are also some more pickling ideas in our 22 Preserving and Canning Recipes post. Enjoy the summer bounty!!
How Long Do Refrigerator Pickles Last?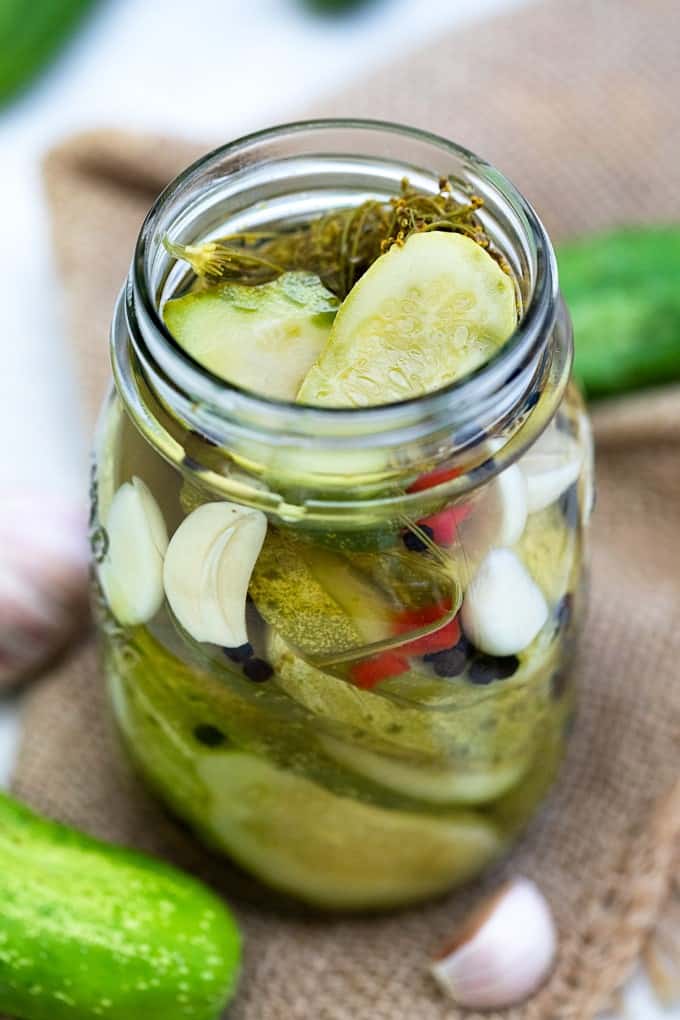 How long do refrigerator pickles last for? When I searched this I saw two months but mine never last that long as they are eaten and I think after about a month they start to soften and lose their luster. Plus, it is so easy to make up a fresh batch and munch away again.
Cucumbers are plentiful in your grocery store as well as your farmers' market. They are are a great summer staple for this recipe plus I also like to make Creamy Cucumber Dill Salad and my mom's Finnish Cucumber Salad in Finnish called Kurkkusalaatti. Two great summer recipes using cucumbers.
Pin it Here!!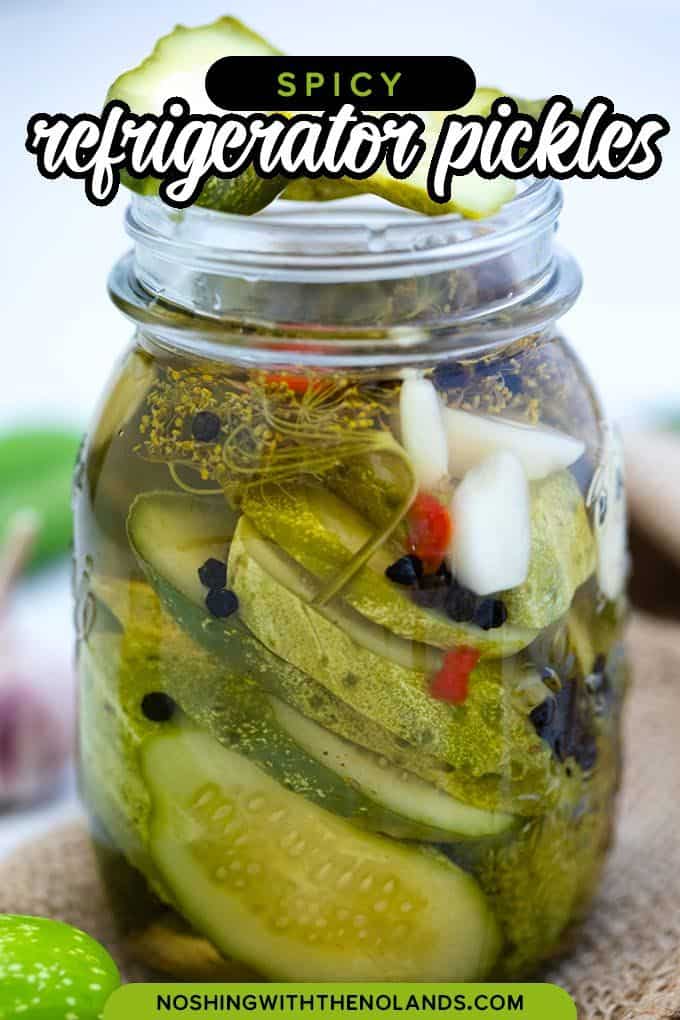 Pin it Here!!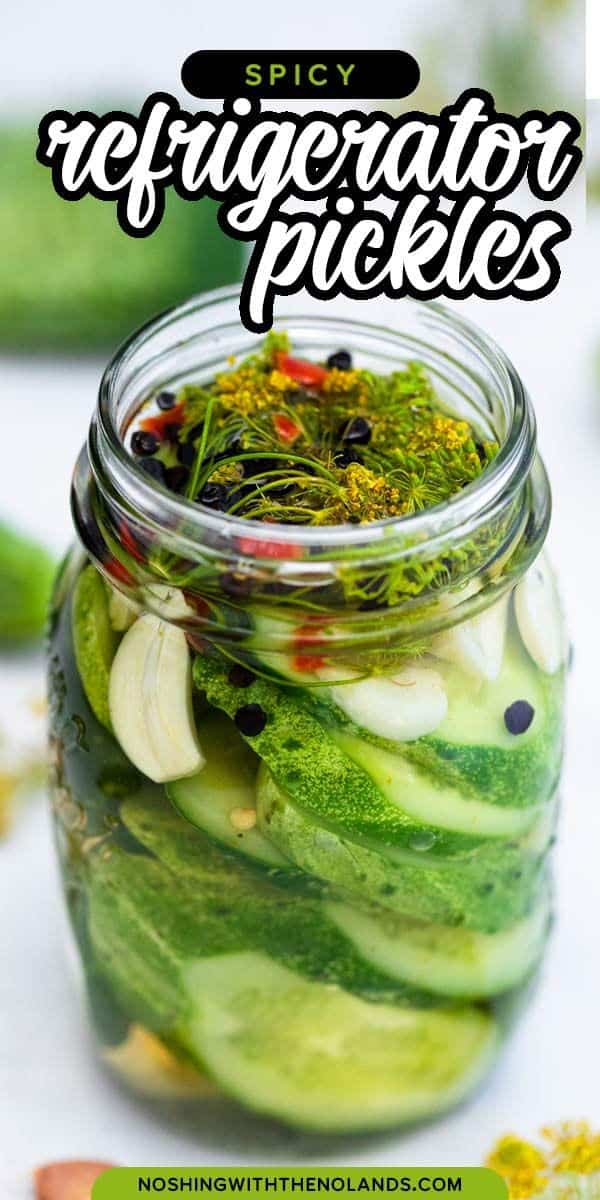 Old Pin!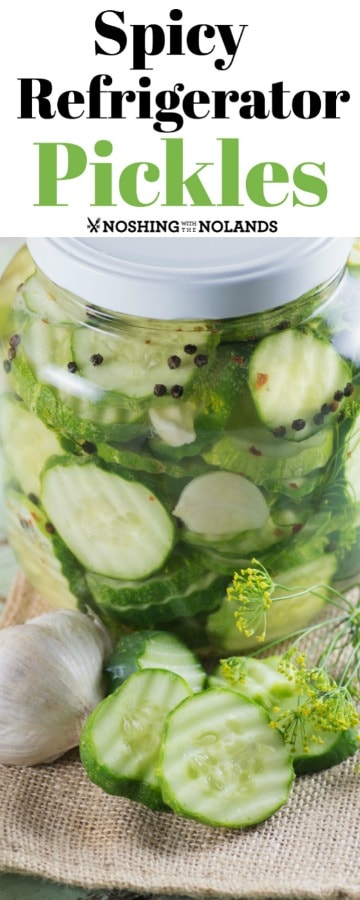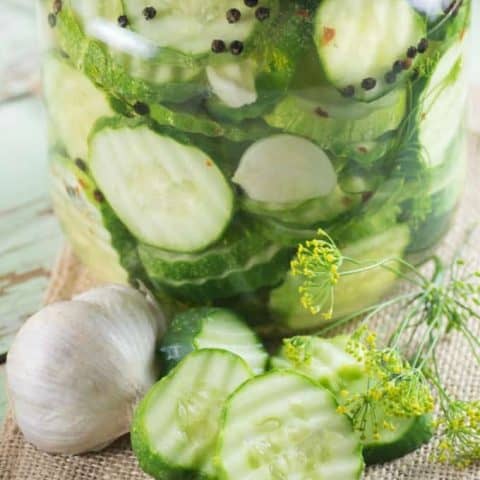 Spicy Refrigerator Pickles
Yield: 2 lbs.
Prep Time: 10 minutes
Cook Time: 1 minute
Total Time: 11 minutes
Spicy Refrigerator Pickles are easy and only take about 10 min. to make. The result is deliciously crunchy, briny, garlicky pickles in no time!
Ingredients
3 cups water
1 cup apple cider vinegar (you can use white vinegar too)
1 1/2 Tbsp. Kosher or pickling salt
2 tsp. black peppercorns
1/2 tsp. crushed red pepper flakes
6 large cloves garlic, peeled and sliced in half
6 fresh dill heads
2 lbs. cucumbers, sliced
Instructions
Add the water, vinegar, salt, peppercorns, and red pepper flakes to a small pot, heat on low until salt is dissolved. Let cool while you prep the cucumbers.
In a large jar or container, layer in the cucumbers, garlic, and dill. Pour the cooled brine on top.
Top with lid and rotate around and up and down to disperse the ingredients.
Refrigerate for 2 days (but who can wait that long) and up to 2 weeks.
Recommended Products
As an Amazon Associate and member of other affiliate programs, I earn from qualifying purchases.
Nutrition Information:
Yield: 24
Serving Size: 1
Amount Per Serving:
Calories: 10
Total Fat: 0g
Saturated Fat: 0g
Trans Fat: 0g
Unsaturated Fat: 0g
Cholesterol: 0mg
Sodium: 27mg
Carbohydrates: 2g
Fiber: 0g
Sugar: 1g
Protein: 0g
Recipe calculation was provided by Nutritionix and is an estimation only. If you need nutritional calculations for medical reasons, please use a source that you trust.