Spicy Refrigerator Pickles
Don't you love a great farmers market? I could spend days there with all the fresh produce. I have made a refrigerator pickle recipe before but had left the cucumbers whole as they were the small ones. This time I found lovely fat cucumbers at the market and wanted to slice them and make them just slightly spicy. These Spicy Refrigerator Pickles were born and turned out fantastic!
Crunchy, briny, slightly spicy, and full of wonderful dill and garlic flavor, these pickles are the best. I love being able to offer them up at lunch or dinner and everyone is enjoying them to the fullest. They take little time to make and the rewards are fantastic.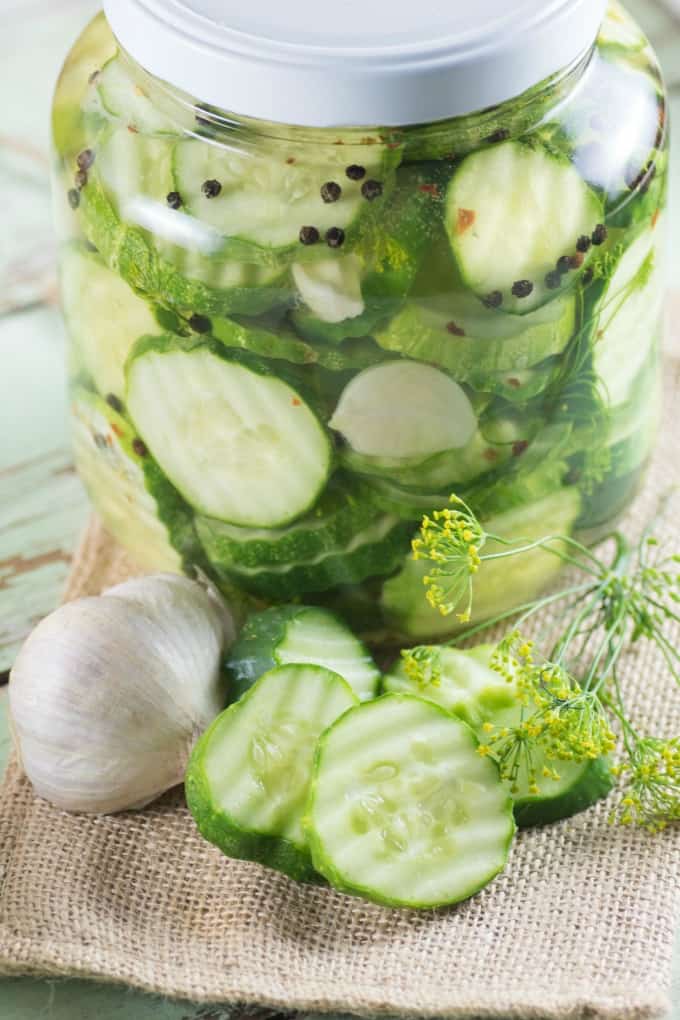 Quick pickling has become very popular now with the trend of charcuteries being offered everywhere. I love a quick pickle of veggies like carrots, cauliflower, green beans etc. It doesn't require any expensive machinery to make them. No fancy gadgets or knowing how to can properly.
You just make a simple brine, add in the touches you like, and a way you go! It takes about 10 min. to make. I liked cutting the cucumber to look like a waffle chip. Just added that little extra oomph and took no time at all.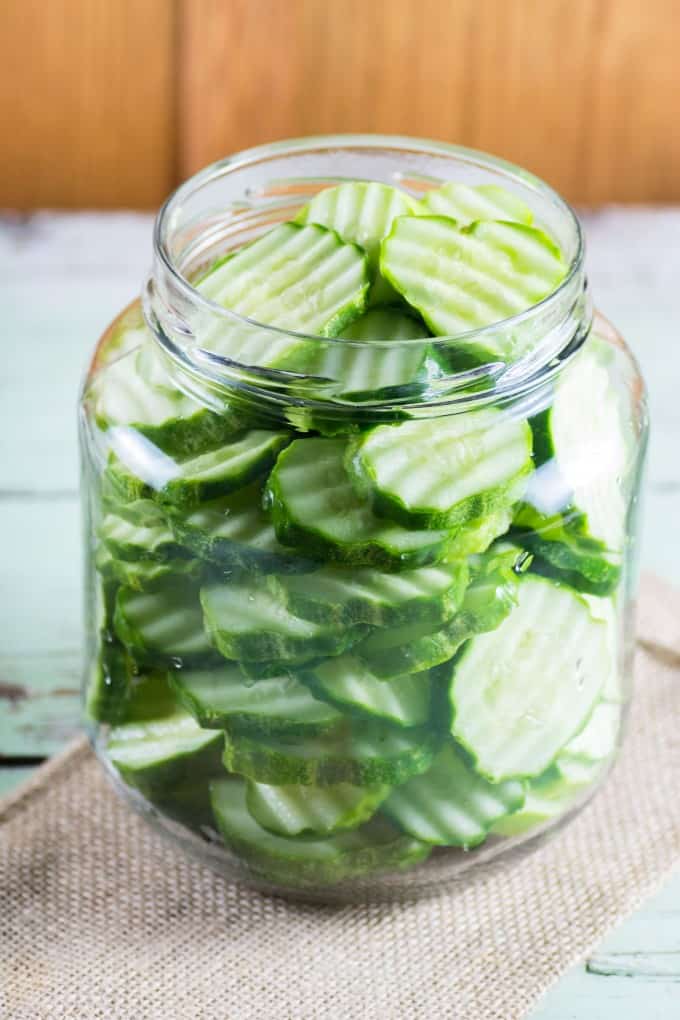 Starting with great produce is the key for pickling. You don't want anything that is subpar. Here are just the cucumbers after slicing before anything else was added in.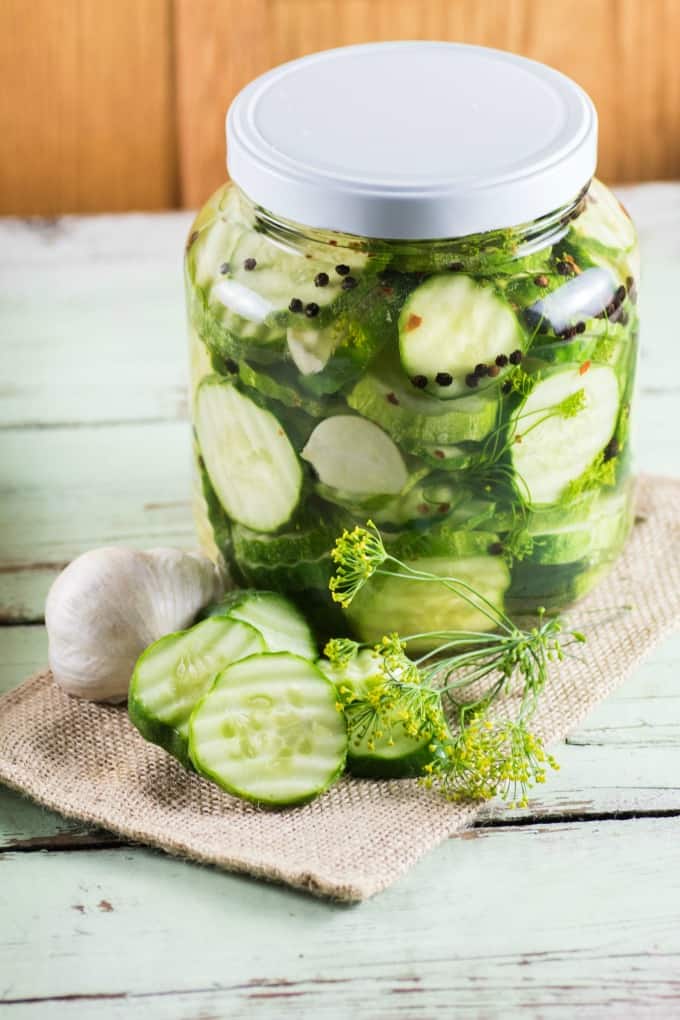 Easy Refrigerator Pickles
Lots of goodness in that jar! With writing this post I am thankful I still had some in the refrigerator as my mouth was watering thinking about them. I had to go and dive into that jar again.
You are suppose to leave them for two days to pickle but who the heck can wait that long!! We were into them the next day. It is interesting to see how they change with time though also. They start off lightly pickled with a little heat here and there. Now they are fully pickled a week later and the garlic is so nicely infused and the heat has evened out to a nice warmth.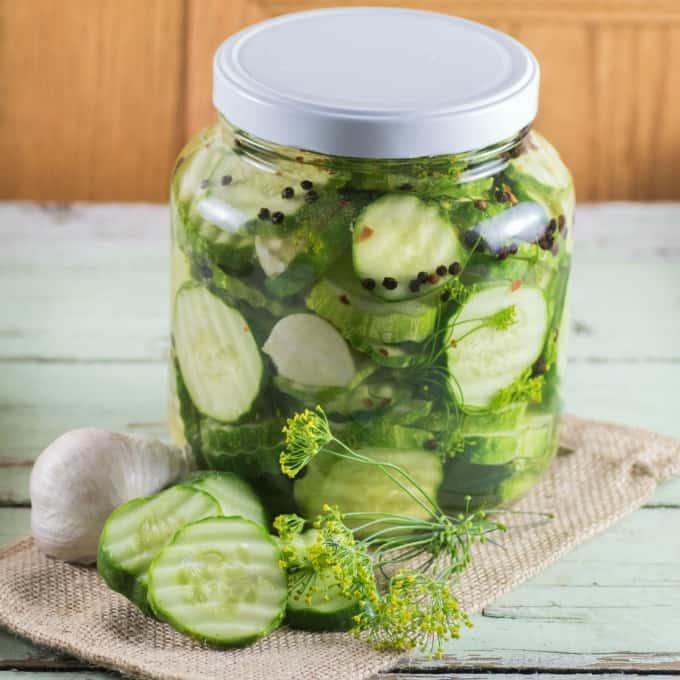 There are also some more pickling ideas in our 22 Preserving and Canning Recipes post. Enjoy the summer bounty!!
Do you want more canning recipes? Check out our amazing new ebook, THE BEST CANNING RECIPES!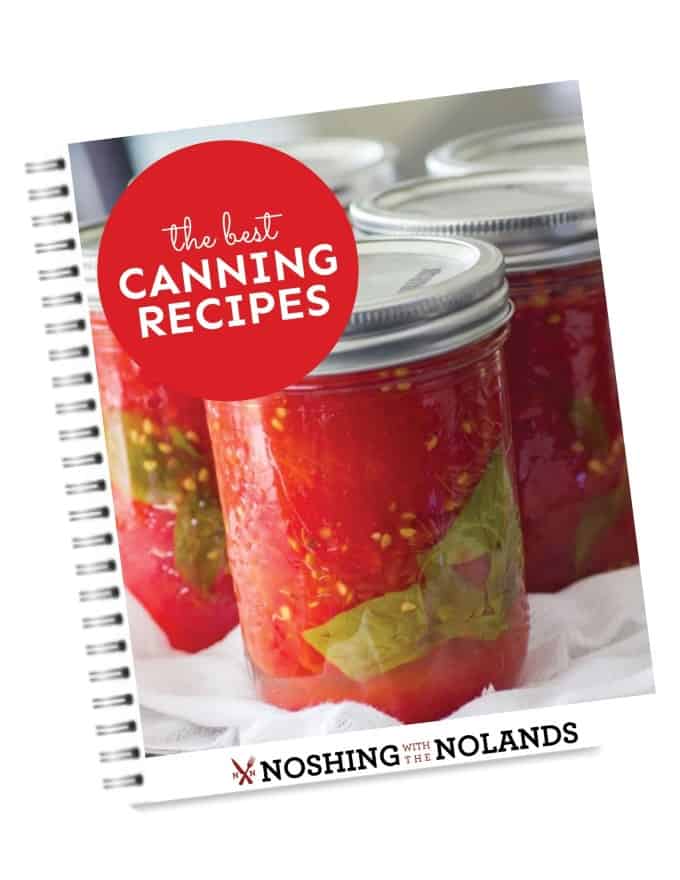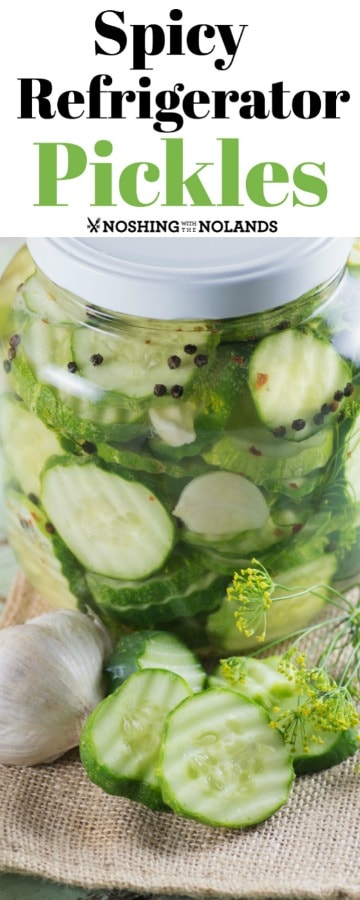 Yield: 2 lbs.
Spicy Refrigerator Pickles
Spicy Refrigerator Pickles are easy and only take about 10 min. to make. The result is deliciously crunchy, briny, garlicky pickles in no time!
Ingredients
3 cups water
1 cup apple cider vinegar (you can use white vinegar too)
1 1/2 Tbsp. Kosher or pickling salt
2 tsp. black peppercorns
1/2 tsp. crushed red pepper flakes
6 large cloves garlic, peeled and sliced in half
6 fresh dill heads
2 lbs. cucumbers, sliced
Instructions
Add the water, vinegar, salt, peppercorns, and red pepper flakes to a small pot, heat on low until salt is dissolved. Let cool while you prep the cucumbers.
In a large jar or container, layer in the cucumbers, garlic, and dill. Pour the cooled brine on top.
Top with lid and rotate around and up and down to disperse the ingredients.
Refrigerate for 2 days (but who can wait that long) and up to 2 weeks.