Sweet and spicy Quick Pickled Radishes are easy to make and add a crunchy tangy zip to any dish. Keep a jar handy in the fridge to add to salads, burgers, tacos, and sandwiches.
The garden is bursting at the seams with fresh produce and that always means the beginning of canning and pickling season. Check out the blog for great pickling recipes, including these super easy Spicy Refrigerator Pickles or delicious Bread and Butter Pickles and amazing Garden Fresh Zucchini Salsa. We put that stuff on everything! Try this recipe on our Chicken Meatball Bowls, so good!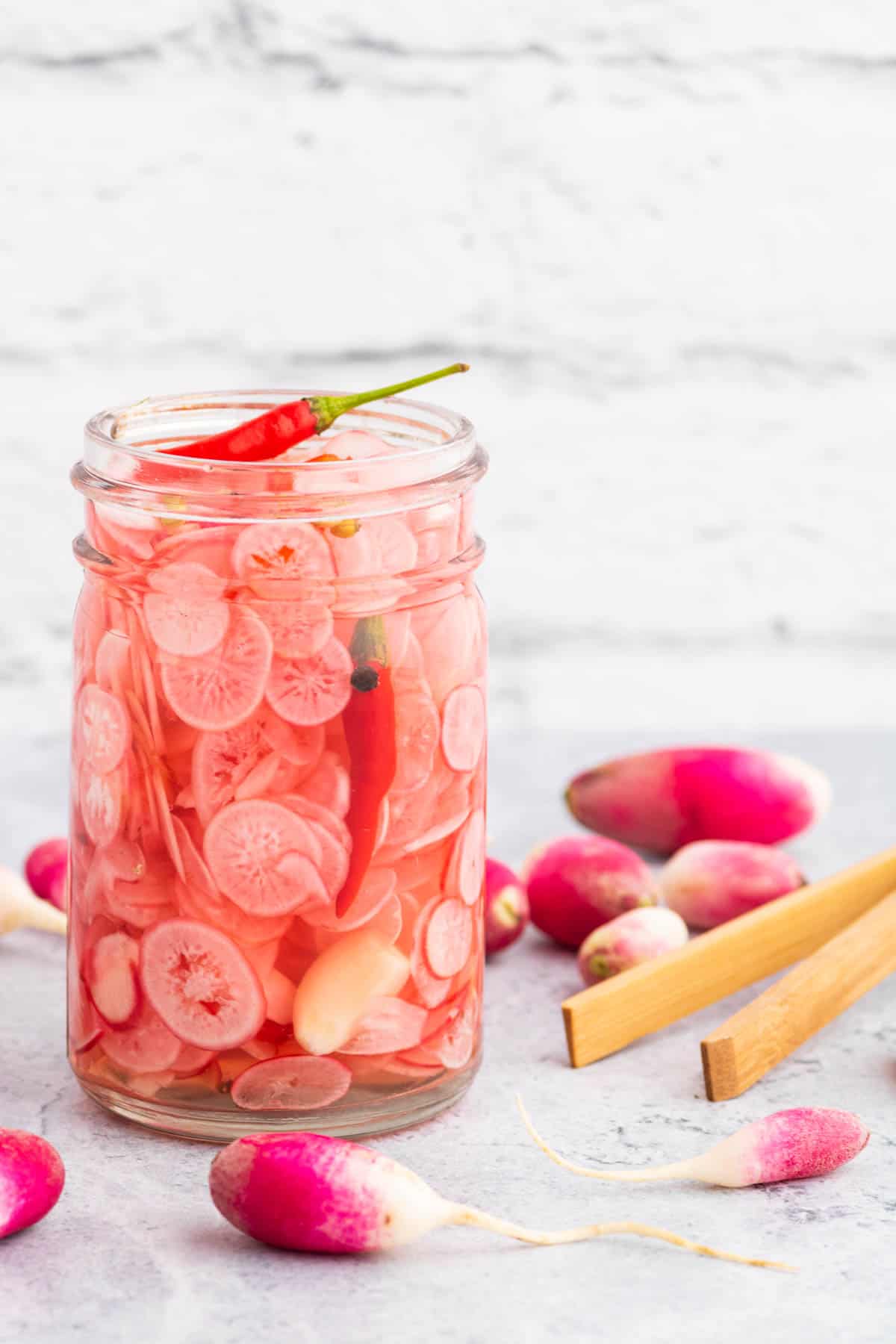 Subscribe To Our Weekly Newsletter
Quick Pickled Radishes
Do you love creating something delicious with as little effort as possible? Do you love adding pickles to dishes to brighten up their flavour? Then these easy pickled radishes with their bright, bold flavours are for YOU.
Even if you are not a radish lover, give this recipe a try. It makes the most delicious sweet and spicy accompaniment to any dish while also adding a bit of crunchy texture. I suggest you add them to tacos during your next taco night, then go from there. Soon, you'll be finding all sorts of ways to serve them up.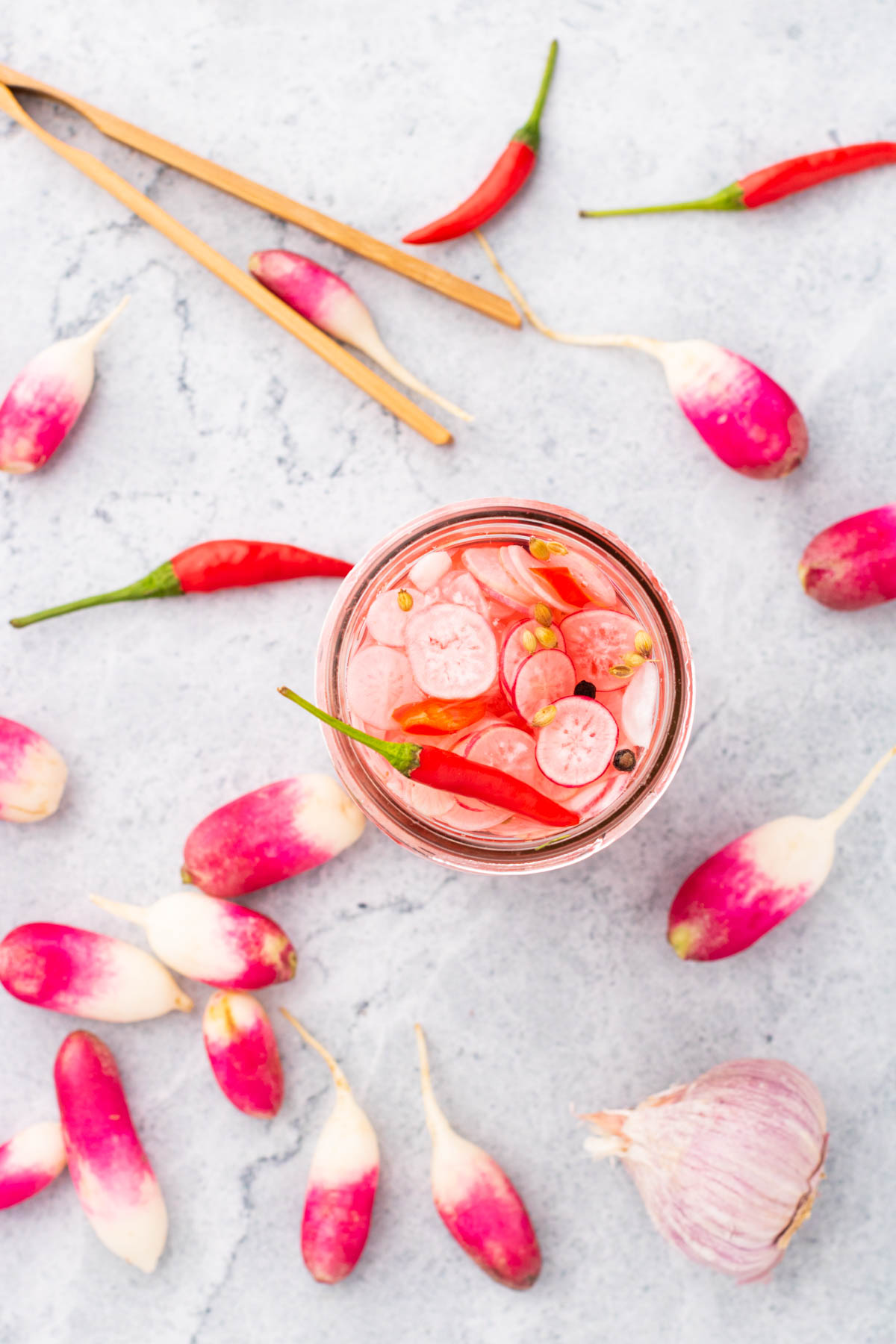 What is Quick Pickling?
Today we have an even EASIER way to pickle fresh vegetables…quick pickling! It's a pickling method that requires no sterilizing or canning because you only make as much as you can eat in a week or two. With this method, no preserving is required as the pickles are stored directly in the refrigerator.
Quick pickling is about injecting as much flavour into a vegetable in as little time as possible. It requires a strong brine with bold flavours. Fresh radishes are known for their peppery bite edged with a bit of sweetness. These two flavour characteristics pair well with the bold flavours in this sweet and spicy brine.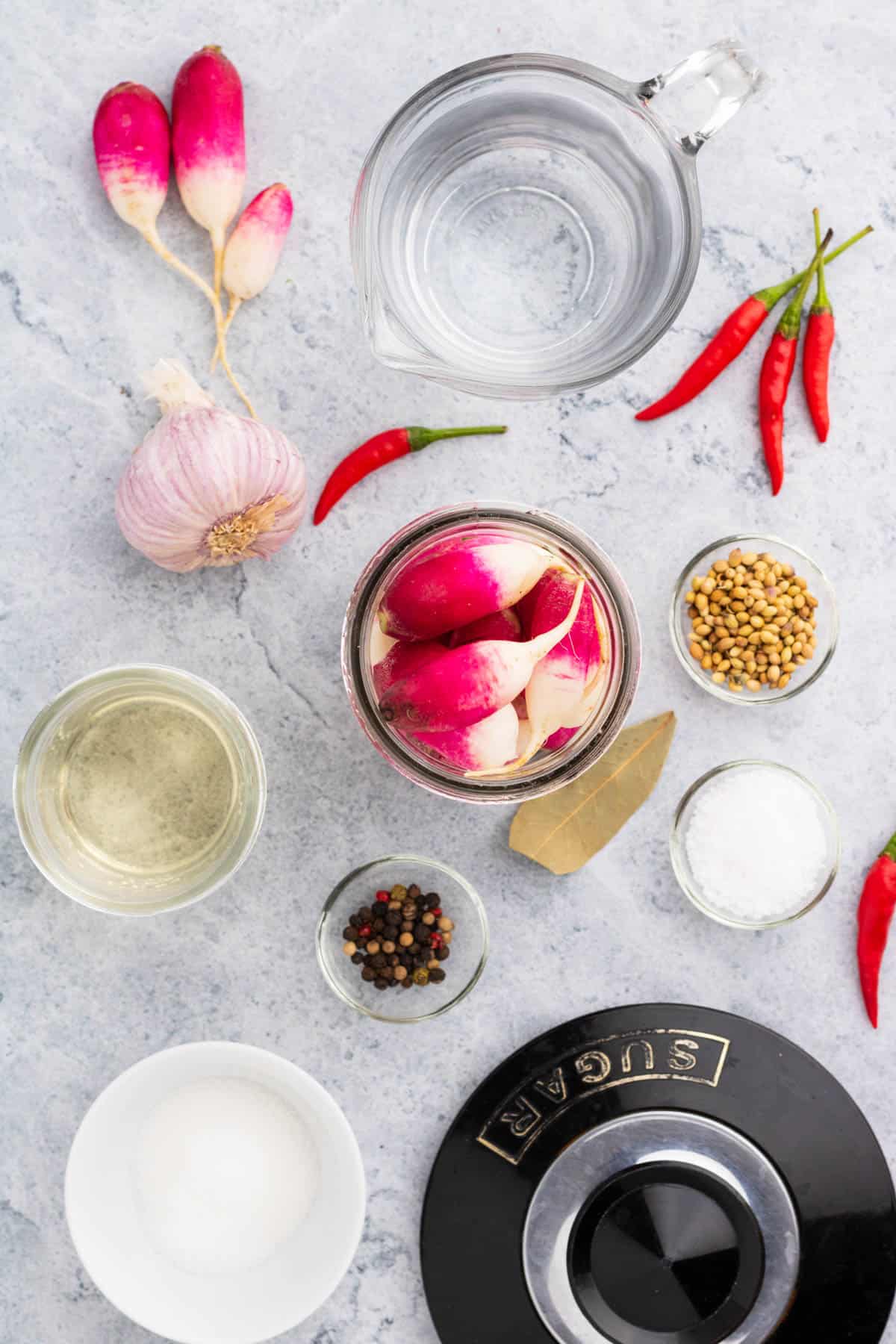 Ingredients in this Recipe
radishes
water
rice wine vinegar
sugar
salt
bay leaf
peppercorns
coriander seed
garlic
red chilis
More information on choosing radishes and the right vinegar for this recipe are discussed in detail below. However, besides the amounts of sugar and salt (pickling salt), the aromatics of this recipe are what give the quick-pickled radishes their 'oomph'.
Of course, you can play with the amount and variety of aromatics to cater to your own preferences. The bay leaf lends a nice background note to the pickles, while the peppercorns, garlic, and chilis bring the heat. Reduce or omit any of the three to adjust the spice level. Not a garlic lover? Omit the garlic. The choice is up to you.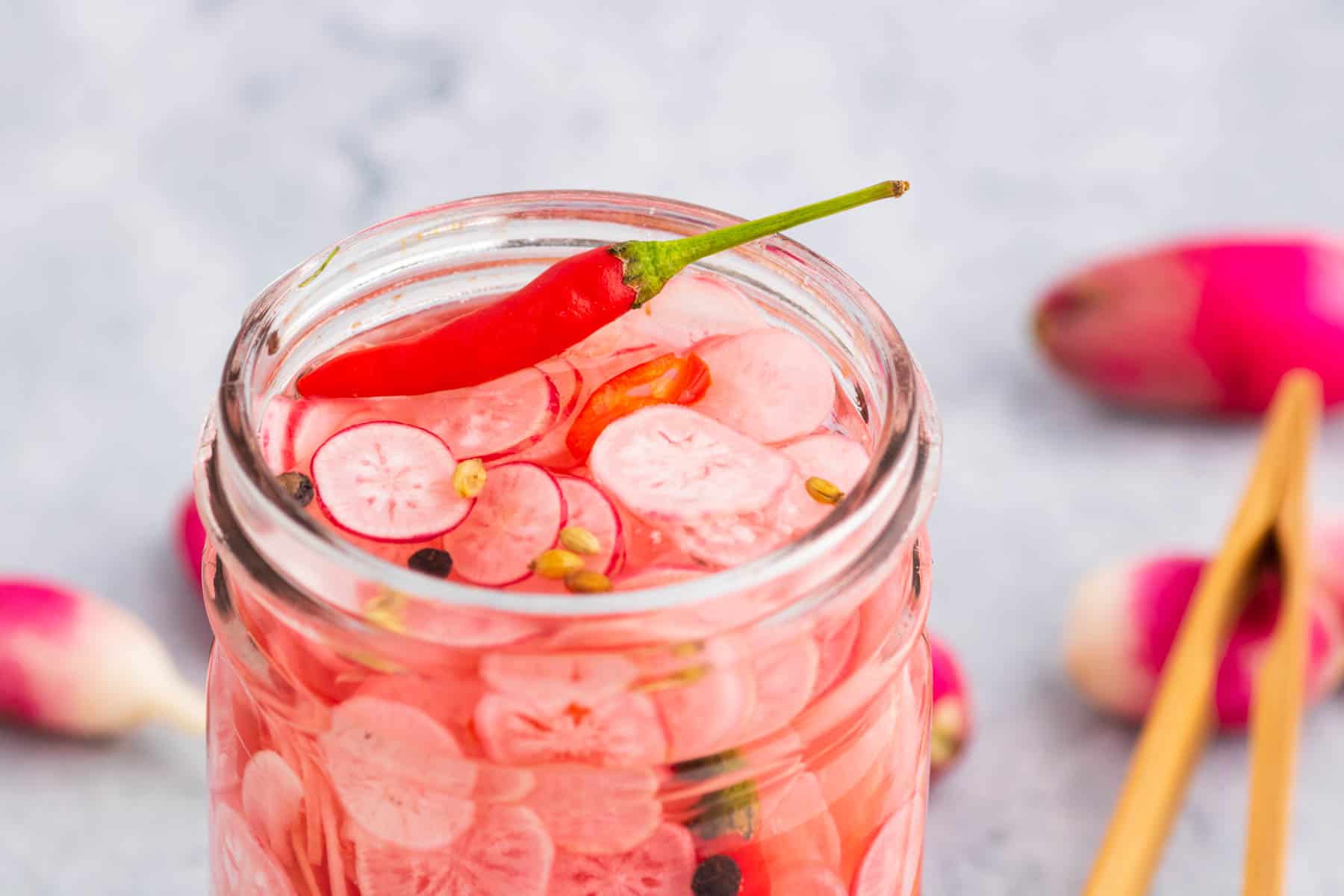 How to Choose Radishes
When buying radishes, look for firm round vegetables with bright colours. Squeeze the radish and if there is a slight give, that means they are hollow inside. There should be no soft spots, scratches, cracks, or black spots. The best radishes still have the tops attached so you can see how fresh the greens are. Inspect them from leaf to root, and you will pick the perfect radish.
When eaten on their own, fresh radishes straight from the garden are an amazing spring-early summer treat. They are crispy, spicy, and zesty. Depending on growing conditions, their spice level can range from mild to the kind of heat that raw garlic gives off.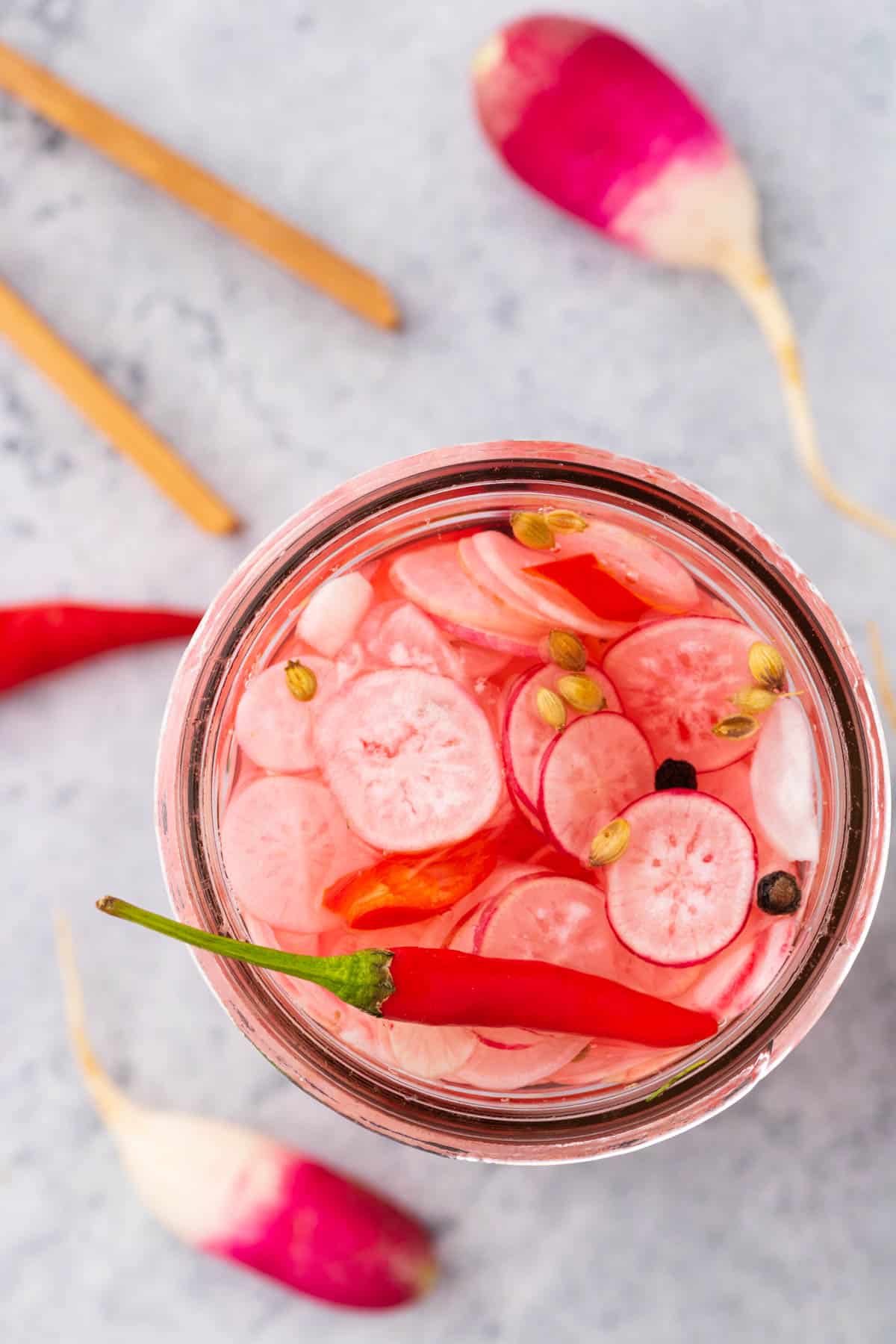 Which Vinegar is Best for Pickling?
Generally, the most common vinegar chosen for pickling is distilled white vinegar. It has a high acidity (over 5%) which is important for ensuring properly preserved pickles. It also has a clean taste, meaning no additional flavours will be added to your produce. This clear vinegar results in pickles that stay their original colour.
Other kinds of vinegar used in pickling are apple cider vinegar, malt vinegar, or white wine vinegar. As long as the vinegar is over 5% acidity, the vinegar can be used to preserve fruits and vegetables for long periods of time. With pickling methods (quick pickling) that don't require shelf-stable preserving methods, the percentage of acidity in the vinegar is not as much of a priority.
For this quick pickled radish recipe, the radishes are pickled with seasoned rice wine vinegar. This type of vinegar has a mellow flavour, while still imparting that sour vinegar flavour, along with the seasoning flavours. The clear liquid allows the bright flavours of the radishes to shine through.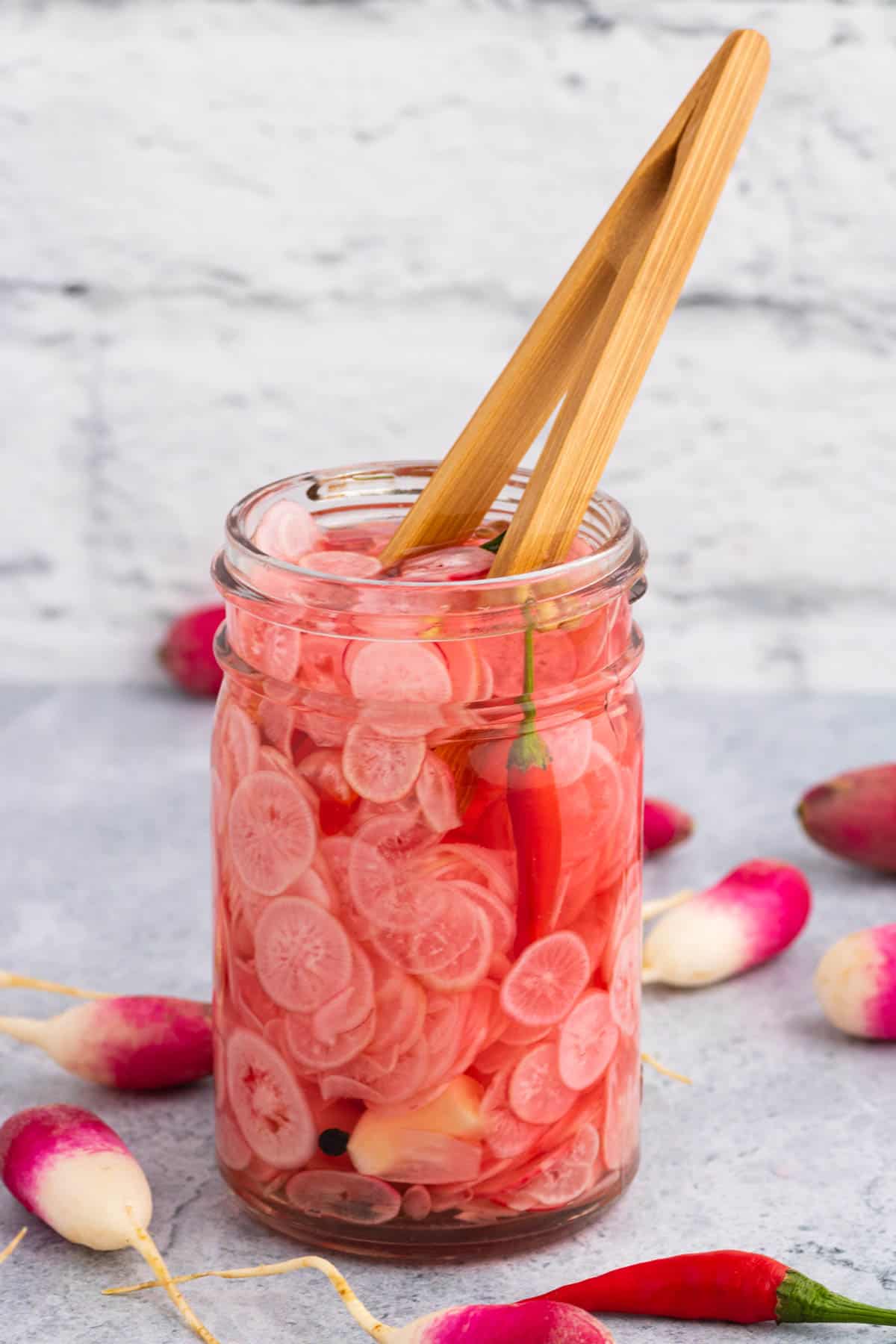 How to Make Quick Pickled Radishes
The beauty of this recipe, besides the striking colour of the radishes, is how easy it is. Once you prepare the radishes and make the brine, you are 95% done. Best of all, these radishes reach their full flavour potential within an hour or two.
To begin, scrub the radishes clean, then use a mandoline, food processor, or sharp knife to slice the radishes crosswise into coins (1/8 inch maximum). This thin slicing is the key to the quick pickling of the radishes. Place the sliced radishes in a clean half-pint jar, while layering in the garlic clove, and Thai chilis among the radishes.
Next, make up the brine by placing the rice wine vinegar, water, sugar, salt, bay leaf, peppercorns, and coriander seed in a small saucepan. Bring the brine to a boil over medium heat and simmer until the sugar and salt have completely dissolved.
Pour the brine over the radishes and add the aromatics back in. Let it cool to room temperature, then cover with a lid and store the pickles in the fridge. The pickled radishes are now ready to eat!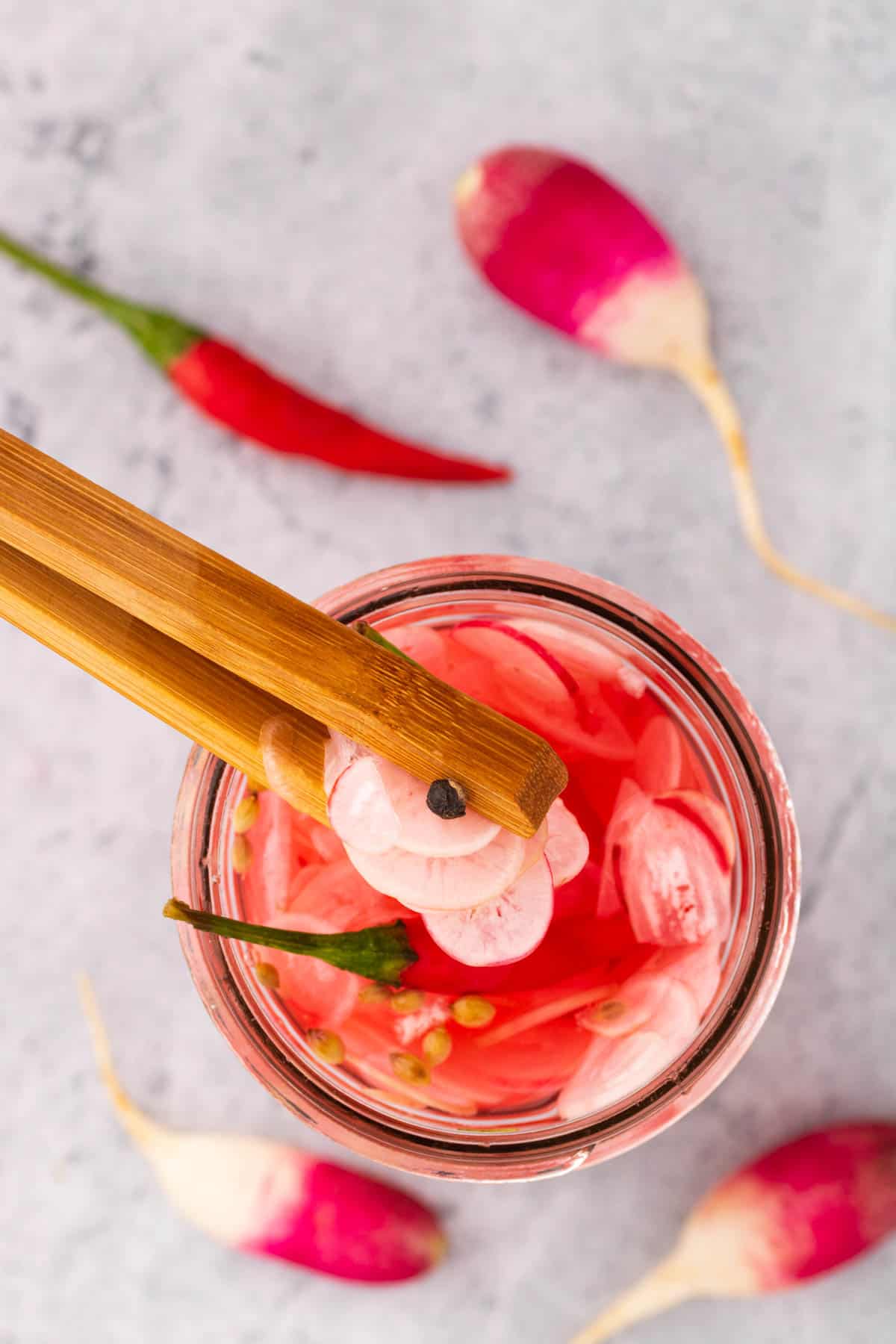 What Do You Eat Pickled Radishes With?
These pickled radishes add a spectacular textural crunch and spicy zip to so many dishes. Try them as a taco or chilaquiles topping or tucked into sandwiches, hot dogs or burgers. They are great alongside rich braised meats, stews, and especially on a platter of smoked meats.
Quick pickled radishes add a crunchy tangy element to potato and macaroni salads. They are also fabulous on a chopped green salad. In short, they add life to every dish you add them to.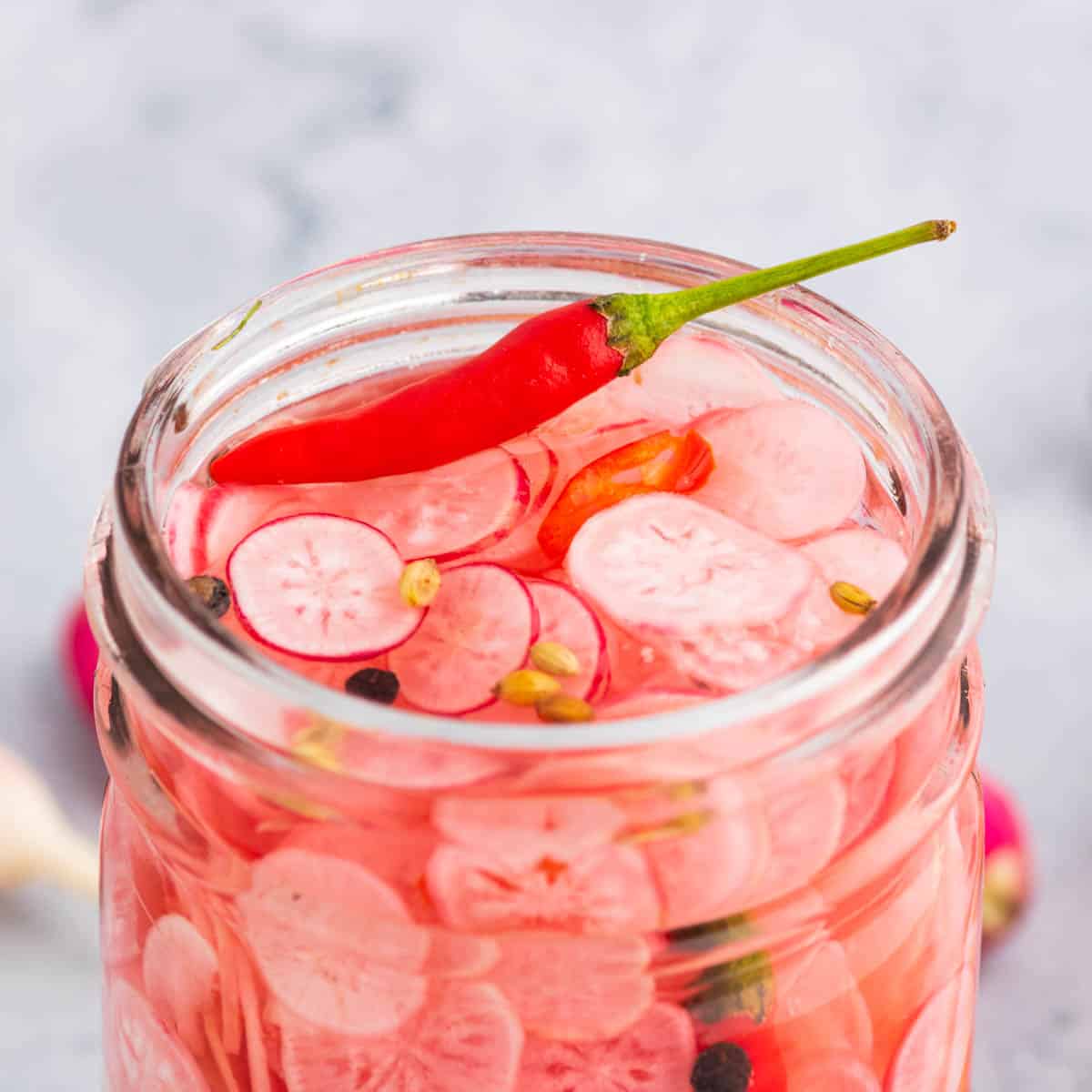 How Long Do Quick Pickled Radishes Last?
Quick pickled radishes are best when eaten within a week or so of pickling. After that, their crunch starts to fade, though the flavour remains. They will keep in the fridge for two or more months. If there is any change in colour or odour, or if mold is present, it is time to toss them.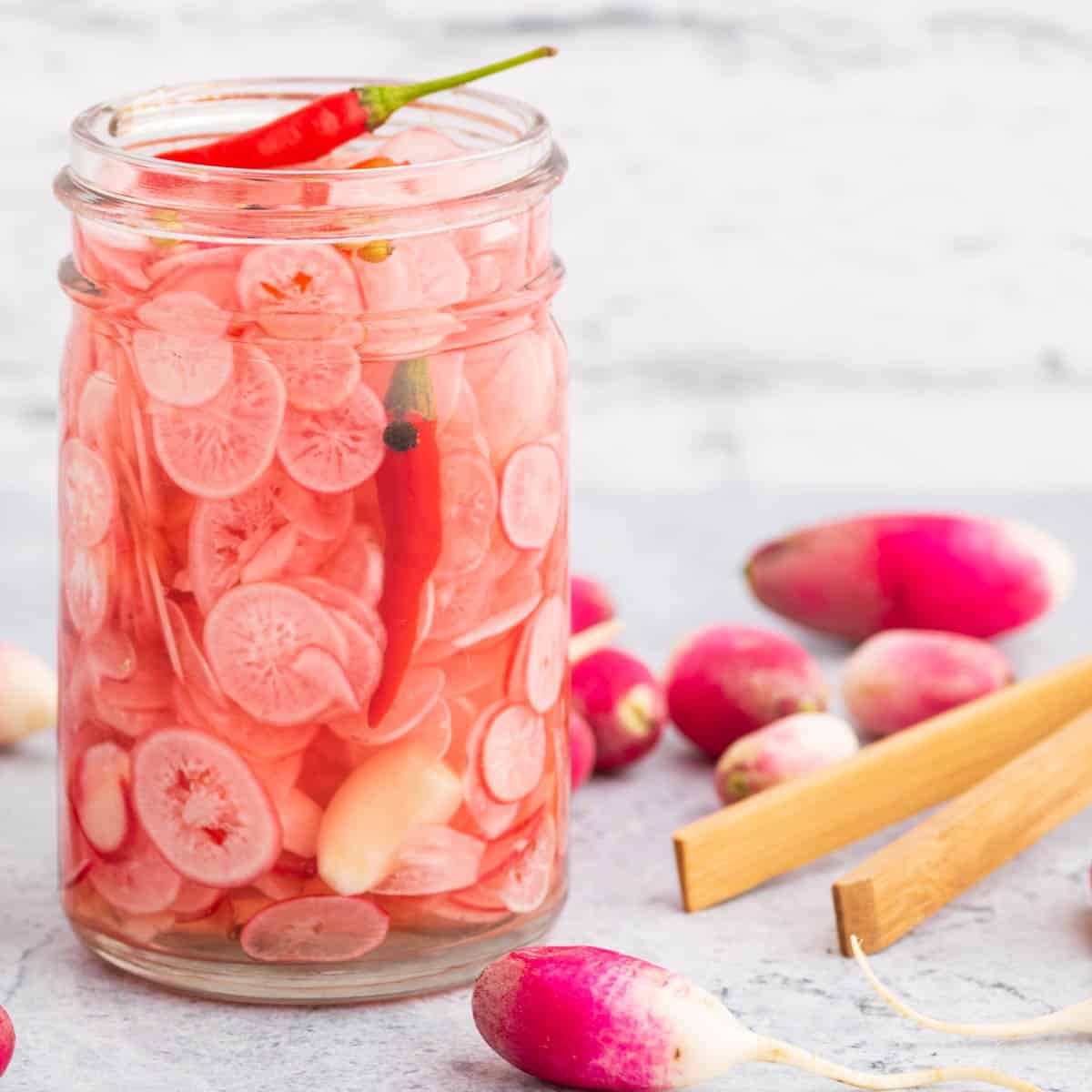 Pin it HERE!!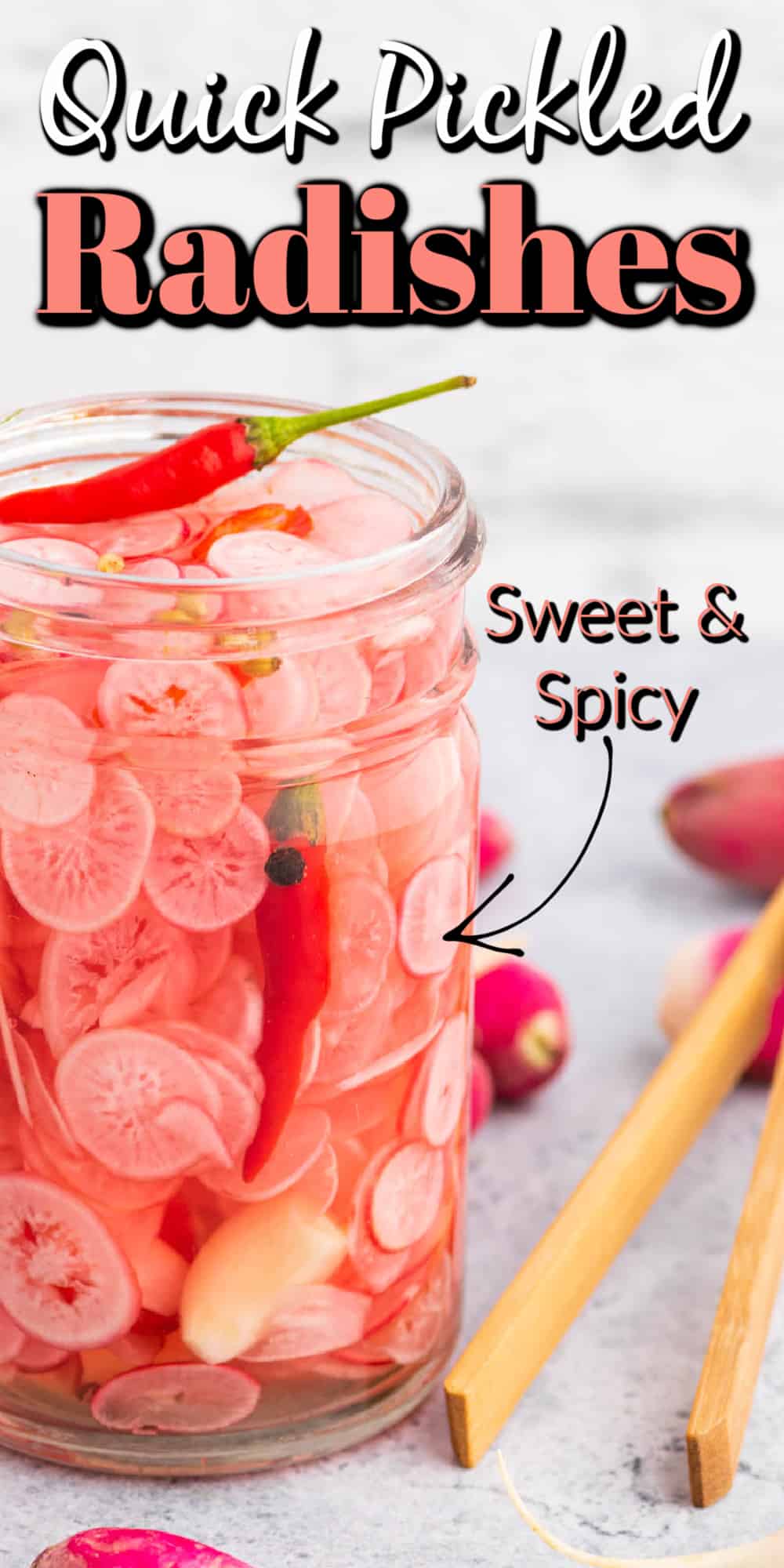 Pin it HERE!!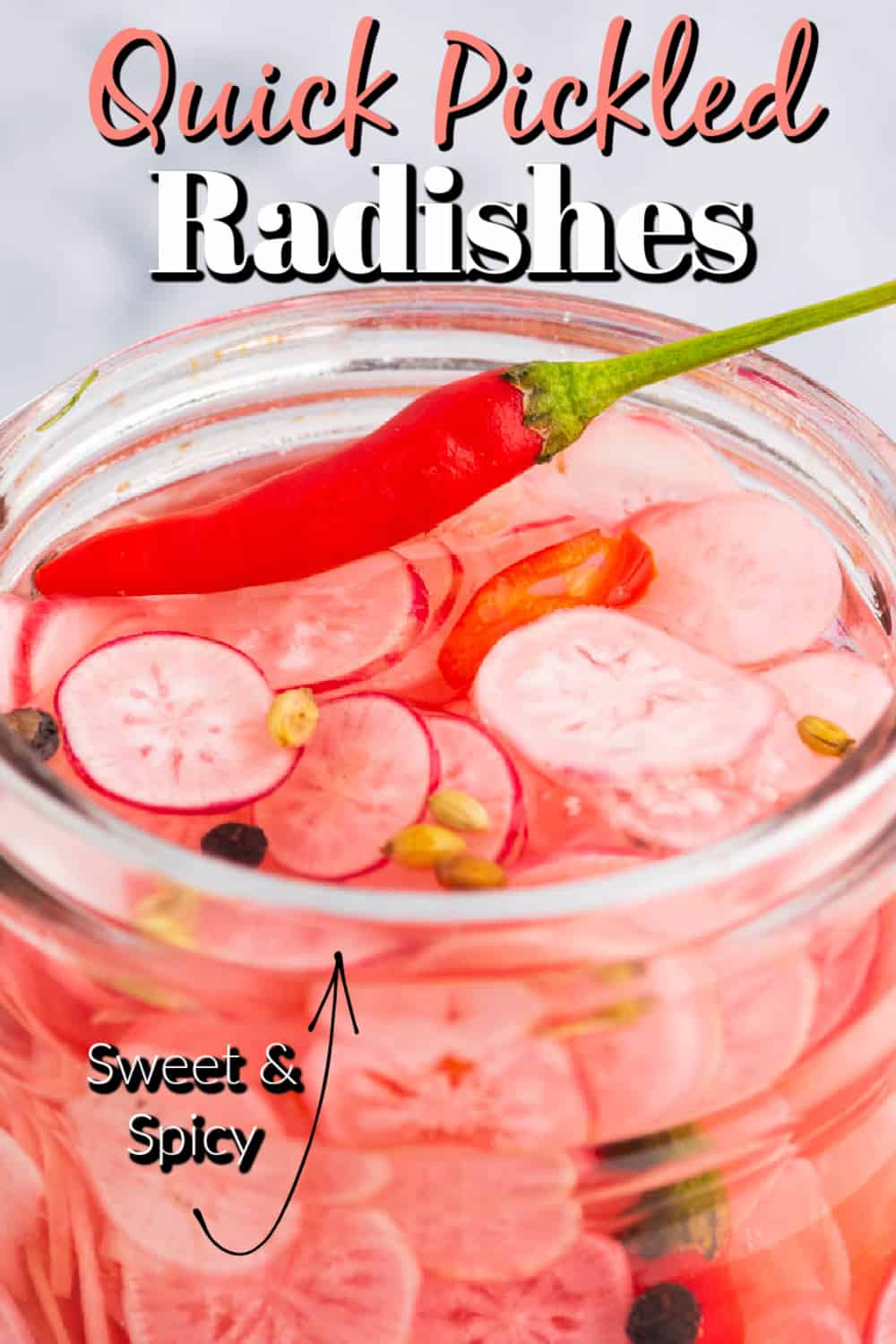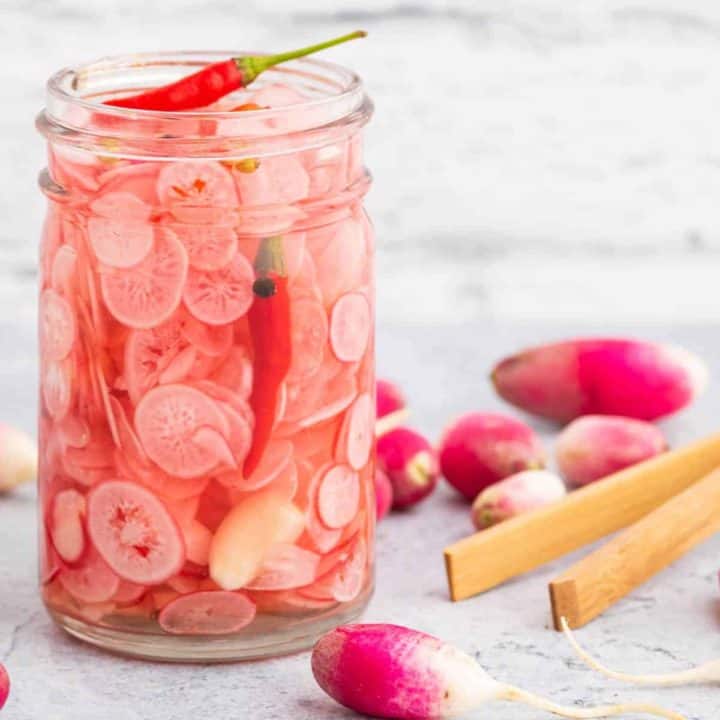 Quick Pickled Radishes (Sweet and Spicy)
Yield: 1 half pint
Prep Time: 10 minutes
Cook Time: 3 minutes
Total Time: 13 minutes
These Quick Pickled Radishes are so easy to make. They are stored in your refrigerator for up to a week or so. They impart fabulous flavor to burgers, hot dogs, sandwiches, tacos, salads, and more.
Ingredients
bunch of radishes (12-15)
1/3 cup water
2/3 cup rice wine vinegar
1 tsp pickling salt
2 tbsp sugar
1 tsp peppercorns
1 bay leaf
1 tbsp coriander seed
1 garlic clove
2 red Thai chili peppers
Instructions
Scrub the radishes clean, then use a mandoline or food processor to thinly slice them crosswise into coins.
Place sliced radishes in a clean half-pint jar while layering in the bay leaf, garlic clove, and Thai chilis among the radishes.
Place water, rice wine vinegar, salt, sugar, peppercorns, coriander seed in a small saucepan.
Bring to a boil and simmer until sugar and salt have completely dissolved.
Pour hot brine over the contents of the jar and let cool to room temperature.
Place the lid on the jar and store in the fridge. Use as desired.
Notes
Make this recipe a few hours ahead of when you intend to use them. They will keep in the fridge for a few weeks, though will soften over time.
Recommended Products
As an Amazon Associate and member of other affiliate programs, I earn from qualifying purchases.
Nutrition Information:
Yield: 16
Serving Size: 1
Amount Per Serving:
Calories: 12
Total Fat: 0g
Saturated Fat: 0g
Trans Fat: 0g
Unsaturated Fat: 0g
Cholesterol: 0mg
Sodium: 38mg
Carbohydrates: 2g
Fiber: 0g
Sugar: 2g
Protein: 0g